We've got discount tickets for a fantastic new play, Seventeen. Scroll down for details.
What we're reading
Things to do
BIRTHDAY BASH: What's better than a normal birthday party? Why, a four day long birthday extravaganza of course. That's what Number 90 Bar & Kitchen is doing, and it all kicks off on Thursday. Expect DJs, bands, art installations, delicious food and creative cocktails. Number 90 Bar & Kitchen, free, just turn up 16-19 March
LIT FESTIVAL: North London Literary Festival brings a variety of authors and speakers to Middlesex University in Hendon for writing workshops and talks from the likes of graphic novel author Warren Ellis and journalist Alex Andreou. Middlesex University, various prices, book ahead, 11am-7pm
SHEEP PIG GOAT: There's a disconnect between the way that humans perceive animals through our stories and the lives they truly live. Sheep Pig Goat is a project that aims to bridge the disconnect. Peckham, free, book ahead, 11.30am-1pm, 2pm-3.30pm & 4.30pm-6pm, until 19 March
SOAPBOX SCIENCE: Pay a penny to hear this lecture on the lack of representation of women in science today — did you know that less than 26% of biology lecturers are female? Morley Gallery, 1p, just turn up, 6pm-7.30pm
SPITALFIELDS NIPPERS: Get an insight into the lives of East End Londoners at the end of the 19th century. This series of photos, taken by Horace Warner, shows some of the poorest people in London and is the subject of a talk by the Gentle Author Museum of Childhood, £7, book ahead, 6.30pm-8pm
IMMERSIVE THEATRE: Croydonites Festival of New Theatre present Morningstar, an abstract piece that tackles who you can and can't trust. Secret location, Croydon, £8/£6, book ahead, 7pm, 8pm, 9pm, 10pm
BEER AND BROWSE: Libreria Bookshop in Spitalfields is putting some amazing things together in blender to concoct a cultural mash-up evening. Wander around the shop with a beer in hand, while The Wizard of Oz is screened to the sounds of Pink Floyd's Dark Side Of The Moon. Libreria Bookshop, free, just turn up, 7pm-9pm
QUIZ NIGHT: Which famous artist painted the ceiling of the Paris Opera in 1964? Which is heavier a cricket bat, or a basketball? Answer these challenging questions and more at Ben Uri Gallery's charity quiz night. Ben Uri Gallery, £25/£12.50, book ahead, 7pm-9.30pm
HACKNEY WOTEVER: Bar Wotever was founded in 2005 and is now one of the world's longest running queer performance events. Expect live music, cabaret, comedy, talks, films, dance, spoken word and more tonight. Hackney Attic, £8/£6, book ahead, 7.30pm
BIG SAM: The man, the myth, the legend: Sam Allardyce is speaking at Oasis Hub in Waterloo. He'll tell some of his favourite footballing stories from his long career in the game, with all proceeds going to Hub Athletic, which change the lives of young people through football. Oasis Hub, £15, book ahead, 7.30pm-10pm
---
Don't miss your chance to grab tickets at a £10 discount for Seventeen — the critically-acclaimed play at the Lyric Hammersmith
Seventeen is set after the end of the last day of school, when everyone's meant to move on. It's about the cusp of adulthood, the cusp of complete change.
But Seventeen is a coming-of-age story with a difference — one with some surprises up its sleeve...
If you want to come and watch it with fellow Londonist readers, we have a batch of tickets to the performance on 20 March. Even better, you'll get £10 off your tickets, with the best seats in the house for just £25.
For more details and to book your tickets, click here.
---
Art review: colourful paintings
We've never been sure about Maria Lassnig's washed out self-portraits, but this show across two gallery spaces has converted us somewhat. From her portraits to her abstract works, the full range of her colourful works presents her as more than just a creator of beautiful paintings. Maria Lassnig: A Painting Survey - 1950-2007 at Hauser & Wirth, 23 Savile Row, W1S 2ET, until 29 April, free ★★★☆☆ (Tuesday-Saturday) Tabish Khan
Theatre review: history repeating itself
Labour is failing, flailing and fighting no one but itself under an unpopular leader. The Tories have a female PM and the country feels messy and tetchy. Cue drama as four politicians meet up in a Docklands kitchen to plot defection. It's not 2017 but 1981 in this witty take on politics and the personalities involved that proves that the more things change, the more they stay the same. Five strong performances and a sharp script make for an entertaining, informative piece. Limehouse, Donmar Warehouse, 41 Earlham Street, 
WC2H 9LX, £10-40, until 15 April ★★★★☆ (Monday to Saturday) Chris Bridges
Good cause for the day
SONGS FROM THE HEART: In 2005 Paul Toeman's father died suddenly of a heart attack. Since then he's been a staunch supporter of the British Heart Foundation. Here he sings a concert in their aid, featuring songs focusing on love and the heart in memory of his father. Lauderdale House, £20, just turn up, 7.30pm-9pm
Fun things to do with our friends and sponsor Funzing...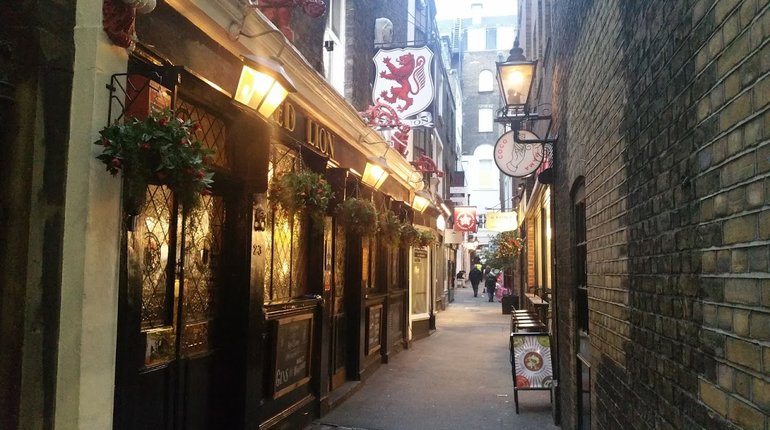 London is a city of incredible transformation. With structural remains that date back to ancient history still in existence, this unique walking tour takes in Lost London in all its former glory. From the Titanic booking office to the graveyards of man's best friend, you'll discover the weird and wonderful places that used to exist in the capital but are now only committed to memory. Using old photographs, newspaper cuttings and stories from the past, you'll be amazed at what has largely been written out of our history books... Get tickets
Whether you're a pre-grated cheddar sprinkler or mimolette fan, this cheesy walking tour will delight your senses. Starting off at a cheese counter in Mayfair that has been serving for more than 300 years, you'll tour the city's best dairy delights - including Fortnum & Mason, where the royals get their fix. Get tickets
Take to the waters and glide about in this beginner paddleboarding session. By the end of it, you'll be standing up and paddling solo, and there's plenty of help on hand to improve your technique. Change of clothes required. Get tickets
Track the journey of humanity through this tour around the British Museum. The tour aims to help you understand why the world is the way it is, and show how humans learned to question absolutely everything. Get tickets