Things to do today is sponsored by Liberty Festival.
What we're reading
Things to do
PAPER CLAY: Italian ceramist Paola Paronette's paper clay exhibition opens today. Using a blend of paper, card and clay, she produces vessels that seem weightless when alone, yet like skyscrapers and sea creatures when grouped together. Contemporary Ceramics Centre (Bloomsbury), free, just turn up, 10.30am-6pm
KEW COLLECTIONS: Expert botanist and historian, Mark Nesbitt, talks through Kew's collection of fascinating and beautiful fibres. Discover why only a few of the 1,000 species of plant fibre are a commercial success. Chelsea Physic Garden, £17, book ahead, 6pm-8.15pm
SUMMERS BIGGEST HIT: See Middlesex take on Surrey this summer at the home of cricket, in an action packed night — perfect for sports lovers or simply an after work jaunt with friends. Lord's Cricket Ground, £20 (kids £5), book ahead, 6.15pm
STYLISH LONDON: We all love prancing about London's stylish shops, restaurants and attractions. Join Insider London author Rachel Felder and a panel of London experts as they reveal their favourite hidden spots in the capital. Stanfords (Covent Garden), £4, book ahead, 6.30pm-7.45pm
DEAD, LIFE DRAWING: With cabinets full of (not so alive) life models from across the animal kingdom, you're invited to try your hand at drawing some of them. Beginner or expert, everyone is welcome. the Grant Museum of Zoology, £8, book ahead, 6.30pm-9pm
AMERICAN CENTURY: A eulogy for the death of the American popular imagination, using a single all-embracing motif: junk food. Performed by Kuwaiti visual artist, Monira Al Qadiri. Gasworks (Vauxhall), free, just turn up, 7pm
WILD AND PLAYFUL: Bored of the daily grind? This playful session is sure to bring colour back to your life, as you go wild with paint in a special plastic play zone. Who says you have to grow up? The Hive (Dalston), £25, book ahead, 7pm-10pm
BRING THE TALENT: London's got talent, loads of it, and it's time to show it off at Bring it! open mic night. With a bar stocked with organic and craft drinks, and a bun and fries meal deal, you can't go wrong. Grow (Hackney Wick), free, just turn up, 7pm-11pm
CHANGE THE WORLD: A one-woman satire about left-wing activism, in which Adele embarks on a mission to save the world. How did the Tories win anyway? Everyone she knows voted Labour... King's Head Theatre (Islington), £12, book ahead, 8pm
END OF THE WORLD: In Norse myth, Ragnarök is the end of the world via huge volcanic explosion. Folklorist and author Carolyne Larrington looks at whether there's anything the gods can do to stop it, and if not — is there any consolation to be had in total annihilation? The Old King's Head (London Bridge), £3, just turn up, 8pm-10pm
---
Try wheelchair basketball at Liberty Festival
Fancy giving wheelchair basketball a go? You can do this and much more at Liberty Festival, a free family-friendly day out at Queen Elizabeth Olympic Park that's dedicated to disability arts and sports.
Be wowed at ILL-Abilities' dance performances, and inspired by photographic exhibition Liberty Parade; watch circus acts and street theatre while enjoying the atmosphere of the all-inclusive festival.
Pack a picnic or make the most of the global street food on offer. Entry is free, but you'll need a ticket if you want to see the World Para Athletics Championships which will also be going on. Find out more about Liberty Festival here.
---
Art review: Picasso & Warhol
This exhibition is inspired by great art collectors of the past, but that's just the excuse to display a fantastic range of works by Picasso, Andy Warhol's pop prints of Marilyn Monroe and Chairman Mao, Joan Miro's colourful abstract paintings and Marc Chagall's dream-like figures. It's a high quality collection all of its own. The Art of the Collector at Halcyon Gallery, 144-146 New Bond Street, W1S 2PF. Until 20 August, free. ★★★★☆ Tabish Khan
Food review: steaks and the city
The Trading House's building used to be the Bank of New Zealand, but now it's big pineapple-shaped lights, gilding and plant fronds everywhere. With a pianist doing Ed Sheeran covers in the corner for good measure. Cocktails are just as flamboyant, with tropical new-for-the-summer ones like the kiwi-based Velvet Green Martini, and leaning towards stickily sweet. But the beer list's worth exploring, running from standards through to specialist ale, flights and IPA-based cocktails. Food bounces across pies, tapas, kebabs and charcuterie — but at a random sample, The Trading House is doing several of those far better than you'd expect from such a long, sprawling menu. The Trading House might be trying to please everybody, but if you're in the market for decent beers, big slabs of garlic-buttered meat and perfectly-blackened jerk salmon kebabs, it'll probably succeed. The Trading House, 89-91 Gresham Street, EC2V 7NQ. ★★★★☆ Lydia Manch
Art review: all about the surface
Two different exhibitions both focus on use of materials. Channing Hansen hand weaves as if paintings are jumping from frame to frame, while a group show of Masters looks at how surfaces are manipulated through knotting, burning and slashing to create minimalist works. A masterclass in the use of the material. Channing Hansen and Painting on the Edge at Stephen Friedman Gallery, 11 & 25-28 Old Burlington Street, W1S 3AN. Until 29 July, free. ★★★★☆ (Tuesday-Saturday) Tabish Khan
Good cause for the day: poppy walk
Open to all abilities, join 1,000 others in a sponsored walk around a guided trail. Equipped with a quiz, make sure to look out for all the clues on the way... you'll be rewarded for it at the end. In aid of The Royal British Legion. Honourable Artillery Company, £20, book ahead, 16 July, 8.30am-6pm
Fun things to do with our friends and sponsor Funzing...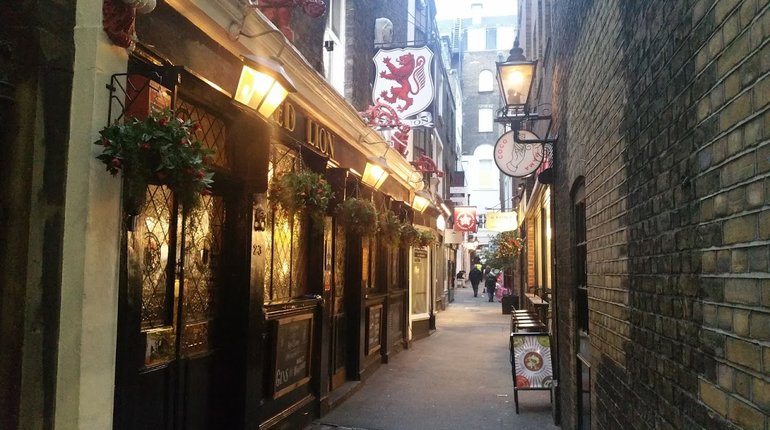 London is a city of incredible transformation. With structural remains that date back to ancient history still in existence, this unique walking tour takes in Lost London in all its former glory. From the Titanic booking office to the graveyards of man's best friend, you'll discover the weird and wonderful places that used to exist in the capital but are now only committed to memory. Using old photographs, newspaper cuttings and stories from the past, you'll be amazed at what has largely been written out of our history books... Get tickets
Take to the waters and glide about in this beginner paddleboarding session. By the end of it, you'll be standing up and paddling solo, and there's plenty of help on hand to improve your technique. Change of clothes required. Get tickets
Tales of torture and plagues await you on a historical walk around London -- see bombed out ruins, discover Medieval markets and even visit a Roman ampitheatre. £12 Get tickets
How well do you really know London? Visit the streets that inspired Harry Potter locations and see London's most superstitious hotel. On Matt's tour you will explore hidden places and discover stories unknown to even the most knowledgeable of Londoners. Get tickets