Things to do today is sponsored by Wimbledon Open Studios.
What we're reading
Things to do today
ART FAIR: It's the first day of The Affordable Art Fair in Hampstead, which is about as does-what-it-says-on-the-tin as you can get. Hampstead Heath, £10-£25, book ahead, 11-14 May
CLOWN FESTIVAL: Prepare for some ridiculousness at London's Clown Festival; for the next 11 days London is overflowing with physical comedy. Various locations and prices, book ahead, 11-21 May
MANSION HOUSE: Discover the story behind the creation of Mansion House, the home and workplace of the Lord Mayor of the City of London. Sally Jeffery speaks on its design and the numerous changes it's undergone over time. Guildhall Library, £5, book ahead, 6pm-8pm
LIVING LITERATURE: Immerse yourself in the world of La Belle Époque, with its scents, fashion, music, drink and food, as Living Literature recreate Proust's In Search of Lost Time. Senate House, £40/£20, book ahead, 6.30pm-10pm
COSMIC WEB: Scientists believe that the structure of our Universe is like a sponge made up of clusters of galaxies intricately connected by filaments of galaxies — a magnificent structure now called the 'cosmic web'. Hear more from a man behind the theory, J. Richard Gott. The Royal Institution, £14/£10/£7, book ahead, 7pm-8.30pm
SEXUAL THEATRE: It's time for an honest chat about sex with researcher/artist/provocateur Louise Orwin. Camden People's Theatre, £12/£10, book ahead, 7.15pm-8.25pm
MEDIEVAL POETRY: Music, performances and discussions are all part of this exhibition opening, inspired by 14th century epic poem Piers Plowman. Southbank Centre, free, just turn up, 7.30pm
ONE MAN SHOW: 'A bravura display of masterful physical comedy'. So said one reviewer on Henry Maynard's one man show Tatterdemalion, which is in town for the next few days. Wilton's Music Hall, £10.50-£17.50, book ahead, 7.30pm, 11-13 May
LIVE MUSIC: Watch music that bridges the cultural borders of Armenia and Turkey, from duduk player Vardan Hovanissian and saz player Emre Gultekin. Rich Mix, £10/£12, book ahead, 8pm
MADNESS TALK: Follow a social history of madness in London through the lens of the 750+ year old Bethlem Hospital, from speaker Catherine Arnold. The Old King's Head (Borough), £3/£1.50, book ahead, 8pm-10pm
---
Sponsor message
Discover over 100 contemporary artists at Wimbledon's Open Studios
The doors of Wimbledon Art Studios are being flung wide open this Thursday to Sunday, with access to the working studios of 120 artists and makers. It's part of Open Studios, a free arts fair, where you can see these contemporary artists doing their thing, and buy their affordable works with 0% commission.
There's a full programme of talks, workshops and family activities, and the chance to sit back with some food and drink before purchasing your perfect piece. Find out what's happening here.
---
Art review: little dancers
Degas was famous for his paintings and sculptures of little dancers. This small exhibition brings together these sculptures and paintings, revolving around an exquisite rare bronze sculpture. Degas: Little Dancer Re-discovered at Stair Sainty, 38 Dover Street, W1S 4NL, until 26 May, free  ★★★★☆ (Monday-Friday) Tabish Khan
Theatre review: Jude Law lays down a steamy masterclass
Fresh from his TV success as The Young Pope, Jude Law appears in Obsession, directed by Ivo Von Hove (Lazarus, Hedda Gabler). The story is lifted from an unfilmed screenplay by Luchino Visconti (Death In Venice) and revolves around a murky mix of sex, murder and betrayal. So far, so Italian, but Von Hove elevates the strangely stiff, stilted and staccato script into an engaging study of human nature peppered with insightful observations on love and connection. As peripatetic hunk Gino, Law lays down a steamy masterclass in sensuality and soulfulness while, opposite him, Halina Reijn is an invigorating foil as the desperate drifter who values roots over freedom. A heart-rending denouement is spoiled by a mawkish and eminently missable epilogue which veers on the pretentious; by all means, feel free to leg it early to avoid the rush. Obsession will be broadcast live at the Barbican as well as cinemas around the UK and internationally on 11 May. Barbican, Silk Street, EC2Y 8DS, £16-£60, until 20 May ★★★☆☆ Franco Milazzo
Food review: Mars, via Haggerston
Space-themed happenings are afoot at The Art of Dining's new supperclub. The year: 1965. The mission: to colonise Mars. A £55 ticket gets you a cocktail, five courses and a chance to compete for a place on the shuttle. In the world of food-theatre mash-ups, AoD are doing the food half of the formula far better than most of their rivals. Their pop-up kitchen turns out a series of brilliant dishes. The best is the jambalaya, a glazed octopus leg curling out of the baking foil with B-movie menace, but the sticky heat of the Xi'an potatoes and cumin pork is a strong second. We don't get selected to be shot into space, but we do leave very full, and wearing a lot more tinfoil than we arrived in. Operation Red Rocket, 43 De Beauvoir Road, N1 5SQ ★★★★☆ Lydia Manch [Operation Red Rocket is running on 5, 6, 10, 11, 12 and 13 May]
Good cause for the day
Fun things to do with our friends and sponsor Funzing...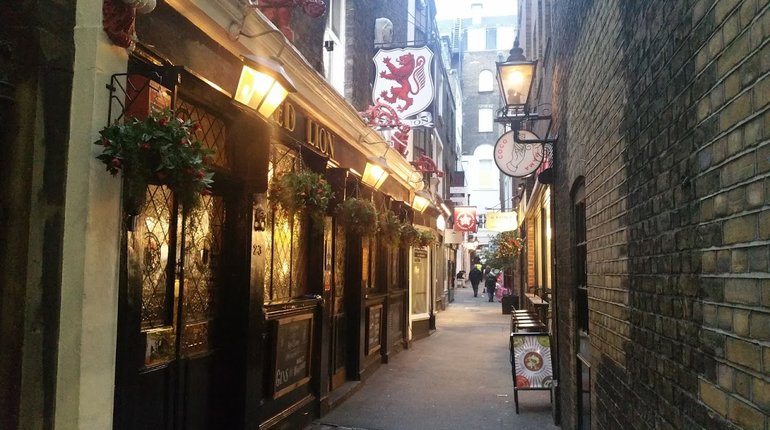 London is a city of incredible transformation. With structural remains that date back to ancient history still in existence, this unique walking tour takes in Lost London in all its former glory. From the Titanic booking office to the graveyards of man's best friend, you'll discover the weird and wonderful places that used to exist in the capital but are now only committed to memory. Using old photographs, newspaper cuttings and stories from the past, you'll be amazed at what has largely been written out of our history books... Get tickets
How well do you really know London? Visit the streets that inspired Harry Potter locations and see London's most superstitious hotel. On Matt's tour you will explore hidden places and discover stories unknown to even the most knowledgeable of Londoners. Get tickets
Take to the waters and glide about in this beginner paddleboarding session. By the end of it, you'll be standing up and paddling solo, and there's plenty of help on hand to improve your technique. Change of clothes required. Get tickets
If you've never paired ceramics and prosecco before, why on earth not? It's a match made in heaven as Sam and Diana, co-creators of 'Make Your Own', prove at their wonderfully welcoming ceramic painting workshop. Pull up a stool, don an apron and get to work on your very own mug, plate, tile, bowl or ornament. They provide the ceramics as well as a selection of patterns, and will show you exactly how to transfer designs and paint to your heart's content. It's BYO so feel free to pop the prosecco and enjoy the company of like-minded Londoners as you get stuck into your creations. Get tickets