What we're reading
Things to do today
DANCE WITH ME: Things I Like In Bethnal Green (Dance With Me), is an exhibition of eight short films that show the passing of time in Bethnal Green. Oxford House, free, just turn up, 9am-10pm, 6-12 March
LAST CHANCE FOR UNDERWEAR: This week's your last chance to check out the V&A's comprehensive history of underwear exhibition, which we loved. Victoria & Albert Museum, £12, book ahead, until 12 March
PIZZA OPENING: Pizza Pilgrims' conquest of London continues at a pace hotter than the ovens that fire the doughy delights; this time they've come to Shoreditch. It's BYOB and if you bring a chocolate bar they'll calzonify it for you. Monday's their first day, so to celebrate it's 'pay what you like'; with all proceeds going to the Samaritans. Pizza Pilgrims Shoreditch High Street, pay what you like, just turn up, 11.30am-11pm
GLOBAL (LUKE)WARMING: Between the two polarised opinions on global warming, a third approach has appeared. It states the world's getting warmer but it's not so bad. Professor Tim Palmer investigates this viewpoint from a rigidly scientific perspective. The Royal Society, free, just turn up, 6pm
CRIME FICTION: A panel featuring some of the best crime writers in the business will be talking about their books which keep readers up late into the night. Browns - The Judges Courts, £7, book ahead, 6.30pm-7.30pm
SPELLING BEE: Ever looked at a children's spelling bee and thought you could do so much better? Well now it's time to put your money where your mouth is with the London adult spelling bee. Take part, or just watch the madness unfold. Drink, Shop & Do, £5, book ahead, 7pm-8.30pm
UKULELE HOOTENANNY: Whether you're a beginner or an expert ukulele player, you're welcome at this ukulele hootenanny. Borrow an instrument or bring your own and take part in renditions of old classics and modern pop songs on the ukulele. Queen of Hoxton. Free (£20 refundable deposit), 7pm-12am
COMEDY DOCTOR: Is it possible for a doctor to diagnose and save the NHS in one comedy show? Well Dr Phil Hammond is giving it a shot. Leicester Square Theatre, £15/£12, book ahead, 7.15pm
GIANT NIGHT OUT: The latest in the superb Milestones series sees John Coltrane's masterpiece Giant Steps performed in its entirety. Opportunities to hear such genre-defining music played live are rare; don't miss this one. The Jazz Cafe, £10, book ahead, doors 7.30pm
Art review: a water contraption
Tokyo's subway is state of the art, but often fixes for leaks are very makeshift, such as a piece of plastic sheeting. Yuko Mohri has used this to inspire her creation where water moves throughout the installation and interacts with everyday items in a fascinating flow. Yuko Mohri: More More [Leaky] at White Rainbow, 47 Mortimer Street, W1W 8HJ, free Until 11 March ★★★☆☆ (Monday-Saturday)
Theatre review: Danish modern
If you can get a ticket, we think you'd love the Almeida Hamlet, even if you're not specifically lusting after Andrew Scott (Moriarty from Sherlock) pitching to rival Cumberbatch's star turn in the same role.
It's Shakespeare for the 'Borgen' generation; a slick and surveillance-heavy visual on a cool penthouse set where Juliet Stevenson's splendid dirty dancing Gertrude can shag Claudius on a couch while the Norwegian ambassador paces the corridor. Enjoy cute turns of Amaka Okafor and Calum Finlay as Rosencrantz and Guildenstern or Jessica Brown Findlay's bathtub-dunking Ophelia, but even though you could ice a cake during some of his pauses, it's Scott's softly spoken, vulnerable and charming Dubliner Dane that holds your gaze and speaks the famous lines completely afresh, and as if to only you. Hamlet, Almeida Theatre, Almeida Street, N1 1TA £10-38 28 February-15 April ★★★★★ Johnny Fox
Good cause for the day
PAINFUL COMEDY: Laugh Till It Hurts brings together a fantastic collection of comics (including the reliably excellent Ed Byrne) in aid of the children's charity Barnardo's. The Hippodrome Theatre, £22, book ahead, 29 March, 7.30pm
Fun things to do with our friends and sponsor Funzing...
London is a city of incredible transformation. With structural remains that date back to ancient history still in existence, this unique walking tour takes in Lost London in all its former glory. From the Titanic booking office to the graveyards of man's best friend, you'll discover the weird and wonderful places that used to exist in the capital but are now only committed to memory. Using old photographs, newspaper cuttings and stories from the past, you'll be amazed at what has largely been written out of our history books... Get tickets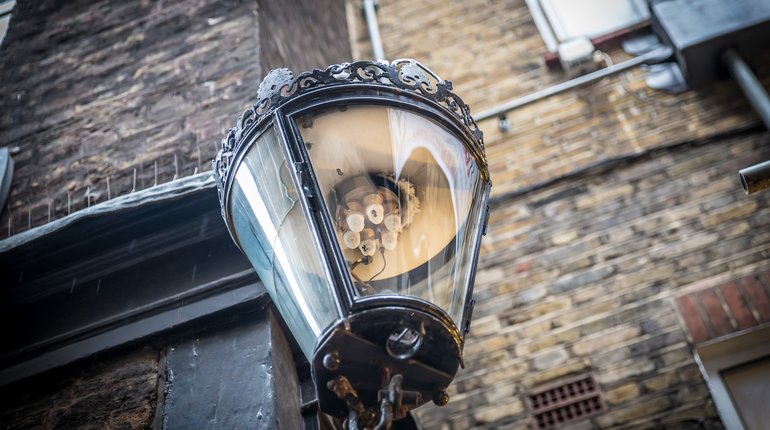 How well do you really know London? Visit the streets that inspired Harry Potter locations and see London's most superstitious hotel. On Matt's tour you will explore hidden places and discover stories unknown to even the most knowledgeable of Londoners. Get tickets
If you've never paired ceramics and prosecco before, why on earth not? It's a match made in heaven as Sam and Diana, co-creators of 'Make Your Own', prove at their wonderfully welcoming ceramic painting workshop. Pull up a stool, don an apron and get to work on your very own mug, plate, tile, bowl or ornament. They provide the ceramics as well as a selection of patterns, and will show you exactly how to transfer designs and paint to your heart's content. It's BYO so feel free to pop the prosecco and enjoy the company of like-minded Londoners as you get stuck into your creations. Get tickets
We all know Soho is changing - and fast. But does the Soho of decades past - fiercely independent, occasionally seedy, always flamboyant - still exist? Antony Robbins claims it does - if you know where to look. A former director at the Museum of London, Robbins now leads walking tours of Soho, delving into the area's past and present. His Sex, Death and Shopping tour covers scandals of yesteryear through to present-day erotica - taking in hidden gardens, sinister histories, and little-known facts of famous places. A bit sinister. A bit salacious. And exceedingly well-tailored. It's a tour to have you falling in love - or lust - with this part of London all over again. Get tickets