Things to do
WORLD FOOD MARKET: Monday marks the start of Devonshire Square's week long World Food Market, hosting a diverse mix of food from every corner of the globe. Free entry, just turn up, 5-9 December
BJÖRN BORG POP-UP: Christmas is the time of year where people kick back, relax and inevitably pile on the pounds. If you want to try and fight that trend, then get the right gear for a winter workout at sports clothing brand Björn Borg's Covent Garden pop-up store, open for the next two weeks. Free entry, just turn up, 5-18 December
HAMMER & TONGS: Hammer & Tongs restaurant opens today on Farringdon Road. Expect outdoor-style eating, when you're indoors and cosy. Taste traditional Namibian and South African food, cooked over the largest wood-fire grill in London, without being at the mercy of temperamental British weather.  Booking recommended, 11am-12am
VICTORIAN IMMIGRATION: Fears of immigration are by no means a new thing and Ruth Byrne has been investigating how the Victorian media reacted to the trend. She's giving a talk on her research at the British Library, about some of Britain's most popular immigrants. Refreshments (tea and coffee) provided. £5, book in advance, 12.30pm-1.30pm
HELP REFUGEES TALK: The charity Help Refugees is taking over Libreria bookshop off Brick Lane, for a series of talks by speakers with personal experience of dealing with refugees in crisis. This is part of a Help Refugees' Choose Love campaign, which aims to raise awareness over the refugee crisis. £3, book in advance, 6pm-8pm
TS ELIOT POETRY PRIZE: Have your say in who you think deserves the prestigious TS Eliot Poetry Prize at Southbank Centre. The talk will be hosted Ruth Padel, the chair of the judging panel, as they rattle through each of the 10 shortlisted poets. Audience members can raises queries, criticisms and praise, to make sure their voices are heard in the final decision. Free, book in advance, 6.30pm
FAIRYTALE FASHION: Step into a pair of (possibly proverbial) diamond shoes and live out a fairytale fantasy. Lucy Adlington and Meredith Towne from The History Wardrobe will guide you through their collection of dazzling replica gowns at Strawberry Hill. Tickets come with a glass of fizz. £25, book in advance, 7pm
DANIEL SLOSS: Comedian on the rise Daniel Sloss is bringing his new show, So?, to the Soho Theatre. The way things are going for him, he'll soon be playing much larger venues, so this might be the last chance to see him in such an intimate setting. £10, book in advance, 7.15pm
THE COMING WAR ON CHINA: BAFTA award winning director John Pilger examines the terrifying possibility of an upcoming war between America and China. The screening takes place at Picturehouse Central on Shaftesbury Avenue and will be followed by a live satellite Q&A from Pilger. £16, book in advance, 8pm
CHRISTMAS CABARET: Some of the top West End performers in London are taking a night off from their regular shows, to put on this Christmas spectacular. Hear all your favourite Christmas tunes, sung by someone with a little more talent that family member who refilled their glass one too many times during Christmas dinner. Hippodrome Casino, book in advance, from £15, 10.30pm-12.30am
---
Good cause of the day
KNITATHON: The last few weeks have shown that this is a dangerously cold winter period, and although that may improve Christmas cheer for some, for others it takes a terrible toll on their lives. See Fashion are partnering with North London Action for the Homeless, to put on a Knitathon in to help everyone survive the freezing weather. Supplies will be provided alongside a mini-workshop at The Bridge Cafe. Donation required upon entry, 6pm
---
(We weren't huge fans of this, but maybe you'll like it).
DULL PAINTINGS: 'Painting isn't dead' is the scream often heard from those sick of everyone thinking the leading edge is all about video and performance. So we get bright colours, collage and minimalism. But the only think linking these works is they are all remarkably dull, with the exception of Dexter Dalwood's evocative interiors and landscapes. A poor showing from the Saatchi gallery. Painters' Painters at Saatchi Gallery. 30 November - 28 February, free. ★★☆☆☆
---
Fun things to do with our friends and sponsor Funzing...
London is a city of incredible transformation. With structural remains that date back to ancient history still in existence, this unique walking tour takes in Lost London in all its former glory. From the Titanic booking office to the graveyards of man's best friend, you'll discover the weird and wonderful places that used to exist in the capital but are now only committed to memory. Using old photographs, newspaper cuttings and stories from the past, you'll be amazed at what has largely been written out of our history books...   Get tickets
Whether you're a pre-grated cheddar sprinkler or mimolette fan, this cheesy walking tour will delight your senses. Starting off at a cheese counter in Mayfair that has been serving for more than 300 years, you'll tour the city's best dairy delights - including Fortnum & Mason, where the royals get their fix.   Get tickets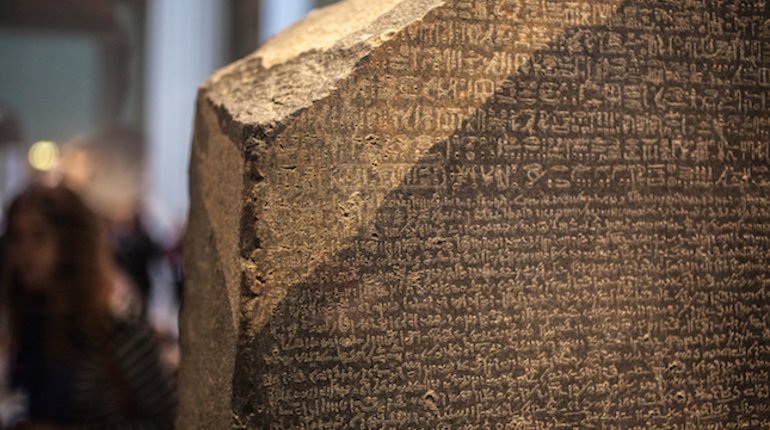 Track the journey of humanity through this tour around the British Museum. The tour aims to help you understand why the world is the way it is, and show how humans learned to question absolutely everything. Get tickets
The London Undergound is over 150 years old, and it's seen a thing or two in its time. Are you brave enough to face the ghosts of the Underground? Travel through the home of the Bank's Black Nun, learn about the elderly angel who saved a tube worker from death, and come to face to face with Farringdon's screaming spectre. Bring your oyster card and discover the hidden secrets of the Underground. You'll need to have an Oyster card or travelcard for this event. Get tickets