Things to do this weekend is sponsored by New Artist Fair.
All weekend
TASTE EXPLOSION: Can't get enough of Chinese food? The Chinese Food Festival is probably right up your street with grub from Chang's Noodle, Kova Patisserie, Tang's Crawfish and more. Potters Fields Park (London Bridge), free entry, 8-10 September
STREET WISDOM: Open your eyes fully to your everyday environment with Street Wisdom, a non-profit social enterprise offering a guided mindfulness experience and bringing inspiration and answers to wanderers all over the world. Various locations, free, just turn up, 8-10 September
CLASSIC CAR BOOT: Love vintage vehicles? Get yourself down to King's Cross where an amazing array of choppers, scooters, custom cars and unique bicycles will be parking up for #classiccarbootsaleKX, with vintage clothing and homewares being sold from them. You can also race a mini Jaguar Formula E car, or ride a Penny Farthing or a 3D bike. King's Cross, £4/£5 entry, booking recommended, 9-10 September
PAINTED CEILINGS: See the exquisite baroque paintings that line the walls and ceilings of the Painted Hall at the Old Royal Naval College in a unique way. Ascend a 60ft high observation deck and get up-close to the artwork, exploring the mysteries and intricacies of these masterpieces. Old Royal Naval College (Greenwich), £10, book ahead, 9 & 10 September (and other dates later in the year)
MAGNUM: It's your last chance to snag a custom indulgent Magnum ice cream at the pop-up Magnum Pleasure Store in Seven Dials. Make your ice cream your way, because once it's gone summer is officially over and that's already sad news as it is. Magnum Pleasure Store (Seven Dials), £5, just turn up, until 10 September
ANIME FILM ART: Are you fascinated by the world of anime? This exhibition of handmade background illustrations for classic sci-fi anime films features drawings and paintings from some of the most influential productions in the genre's 1990s heyday, including Ghost in the Shell. This is the last weekend of the exhibition. House of Illustration (King's Cross), £4/£5/£7.50, book ahead, until 10 September
TELL YOUR FRIENDS: The best of Tel Aviv is coming to London in the form of a festival that explores the Israeli city's rich and diverse history and experience. From food, music, nightlife and arts, immerse yourself in another country's culture without the expense of a flight to do so. Roundhouse/Coronet (Camden), free entry, 8-11 September
FILM BUFFS: This year's Charlton and Woolwich Free Film Festival offers 18 free screenings in venues such as a Jacobean manor house, a local carers' centre, a rugby club and open air at St George's Garrison Church. This weekend, watch Sunshine, The Others, Suffragette or Withnail and I. Various locations, free, just turn up, 8-16 September
PIER COMMISSION: Erith Pier — London's largest — is jazzing things up a bit by commissioning an artist to reimagine the space through an artwork consisting of ship's sails, reflecting the town's history. Erith Pier, free, just turn up, until 24 September
Saturday 9 September
FIRE ENGINES: The London Fire Brigade's Fire Engine Festival is a chance to explore the pop-up museum, and a rare chance to see a chronological display of fire engines from 1916 – 2017. You can even try on a firefighter uniform. The Workshop (Lambeth), free, just turn up, 10am-3pm
LITERARY CROYDON: Can you wield a pen with the best of them? Croydon Literary Festival is putting on a series of quirky sessions to explore aspects of life in Croydon, as well as author discussions and a session on writing. Clocktower Arts Centre, £7 per event (£30 whole day), book ahead, 10am-5pm
SERPENTINE LATE: Not managed to get your Serpentine fix during the daylight hours? The gallery is staying open late for one day only, letting you see the Grayson Perry and Arthur Jafa exhibitions until 10pm. For those there a little earlier, there's a free tour at 3pm too. Serpentine Galleries (Kensington Gardens), free, just turn up, 10am-10pm
SECRET RICHMOND WANDERING: Are you a bit of a wanderer? Why not take a wild and picturesque wander through Richmond? See some greens, some gardens, and rivers — and forget you're in London at all. Richmond, £4, book ahead, 11am-2pm
SOMETHING NEW: How about learning a new skill this weekend? The Learning Fair in Archway is your chance to try something new, from drumming to German to writing. Teachers and small organisations will be on hand to offer demonstrations and get you started on a new hobby. Hargrave Hall (Archway), free, just turn up, 11am-4pm
MURDER MYSTERY: Secret London Runs sends you back to the 17th century on a 10km run around the streets of London to solve a murder mystery. Samuel Pepys will set you off right, but the interrogation and footwork is down to you. North Greenwich/Deptford Bridge, £19, book ahead, 11.30am-1pm
BOTTOMLESS BRUNCH: Saturdays in London are for bottomless brunches — fact. So book a table at Sanctum Soho for prosecco on tap and some seriously tasty breakfast pots to start the day the right way. Sanctum Soho, £35, book ahead, 11.30am-2.30pm
BEER ON THE COMMON (30% OFF TICKETS): Make that summer feeling last a little longer with Beer On The Common, a day of music, food and beer. Hosted by Sambrook's Brewery and boasting over 100 different brews, the family-friendly event on Tooting Bec Common will also have plenty of street food, market traders, tunes from up-and-coming bands, and entertainment for the kids. Get 30% off tickets with code LONDONIST30. From £7, book ahead, 12pm-10pm (sponsor)

LOOSE LIPS: Enjoy a 12 hour marathon of live music and DJ sets. While you dance the afternoon away to funk, disco, and jazz boogie, you'll also be helping to raise funds to spread awareness of mental health issues. Main Yard Wallis Road, free, just turn up, noon-6pm
SOUTHERN HOSPITALITY: If you haven't tried cajun food yet then you haven't lived. The Walled Outdoor Garden has you covered as they've brought chef Ward Scott all the way from Beaumont, Texas to help Crawfish Bob bring you plenty of authentic cajun spice and all you can eat crawfish. The Walled Outdoor Garden, £25/£20, book ahead, noon-6pm
HIDDEN RIVER FESTIVAL: The urban oasis of Woodberry Down brings you live music, homemade crafts, food and drink stalls, and a wetland treasure hunt against the backdrop of the New River. Fancy a spot of canoeing? They've got that too. Redmond Community Centre, free, just turn up, noon-6.30pm
EAST LONDON WALK: Trace the industrial heritage of lower Lea Valley from its fine porcelain of the 18th century to its gasworks, gin, cosmetics and explosives industry with this Art & History walk roughly following the line of the Greenwich Meridian. Meet at Pudding Mill Lane DLR Station, £10/£8, book ahead, 1pm-3.30pm
BLACK TIE: Do some good today while also having fun at Gala On The Green, which this year is raising money for Alone in London — a youth homeless charity. This black tie gala is putting on local street food, live bands and free-flowing drinks throughout the night for young professionals and is an opportunity to get seriously dolled up. Geffrye Museum (Hoxton), £75, book ahead, 4.30pm-10.30pm
IT'S BRITNEY, BITCH: Okay, it's not the real Britney (she's busy sunning it up in Vegas), but this is the next best thing. Christie Whelan Browne takes a satirical look at the perils of fame in this hilarious cabaret show. The Other Palace (Victoria), from £15, book ahead, 6pm/9pm
---
Sponsor message
Head to Brick Lane for an art show like no other
This September, New Artist Fair's Summer Exhibition is coming to The Truman Brewery for three days of incredible art. Showcasing over 100 contemporary artists, the free-entry show will feature everything from ceramics to photography. The gallery-like setup in the iconic Brick Lane venue makes for a unique celebration of all things creative.
There'll be complimentary drinks and music at the preview on Friday 8 September — this is a ticketed event, but you can check out the show on the Saturday and Sunday for free. Unlike other art shows, the New Artist Fair's work is actually affordable, so you can go home with a piece of extraordinary art without breaking the bank. All of the featured artists are either recently established or just breaking onto the contemporary art scene, and hail from all over the UK as well as countries the world over. Find out more here.
---
Sunday 10 September
THAMES BARRIER: Did you know that the Thames Barrier is one of the largest movable flood barriers in the world? The annual full tide test closure take place today, and there's opportunity to meet the team who operate the site too. Thames Barrier (Woolwich), free, just turn up, 9am-8.30pm
HAMPSTEAD IN THE WAR: Turn back the clocks and find out what Hampstead was like during world war one. The guide on this walking tour will show you where soldiers trained, and what shops and services were available at the time. Hampstead tube, £12, book ahead, 11am-1pm
MARKET MADNESS: East Village Market is entertaining revellers for one more summer Sunday in leafy Victory Park with an extensive mix of traders, delicious foods, beautiful handmade goods, and unique clothes with live music to set the right tone. Victory Park (East Village), just turn up, 11am-4pm
CHILDHOOD FUN: Sunday is the perfect time for a good stomping ceilidh dance extravaganza at the Chrisp Street Country Fair. Play traditional British games like splat the rat, pub skittles, tug of war and welly wangling — you'll be feeling like a child hyped up on sweets in no time. Chrisp Street Market (Poplar), free, just turn up, 11am-4pm
KLEZMER IN THE PARK: Keep it kosher and crafty in Regent's Park at the annual Klezmer party. There's arts and crafts, live music, and plenty of food. Regent's Park, free, book ahead, 12.30pm-6pm
ROAD TO HISTORY: Caledonian Road has a lot to offer London obsessives, and this walk points out highlights which you may never have noticed before, from murals, to clock towers and a famous prison. Learn about the political meetings, fashionable markets, bombs, arms caches, and espionage that made it the place it is today. Meet outside McDonald's next to King's Cross station, £9, book ahead, 1.30pm-3.30pm
PIRATE'S LIFE FOR ME: Looking for some fun for all the family as the summer holidays come to a close? Well good news matey's, y'arr in for a treat with a pirate themed rave with DJs, craft activities for children, toddler play area with tents and tunnels, and more. The Bedford (Balham), £9, book ahead, 2pm-4.30pm
CRAFTING TIME: Does interior design excite you? Are you looking to add a personal touch to your home? Oversized lampshades are apparently all the rage, but instead of buying one that's not quite right how about learning to make one yourself with any fabric you choose? Todd Sloane Gift Shop (Epping), £59, book ahead, 2pm-5pm
INDIAN FEAST: Never mind cake, now you can cook your curry and eat it too with the Underground Cookery School, which will help you prepare your very own Indian feast with tutorials from some top notch chefs. The Underground Cookery School (Old Street), £45, book ahead, 5.30pm-8.30pm
FILM ON THE LAWN: Grab a blanket, a flask, and some popcorn for screenings of award winning films, including the multi award winning The Chop. You can download the full programme on Discover Films' website. Stephens House and Gardens, free, just turn up, 8pm-9.45pm
Fun things to do with our friends and sponsor Funzing...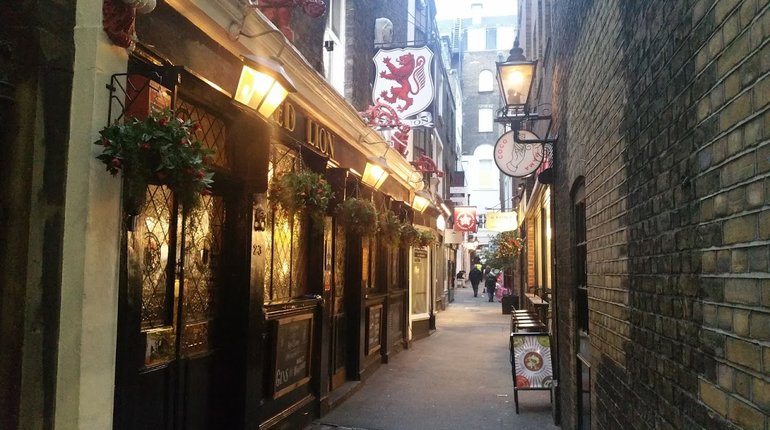 London is a city of incredible transformation. With structural remains that date back to ancient history still in existence, this unique walking tour takes in Lost London in all its former glory. From the Titanic booking office to the graveyards of man's best friend, you'll discover the weird and wonderful places that used to exist in the capital but are now only committed to memory. Using old photographs, newspaper cuttings and stories from the past, you'll be amazed at what has largely been written out of our history books... Get tickets
How well do you really know London? Visit the streets that inspired Harry Potter locations and see London's most superstitious hotel. On Matt's tour you will explore hidden places and discover stories unknown to even the most knowledgeable of Londoners. Get tickets
Struggling to find someone who shares your dark sense of humour? This twisted speed dating event can help. A group of 30-40 people will take part - with equal male/female ratios - and play a few rounds of the hilarious (and slightly dark) card game, Cards Against Humanity. After the event, connect with those who you found suitably sinister using a unique online matching system. Get tickets
If you've never paired ceramics and prosecco before, why on earth not? It's a match made in heaven as Sam and Diana, co-creators of 'Make Your Own', prove at their wonderfully welcoming ceramic painting workshop. Pull up a stool, don an apron and get to work on your very own mug, plate, tile, bowl or ornament. They provide the ceramics as well as a selection of patterns, and will show you exactly how to transfer designs and paint to your heart's content. It's BYO so feel free to pop the prosecco and enjoy the company of like-minded Londoners as you get stuck into your creations. Get tickets