Things to do this weekend is sponsored by Alexandra Palace.
All weekend
BANK HOLIDAY: Got a long weekend ahead of you and looking for things to do in London to fill the bank holiday? Take a look at our suggestions for activities in London, whatever your budget.
AV FESTIVAL: Explore the best in audio visual art and culture with this festival featuring live performances and projects including cinema, projection mapping, visual music, creative coding and exciting uses of technology, plus workshops, talks and more. Various locations and prices, book ahead, 26-28 May
LAST WORDS: The Last Word festival kicks off its opening weekend with poetry slams, a creative writing workshop and a talk from award-winning poet Sabrina Mahfouz, shining the spotlight on themes of home, heritage, mental health, politics and musical journeys. Camden Roundhouse, various prices, book ahead, 25 May-10 June
ALCHEMY: Alchemy Festival showcases the strong cultural connection between South Asia and the UK through performances, workshops and talks from established and emerging talent. Southbank Centre, various prices, 19-29 May
STILL FASHION: Born and raised in Jamaica, fashion-conscious Jessica Ogden presents a selection of objects from her archives and hosts workshops encouraging local residents to utilise their creativity and produce a community piece, narrating local and personal histories. 31-33 Church Street (Marylebone), free, just turn up, until 23 June, 11am-6pm
FOODIES FESTIVAL: Live cooking from award-winning chefs, an entire street food village, a vintage tea tent, a chilli eating competition and live music all set in the stunning 200 acre grounds of Syon Park. Now tell us that doesn't sound like a recipe for a good weekend? Syon Park, various prices, book ahead, 27-29 May
SPANISH FERIA: The traditional festivities of Andalucía inspire this vibrant and colourful celebration of Spanish culture on the banks of the Thames, with brightly decorated 'casetas' rammed full of delicious tapas, beer, wine and live entertainment. Potters Fields Park, free, just turn up, midday-10pm
---
Sponsor message
Fill up on street food and craft beer at Alexandra Palace this weekend
It doesn't get much better than kicking back with a pint and some decent grub on a summer's day. Get yourself to Alexandra Palace this May bank holiday weekend for StrEATlife, a free street food and craft beer festival popping up over four weekends.
There'll be traders offering everything from tacos and waffles to Taiwanese buns, with a fair dose of ale to wash them down with. Music from Soho Radio and Brasstermind will get you in the dancing mood, while more sedate visitors can sit back, relax and enjoy the stunning views over London.

Get the lowdown on dates, traders, and that all-important beer selection on the StrEATlife website.
---
Saturday 27 May
DRAW N' TOUR:Take in the glorious architecture of Southwark Cathedral on a tour led by an expert cathedral guide. There are opportunities to stop, put pencil to paper and sketch what you see in this magnificent building — just make sure you bring your own equipment. Southwark Cathedral, £7, book ahead, 10.30am-1.30pm
PIZZA MASTERCLASS: Learn how to make pizza the Radio Alice way at this masterclass, led by head chef Matteo Aloe. He'll be sharing his techniques on creating the perfect sourdough base, and you can then use seasonal ingredients to top off your feast. Radio Alice Pizzeria (Hoxton Square), £15, book ahead, 11am (other dates available)
TOWN HALL TOUR: Uncover the stories from one of the grandest Vestry Halls in London in this guided tour of Shoreditch Town Hall, exploring everything from the stunning Assembly Hall to the warren of atmospheric basement rooms. Shoreditch Town Hall, £6.50, 11am-12.30pm
LOST PALACES: Did you know that Strand was once lined with opulent palaces, making it the medieval London equivalent of Beverly Hills? Discover the abandoned watergates, ancient chapels and mysterious sunken baths that hint to its hidden past on this guided tour. Temple station, £10/£7, book ahead, 2.30pm-4pm
ART DECO DELIGHT: The original 1930's HQ of the North Met Electricity Company opens its doors for tours showcasing the original Art Deco detailing and the delightful top floor boardroom in the heart of Wood Green. Green Rooms Arts Hotel, £6, book ahead, 3pm-4pm
ROLLER DINER: Rock up to Roller Diner, a 'savage-sweet' musical comedy, set in a faded Brummie beacon of a deep fried American dream. The staff can't skate and there's a whiff of burnt sausages and disappointment. But with the arrival of a new waitress, love, jealousy and murder are on the menu. Soho Theatre. Tickets from £10, book ahead. 7pm
HYPNO RAVE: This booze-free night out created by Harley Street hypnotherapist Tom Fortes Mayer promises all the fun of a conventional night out with no hangover the next day - sounds perfect to us. T.U.R. Church, Camden, £10/£15, book ahead, 7pm-11.55pm
COMEDY LOFT: The hilarious Ian Cognito, Darius Davies, Paul Myrehaug and Freddy Quinne feature in this Laugh Out Loud Camden comedy evening. The Comedy Loft Camden, £15, book ahead, 8pm-1am
Theatre review: Ballroom has a terrific band and a real nice crowd
...or so one of the opening songs goes. Maybe not all the magic is here in this lost musical of loneliness and rediscovering life. But as a vehicle for a star performance by Jessica Martin, it's great. She plays lonely widow Bea who runs off to a ballroom and finds herself living life again. She's vulnerable, she's stunning and she has a great singing voice — and she's supported by a cast of musical theatre veterans. It's a gentle story, but one you could take a divorcee or a not-so-merry widow to check out. Ballroom, Waterloo East Theatre, Brad Street, SE1 8TN, £20‒22.50 Until 4 June ★★★☆☆ [Tuesday-Sunday] Paul Ewing
Sunday 28 May
PAPER ARTISTRY: Acclaimed paper artist Paperboyo hosts a craft and photography workshop teaching you how to create your own paper props, and then recreate his signature Instagram style. Spitalfields Market, free, book ahead, 10am-11am / 11am-midday
BOWLS COACHING: Escape city life and learn the traditional sport of lawn bowls at this free coaching session. Everyone is welcome, regardless of age or skill level. All equipment is provided, just make sure you're wearing flat shoes. North London Bowling Club (Hampstead Heath), free, just turn up, 10am-12pm
COCKTAILS AND BURGERS: Nothing says bank holiday weekend like booze and burgers. Make the most of the extra hangover day as this east London venue gets transformed into a house party throwback. Arch 299, free, just turn up, midday-12am
JAPANESE CULTURE: This beautiful Highgate garden venue hosts an afternoon of contemplative Japanese music, arts, flower arrangement and delicious canapés. Includes a performance from Keiko Kitamura and Justin Senryu. Omved Gardens (Highgate), free, just turn up, 2.30pm-5.30pm
PINHOLE PHOTOGRAPHY: Enjoy a Pimms afternoon tea and a Q&A with expert pinhole photographer Wayne Fosketton, on hand to talk everything from cynatypes to anthotypes at this Grade I listed building. The House Mill (Bow), £15, 4pm-5.30pm
GHOST WALK: There's no better time for a ghost walk than a dark, quiet Bank Holiday Sunday evening. Meander through alleyways, streets and riverside wharves on the walk discovering the best of Deptford's spooky past. Deptford, £10, book ahead, 9pm-10.30pm
VICTORIAN RESTORATION: A rare opportunity to have a look around this Grade I listed Victorian pumping station, The Beam Engine House. Original pumping engines, said to be the largest remaining rotative beam engines in the world, reside here, and will be steaming throughout the day. Crossness Pumping Station, £8, just turn up, 10.30am-4pm
Fun things to do with our friends and sponsor Funzing...
Take to the waters and glide about in this beginner paddleboarding session. By the end of it, you'll be standing up and paddling solo, and there's plenty of help on hand to improve your technique. Change of clothes required. Get tickets
London is a city of incredible transformation. With structural remains that date back to ancient history still in existence, this unique walking tour takes in Lost London in all its former glory. From the Titanic booking office to the graveyards of man's best friend, you'll discover the weird and wonderful places that used to exist in the capital but are now only committed to memory. Using old photographs, newspaper cuttings and stories from the past, you'll be amazed at what has largely been written out of our history books... Get tickets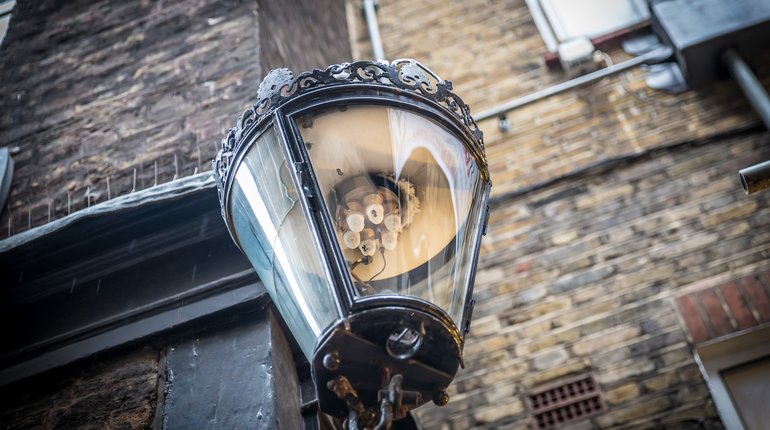 How well do you really know London? Visit the streets that inspired Harry Potter locations and see London's most superstitious hotel. On Matt's tour you will explore hidden places and discover stories unknown to even the most knowledgeable of Londoners. Get tickets
Struggling to find someone who shares your dark sense of humour? This twisted speed dating event can help. A group of 30-40 people will take part - with equal male/female ratios - and play a few rounds of the hilarious (and slightly dark) card game, Cards Against Humanity. After the event, connect with those who you found suitably sinister using a unique online matching system. Get tickets