Things to do is sponsored by Moscow State Circus.
All week
ANIME FILM ART: Are you fascinated by the world of anime? An exhibition of handmade background illustrations for classic sci-fi anime films comes to London for the first time, featuring drawings and paintings from some of the most influential productions in the genre's 1990s heyday, including Ghost in the Shell. House of Illustration (King's Cross), £4/£5/£7.50, book ahead, 5-10 September
MODERN MYTHS: What if Greek mythology was true, but happened in the 21st century? What if Icarus was a man who wanted to fall? And Medusa was a social outcast with a rage against injustice? This festival is bringing classic stories bang up to date with immersive theatre performances. Crypt Gallery (Euston), £8/£10, book ahead, 5- 9 September
MARRIED TO MISCHIEF: Vanbrugh's 1697 comedy The Provoked Wife is reimagined as a modern music festival, and mischief awaits Sir John Brute who is already sick of his two year marriage. Then temptation arrives for similarly disillusioned Lady Brute in the form of a new love interest. The Hope Theatre (Islington), £15, book ahead,  5-23 September (closed Mondays)
Monday 4 September
CRICKET'S THE TICKET: The beautiful grounds of The Honourable Artillery Company host a cricket tournament where six teams will battle it out with a flurry of wickets to be the best, with proceeds going to charity. The Honourable Artillery Company (Moorgate), £20, book ahead, 11.30am-6.30pm
BIG SMALLS: Celebrate groundbreaking and cutting-edge short films at The Smalls Film Festival where independent creatives engage in screenings, masterclasses, industry sessions, panel discussions and a succession of lively parties. Calvert 22 (Shoreditch), £8, book ahead, 6pm-9.45pm (until 5 September)
Tuesday 5 September
DIGI SKILLS: Participate in this free workshop and learn the tools you need to run a business in the digital age. If you're curious about what digital marketing can do for your business then this course might be for you. Aldwych House, free, book ahead, 5.45pm-8pm
TERRIFIC TEA: We know that making the perfect cup of tea is an art form — and that goes for all types of tea. So now you can learn the art of making the perfect chai as well as the perfect coffee with Pamban Chai's masterclasses, which are being held the first Tuesday of every month until December. Pamban Chai & Coffee House, £25, book ahead, 7pm-9.30pm
MODERN AMERICA: Political journalist Jon Sopel divulges his first-hand experience of modern American life through British eyes at a time when the 'special relationship' with Britain has never felt so uncertain. Political extremism, radical division and increasingly perverse beliefs, all will be tackled in conversation with Times columnist and author, David Aaronovitch. The Tabernacle, £18, book ahead, 7.30pm-8.30pm
Wednesday 6 September
HISTORY LECTURE: Think you know all you need to know about Piccadilly and St James? Well, which club voted Margaret Thatcher an honorary man? Where aren't you allowed to run, whistle, sing, or open an umbrella? Which royal lodged two mistresses in the same house? Pete Smith has the answers. Society of Genealogists (Islington), £8, book ahead, 2pm-3pm
WALKING LONDON: It's your last chance to catch a historic walk around London's Grand Hotels in Mayfair, where you can find out what Lord Byron's butler did that was so revolutionary, how two embezzlers founded one of the world's grandest hotels, and which hotel turned into a refuge for deposed European monarchs. Meet at Green Park tube, £10, book ahead, 6pm-7.45pm
TUDOR BREXIT: Ahead of his new programme Reformation being aired on BBC2, Dr David Starkey tackles the English Reformation and the far-reaching effects of this 'Tudor Brexit' in a one-off talk. The Queen's House (Greenwich), £25/£20, book ahead, 6.30pm-7.30pm
BIRDWATCHING: Are you a budding ornithologist? Nicolas Royle and Adam Phillips delve into how Royle's latest novel An English Guide to Birdwatching explores the realm of fact and fiction it its focus on birds, climate change, the banking crisis and more. Freud Museum, £12/£8, book ahead, 7pm-8.30pm
HOW ROMANTIC: Enjoy Valentine's Day all over again with a performance of The Lovers' Bridge of Magpies which celebrates Qixi Jie, or Chinese Valentine's Day. This musical concert tells one of China's most famous folk tales — the story of star-crossed lovers Zhi Nü and Niu Lang and the flock of magpies that came to their aid. China Exchange, £12, book ahead, 7.30pm-8.45pm
BURLESQUE: We've enjoyed their shimmying all summer but it's time to say goodbye to Underbelly's burlesque troupe who have been celebrating everything you love or loathe about the USA. From whiskey-drinking cowgirls to tap dancing Trumps, they've done it all. Underbelly Festival (Southbank), £15.50, book ahead, 9.30pm-10.30pm
---
Sponsor message
Get 2-for-1 tickets to The Moscow State Circus
If you're after an edge-of-your-seat, spine-tingling performance, head to the Moscow State Circus's new show, Gostinitsa for spectacular high wire displays mixed with talented unicyclists and some nifty foot juggling. Sit back and watch acrobats somersault from one moving swing to the other at crazy heights, alongside impressive trapeze artists doing their thing.
The big top is pitching up at four locations in and around London this autumn:
Normans Park, Bromley (6-10 September) | Hersham Green (13-17 September) | Hampstead Heath (27 September-1 October) | Eel Brook Common, Fulham (18-29 October)
Get 2-for-1 adult tickets by quoting code 'JUGGLER' when booking by phone (02033753970) or online.
---
Thursday 7 September
DISPLACED PEOPLE: The experiences of Jewish immigrants to the UK are brought to life in Sephardi Voices. Objects, photographs, and video interviews explain how thriving Jewish communities in Egypt, Lebanon, Iraq and beyond whittled down to almost nothing following mass displacement from the middle of the 20th century. Jewish Museum London, included in museum entry, just turn up, until 17 September
SYRIAN CRISIS: Documentary fans may be interested in Work.Life's screening of 8 Borders, 8 Days which tells the harrowing story of the plight of Syrian refugees. A panel discussion will follow in support of the International Rescue Committee UK's Together for Refugees campaign. The Institute of Light (Hackney), £12, book ahead, 6pm-9pm
TWITCHERS: Get up high at The Monument with a pair of binoculars and do your best impression of Bill Bailey for a masterclass in Urban Bird Watching to discover the wealth of avian wildlife available to view here in London. The Monument, £20, book ahead, 7pm-8.15pm
Friday 8 September
URBAN FOOD: See food differently as Urban Food Fortnight. Sit around for botanical campfire cocktails, find London-sourced supper clubs, or go urban foraging on fun walks. Various locations prices, and times. Book ahead. Until 24 September
CITY LIT: Why not try a range of taster courses and workshops that are available at City Lit? They're hosting two open days so you can try before you buy. City Lit (Covent Garden), £10, book ahead, 10.30am-9.30pm, until 9 September
A CEILIDH GOOD TIME: It's time for some fast paced footwork to raise funds for the children's mental health charity Anna Freud National Centre for Children and Families. They're putting on an evening of Ceilidh dancing which should have you out of breath from exertion and laughter. Promise. Cecil Sharp House (Camden), £17, book ahead, 7pm-11pm
Saturday 9 September
CLASSIC CAR BOOT: Love vintage vehicles? Get yourself down to King's Cross where an amazing array of choppers, scooters, custom cars and unique bicycles will be parking up for #classiccarbootsaleKX, with vintage clothing and homewares being sold from them. You can also race a mini Jaguar Formula E car, or ride a Penny Farthing or a 3D bike. King's Cross, £4/£5 entry, booking recommended, 9-10 September, 10am-6pm (sponsor)
LITERARY CROYDON: Can you wield a pen with the best of them? Croydon Literary Festival is putting on a series of quirky sessions to explore aspects of life in Croydon, as well as author discussions and a session on writing. Clocktower Arts Centre, £7, book ahead, 10am-5pm
MURDER MYSTERY: Secret London Runs sends you back to the 17th century on a 10km run around the streets of London to solve a murder mystery. Samuel Pepys will set you off right, but the interrogation and footwork is down to you. North Greenwich/Deptford Bridge, £19, book ahead, 11.30am-1pm
BOTTOMLESS BRUNCH: Saturdays in London are for bottomless brunches — fact. So book a table at Sanctum Soho for prosecco on tap and some seriously tasty breakfast pots to start the day the right way. Sanctum Soho, £35, book ahead, 11.30am-2.30pm
BEER ON THE COMMON (30% OFF TICKETS): Make that summer feeling last a little longer with Beer On The Common, a day of music, food and beer. Hosted by Sambrook's Brewery and boasting over 100 different brews, the family-friendly event on Tooting Bec Common will also have plenty of street food, market traders, tunes from up-and-coming bands, and entertainment for the kids. Get 30% off tickets with code LONDONIST30. From £7, book ahead, 12pm-10pm (sponsor)
SOUTHERN HOSPITALITY: If you haven't tried cajun food yet then you haven't lived. Luckily folks over at The Walled Outdoor Garden have you covered as they've brought chef Ward Scott all the way from Beaumont, Texas to help Crawfish Bob bring you plenty of authentic cajun spice and all you can eat crawfish. The Walled Outdoor Garden, £25/£20, book ahead, noon-6pm
HIDDEN RIVER FESTIVAL: The urban oasis of Woodberry Down brings you live music, homemade crafts, food and drink stalls, and a wetland treasure hunt against the backdrop of the New River. Fancy a spot of canoeing? They've got that too. Redmond Community Centre, free, just turn up, noon-6.30pm
EAST LONDON WALK: Trace the industrial heritage of lower Lea Valley from its fine porcelain of the 18th century to its gasworks, gin, cosmetics and explosives industry with this Art & History walk roughly following the line of the Greenwich Meridian. Meet at Pudding Mill Lane DLR Station, £10/£8, book ahead, 1pm-3.30pm
EATS & BEATS: How do you fancy a table at a trendy supper club in London's hipster heartland? The Pill Box Kitchen is putting on a night of food, drink and live music with bottomless Mimosas because hey, it's the weekend. The Pill Box Kitchen (Bethnal Green), £30, book ahead, 6.30pm-11pm
Sunday 10 September
PAINTED CEILINGS: See the exquisite baroque paintings that line the walls and ceilings of the Painted Hall at the Old Royal Naval College in a unique way. Ascend a 60ft high observation deck and get up-close to the artwork, exploring the mysteries and intricacies of these masterpieces. Old Royal Naval College (Greenwich), £10, book ahead, 10am-5pm
MARKET MADNESS: East Village Market is entertaining revellers for one more summer Sunday in leafy Victory Park with an extensive mix of traders, delicious foods, beautiful handmade goods, and unique clothes with live music to set the right tone. Victory Park (East Village), just turn up, 11am-4pm
ROAD TO HISTORY: Caledonian Road has a lot to offer London obsessives, and this walk points out highlights which you may never have noticed before, from murals, to clock towers and a famous prison. Learn about the political meetings, fashionable markets, bombs, arms caches, and espionage that made it the place it is today. Meet outside MccDonalds next to King's Cross station, £9, book ahead, 1.30pm-3.30pm
PIRATE'S LIFE FOR ME: Looking for some fun for all the family as the summer holidays come to a close? Well good news matey's, y'arr in for a treat with a pirate themed rave with DJs, craft activities for children, toddler play area with tents and tunnels, and more. The Bedford (Balham), £9, book ahead, 2pm-4.30pm
CRAFTING TIME: Does interior design excite you? Are you looking to add a personal touch to your home? Oversized lampshades are apparently all the rage, but instead of buying one that's not quite right how about learning to make one yourself with any fabric you choose? Todd Sloane Gift Shop (Epping), £59, book ahead, 2pm-5pm
INDIAN FEAST: Never mind cake, now you can cook your curry and eat it too with the Underground Cookery School, which will help you prepare your very own Indian feast with tutorials from some top notch chefs. The Underground Cookery School (Old Street), £45, book ahead, 5.30pm-8.30pm
Fun things to do with our friends and sponsor Funzing...
London is a city of incredible transformation. With structural remains that date back to ancient history still in existence, this unique walking tour takes in Lost London in all its former glory. From the Titanic booking office to the graveyards of man's best friend, you'll discover the weird and wonderful places that used to exist in the capital but are now only committed to memory. Using old photographs, newspaper cuttings and stories from the past, you'll be amazed at what has largely been written out of our history books... Get tickets
Whether you're a pre-grated cheddar sprinkler or mimolette fan, this cheesy walking tour will delight your senses. Starting off at a cheese counter in Mayfair that has been serving for more than 300 years, you'll tour the city's best dairy delights - including Fortnum & Mason, where the royals get their fix. Get tickets
Track the journey of humanity through this tour around the British Museum. The tour aims to help you understand why the world is the way it is, and show how humans learned to question absolutely everything. Get tickets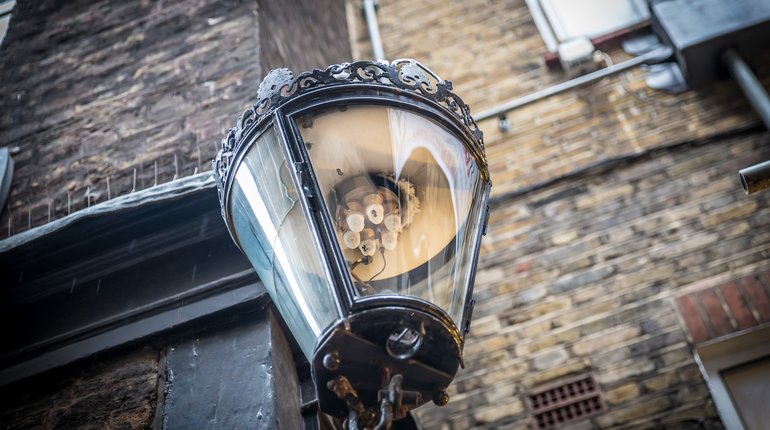 How well do you really know London? Visit the streets that inspired Harry Potter locations and see London's most superstitious hotel. On Matt's tour you will explore hidden places and discover stories unknown to even the most knowledgeable of Londoners. Get tickets