This week is sponsored by Swing Patrol.
All week
TRAGIC TOSCA: If you'd like to dip your toe in operatic waters, the ninth revival of Jonathan Kent's classic production of Tosca is an ideal choice. Escape, jealousy, torture, murder and tragic love play out on Paul Brown's sumptuous, evocative set. Read our full review here. Royal Opera House, £43-£195, book ahead, until 3 March
BEGINNING: Although Facebook and social media form a wider backdrop, this play about the tentative first steps of a relationship is very much about interaction in the flesh, which makes it feel human and engaging. Read our full review here. Ambassadors Theatre, £18-£59.50, book ahead, until 24 March
LADY WINDERMERE'S FAN: This mix of social problem drama and drawing room comedy contains some of Wilde's wittiest epigrams such as "We are all in the gutter, but some of us are looking at the stars". Read our review here. Vaudeville Theatre, £19.50-£75, book ahead, until 7 April
THE BIRTHDAY PARTY: Set in a faded breakfast room with peeling wallpaper and murky windows (by Quay Brothers), Ian Rickson's superbly balanced production does full justice to Pinter's mysterious yet accessible early classic. Read the rest of our glowing five-star review here. Harold Pinter Theatre, £15–85, book ahead, until 14 April 2018
Monday 29 January
OVER-ANALYSERS BOOK CLUB: On the 200th anniversary of Frankenstein, six performers have gathered together to unpick Mary Shelley's classic book, each taking an entertaining stance. Is Frankenstein basically just about daddy issues? Was Shelley off her face on drugs? Waterstones Tottenham Court Road, Fitzrovia, £7, book ahead, 6.30-8.30pm
DARWIN'S UNFINISHED SYMPHONY: Kevin Laland asks how humans evolved from animal-like behaviours to pro-disseminators of culture in this science talk. Royal Institution, £16/£10, book ahead, 7pm-8.30pm
BRIDGET CHRISTIE: Brexit. Trump. Nuclear apocalypse. Environmental catastrophe. Bridget Christie's brand new show What Now? (Work in Progress) namechecks all the topical issues of the day, which will have you laughing through the tears. Battersea Arts Centre, £10, book ahead, 7.30pm, until 30 January
Tuesday 30 January
PUBLIC INFORMATION FILMS: Patrick Russell from the British Film Institute (BFI) uses clips and films to illustrate the development of government filmmaking. Expect lots of black and white footage and RP accents. The National Archives, Kew, £6, book ahead, 2pm-3pm
SHERAZ YOUSAF: The pursuit of Manly-ness is an entertaining take on the modern masculinity crisis. The Betsy Trotwood, £10, book ahead, 7.15pm
TUNED IN TO SHORTWAVE GIG: Errollyn Wallen is, among many other things, the first Black composer to have her work played at the Proms. She has composed a piece alongside Wendy Hiscocks, both of which will be performed by internationally acclaimed violinist Philippa Mo. Grab a pizza, sink into a sofa and let the soothing sounds of these classical performers wash over you. Dreamy. Shortwave Cafe, Biscuit Factory, £10, book ahead, 7.45pm
Wednesday 31 January
AMERICANAFEST2018: You don't need to travel across the pond to get a taste for Americana tunes as 26 of the finest emerging artists from the trans-Atlantic music scene are taking over four Hackney venues (Oslo, Moth Club, Paper Dress Vintage and Empire Bar) for this exciting two-dayer. Various venues, £25, book ahead, 6pm-11.55pm
FREUD'S WOMEN: Lisa Appignanesi will be in conversation with the fabulously eloquent psychoanalyst and author of 'Fat is a Feminist Issue' Susie Orbach about what women's contributions to psychoanalysis. Freud Museum, £12/£10, book ahead, 7pm-8.30pm
FUTURE PHARMA: Get a sneak peak at the drugs of the future in this talk featuring five scientists, who will be discussing the latest in gene therapy, cancer treatment and more. Royal Institution, £16/£10, book ahead, 7pm-8.30pm
SPECIAL GUEST: Audience participation is crucial at this show and tell event, where 50 people get 60 seconds each to share their thoughts, skills, projects etc. Don't be shy — you might meet your next mentor of BFF. Hackney Attic, £10, book ahead, 7pm-9.30pm
REVELATIONS: Listen to a joyous and life affirming story about one guy who made the decision to give his best friends his sperm, as part of Vault Festival. The Vaults, £9, book ahead, 7.15pm-8.15pm, until 4 February
LINJE TIO TAKEOVER: Fancy treating yourself to a tipple from one of the world's top 50 cocktail bars? Of course you do! Just pull up a stool at Wardour Street's The Den, where Stockholm's innovative mixologists have taken up residence. 100 Wardour St, Soho, free entry, just turn up, 6pm-3am, until 10 February
---
Dancing pro or two left feet? These beginner swing classes are open to all
Gym not your style? If you're looking for a fun and friendly way to get fit this year and meet some new people, Swing Patrol's beginner dance classes are the perfect introduction to the world of swing, with more than 40 weekly sessions to choose from (and a pretty hefty social calendar too).
From hole-in-the-wall speakeasies to London's great dance halls, the classes take place at impressive venues across the capital, teaching classic dances from the 1920-40s, including Lindy Hop and Charleston. Whether it's your first time hitting the dance floor or you're a seasoned pro, there are plenty of opportunities to get involved.
No partner? No problem. There's always somebody to dance with, and you don't need to book, either — these friendly classes run on a drop-in basis, meaning you can boogie on down to join the fun as and when you see fit. Click Swing Patrol to check out the full class timetable.
---
Thursday 1 February
DESTINATIONS THE HOLIDAY & TRAVEL SHOW: Sitting at your desk dreaming of your next holiday destination? With more than 550 travel brands present and 50+ hours of free expert talks and panel sessions (including with celebs such as Rick Stein and Michael Portillo), you could turn those dreams into a reality. Olympia London, Kensington, £11, book ahead, 10am-5.30pm, until 4 February
FROMAGE A TROIS: Take part in a DIY mozzarella masterclass (in a waterproof playroom — in case things get messy), before indulging in a French cheese specialty, aligot, at this fromage feast hosted by Shoreditch restaurant Rascals and cheesemonger The Urban Cheese Maker. Rascals, Shoreditch, £35, book ahead, 6.30pm-10.30pm, every Thursday until 29 March
COCKTAIL MASTERCLASS: Single, ready to mingle and in need of somewhere to celebrate the end of the dry Jan spell? At this masterclass, you'll be split into teams and challenged to mix up the best cocktail. Your ticket includes a chance to schmooze with everyone over a welcome drink, cocktail, plus wine and sharing platters. Brick & Liquor, Clapham, £36, book ahead, 7pm-10pm
KINGS OF THE SOUTH SEAS: This brooding trio couldn't have found a better venue to launch their album, Franklin, made up of Canadian Voyageur paddling songs and English folk ballads, to songs composed onboard ice-bound wintering ships. Cutty Sark, £14, book ahead, 7pm-10pm
LATE NIGHT JAZZ: In the mood for a civilised evening? Settle in for a spot of jazz from ISQ, a quartet with a small name but a big sound. Elgar Room, Royal Albert Hall, South Kensington, £14, book ahead, 9.30pm
THE THURSDAY RITUAL: Tonteria, a venue already known for pushing the boundaries with its 'hot wax' dancers and transgender burlesque dancers, is launching a new night tonight based on Mayan Sacrifice Rituals. Will there be blood? (Only the fake stuff, we hope). Tonteria, Sloan Square, £20, every Thursday until 5 April
Friday 2 February
SYMPHONY OF THE SENSES: Cruise company Royal Caribbean is sailing a theatrical cruise ship into central London to showcase what the latest gigantic addition to its fleet will be like. Like most immersive experiences, we're not sure exactly what it entails but anyone attending the opening could end up winning a family holiday onboard the real cruiser and we could all do with one of those. Victoria House, Bloomsbury Square, free, book ahead, 2-3 February
THE PUTNEY DEBATES: The 2018 Debates considers the need for electoral reform and the case for a Federal United Kingdom, to bring together the peoples of the UK, led by a panel of four speakers with very long titles. St Mary's Church, Putney, £10, book ahead, 2pm-7.30pm
ONES TO WATCH: Done with dry Jan and want to know what beers you should be downing in 2018? Mason & Company are hosting a 'ones to watch' tap takeover to show you just that. Your ticket includes a tutored tasting with five beers. Mason & Company, Hackney Wick, £11.37, just turn up, 5pm-late
JURASSIC BRITAIN: From the birth of dinosaurs to the great-granddad of T. rex, this talk reveals British dinosaur discoveries, sheds light on new species and some incredibly rare finds. Suitable for ages 7+. The Royal Institution, £16, book ahead, 6pm-7.15pm
LONDON REMIXED FESTIVAL: Looking for festival vibes without the mud, rain, or palaver of camping? Enter London Remixed Festival, a two-day celebration of banging global beats, featuring more than 25 bands and DJs across four stages in one ace Shoreditch venue. Rich Mix, £12, book ahead, 8pm-1am, 2-3 February
JOE BLACK: Notorious cabaret reprobate Joe Black transports an audience from Brentford to Berlin and the glitz of infamous 1920s nightclub The Eldorado (not that there's anything unglamorous about Brentford...) Watermans Arts Centre, Brentford, £15, book ahead, 8.30pm-9.30pm
HIP HOP ZOO LAUNCH: Ever wondered what would happen if the essence of Jumanji could be turned into a club night? (Just us?) We've been told to expect immersive activities, surprise performances, dedicated ringmasters, confetti cannons and a rumpus of hip-hop beats at the launch tonight. Fu Manchu, Clapham, £15, book ahead, 9pm-3am
Saturday 3 February
YOGA AT THE GARDEN MUSEUM: Early risers, grab your yoga mats and head to the relaxing Garden Museum to unwind and stretch before it opens to the public. Head for brunch after at the Bermondsey-based bakery The Snapery for just £6. The Garden Museum, £12.50 or £40 for all four Saturday sessions, book ahead, 8.45am-9.45am
MEET THE ARTIST: A chance to meet artist Jackie Morris, whose lovely nature-inspired paintings appear in The Lost Words exhibition. The Foundling Museum, £11, book ahead, 10.30am-4pm
HACKNEY FLEA MARKET: Looking for reclaimed industrial fixtures, vintage threads and other old clobber? You'll find it at this flea market featuring more than 30 traders. Abney Hall, Stoke Newington, free, just turn up, 11am-6pm, 3-4 February
STUART HALL: Hear poetry from Mona Arshi, dance and performance from Lanre Malaolu, plus talks and readings on the political and economic changes taking place around the world and the forms of popular resistance to those changes at the first Stuart Hall Public Conversation. Conway Hall, Holborn, £15, book ahead, 2pm-5.30pm
THE BLOODY POETS: Treat your senses in an intriguing dreamscape of poetry, music, performance and dance at this cabaret show, set in London's only surviving Elizabethan church. The Old Church, Stoke Newington, £10, book ahead, 8pm-11pm
Sunday 4 February
EXPLORE THE URBAN FOREST: Paul Wood is back with another Stalking Trees walk, where you'll hopefully spot the first signs of Spring. This one takes you past evergreen Strawberry Trees, deciduous Dawn Redwoods, early flowering Persian Ironwoods and even an Almond. Haggerston Station, £19.02, book ahead, 10.30am-noon
BERBER & Q PITA PARTY: Get your mitts on these mini pitas filled with tasty creations from top guest chefs, who you'll usually find cooking up a storm in the kitchens of Smokestak, Breddos Tacos and more. It's the ultimate carb fest to get you through winter. Berber & Q Shawarma Bar, Exmouth Market, £26-£53, book ahead, 3pm
Fun things to do with our friends and sponsor Funzing...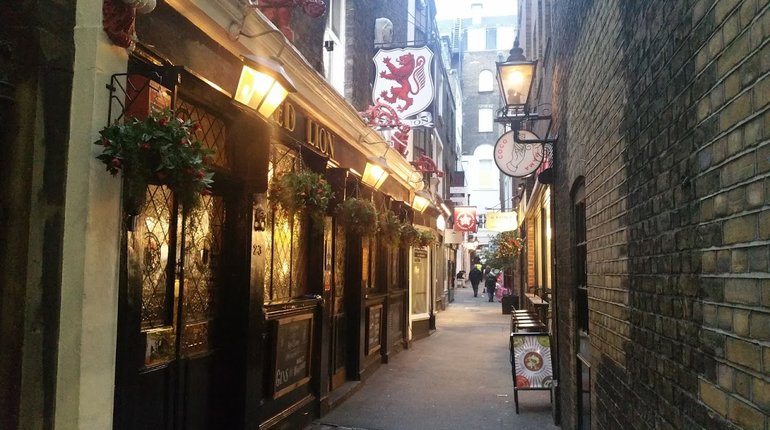 London is a city of incredible transformation. With structural remains that date back to ancient history still in existence, this unique walking tour takes in Lost London in all its former glory. From the Titanic booking office to the graveyards of man's best friend, you'll discover the weird and wonderful places that used to exist in the capital but are now only committed to memory. Using old photographs, newspaper cuttings and stories from the past, you'll be amazed at what has largely been written out of our history books... Get tickets
Whether you're a pre-grated cheddar sprinkler or mimolette fan, this cheesy walking tour will delight your senses. Starting off at a cheese counter in Mayfair that has been serving for more than 300 years, you'll tour the city's best dairy delights - including Fortnum & Mason, where the royals get their fix. Get tickets
Track the journey of humanity through this tour around the British Museum. The tour aims to help you understand why the world is the way it is, and show how humans learned to question absolutely everything. Get tickets
The Underworld collides with the Underground in more ways that one -- from the angel that saved a tube worker from death to the ghosts of King's Cross, discover the ghoulish history of the Undergound on a tour around the city. £10 Get tickets