Things to do is sponsored by City of London.
All week
SCHOOL HOLIDAYS: Want to keep the kids busy on a budget? Check out our helpful list of free things to do with kids in London. Worked your way through those? Get stuck into our guide to things to do in the summer holidays.
PARK PICNIC: Ratty, Mole and Badger have something special in store. St. James's Hotel and Club has partnered with Wind in The Willows to create a British picnic of salads, sweet things, and squeezed lemonade for two, before you stroll through the doors of the London Palladium for a musical night. St. James's Hotel and Club, £40 hamper only, £55/£65 with tickets, book ahead, until September
COLOURFUL MAZE: Artist Camille Walala has used her signature colourful, patterned designs to create a psychedelic maze that sounds part puzzle, part fun house, part Alice in Wonderland rabbit hole. Solve clues, look at things from different angles, and embrace the fun of playing. NOW Gallery (Greenwich Peninsula), free, just turn up, until 23 September
THE MAGNIFICENT SEVEN: That's the name of these seven cemeteries built in the suburbs of Londonfrom 1832 to 1841. Experience their distinctive character and learn why they became popular public spaces in this photographic exhibition. Ziferblat (Shoreditch), £5, just turn up, 24 July-4 August
JUMBLE BOOK: A magical theatrical experience for young children awaits in The Jumble Book. Inspired by the stories of Rudyard Kipling's much loved The Jungle Book, and probably a little of Toy Story too, a chaotic charity shop sees its discarded bric-a-brac, pieces of art, plain old junk come to life, each with a tale to tell. Chickenshed Theatre, £7, book ahead, 26 July-4 August
Monday 24 July
TRUMAN SHOW: Is this the real life? Is this just fantasy? Pitch Stratford's outdoor cinema is showing The Truman Show as part of its showcase of '80s and '90s classic films. Plant your butt on a bean bag chair and listen through the wireless headphones. Pitch Stratford, £12, book ahead, 5pm-10pm
TEQUILA TAKEOVER: To celebrate National Tequila Day, Salsa in Soho is giving away free margaritas for the first 150 punters through the door. Make sure you quote 'national tequila day' for your complimentary cocktail. Salsa (Soho), free, just turn up, doors open at 5pm-close
NEW MUSIC: Grab a burger and spend a few hours listening to the sounds of blues and folk -pop as Alex Seel, Moody Will & the Roll, Anemary, Cecil and Diego Philips take to the stage in a night of live performances showcasing new music. The Half Moon (Putney), £2.50/£10, 7.30pm-11pm
Tuesday 25 July
SNAP HAPPY: Pop down to the Polaroid pop-up in Boxpark to try out the latest range of instant digital cameras, as well as traversing memory lane with some vintage models on display. Boxpark Shoreditch, free, just turn up, 11am-11pm
MERMAID CROWNS: DIY blogger Zen will teach you how to make your own mermaid crown using shells, glitter, other shipwrecked bric-a-brac. Drink, Shop & Do (King's Cross), £35/£49, book ahead, 7pm-9pm
COMEDY: Comedian Mae Martin tops the bill at this stand up comedy show. Robyn Perkins will also be attempting to take the Laugh Train Home. The Honor Oak Pub, £6, book ahead, 8pm-10pm
Wednesday 26 July
CLASSIC FUN: Cubitt Sessions' pop-up stage offers a free live programme of classical music, experimental jazz and improvised opera as well as a touch of immersive theatre, surreal comedy and street sounds. Tonight, Tess of the Circle takes to the stage. Lewis Cubitt Square (King's Cross), free, just turn up, 6.30pm-late
SCIENCE LATE: How does conflict impact science and society? How are the medical lessons learnt on first world war battlefields relevant in the 21st century? In this Science Museum Late, find out how battles like Passchendaele catalysed the development of emergency medicine and even sophisticated modern treatments such as chemotherapy. Age 18+. Science Museum, free, 6.45pm-10pm
PAUL CHOWDHRY: Straight-talking, grumbly comedian Paul Chowdhry is heading to Edinburgh and so obviously needs to test his material on the London scene. Also comedy from Dane Baptiste. The Four Thieves, Battersea, £7, book ahead, 7.30pm-10.30pm
---
Sponsor message
Watch Roman-themed films at a real Roman amphitheatre, London's first entertainment venue
This summer, as part of Londinium, a three-month series of events celebrating this city's rich Roman heritage, Guildhall Yard is hosting a Roman-themed open air pop up cinema. London's Roman amphitheatre was where Gladiators exchanged blows — making it the perfect setting for an alfresco screening of Gladiator, amongst others. There will be Italian food, beer and cocktails to keep you fed and watered, but don't forget to bring a blanket.
Swords and Sandals: Outdoor Cinema Season at Guildhall Yard runs from 7-15 August 2017. Check out the schedule of screenings and book now.
---
Thursday 27 July
SWEET TOOTH: Just Desserts at Mercers Walk is a street food festival focusing on all things sweet. Doughnuts, cupcakes, ice cream and more will be available, with tunes and party games to sweeten the deal. Mercers Walk, free entry, book ahead, 11am-6pm
CRAFTY: Croydon Beer Fest brings the best selection of pub fayre they can gather, and invaluable knowledge for all those pesky beer questions you've always wanted to ask. Oh, and did we mention there will be free samples? Braithwaite Hall (Croydon), £5, book ahead, 27-29 July
ST PAUL'S: If you haven't yet been to St Paul's Cathedral, this needs to be corrected pronto and the Late at St Paul's is an excellent way to do so. From the exquisite architecture to the final resting places of some of our nation's heroes, it's bound to be more special than visiting during the day. St Paul's Cathedral, £10/£9/£5/free, book ahead, 6.30pm-9pm
MEZCAL MASTERCLASS: Mixing and carbonating pre-batched bottled cocktails is now a major practice in  bars in the UK and US. Longflint is hosting a masterclass on how to build a Mezcal Mazansada with a chipotle sweet'n'salt rim, exploring the effect of carbonation using their home-built carbo-tron. Mason and Company (Hackney Wick), £10, book ahead, 7pm-11pm
CHINESE OPERA: Head out to the Far East for Datong: The Chinese Utopia produced by the Hong Kong Arts Festival. This chamber opera chronicles the 20th century Chinese scholar Kang Youwei's life and vision for a global utopia of human equality and solidarity. Richmond Theatre, £35, book ahead, 27-28 July
Friday 28 July
HALAL STREET FOOD: Struggling to find halal street food? Head to Old Spitalfields Market where Halal Gems hosts all manner of stalls. Tuck into ice cream, halloumi fries, Dutch pancakes and an alcohol-free bar. There will also be live music and entertainment. Old Spitalfields Market, free entry (£2 donation recommended), book ahead, 28-29 July
TASTY TATE: Another chef has taken over the Level 9 kitchen at Tate Modern. Santiago Lastra will provide a the Mexican flavour which you'd usually find Carousel in Marylebone. If you've been looking for somewhere new to have lunch in London, this could be it. Tate Modern, £25, book ahead, 28-30 July
GOGH FOR IT: Diners can enjoy a night of art-inspired theatre and food with Vincent Van Gogh lookalike actor Walter DeForest. DeForest's show Van Gogh Find Yourself will follow dinner, and be topped off with sticky toffee pudding, apple strudel or summer fruit. Cafe Van Gogh (Brixton), £35, book ahead, 7.45pm-10pm
Saturday 29 July
ROLLS-ROYCE: Motorheads gather round as Rolls-Royce Motor Cars shows off some of the greatest examples of its Phantom limousine, including those previously owned by John Lennon, Field Marshal Montgomery, Fred Astaire and Sir Malcolm Campbell, and a look ahead to the future. Bonhams (Mayfair), free, just turn up, 10am-5pm
THEATRELAND: How much do you know about the West End history? This official City of Westminster walking tour will remedy any gap in your knowledge with dramatic highs and low comedy. Tkts ticket booth (Leicester Square), £12/£9, book ahead, 11am-12.30pm
JAZZ HANDS: London's Walpole Park sees the return of Ealing Jazz Festival showcasing a mix of world-renowned artists and local talent. Walpole Park (Ealing), £11, book ahead, until 30 July
SECRET ESCAPE: Head to a secret location in south London for Lawndaze, an eccentric English tea party set in and around an 18th century manor. Think 'festival' without the mud and epic queues for the loo. A hidden Enchanted Forest nightclub will top off a day of afternoon tea, lawn and escape games, and a pool party. What's not to love? Secret location, £69, book ahead, 1pm-3am
EAST LONDON: Check out this autobiographical performance of Shane Shambhu's experience of growing up in east London, speaking two languages, and living among a host of other cultures. Confessions of a Cockney Temple Dancer promises a night of dancing and a touch of stand up comedy. Rich Mix (Shoreditch), £12/£10, book ahead, 7.30pm-10.30pm
DIRTY DANCING: An evening watching Johnny's rippling muscles and Baby escaping the corner? Don't mind if we do at this pop-up screening of classic favourite Dirty Dancing. Southwark Park, £12, book ahead, doors open 7.30pm-11pm
Sunday 30 July
AFTERNOON TEA: Like Jazz? Like tiny sandwiches? Do we even need to ask if you like tea? It's your last chance to sample The Sheraton Grand London Park Lane's limited-edition Jazz Afternoon Tea, bringing to life its history and heritage through the sights and sounds of the 1920s, served in the hotel's Palm Court. Sheraton Grand London Park Lane, £39, book ahead, noon-6pm
BREW-UP: Tottenham's breweries are getting together for a beer festival brew-up. Beverages from Pressure Drop, Affinity, Brewheadz, and Enefeld will be on offer in a beautiful converted fire station in Tottenham. Chicken Town, Tottenham, £16, book ahead, 2pm-7pm
GREEN ROOMS: If you enjoy having a nosy round buildings you might not otherwise see inside, you'll probably love a visit to the Art Deco 1930s building in the heart of Wood Green which has recently transformed into Green Rooms arts hotel. It was once the HQ of the North Met electricity company, which powered electric trams across North London. Green Rooms Arts Hotel, £6, book ahead, 3pm-4pm
Good cause for the week: Gangsta Granny
David Walliams' best-selling children's book Gangsta Granny has been adapted into a special hit production for the summer. For one night only there will be an auction of special gifts and prizes to raise funds for Age UK supporting older people in Camden. Garrick Theatre (West End) £23, book ahead, 28 July, 7pm
Fun things to do with our friends and sponsor Funzing...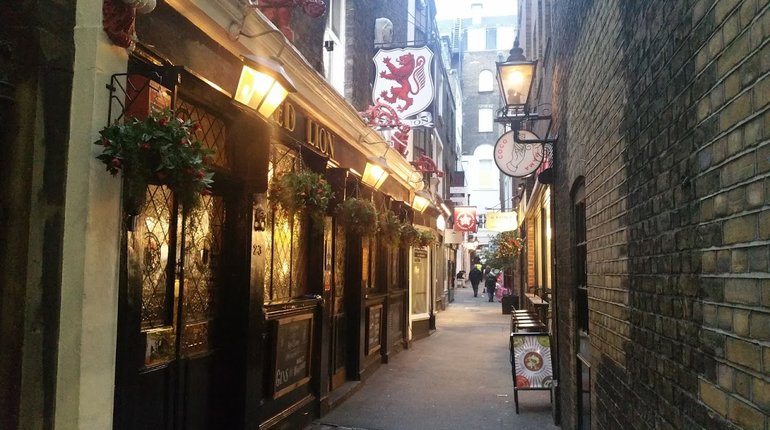 London is a city of incredible transformation. With structural remains that date back to ancient history still in existence, this unique walking tour takes in Lost London in all its former glory. From the Titanic booking office to the graveyards of man's best friend, you'll discover the weird and wonderful places that used to exist in the capital but are now only committed to memory. Using old photographs, newspaper cuttings and stories from the past, you'll be amazed at what has largely been written out of our history books... Get tickets
Whether you're a pre-grated cheddar sprinkler or mimolette fan, this cheesy walking tour will delight your senses. Starting off at a cheese counter in Mayfair that has been serving for more than 300 years, you'll tour the city's best dairy delights - including Fortnum & Mason, where the royals get their fix. Get tickets
Track the journey of humanity through this tour around the British Museum. The tour aims to help you understand why the world is the way it is, and show how humans learned to question absolutely everything. Get tickets
At night, the City of London is at its creepiest... discover the area's most haunted locations with paranormal writer Richard Jones, London's longest established ghost walk guide - he's been at it since 1982! You'll visit hidden passages, ancient burial grounds, haunted alleyways and ghostly passageways - all places where people have been known to capture ghostly images on their cameras. Get tickets