This week is sponsored by the British Newspaper Archive.
All week
FLAVOUR GALLERY: Suck on Lanique-based dip dabs, inhale cocktails and eat bubbles at this multisensory gallery from Smith & Sinclair. The Hoxton Basement, from £15, book ahead, (Wednesday-Sunday), until 17 December
BAILEYS TREAT STOP: Baileys fans, form an orderly queue at this pop-up cafe/bar where you can customise your Baileys drinks — pick your own toppings and flavours for a Baileys hot chocolate or latte, or go full-on Christmas and sip Baileys out of a chocolate reindeer. 21 Slingsby Place, just turn up for the bar, book ahead for cocktail workshops, 4-17 December (closed 11 December)
THE SNOWMAN: From the winter wonderland of floating foam snow — conjuring up nostalgia of white yuletides we never actually had — to Howard Blake's soaring piano score accompanied by pirouetting reindeer and penguins, this is Christmas writ large; a show woven from festive dreams, as immemorial as Santa. Peacock Theatre, £15-£36, book ahead, until 31 December
A CHRISTMAS CAROL: We wouldn't want to give away any of the effects that decorate this delicious production, particularly when we reach Scrooge's redemption, but we promise you'll come out thinking 'Let It Snow'. The Old Vic, £8.50-£150, book ahead, until 20 January
LA SOIREE: If you only see one variety show this year then frankly you need to get out more, but with its daredevil acrobatics paired with comedy moments performed by stars from across the world, La Soiree is surely the one to see. Aldwych Theatre, £57.50, book ahead, until 3 February 2018.
Monday 11 December
KIDS AND TECH: Apparently even Apple founder Steve Jobs stopped his kids using iPads. Hear Dr Anastasia Dedyukhina, author of Homo Distractus, discuss how tech is changing our brains and ability to make decisions and create, based on her latest neuroscience research (not her latest YouTube binge). Central Working Paddington, £17.30, book ahead, 6.45pm-8.45pm
F*CKUP NIGHT XIII: If you've bodged a business lately or are about to launch one you might want to hear these stories of failures as told by three f*ckupreneurs, followed by a question time and an open mic session if you want to share your own mishaps. Impact Hub King's Cross, £5.86, book ahead, 6.30pm-9.30pm
SOME VOICES: Enter Capulet's masquerade ball to hear London's hippest choir perform their rendition of 90s classic Romeo and Juliet. Troxy (east London), £17, book ahead, 7pm, until 13 December
---
Sponsor message
Discover London's secret history in the British Newspaper Archive
Imagine you could search through 22 million pages of historic newspapers for any name, location or keyword you liked. Which forgotten stories from London's past are just waiting to be discovered?
The British Newspaper Archive is your gateway to the city's past. Within this immense archive, we've found countless forgotten stories — a Victorian Batman, an elephant stampede on Embankment, a secret tunnel beneath Eros (pictured), and plans to shift the River Thames south to Peckham.
Whether you're fascinated by the city's history, want to trace information about your home or family, or simply enjoy the thrill of discovering a story that nobody has seen for centuries, the British Newspaper Archive is for you.
You can get digging right away. Try the Archive for free. What will you find about London's people, streets, buildings, neighbourhoods and boroughs?
---
Tuesday 12 December
CREATION STATION: This Early Years Foundation Stage class gives your kids the space, tools and inspiration they need to create, and you don't even need to clear up after them. For ages 15 months-5 years. JW3 Jewish Cultural Centre, £8.50-£10.50, book ahead, 9.40am
TRICKY WOMEN: Tricky Women is the name of this Austrian animation festival which celebrates works by lady animators. The film selection is eclectic, covering everything from the unpredictability of love to magical creatures made out of rubbish. Freud Museum, £12, book ahead, 5.30pm-8.30pm
SINGING FOR SYRIANS: If you've got any goodwill left after battling the Christmas shopping crowds, spread it at this carol concert in aid of the Hands UP Foundation, who set up health clinics, prosthetic limb fittings and nurseries in Syria. St Margaret's Church (Westminster), £20, book ahead, 6pm-7pm
THINKING DRINKERS: Turning Tuesday into booze day are two professional drinks experts, who blend alcohol with history in a comedy show that'll leave you intoxicated (literally – your ticket includes five free drinks). Museum of Comedy (Holborn), £18, book ahead, 6.30pm-7.30pm (until 23 December)
Wednesday 13 December
FABER SOCIAL: Caught by the River and Faber Social have teamed up to host this literary feast of an evening, featuring talks with Adelle Stripe, David Keenan, poetry from Will Burns and a soundtrack from DJ Frances Castle to flex the mind and the moves. The Social (Little Portland Street), £12, book ahead, 6pm-midnight
LONDON DUNGEON: If you like your meal served up with a sideshow of theatre, gather your mates and head to this dining experience themed around the seven deadly sins. Expect Midori sour cocktails, voodoo skewers and extra kick syringe shots dished up by characters from London's shady past. The London Dungeon, £75, book ahead, 6.30pm-11.30pm, until 15 December
WILDLIFE DRAWING: TURKEYS: Learn all about the feathered bird you'll be having for dinner on Christmas day while you sketch it. Plus, pick up tips on sourcing sustainable meat from high welfare farms. Vauxhall City Farm, £25, book ahead, 7pm-9pm
LAURADDANCES: LauraDDances was the first wheelchair dancer to perform on the main stage at Sadler's Wells Theatre. Tonight, she joins RnB singer Ify, indie rock band The Outers and dance company Step Change Studios for this festive fundraiser in aid of the National MS Society. Rich Mix, £6-£8, book ahead, 7pm-late
Thursday 14 December
MADE IN TOTTENHAM: There's more to Tottenham than riots and football. In fact, there's a merry team of makers who are flogging everything from textiles to terrariums at this community Christmas pop-up. Bernie Grant Arts Centre, free, just turn up, 14-17 December
CHRISTMAS CENTREPIECE: Get elbows deep in fresh pine and mixed evergreens, holly, berries, pine cones and ivy to make this Christmas Centrepiece, which you can use as a decoy while you pile more turkey on your plate. Morden Hall Park, £65, book ahead, 2pm-5pm
WINTER NIGHT MARKET: If you work up an appetite at the Junkyard Golf Club and Shuttle Club you won't need to go far to get your street food fix.  This winter market is actually seven of Truman's best markets rolled into one, for a convenient festive late night shop. Ely's Yard (Shoreditch), free, just turn up, 4.30pm-9.30pm
KINO VINO: Step into rose-tinted Russia, circa 1910 at this meticulously executed dining experience. Tuck into pre-revolutionary dishes, listen to a vintage gramophone, see a soviet screening and of course, the whole thing is sloshed in vodka. Pushkin House, £55, book ahead, 6.30pm-9.30pm
YULE ROCK: London is awash with carol concerts right now but if you absolutely had to pick one, make sure it's this massive festive singalong, which will have you belting out Mariah in no time. Round Chapel, £21.43, book ahead, 7pm-10pm
CUTTHROAT COMEDY: Barbershops are the new theatres don't you know. Brian Gittins serves up this medley of comic talent, with Tom Law headlining. BYOB. Huckle The Barber (Shoreditch), £6, book ahead, 7.30pm-10.30pm
Friday 15 December
WREATH MAKING: Jazz up your door at this DIY wreath workshop hosted by London plant experts Jar and Fern. This workshop is repeated at the same time on Sunday 17 December at Alexandra Palace Garden Centre. Neals Nurseries, (Wandsworth), £22.50, book ahead, 1pm
ENCHANTED ELTHAM PALACE: Wend your way around this pretty lantern-strewn trail to discover Eltham's medieval heritage (and practice your night time photography skills). Eltham Palace, £12/£7.50, book ahead, 4.30pm-9pm, until 23 December
THE BARREL PROJECT: Try five different beers and get your laughing gear around Californian inspired burgers courtesy of Street food trader Zephyr at the London Beer Factory's Christmas party. The Barrel Project, free, just turn up, 6pm-11pm
FORTY HALL LATE: Wander around this Night Before Christmas exhibition after hours for a good old fashioned tinsel and baubles knees up and not an LED light in sight. Forty Hall Estate (Enfield), £6, book ahead, 7.30pm-9pm
CHRISTMAS LATE: Participating Spitalfields restaurants are enticing you out of your dressing gown this Friday night with specially curated menus. Old Spitalfields Market, various prices, book ahead, 4pm-9.30pm
LOVE CARNIVAL: Mango Park is bringing all the carnival vibes tot this Peckham venue, you just have to bring your moves and your mates. Bussey Building, £6-£7, book ahead, 10pm-5am
Saturday 16 December
INDEPENDENT CHRISTMAS SHOPPING: Dodge the high street and get your Christmas shopping sorted at Old Truman Brewery. The London Artisan is a curated marketplace where you can pick up unique gifts direct from the designers. 50 independent contemporary designers and makers will be showcasing jewellery, ceramics, print and homewares. Free entry, just turn up, 16-17 December, 11am-6pm (sponsor)
MICROBREWERY TOUR: Start your Saturday as you mean to go on, with this booze-packed afternoon trying all the hoppy, flavoursome craft beers Bermondsey has to offer — oh and learning about the brewing process too. Marquis of Wellington, £60, book ahead, noon-4pm
HERBAL PRESENTS: Got a mate who's gone au naturel? You'll leave this herbal gift-making session with a calendula infused lip balm, a personalised bath salt soak and a fragrance spray loaded with herbs and essential oils. We won't judge if you keep them for yourself. Proud East, £30, book ahead, 2pm-4.30pm
MID-WINTER FIRE FEAST: The Skip Garden has rustled up delicious veggie grub paired with cocktails from the Urban Cordial Company for this winter dinner party. She Choir and Dig-it Soundsystem provide the entertainment, while fire pits, hot water bottles and a yurt keep things toasty. The Skip Garden (King's Cross), £20, book ahead, 6.30pm-11pm
LATE NIGHT SCIENCE: This alternative Christmas party is science class meets club night. Expect surreal performances, peppered with DJs, plus 'atomic foods' and cocktails. Lockhouse (Paddington), from £32.85, book ahead, 7pm-2am
SMUTTY CHRISTMAS SONGS: Settle in for an evening of seasonal smut from Adam Kay, who has racked up 20 million YouTube hits and four number one albums in the iTunes comedy charts. Leicester Square Theatre, £20, book ahead, 9.30pm-10.45pm
Sunday 17 December
MINDFUL CHRISTMAS MARKET: Browse mindfully-made gifts, homewares, and foodstuffs from ethically-driven brands at this guilt-free market. The Library Bar (Shoreditch House), free, just turn up, 10am-5pm
RADICALS, PUNCH-UPS AND POO: Discover where Lenin planned the Russian Revolution, see the spot where a policeman first lost his life in the line of duty and learn about a foul way to make a living on this political walking tour. Farringdon Station, £9, book ahead, 11.30am-1pm
SUNDAY STORYTELLING: Pull up a chair and settle in for this cosy Sunday storytime session. Each tale from the Embers Collective blends words with a multi-instrumental soundscape set in ye olde London. The Hunter Penrose, £10, book ahead, 5pm-7pm
CHRISTMAS BONANZA: Bedtime Stories is the variety show, where you'll discover new material from both established and unseen acts. On the bill tonight are Helen Duff (MC) Rosie Wilby (stand-up) Lolly Jones (Theresa May Burlesque) Ruby Martin (theatre) Dan de la Motte (musical cabaret) and Katy Davies (theatre). Hen and Chickens Theatre, £9 book ahead, 9.30pm-10.45pm
Fun things to do with our friends and sponsor Funzing...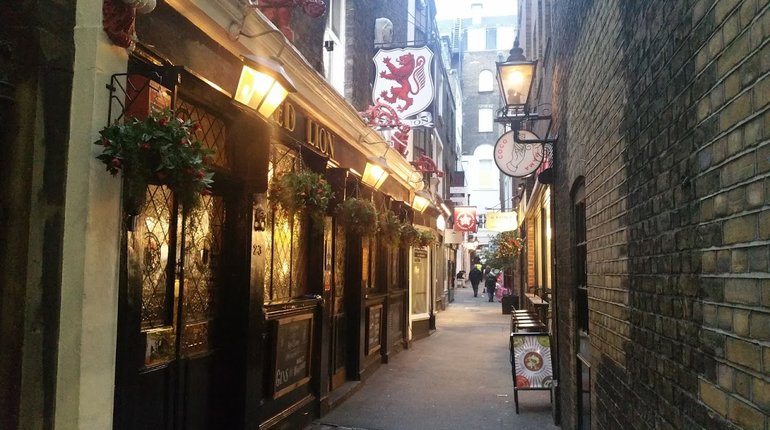 London is a city of incredible transformation. With structural remains that date back to ancient history still in existence, this unique walking tour takes in Lost London in all its former glory. From the Titanic booking office to the graveyards of man's best friend, you'll discover the weird and wonderful places that used to exist in the capital but are now only committed to memory. Using old photographs, newspaper cuttings and stories from the past, you'll be amazed at what has largely been written out of our history books... Get tickets
Whether you're a pre-grated cheddar sprinkler or mimolette fan, this cheesy walking tour will delight your senses. Starting off at a cheese counter in Mayfair that has been serving for more than 300 years, you'll tour the city's best dairy delights - including Fortnum & Mason, where the royals get their fix. Get tickets
Track the journey of humanity through this tour around the British Museum. The tour aims to help you understand why the world is the way it is, and show how humans learned to question absolutely everything. Get tickets
The Underworld collides with the Underground in more ways that one -- from the angel that saved a tube worker from death to the ghosts of King's Cross, discover the ghoulish history of the Undergound on a tour around the city. £10 Get tickets