Things to do today is sponsored by Alexandra Palace.
What we're reading
Things to do
TRANSITION: What shapes the lives of artists living in the Middle East? From calligraphy to videos and installations, this showcase explores the issues that have influenced the work of 30 emerging Middle Eastern artists. Menier Gallery (Southwark), free, 11am-6pm
TWISTED TREATS: Get your sugar fix and get buzzed in a tasting frenzy. It's jelly, ice cream, and cocktails at Summer Tastefest; what's not to like? St Christopher's Place Piazza (Oxford Street), free, book ahead, 5pm-8pm, until 17 August
ROCK N' ROLL: Take a walk on the wild side through Camden's long and colourful rock n' roll history. All the greats have lived, drank and performed in Camden Town — discover the famous and infamous sights on this tour of the area. 184 Camden High Street, £10, book ahead, 6pm-8pm
SO YOU SAY: When ex-lovers meet after many years, what can we believe about the stories they tell? This is an emotional ride through two unreliable and diverging narratives. Part of the Camden Fringe. Tristan Bates Theatre, £10, book ahead, 6.15pm, until 19 August
SHAMANIC VOICE: If you enjoy long hair, beards, acoustic guitars and getting home before midnight then you'll feel right at home at this concert by "the most independent artist on earth" — Peter Von Toy. The Monarch (Camden), free, just turn up, 7pm-11pm
ST BEER: Dig out your bell pads and baldrics and shimmy on down to Croydon for a night of Morris dancing, featuring a procession that will lead the mayor to the event site. Builder's Arms (Croydon), free, just turn up, 7pm-11.15pm
CHANGE THE WORLD: From underground innovators to pop icons, many have believed in the political power of music. Looking at examples ranging from Beethoven to Beyoncé, musician and activist Dave Randall explores what makes music so powerful in this Q&A. Rye Wax (Peckham), free, just turn up, 7.30pm-9pm
WOMB OF ONE'S OWN: Babygirl grapples with crotchety grandparents, unsympathetic hospital staff and new-found independence in an irreverent show designed to break the taboo around abortion. The Space Theatre, £12, book ahead, 8pm, until 19 August
SPACE ARK: Earth has been destroyed, but don't worry — you've been invited aboard the Space-Ark for the very last sketch show in the universe, in a tribute to Earth's best bits. Part of the Camden Fringe. Etcetera Theatre (Camden), £5, book ahead, 8.30pm-9.30pm
---
Sponsor message
Head to StrEATlife for fantastic food and free live music
Alexandra Palace, home to some of the best views in the city, is hosting StrEATlife on 19 and 20 August, and it's set to be a cracker.
The free street food and music festival will be headlined by DJ Yoda, so expect epic tunes, serious dancing, and insane nosh. Fuel up on everything from BBQ meats to Spanish tapas, wood-fired pizzas and gourmet waffles. Why not be a plant-based carnivore with tasty, all-vegan burgers and wings at Biff's Jack Shack?
With craft beer, cocktails and plenty of Pimms, StrEATlife is the perfect August day out. It's free entry, family-friendly and with more food choices than hours in the day, checking this one out is a no-brainer. Find the full line-up here.
---
Art review: reverse psychology isn't working
This is just one of the cheeky titles on these oversized book covers by Harland Miller as he promises immediate relief… coming soon. His works downstairs are a lot of fun and much stronger than the more abstract colourful paintings upstairs. Harland Miller: One Bar Electric Memoir at White Cube, Mason's Yard, 25-26 Mason's Yard, SW1Y 6BU. Until 9 September, free. ★★★☆☆  (Tuesday-Saturday)
Food review: brunch, Sri Lankan style
Sparrow in Lewisham is frenetic with food on a Saturday morning. Waiters scurry around the packed minimalist space, while merry punters provide a buzzing atmosphere. Slurping down on the smoothie of the day — when we went, a varied berried concoction — proves a refreshing start to the day. The Sri Lankan inspired brunch is delicious, with both sweet and savoury options. On the sugary side the coconut pancakes with peanut caramel and pineapple salsa (with a hint of mint) dazzle. On the savoury front, the traditional Sri Lankan appam — a rice batter pancake that's crispy on the edges and squidgy in the middle — with egg and chilli aubergine hits just the right spots. Everything is served with the speed of a fast food joint, but with high-end flavours. Sparrow, 2 Rennell Street, SE13 7HD, ★★★★☆ Harry Rosehill
Theatre review: don't cry for her
Evita, Andrew Lloyd Weber's historical classic is back on the West End. Even the strength of the cast, with Emma Hatton's impressive voice and dark rendition of the manipulative Evita, hunky narrator Gian Marco Schiaretti as the revolutionary  Che Guevara and Kevin Stephen-Jones as Argentine President Juan Perón, cannot theatrically resuscitate a story this staid. Directed by Bob Tomson and Bill Kenwright, this production is mostly at fault of producing a thematically limited narrative about a rags to riches power-hungry woman (replete with songs that border on slut shaming), which feels beyond anachronistic. Overly simplistic set design and muted choreographed dances really put the nail on this revival's coffin in terms of its modern day relevance and overall appeal. EVITA, Phoenix Theatre, Charing Cross Road, London, WC2H 0JP £25 - £85 Until 14 October [Monday‒Saturday] ★★★☆☆ Sophia Shluger
Good cause for the day
THAMES PATH CHALLENGE: Join more than 3,000 other challengers in following England's greatest river on a 100k route from Fulham all the way to Henley-on-Thames. Most will walk, many will jog, some will run... but all are doing it for a good cause. Starts in Bishops Park (Fulham), from £50 + minimum fundraising requirement, book ahead, 9-10 September
Fun things to do with our friends and sponsor Funzing...
Take to the waters and glide about in this beginner paddleboarding session. By the end of it, you'll be standing up and paddling solo, and there's plenty of help on hand to improve your technique. Change of clothes required. Get tickets
London is a city of incredible transformation. With structural remains that date back to ancient history still in existence, this unique walking tour takes in Lost London in all its former glory. From the Titanic booking office to the graveyards of man's best friend, you'll discover the weird and wonderful places that used to exist in the capital but are now only committed to memory. Using old photographs, newspaper cuttings and stories from the past, you'll be amazed at what has largely been written out of our history books... Get tickets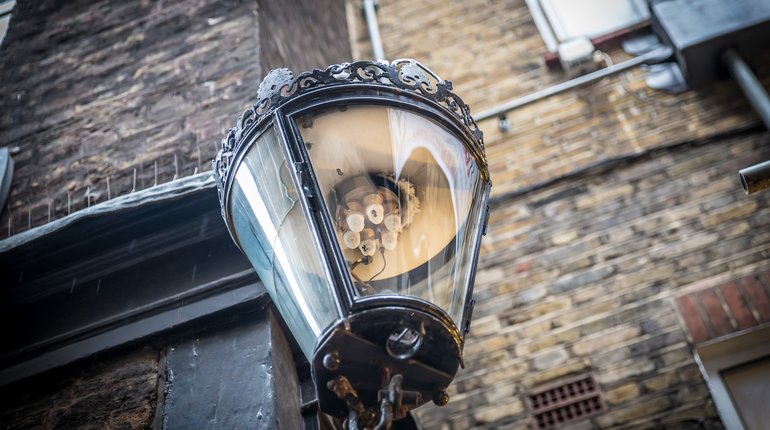 How well do you really know London? Visit the streets that inspired Harry Potter locations and see London's most superstitious hotel. On Matt's tour you will explore hidden places and discover stories unknown to even the most knowledgeable of Londoners. Get tickets
Struggling to find someone who shares your dark sense of humour? This twisted speed dating event can help. A group of 30-40 people will take part - with equal male/female ratios - and play a few rounds of the hilarious (and slightly dark) card game, Cards Against Humanity. After the event, connect with those who you found suitably sinister using a unique online matching system. Get tickets