All weekend
MAGIC LANTERNS: Follow the trail at The Magical Lantern Festival to see lantern installations themed on the Silk Road and the Chinese Year of the Rooster, (oh, and the Houses of Parliament). You can also enjoy ice skating, food from around the world and funfair rides. Chiswick House Gardens, £16.50/£10.50, book ahead, until 26 February
LADYBIRD LIFE OF DICKENS: The original illustrations from the 1965 Ladybird Life of Dickens book are on display at the Charles Dickens Museum. Marvel at John Kenney's drawings alongside Lawrence du Garde Peach's words. Each illustration shows a scene from Dickens's life. Charles Dickens Museum, free with admission, book ahead, until 1 April
FALLING SHAWLS: Learn about traditional Sami shawl-making with Sami artist Outi Pieski's installation, Falling Shawls. The installation is a combination of hundreds of fringe elements to make a coloured three-dimensional drawing. Southbank Centre, free, just turn up, until 31 December
FLEA MARKET: With a choice of 30 vintage stallholders, get your hands on unique and beautiful clothing, jewellery, homeware and more at Hackney Flea Market. Abney Public Hall, free, just turn up, 11am-6pm, 4-5 February
OPEN PLAN: Discover works by modern artists that use painting and sculpture to explore space and architecture, with the immersive Open Plan. House of Vans, free, just turn up, until 12 February
SHEER PLEASURE: A new exhibition of Japanese furniture, paintings, prints and ceramics opens at the William Morris Gallery this weekend. The items belonged to the gallery's founder, Frank Brangywn, and marks 150 years since his birth. William Morris Gallery, free, just turn up, 4 February-14 May
RA ART: Admire the work of emerging artists with Royal Academy's Premiums: Interim Projects exhibition. Art is by those at the midpoint of their studies at the RA schools, ranging from photography to painting, sculpture to video. Burlington House, free, just turn up, until 5 February
RE-IMAGINATION: At the London Transport Museum's Poster Parade: Re-imagining historical posters, old posters and memorable designs are cleverly modified for contemporary audiences. London Transport Museum, £16/£13.50, book ahead, until 27 April
SOMEBODIES & NOBODIES: Jo Brocklehurst's work documents her experiences with sex, androgyny and couture, which went on to inspire the work of designer Jean-Paul Gautier. House of Illustration, £7.50/£5/£4, book ahead, until 14 May
Saturday 4 February
DISCOVER SOHO: Up for a challenge? Walk every street in Soho in a day with Discovering London tour guide Peter Berthoud. It's a 10 mile walk — so comfy shoes are a must — but it's worth it to see every street, mews, court and other thoroughfare in the area, hearing plenty of interesting facts and little-known trivia as you go. You'll stop for lunch and drinks along the way. Meet at Oxford Circus, £37.06, book ahead, 10am-5pm
3D DRAWING: Channel your creative side under the guidance of 3D printing pen artist Grace Du Perez and make your own phone case with the 3Doodler pen. Drink, Shop & Do, £31, book ahead, 10.30am-12.30pm
ALMSHOUSE TOURS: Look around one of the Geffrye Museum's restored 18th century almshouses. Get an insight into the lives of the poor and elderly of the past with this guided tour. Geffrye Museum, £4, book ahead, 11am/12pm/1pm/2pm/3pm
CRAFT BEER FESTIVAL: North London Brew Fest's craft beer festival culminates today, with 25 cask and keg beers to choose from, plus entertainment in the form of DJs. The Snooty Fox, free, just turn up, noon-1am
UNUSUAL HISTORY TOUR: Londonist writer Laurence Scales leads a guided tour around the St James's area, telling the stories of forgotten heroes and curious lives, with a focus on science and inventions. Exact location on booking, £12/£6, book in advance, 2pm
HER: A 15-year-old girl from London finds that conflict has made her an alien in her own country. In Her, the protagonist, as different versions of the 'girl', faces the harsh realities that young girls in conflict zones are confronted with. Half Moon Theatre, £7, book ahead from 3pm/7pm
DOCTOR FAUSTUS: Join Doctor Faustus as he seeks to move beyond religion, law and science and makes a deal with the Devil himself; for 24 years of knowledge in exchange for his soul. The Tower Theatre, £12/£11, book ahead, 3pm/7.30pm
GROW UP: Enjoy a screening of 2016's Everybody Wants Some. Watch as, in 1970s America, a group of university students navigate their way through the freedoms and responsibilities that come with being an adult. House of Vans, free, just turn up, 4pm/6pm
MUSICAL MUSEUM: Explore some of the Musical Museum's exhibits (museum entry £10/£7.50/£4) before settling in to an evening of 'Maiastra' concert featuring the works of Tchaikovsky and Debussy. Musical Museum, free concert (donations to Aidan Woodcock Charitable Trust recommended), just turn up, museum open from 6.30pm, concert at 7.30pm
LONDON REMIXED: London Remixed Festival — offering the fun of a festival without the mud — concludes tonight. Expect remixed sounds from ghetto funk, drum and bass, reggae, anarchic hoedown, Latin breaks, brass band hip hop, electro-afro music, balkan beats, folk remix, electro swing, tropical bass, afrobeat and more. Phew. Rich Mix, £20, book ahead, 8pm
MASQUERADE BALL: Don your finest ball gown or cravat for a special masquerade ball and screening of Labyrinth. Cheer Sarah on as she makes her way to the Goblin City to rescue her baby brother, 'FRIEND' with Ludo and give a shoutout to Sir Didymus. Prince Charles Cinema, £13.50/£11, book ahead, 8.45pm
Sunday 5 February
LONDON WINTER RUN: There's still time to enter Cancer Research's London Winter Run. The 1okm route starts in Trafalgar Square, £45, book ahead, from 9.30am
VINTAGE FROCKS: Get you hands on some vintage threads at the Frock Me Vintage Fashion & Textiles Fair. With 50+ traders from across the UK and France, you'll be spoilt for choice. Chelsea Old Town Hall, £4/£2, book ahead, 11am-5.30pm
FAMILY THEATRE: David Gibb performs original music, as well as songs inspired by children's music from around the world. Whether he's singing about swimming, finding a dragon in your bedroom or waiting for the postman, David Gibb: Letters Through Your Door  is a lovely way to keep the kids entertained. Artsdepot, £7, book ahead, 11am/2pm
STORY TIME: Enjoy an afternoon of creativity and family time with A World of Stories. The afternoon encourages families to discover their story-writing skills, taking inspiration from the Horniman's handling collection. Recommended for children aged 3+. Horniman Museum & Gardens, kids £3, adults free, book ahead, 1pm-2.15pm/2.45pm-4pm
PULP ON ICE: Skate like Common People at Alexandra Palace ice skating rink. Feeling Gloomy dedicates an evening on the ice to the music of Pulp. Alexandra Palace, £9.50, book ahead, 5.30pm-8pm
STEVEN SPIELBERG: Celebrate the life of acclaimed director Steven Spielberg as he turns 70. The Philharmonia Orchestra is joined by film legend Iain Johnstone for an evening of music from Spielberg's films, including E.T., Jurassic Park, Jaws and more. Southbank Centre, from £15, book ahead, 7.30pm
SUPER BOWL: Plenty of places are screening the Super Bowl, but we like the sound of this this party with huge screens, grilled cheese sandwiches and booze. Oh, and it's raising money for charity too. The Social, £10.15, book ahead, 8pm
WILDLIFE PHOTOGRAPHY: Ranging from dramatic landscapes to intimate portraits, see a selection images depicting nature through the eyes of passionate photographers at the Wildlife Photographer of the Year exhibition. It's one of our favourite exhibitions every year. Natural History Museum, £13/£8, book ahead, until 10 September
Stage review: Depression based comedy with Chris Gethard
A comedy show about depression is a tough sell. That's the theme of Chris Gethard's new show, Career Suicide. It's all true and has parts that will bring you close to tears (not of joy), taken from Gethard's battle with depression, alcoholism and suicidal tendencies. When the laughs do come, they're huge and worth the wait. So join Gethard as he takes you on a tour of life in New Jersey and breaks out a spot-on Morrissey impression, and meet his wondrous but terrible shrink Barb. Career Suicide, Soho Theatre, Wardour Street, W1. From £8, until 4 February ★★★★☆ Harry Rosehill
Stage review:
Cirque Du Soleil Is Beautiful But Lacks Thrills
The latest slice of epic big top action from this world-conquering circus brand has beautiful imagery and choreography but lacks genuine heart-in-the-mouth action. Cirque du Soleil - Amaluña, Royal Albert Hall, Kensington Gore, Kensington, SW7 2AP. Tickets from £20, until 26 February. ★★★☆☆ Franco Milazzo
Fun things to do with our friends and sponsor Funzing...
London is a city of incredible transformation. With structural remains that date back to ancient history still in existence, this unique walking tour takes in Lost London in all its former glory. From the Titanic booking office to the graveyards of man's best friend, you'll discover the weird and wonderful places that used to exist in the capital but are now only committed to memory. Using old photographs, newspaper cuttings and stories from the past, you'll be amazed at what has largely been written out of our history books... Get tickets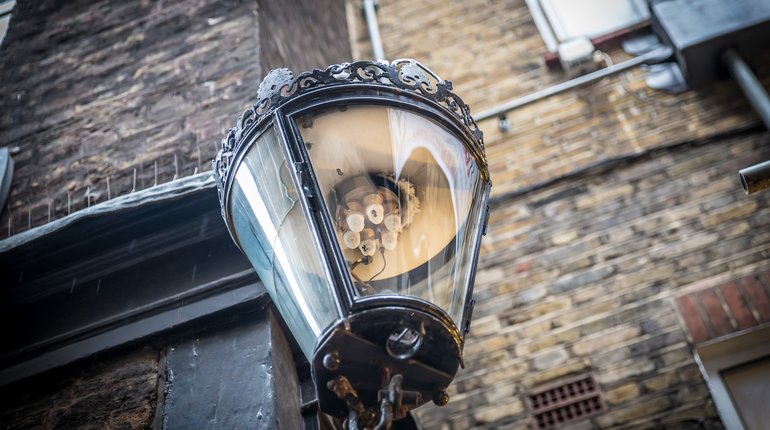 How well do you really know London? Visit the streets that inspired Harry Potter locations and see London's most superstitious hotel. On Matt's tour you will explore hidden places and discover stories unknown to even the most knowledgeable of Londoners. Get tickets
If you've never paired ceramics and prosecco before, why on earth not? It's a match made in heaven as Sam and Diana, co-creators of 'Make Your Own', prove at their wonderfully welcoming ceramic painting workshop. Pull up a stool, don an apron and get to work on your very own mug, plate, tile, bowl or ornament. They provide the ceramics as well as a selection of patterns, and will show you exactly how to transfer designs and paint to your heart's content. It's BYO so feel free to pop the prosecco and enjoy the company of like-minded Londoners as you get stuck into your creations. Get tickets
Have you visited London's Roman ampitheatre? What about London's Medieval market places? Hear weird and wonderful tales of our beautiful city as you take a walking tour, seeing everything from centuries-old churches to the hanging place of William Wallace. Whether you've lived here all your life or are visiting for a few days, you're sure to learn something new about London. Get tickets