Things to do in London this weekend is sponsored by Boxpark Croydon.
All weekend
VINTAGE CAR BOOT: Once again, VW Camper Vans, classic minis and the like roll into Granary Square for the Classic Car Boot Sale, where vintage clothes, retro homewares, vinyl records, collectibles and more are sold out of the vehicles. Granary Square (King's Cross), £4 book ahead/£5 just turn up, 22-23 April, 10am-6pm
SECRETS OF THE UNDERGROUND: London Transport Museum's Acton Depot throws its doors open to the public for an open weekend. See over 320,000 historical objects, hear talks about Crossrail excavation, take a ride on a miniature railway and more. Acton Depot, £12/£10/£6, book ahead, 22-23 April, 11am-5pm
FIELDS OF BATTLE: This photo exhibition portrays the first world war battlefields 100 years on, juxtaposing the death and horror of war with the peace and tranquility of the fields today. Guildhall Yard, free, just turn up, until 23 April
FREE FILMS: Glue your eyes to the silver screen at the New Cross and Deptford Free Film Festival. There are five screenings across the weekend: Wall-E, Kung Fu Panda, The Giver, Mall Rats and our personal pick, Willy Wonka and the Chocolate Factory — screened outdoors in Telegraph Hill Upper Park. Various locations, free, first come first served, 21-30 April
---
Sponsor message
Seen on Screen: dance like Beyonce at Boxpark Croydon
If you've always wanted to move like Queen Bey, head to Boxpark Croydon on 22 April. Pro dancers from Seen on Screen are bringing their headline class to Croydon for one day only. These guys have worked with Beyonce herself, as well as her choreographers, so they know what they're doing. Whether you're crazily coordinated or have two left feet, everyone is welcome at the class — prepare to get bootylicious. Find out more and book your place here.
---
Saturday 22 April
RECORD STORE DAY: It's a high holy day for record collectors, where you'll find special edition vinyl in many of your favourite London haunts. Find a full list of participating stores here and check out our favourite record shops in London.
ELIZABETHAN ISLINGTON: Acquaint yourself with the Islington of 1853 on this Elizabethan Islington walk, which ties in with this year's Cityread events. Hear stories of archery contests, Huguenot migrants and more. Finsbury Library, free, book ahead, 11am-noon
FEMALE FOOTBALL FANS: Go to the launch of the new issue of Season, a zine that celebrates female football fans. Meet likeminded fans, listen to interesting panels and hear some live music. Ace Hotel, free, book ahead, noon-4pm
FEAST OF ST GEORGE: Celebrate the patron saint of England at London's Feast of St George. Traditional English food will be set up in the Square, along with live music performances, kids' activities and more. Trafalgar Square, free entry (charge for some events), just turn up, noon-6pm
FREE MUSIC: See and hear a demonstration of some of the Museum's exhibits before settling in to an evening of Mendelssohn and Brahms piano quartets performed in the concert hall by Maiastra. Musical Museum, free entry (donations to Aidan Woodcock Charitable Trust recommended), just turn up, 6.30pm, concert at 7.30pm
AMERICA DREAMING: The Royal Academy is open late for an evening themed around the American dream, inspired by the current America After The Fall exhibition. Ticket includes an evening of immersive experiences and curated activities, exclusive after-hours private view of the exhibition and themed cocktail on arrival. Royal Academy of Arts, £35, book ahead, 7pm-11.45pm
BOOKS AND BEER: Listen to two excellent novelists — Lisa McInerny and David Keenan — chat to each other alongside a relaxing pint of craft beer or glass of wine. Dulwich Books, £10, book ahead, 7pm-9pm
CROSS-CULTURAL: London Hindus & Sikhs Meetup Group presents Vaisakhi Dinner Dance, an evening of food, dance, fun and a chance to broaden your cultural horizons. Sunlounge Banqueting, £30/£20, book ahead, 7pm-1am
STARLIGHT STORYTELLING: Join professional storyteller Vanessa Woolf for an evening of live music and storytelling about Richmond's very own highwayman Jack Judd and his beautiful dog, Lucifer. Adults only.  Secret Richmond location, £3, book ahead, 8pm
Small plates dining at small prices
Eating in E7 is more synonymous with the curries of Green Street than small plates dining, but now Masterchef finalist Michael Saunders' Milieu is at independent cafe Coffee7, there's an excellent reason to head to Forest Gate. The regularly-changing seasonal menu from head chef Alex Goulding (brother of pop star Ellie) includes free-range, organic meat and fish, and locally-sourced veg. To match the informal atmosphere, there's a well-chosen drinks list including small-batch brews from nearby Wild Card and natural wines. The best thing? The prices are extremely reasonable, meaning your bill will probably be as small as the plates.
While Coffee7 is open every day, Milieu serves Wednesday-Saturday 6pm-11pm. 10 Sebert Road, Forest Gate, E7 0NQ
Sunday 23 April
LONDON MARATHON: It's Marathon day! Why not head to somewhere along the route to cheer on those hardy runners (and see how many ridiculous costumes you can spot)? We'd recommend avoiding Greenwich and Tower Bridge, as these areas are busiest with spectators. Even if you're not watching the race, be aware that road closures will be in place all over London — more information here. And if you're running: we take our hats off to you. Mass race starts at 10am
FLEA MARKET: Get your hands on some vintage bargains at The Big London Flea, an indoor flea market with 50 traders, a food hall, a sound system and more. Epic Dalston, free, just turn up, 11am-6pm
KILL IT, EAT IT: Sounds reasonable enough, right? Foodie wizards Bompas & Parr's latest offering aims to get people thinking about what ends up on their plates — by killing it before they eat it. Each participant will be given their own crab for a workshop on humanly despatching crustaceans. Sea Containers, £45, book ahead, 11am-1pm
ST GEORGE: St George is being celebrated in Borough Market today — a rare treat, as the market is normally closed on a Sunday. He's the patron saint of Catalonia as well as England, so both cultures are being celebrated through food, music, storytelling and theatre. Borough Market, free entry, just turn up, noon-4pm
FAMILY RAVE: The ultimate party for kids and their parents is taking place at this daytime family rave, Big Fish Little Fish. They've bagged a big-time DJ too, in legendary Fabric resident Terry Francis. Mangle E8 Nightclub, £9/£6/free, book ahead, 2pm-4.30pm
CONSTABLE TOUR: John Constable spent much of his time in picturesque Hampstead; see the places that inspired his work as well as his family tomb. Hampstead Station, £12/£9, book ahead, 2.30pm-4.15pm
COMPETITIVE PAINTING: Some people feel that art should be judged on its own merits, not compared and contrasted with other works to decide what's superior. Well, that's not how Art Battle London feel, as the audience decides which of the 10 pieces created live is the best. Kamio, £15, book ahead, 6pm-11pm
Fun things to do with our friends and sponsor Funzing...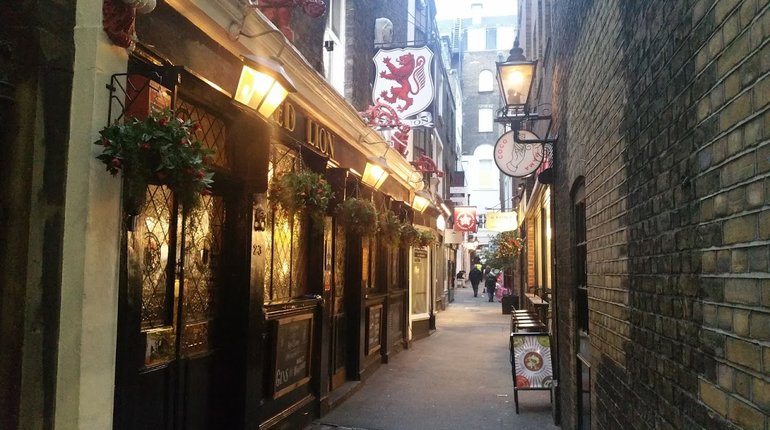 London is a city of incredible transformation. With structural remains that date back to ancient history still in existence, this unique walking tour takes in Lost London in all its former glory. From the Titanic booking office to the graveyards of man's best friend, you'll discover the weird and wonderful places that used to exist in the capital but are now only committed to memory. Using old photographs, newspaper cuttings and stories from the past, you'll be amazed at what has largely been written out of our history books... Get tickets
We love London. It's pretty odd though, isn't it? Our city is a treasure trove of weird goings on, so why not delve a little deeper? Join your tour guide and explore a different side to London, full of things you won't see on the tourist trail - from magnificent old churches, to monuments, architecture to pubs... this one won't disappoint. Get tickets
Take to the waters and glide about in this beginner paddleboarding session. By the end of it, you'll be standing up and paddling solo, and there's plenty of help on hand to improve your technique. Change of clothes required. Get tickets
Tales of torture and plagues await you on a historical walk around London -- see bombed out ruins, discover Medieval markets and even visit a Roman ampitheatre. £12 Get tickets