Things to do this weekend is sponsored by the Museum of London Docklands.
All weekend
FREE FILM FESTIVAL: Herne Hill Free Film Festival continues its run. This weekend there's Murderball, Moana and The Adventures of Priscilla, Queen of the Desert. Various locations, free, book ahead, until 29 May
OPEN HOUSES: As part of Dulwich Festival, over 200 local artists are throwing their doors open, allowing members of the general public to take a good snoop around their studios and workspaces. Various locations in Dulwich, free, just turn up, 20-21 May
HARE AND TORTOISE: Take the kids along to Little Venice's Puppet Barge Theatre, to see a retelling of Aesop's classic fable The Hare and the Tortoise, alongside some of his other stories. Puppet Barge Theatre, £12, book ahead, 20 May-9 July
SICILYFEST: A Sicilian-themed market is popping up in Spitalfields, with food and drink from the region, traditional performances, cooking sessions, a traditional puppet theatre and more. Bishops Square, free entry, just turn up, 20-21 May
ALCHEMY: Southbank Centre's Alchemy festival is back for its eighth year, showcasing cultural connections between South Asia and the UK. This weekend's highlights include the Karachi Literature Festival, a talk from Baroness Warsi, a spoken word and theatre mash-up and so much more. Southbank Centre, prices vary, book ahead for some events, 19-29 May
FESTIVAL OF COMMUNITIES: Expect thought-provoking activities covering topics from local history to tea drinking, fun inflatables, face painting and give-it-a-go sports for all the family to enjoy at this two day festival showcasing the best of London-based research, creativity and community initiatives. Stepney Green Park, Tower Hamlets, free, just turn up, 11am-5pm
Food review: all day Americana
Focus is very much on all-day dining at the recently spruced up Diner in Camden. Whether you're just getting started, or looking for a recovery from the night before, The Diner Breakfast Burger will sort you right out. The Freakshow Chicken with hot sauce will blow away a few cobwebs — and leave you craving more. As for the roof terrace; it's an ideal sun trap on those balmy summer days, whether you're on the milkshakes, or something a little harder (Bacon Mary, anyone?). The Diner Camden, 2 Jamestown Road, NW1 7BY ★★★★☆ [Open everyday] Laura Reynolds
Saturday 20 May
POLITICAL CARTOONS: It's been a hell of a year for politics. Award-winning cartoonists Peter Brookes of the Times and Matt (Matthew Pritchett) of the Telegraph exhibit the very best of their illustrations. Chris Beetles Gallery, St James's, free, just turn up, 10am-5.30pm
SANDWICH FEST: Arrive with an empty stomach and sample a variety of exclusive sandwiches from London's renowned street food vendors and restaurants, focused on upping the sandwich game, alongside craft beer, specially created cocktails and live music. SPACE Gallery Courtyard, Warburton Street, Hackney, £9, book ahead, midday-4.30pm, 5pm-10pm
FAMILY RAVE: What do you get when you take a fully decked out nightclub and add in face painting, inflatable props and a ball pool? A family friendly party, harking back to the heady days of rave. Half Moon Pub, Putney, £8, book ahead, 1pm-3pm
AFTERNOON TEA & OPERA: Dig into a luxurious afternoon tea soundtracked by a live performance from one of Britain's most promising operatic talents; Alexandra Stenson. Verdi - Italian Kitchen (Royal Albert Hall), £39, book ahead, 2.30pm
CRAFT SWISH: Swishing is the act of swapping your unwanted materials in for someone else's stuff; sorry basketball fans who had a different definition. This is a swish for crafts and there's a free cream tea with every ticket. St Alban's Church (Acton), £5, book ahead, 2.30pm
LEGAL LONDON: Join a former City lawyer on a tour of London's legal highlights, from the Old Bailey to the Royal Courts of Justice. The Old Bailey, £10/£8, book ahead, 2.30pm-4.30pm
SOUND BATH: We're promised a three-hour long 'immersive performance installation and participatory experience' at St Leonard's Church in Shoreditch. Make of that what you will, but rest assured you can exit, enter, linger and lounge at your leisure throughout the duration. St Leonard's Church, £5, book ahead, 6pm
SCIENCE FICTION: Is time travel really possible? How far could humans venture beyond earth? These are just two of the big questions that Stranger Worlds explores, as they look at where science meets fiction through talks, games and a quiz. Royal Observatory Greenwich, £15/£13, book ahead, 6pm-9.30pm
GRACE JONES: Get groovy to the tunes of the icon, Grace Jones at this themed club night. Bethnal Green Working Men's Club, £6-£10, book ahead, 9pm-2am
---
Sponsor message
Toddlers takeover the Museum of London Docklands this weekend
Take your little ones to the Museum of London Docklands for a free family festival this weekend with craft and storytelling activities to enjoy.
Enter a jungle sensory space inspired by the animals that used to arrive at the docks before being sold to zoos and circuses. Learn about the sugar and spices that were once stored in the museum when it was a working warehouse, and recreate the food that sailors would have eaten as they travelled the world.
There will also be a storytelling picnic outside on the quayside, with tales such as The Tiger Who Came To Tea brought to life.
The weekend is a celebration of children's contributions to museums and is part of the Takeover Day project coordinated by the charity Kids in Museums.
The Toddler takeover at the Museum of London Docklands is on 20-21 May, 10.30am-4pm. Entry is free.
---
Art review: fishy in Acton
Artist Linda Lieberman combines painting, photography and sculpture in a show looking at humanity's often-destructive relationship with our oceans. Politics meets the personal as newspaper headlines sit next to intimate portraits. Linda Lieberman: Undercurrent at Shotgun Studios, 37a Churchfield Road, W3 6AY, until 27 May, free ★★★☆☆ [Tuesday-Sunday] Tabish Khan
Sunday 21 May
GOSSIP: Go back in time to the days of author Charles Dickens with the Housemaid's Tour. His housemaid will take you on a tour of his family home in Bloomsbury, while candidly revealing the young writer's family secrets. Charles Dickens Museum, £15/£12/£8, 10.15am/11am/11.45am
CAMERA FESTIVAL: Classic camera fans from across the country descend on London today, for the Photographica Fair. It's the perfect place to snap up (sorry) some vintage cameras. RHS Lindley Hall, £5, just turn up, 10am-4pm
BRUNCH UPON A TIME: Don your best costume and discover a world of adventure at this Disney themed fantasy brunch. A fabulous theatrical troupe will be on hand to get you singing along to your favourite fairytale songs. Drink, Shop & Do (King's Cross), £42, 11.30am-2.30pm
INSIDE OUT: Wear the kids out with an hour-long skate session in the railway arches, before plonking them in front of Disney Pixar film Inside Out — grown-ups will probably like this one too. House of Vans (Waterloo), free, just turn up, 12.15pm
BEAUTIFUL GARDEN: Mona invites you into her award winning back garden in Muswell Hill, which she's opening for the day under the National Gardens Scheme. It's filled with species from Australasia and the Mediterranean that have been carefully cultivated to survive north London's harsh winters. Muswell Hill, £4, just turn up, 2pm-5.30pm
VILLAGE FETE: Escape the city and enjoy a contemporary summer fete in London's emerging neighbourhood. Expect a bold celebration of the best in design, music, street food, art, and modern craftsmanship from the Penisula's pioneering residents. The Gateway Pavilions, Greenwich Peninsula, free, just turn up, midday-7pm
OTHELLO: See Shakespeare's story of jealousy and deception, trust and trickery, Othello in a new production by Stephen Tiller performed in an intimate setting. Wusi Creative Space (Broadway Market), £12, 3pm-5pm
SUNDAY SERVICE: London's newest concept comedy show brings you an eclectic mix of debate, topical comedy and new comics at this Sunday service with a twist, at the Church of StayGiggin and Latter Day Comics. The Top Secret Comedy Club (Drury Lane), free, just turn up, 6.30pm-8pm
LIVE MUSIC: Join British Blues Hall of Fame inducted Paul Lamb and one of the best blues singers in Europe, Chad Strentz, for an evening of infectious live music. Chickenshed Theatre (Southgate), £10, book ahead, 7.30pm
Fun things to do with our friends and sponsor Funzing...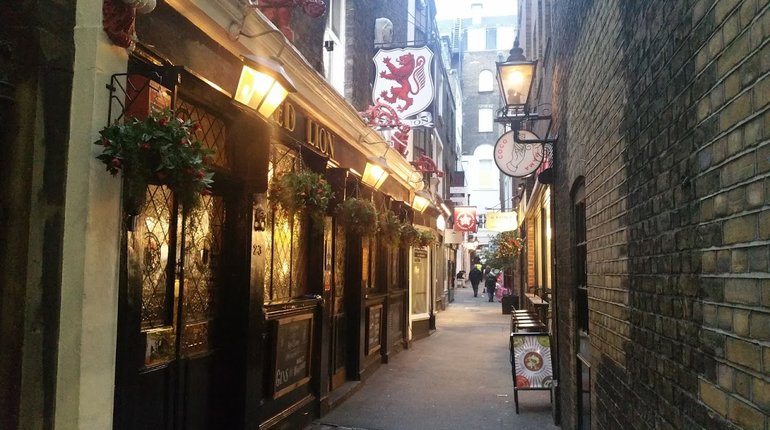 London is a city of incredible transformation. With structural remains that date back to ancient history still in existence, this unique walking tour takes in Lost London in all its former glory. From the Titanic booking office to the graveyards of man's best friend, you'll discover the weird and wonderful places that used to exist in the capital but are now only committed to memory. Using old photographs, newspaper cuttings and stories from the past, you'll be amazed at what has largely been written out of our history books... Get tickets
Whether you're a pre-grated cheddar sprinkler or mimolette fan, this cheesy walking tour will delight your senses. Starting off at a cheese counter in Mayfair that has been serving for more than 300 years, you'll tour the city's best dairy delights - including Fortnum & Mason, where the royals get their fix. Get tickets
Take to the waters and glide about in this beginner paddleboarding session. By the end of it, you'll be standing up and paddling solo, and there's plenty of help on hand to improve your technique. Change of clothes required. Get tickets
Get creative with your partner in this date night with a difference. Between you, you'll get to create your very own piece of artwork on a large canvas. Help is on hand if you need it, but freestyle pieces are always encouraged… Get tickets