Things to do this weekend is sponsored by the Museum of London.
All weekend
ICE SKATING: Fancy gliding on the ice this weekend? Check out our list of the best ice rinks in London here.
ELF SCREENING: Don't forget your maple syrup as you travel through the seven levels of the candy cane forest this weekend. Head over to Prince Charles Cinema for Elf and join Buddy on his quest to meet his father and save Christmas. Free mulled wine and mince pie with every ticket. £11/£8.50, book ahead, Saturday 1pm/Sunday 3.45pm
TOILET TOURS: Flush your weekend down the toilet with London Loo Tours: Waterloo. Learn all about the public toilet, where Thomas Crapper fits into all of this, and have a laugh in the process. £12/£10, book ahead, Saturday 3.30pm/Sunday 1.30pm
TINY TREES: Office still lacking a Christmas tree? Boxpark in Shoreditch is currently home to a pop-up shop selling tiny Christmas trees, along with miniature baubles and decorations. We felt a bit like Alice in Wonderland tiptoeing among the arboreal miniatures. The shop also sells custard cream flavour chocolate bars; not sure what that has to do with Christmas, but it seems like a jolly good idea to us. Free entry, just turn up, until 11 December
CROSSRAIL AND ART: Crossrail's so big it's got its own artist-in-residence. Julie Leonard's exhibition at The Building Centre produces striking images seen through the eyes of the diverse Crossrail workforce. Free, just turn up, until 22 December
ROYAL OBSERVATORY CHRISTMAS: Ever wondered what the Christmas star might have been? Find out as you travel across the skies with The Sky Tonight - Christmas Stars at the Royal Observatory in Greenwich. Various prices, book ahead, until 23 December
NORDIC CHRISTMAS: Have a wander around and see if you can find any Gonks. They're mythical creatures from Scandinavian culture associated with Christmas and winter, but this weekend are hiding at Southbank Centre. Beware: they keep an eye on children and report back to Santa... Free, just turn up, until 15 January
Saturday 10 December
BIRD WATCHING: Get closer to nature and go bird watching with a warden at the Wetland Centre in Barnes. You can learn about plumage, sites, calls and the the key differences between species. £10 plus admission, book ahead, 9.30am-11am
MEAN GIRLS: Love Mean Girls? Love Christmas? Merge them and learn Janis's original Jingle Bell Rock routine at Drink, Shop & Do in King's Cross. It's gonna be so fetch. £15, book ahead, 10.30am-12.30pm
FAMILY CHRISTMAS CRAFTS: Get creative with the whole family with Christmas Family Crafts at the Cockpit Theatre near Marylebone. You can make eco-friendly snowflake mobiles, pop-up cards and create glittering gifts. £5, book ahead, 2pm-4pm
ROYAL ACADEMY LATES: Lose yourself in 19th century France, with the Royal Academy's recreation of James Ensor's Bal du Rat Mort at Burlington House. Following in the footsteps of Ensor and the Circle Coecilia artists, put on your finest threads, enjoy cocktails and supper and prepare to dance all night. £35, book ahead, 7pm-11.45pm
LOVE, ACTUALLY: Feel it in your fingers and feel it in your toes. Head over to Hackney Showroom's Narnia-style winter wonderland and watch Richard Curtis's Love Actually. There'll be a bar with hot chocolate, mulled wine and popcorn. £20, book ahead, 7.30pm
AMUSED MOOSE: Have a laugh on Saturday night with Amused Moose's evening of comedy with stand-up from the likes of Tom Taylor, Mo Gilligan, and Jenny Collier. Hosted by Alex Zane. From £12.50, book ahead, from 7.45pm
CUTTY SARK CHRISTMAS: Get that festive feeling with the Cutty Sark Christmas Concert. There will be performances from The Lewisham and Greenwich NHS Choir, plus mince pies and mulled wine, and a chance to admire the Christmas lights on the mast. £25, book ahead, 8pm
80s Vs 90s: Make your way to central London's ultimate retro venue, Bloomsbury Bowling Lanes, for a battle of the decades. This Saturday sees the ultimate retro night of 80s and 90s tunes for those of you who really can't decide which decade is best. From £4.50, 9pm (sponsor)
---
Sponsor message
Jump aboard the Museum of London's Great Fire river tour
This year marks 350 years since the Great Fire of London and it's safe to say the city has changed a lot since then. Discover how London evolved after the disaster on this boat trip down the Thames with the Museum of London.
The three-hour river and fire journey will be led by the Fire! Fire! Exhibition curator, who will explain how the new city emerged out of the ashes. Starting at Westminster Pier, you'll head to the O2 at North Greenwich and back again, passing London's famous buildings and bridges.
This enlightening boat ride takes place on 10 December at 1.15 pm, and is sure to fire up your imagination — book tickets here.
---
Sunday 11 December
MEDITATION: Channel your inner peace with Mindfulness Meditation and Relaxation at Farmopolis. Practice relaxation and meditation by the river, surrounded by stunning greenery. £2.50, book ahead, 10am-11am
CHRISTMAS CHOCOLATE CLUB: Channel your inner Willy Wonka and give your taste buds a treat at the Experimental Christmas Chocolate Club. Spend the afternoon creating and tasting chocolate truffles, chocolate clusters and hot chocolate. £45, book ahead, 11am/3pm
THE GRINCH: Channel your inner child with Pop Up Screens' winter wonderland screenings. Watch Jim Carrey wreak havoc upon Whoville in The Grinch at Hackney Showroom. There'll be a bar with hot chocolate, mulled wine and popcorn. Oh, and you'll make your way into the screening though a wardrobe. £20/£10, book ahead, noon
THE TEMPEST: Get lost at sea in the Bard's world, with Prospero, Miranda and Ariel. Head to The Cockpit Theatre for a 'cue script' adaptation of The Tempest and see the play as actors would have performed it in Shakespeare's day. £25, book ahead, 1pm, until 15 January
DIY TERRARIUM: Build your own mini eco-system with Make Good: Terrariums at Balham Bowls Club. With all plants and glassware provided, make someone's Christmas gift, or keep it to brighten up your home. Festive flair optional. £27.24, book ahead, 1pm/3pm
WREATH MASTER CLASS: Give your Christmas decorations a unique touch with a Christmas wreath master class at Greenwich's Trafalgar Tavern. Perfect for beginners, use seasonal foliage and berries to create your own festive masterpiece (hot chocolate included). £60, book ahead, 2pm-5pm
FESTIVE CYCLE RIDE: Get fit and festive with the 2016 Festive Light Ride, a cycle ride starting at the Polygon in Clapham Old Town and heading to Brixton Windmill. With all proceeds going to cycling disability charity Wheels for Wellbeing, you can keep fit, have fun and give to a good cause. Expect fireworks, music and entertainment. £3, book ahead, from 4pm
OPERA ENCORE: Join Comedia at Normansfield Theatre in this entertaining guided tour showing the evolution of opera. There will also be performances from a company of professional soloists accompanied by The Virtual Reality Orchestra. £15 (£12 concessions), book ahead, 7.30pm-10.30pm
---
Fun things to do with our friends and sponsor Funzing...
London is a city of incredible transformation. With structural remains that date back to ancient history still in existence, this unique walking tour takes in Lost London in all its former glory. From the Titanic booking office to the graveyards of man's best friend, you'll discover the weird and wonderful places that used to exist in the capital but are now only committed to memory. Using old photographs, newspaper cuttings and stories from the past, you'll be amazed at what has largely been written out of our history books...   Get tickets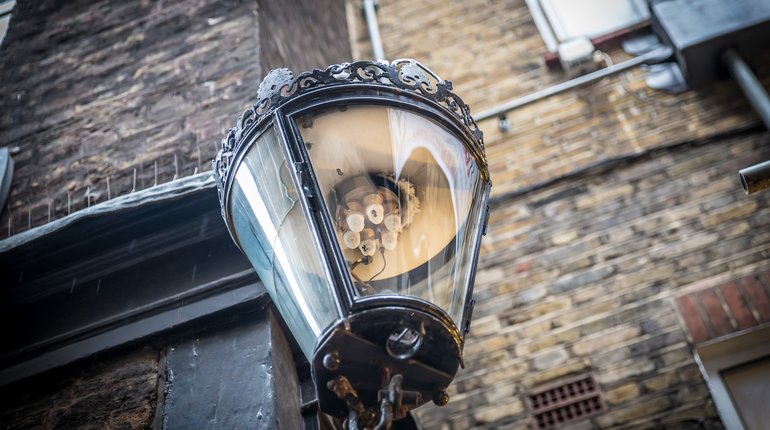 How well do you really know London? Visit the streets that inspired Harry Potter locations and see London's most superstitious hotel. On Matt's tour you will explore hidden places and discover stories unknown to even the most knowledgeable of Londoners. Get tickets
Take to the waters and glide about in this beginner paddleboarding session. By the end of it, you'll be standing up and paddling solo, and there's plenty of help on hand to improve your technique. Change of clothes required.  Get tickets
If you've never paired ceramics and prosecco before, why on earth not? It's a match made in heaven as Sam and Diana, co-creators of 'Make Your Own', prove at their wonderfully welcoming ceramic painting workshop. Pull up a stool, don an apron and get to work on your very own mug, plate, tile, bowl or ornament. They provide the ceramics as well as a selection of patterns, and will show you exactly how to transfer designs and paint to your heart's content. It's BYO so feel free to pop the prosecco and enjoy the company of like-minded Londoners as you get stuck into your creations.  Get tickets