All week
EASTER HOLIDAYS: The school holidays are here, and there's plenty going on in London including family exhibitions, nature trails, egg hunts and museum workshops. Take a look at what's on near you, whatever their age, and whatever your budget.
POP-UP BOOK BAR: Waterstones Tottenham Court Road's basement bar is transforming into a literary haven, with the added comfort of some Baileys. It's for the Baileys Book Prize, and there will be readings from the shortlisted novels throughout the week. Waterstones Tottenham Court Road, various prices, tickets available here, 3-7 April
SURREALIST THEATRE: 92 year old Marian is deaf and lost in her memories, dumped in a sinister care home. Watch her psychedelic journey to escape with a bunch of rebellious inmates in The Hearing Trumpet. The Old Library (Camberwell), £15, book ahead, 4-29 April
QUANTUM CERAMICS: Theoretical physicist Nadav Drukker makes traditional pottery as an alternative means to communicate his scientific research. We can't help but suspect he ran out of blackboard and continued his crazy scribbling on the closest possible object, but get a closer look at his Quantum Ceramics in this exhibition. Knight Webb Gallery (Brixton), free, just turn up, until 8 April
Art review: flooded churches
Water swells up within churches in these works by Pablo Genoves, which have a biblical feel to them. Nature meets the man-made, the horizontal meets the vertical and the chaotic combines with the structured. Powerful works in the perfect setting. Tides by Pablo Genoves at St. Paul's Cathedral, ★★★★☆ (Open every day) Tabish Khan
Monday 3 April
DOGGY ART: See a selection of Victorian art depicting dogs. What's even better is that you can bring your dog along; breakfast treats for both pets and their owners are provided. 25 Blythe Road (Kensington), free, book ahead, 8.30am-10am
MISSING TUTU: My Tutu Went AWOL! is the story of what happened when drag ballet accidentally ended up in Iraq. This book launch has performers from across the variety putting on a wild show. Hippodrome Casino, £7, book ahead, 7pm
OPEN MIC: Everyone is welcome at the Star of Bethnal Green's open mic night. Just turn up on the night and take to the stage — or relax and watch others. There's also a performance from The London Alternate Choir. Star of Bethnal Green, free, just turn up, 8pm
CLASSICAL PUB MUSIC: The Orchestra of the Age of Enlightenment makes classical music accessible for the masses. In this case the masses means the crowd at your local pub; listen out for Mozart's horn quintet. The Old Queen's Head, £10/£5, book ahead, 8.30pm
Tuesday 4 April
LUNCHTIME CONCERT: Experienced chamber musicians the Moeran Quartet put on a lunchtime concert, playing Haydn's 'Joke' Quartet and Mozart's 'A Musical Joke'. And no, we're sure why there are only three of them. Lauderdale House, free, just turn up, 1.15pm-2pm
CHRISTIE'S LATES: The South Kensington auction house hosts its monthly late night opening. The theme this month is Contemporary Living; take a guided tour, or join in a design workshop. Christie's South Kensington, free, just turn up, 6pm-8.30pm
Y2K LECTURE: Remember the Millennium Bug? Y2K? What was it all about — and did it even exist at all? Find out at this Gresham College talk. Museum of London, free entry, just turn up, 6pm-7pm
Wednesday 5 April
ROYAL SOCIETY TOUR: Take an unofficial tour through the Royal Society's history with Londonist contributor Laurence Scales. He'll tell you about some of the society's lesser known characters along with the heavy hitters such as Darwin and Newton. Note: This tour is NOT a visit inside the present Royal Society HQ. High Holborn, £12, book ahead, 2.30pm-5pm
PUBSCI: Science in a pub — an excellent combination. This month, hear from engineer Dr Fiona Nairn Scott, who will discuss the challenges of fireproofing iconic and historic buildings. The Old King's Head (Borough), free (there's a whip-round to cover costs), just turn up, 6pm for 7pm start
CRAP FILM CLUB: Celebrating the worst of the film world, Crap Film Club hosts a screening of 1986 indie slasher film Chopping Mall. Four young couples decide to spend the night in a shopping mall, but the security system malfunctions and robots turn into kill-bots.  The Book Club, £5, book ahead, 7pm-10pm
MAGIC SHOW: Dip into a world of illusions and impossibilities at this midweek magic show, with puzzles, as well as parlour and street magic tricks. Adults only. The Illusioneer (Herne Hill), £15, book ahead, 8pm
Thursday 6 April
GIRL ON GIRL: Artists Juno Calypso and Maisie Cousins are just some of those taking part in this panel discussion about female photographers and the female gaze. It's to celebrate the launch of new book Girl On Girl. Photographers' Gallery, free, just turn up, 6pm-8pm
FUNNY WOMEN: Who says women aren't funny? Watch a night of female created short comedy films, alongside comedy by female comedy community Funny Women. Rich Mix, £10/£12, book ahead, 7.30pm
Friday 7 April
EXPERIMENTAL GAMES: There's a three day experimental gaming festival at Somerset House. Highlights include a ping pong table that creates a work of art as you play, and a physical team challenge to stop an outbreak of the bubonic plague. Somerset House, £8/£6.50 for one day or £23/£15 for weekend, book ahead, 7-9 April
LATE AT TATE BRITAIN: Britain: Stand Firm is the rather topical theme for this late night gallery opening.  It's based around the long-standing contributions that African and Caribbean immigrants have made to UK society, and includes live music, discussions, performances, film screenings and more. Tate Britain, free entry, just turn up, 6pm-10pm
MACHO? A bromance themed drag king cabaret, expert talks and a pop-up choir are just some of the events on offer at Wellcome Collection's Macho! themed late night opening. Wellcome Collection, free, book ahead, 7pm-11pm
Saturday 8 April
ENDANGERED ANIMALS: This immersive 4K exhibition brings visitors face to face with ten endangered species. Shoreditch Gallery, free, just turn up, 7-9 April
WARWICK AVENUE WALK: Join in a canal-side wander from Warwick Avenue to Westbourne Park. Along the way you'll visit London's oldest gardening centre, wander through the whimsical Meanwhile Community Gardens and take in Erno Goldfinger's iconic Trellick Tower. Warwick Avenue station, suggested £4 donation, book ahead, 11am
CHARACTER PARADE: If you're in the vicinity of St Paul's Cathedral, you may well catch a glimpse of the London Games Festival Character Parade, with cosplayers and gaming fans dressing up as their favourite video games characters or designs. City of London, free, just turn up, 1.30pm
Theatre review: pitch perfect
Proving that double entendres are not the preserve of seventies farces, operatic drag superstar Le Gateau Chocolat's Black is a moving musical autobiography. In it, the Nigerian baritone exposes and examines the dark undertones of his difficult upbringing as well as the mental health issues he lives with on a daily basis. Chocolat is fearless in his choice of music and artistic expression through comedic animation sequences, glorious arias and an incredibly haunting a capella version of Whitney Houston's I Wanna Dance With Somebody (Who Loves Me). Le Gateau Chocolat: Black, Theatre Royal Stratford East, Gerry Raffles Square, E15 1BN, £10-£18, 4-8 April ★★★★☆ Franco Milazzo
Sunday 9 April
VINTAGE MARKET: Mid-century, antiques, decorative and retro items will be on sale from over 60 stallholders at this new vintage market launching in Vauxhall. The Workshop (Vauxhall), free, just turn up, 10am-4pm
EXHIBITION TOUR: The recently reopened (and excellent) National Army Museum offers a free guided tour of its temporary War Paint exhibition including a discussion about the purpose of painting during war. National Army Museum (Chelsea),  free, book ahead, 2.30pm
STORYTELLING: Hear the wild Persian fairytale of Seven Princesses, as told by storytelling masters The Crick Crack Club. The British Museum, £8/£6, book ahead, 2.30pm-5pm
Fun things to do with our friends and sponsor Funzing...
London is a city of incredible transformation. With structural remains that date back to ancient history still in existence, this unique walking tour takes in Lost London in all its former glory. From the Titanic booking office to the graveyards of man's best friend, you'll discover the weird and wonderful places that used to exist in the capital but are now only committed to memory. Using old photographs, newspaper cuttings and stories from the past, you'll be amazed at what has largely been written out of our history books... Get tickets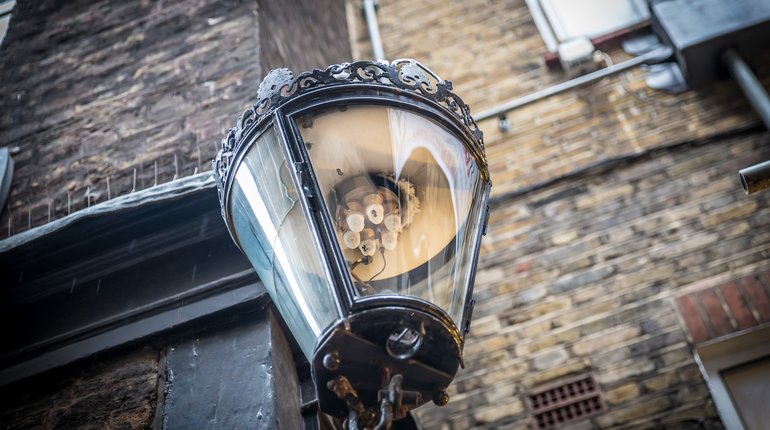 How well do you really know London? Visit the streets that inspired Harry Potter locations and see London's most superstitious hotel. On Matt's tour you will explore hidden places and discover stories unknown to even the most knowledgeable of Londoners. Get tickets
Take to the waters and glide about in this beginner paddleboarding session. By the end of it, you'll be standing up and paddling solo, and there's plenty of help on hand to improve your technique. Change of clothes required. Get tickets
If you've never paired ceramics and prosecco before, why on earth not? It's a match made in heaven as Sam and Diana, co-creators of 'Make Your Own', prove at their wonderfully welcoming ceramic painting workshop. Pull up a stool, don an apron and get to work on your very own mug, plate, tile, bowl or ornament. They provide the ceramics as well as a selection of patterns, and will show you exactly how to transfer designs and paint to your heart's content. It's BYO so feel free to pop the prosecco and enjoy the company of like-minded Londoners as you get stuck into your creations. Get tickets