All week
HARRY POTTER: This extremely popular exhibition of designs and artwork from the Harry Potter films is still going on. See wizarding newspaper The Daily Prophet, 'wanted' posters, and Hogwarts textbooks, among other film props. House of MinaLima (Soho), free, just turn up, ongoing
POP-UP MUSEUM: The National Maritime Museum has popped up in Lewisham shopping centre; explore the museum's collections and come up with your own sailor's ditty box. Lewisham Shopping Centre, free, just turn up, Tuesday-Sunday, 10am-5pm
FREE FILMS: Glue your eyes to the silver screen at the New Cross and Deptford Free Film Festival. There's a diverse selection of picks too, so it's truly something for everyone. Various locations, free, first come first served, 21-30 April
Monday 24 April
DANDYISM: The dandy was a fashionable male of the 19th century, prevalent in both British and Russian society. Dr Olga Vainshtein speaks on the specific rules of dandyism. Pushkin House, £7/£5, book ahead, 6.30pm-8pm
SHAKESPEARE IMPROV: Shakespeare never really dealt with improv comedy much, but the Comedy Store Players interpret what would have happened had he done. Globe Theatre, £5-£45, book ahead, 8pm-10.15pm
JAZZ PIANO: Talented jazz and soul pianist James Junior provides the music at 100 Wardour Street. Let him soothe and groove you, while you dig into the venue's set menu. 100 Wardour Street, free entry, book ahead, 8pm-10pm
VOGUE: Follow seven young male dancers on Madonna's 1990 Blond Ambition tour in the documentary Strike A Pose. Prince Charles Cinema, £10/£7.50, book ahead, 8.45pm-11pm
Food review: bacon pudding just landed in Aldgate
They stir up a good cocktail at recently-opened Treves & Hyde. Our Smoke & Mirrors (gin, scotch, vermouth and sea salt) is a great balance of smoky and briny — plus ex-Fat Duck chef George Tannock is turning out big, unusual flavours in the kitchen. Charcoal-dough arancini miss the mark slightly, pretty on the plate but cardboardy in the mouth, but they're the only real 'meh' of the night. Most of it's solidly good food with interesting edges: the venison tartare's thick with burnt ketchup, the poponcini peppers are stuffed with salt cod, and the brisket comes with a side of bacon pudding — serious comfort food for anybody into warm, porky, crunchy-edged dumplings. Treves & Hyde, 15 Leman Street, E1 8EN ★★★★☆ Lydia Manch
Tuesday 25 April
VEGAN FOOD: It's time for some delicious environmentally responsible food. Pollen + Grace is a supper club providing fine vegan and gluten-free food. Sourced Market, £36, book ahead, 6.30pm
TEMPLAR POETRY: Poet Olive Broderick launches her debut collection, Night Divers, alongside Kathleen Jones launching her poetry pamphlet, Mapping Emily. Keats House (Hampstead), free, book ahead, 7pm-8.30pm
LIFE DRAWING: Channel your inner Modigliani and draw two models in their full sensuality, in some classic poses from his art. The Underdog (London Bridge), £15, book ahead, 7pm-9pm
WEIRDO COMEDY: Welcome to Stonehenge (via Islington), brought to you by the Weirdos Comedy troupe. The Bill Murray (Islington), £7.50, book ahead, 8pm-10.30pm
Wednesday 26 April
KENNEL CLUB TOUR: A rare chance to get inside the Kennel Club's new headquarters in Piccadilly. Learn about what the canine-centric organisation does, and visit its art gallery and library. Kennel Club (Piccadilly), £5, book ahead, 11am
SCIENCE MUSEUM LATES: It's the last Wednesday of the month so Science Museum is open late for an adults-only event. The theme this month is food and drink — learn all about food science through talks, hands-on events, and of course, the legendary silent disco. Age 18+. Science Museum (South Kensington), free (charge for some events), just turn up, 6.45pm-10pm
SEXUAL THEATRE: It's time for an honest chat about sex with researcher/artist/provocateur Louise Orwin. Camden People's Theatre, £12/£10, book ahead, 7.15pm-8.25pm
BEER COMPETITION: It's a good old fashioned Brewery Brawl down at the Jackdaw and Star tonight. In the red corner it's the reigning champ Canopy Beer Company. Opposite them in the blue corner, the challenger, The Five Points Brewery Company. Basically you drink a lot of beer and pick your fave. Jackdaw and Star, £10, book ahead, 8pm-11pm
Thursday 27 April
OVER THE RAINBOW: Nicola Field, an original member of Lesbians and Gays Support the Miners is discussing a new, expanded edition of her 1995 book Over The Rainbow: Money, Class And Homophobia. Review bookshop (Peckham), £5, book ahead, 7pm-9pm
EXHIBITION LAUNCH: Beautiful Glorious Chaos is the name of this bar's latest exhibition, and that's what we're expecting at the launch night tonight. The Book Club (Shoreditch), free, just turn up, 7pm-12am
POLITICAL COMEDY: Join a bunch of comedians for a 'celebration' of the first 100 days of Donald Trump's presidency. 2 Northdown (King's Cross), £10, book in advance, 8pm-11pm
Friday 28 April
FREE FILM FESTIVAL: Herne Hill Free Film Festival kicks off today with a screening of The BFG — and an appearance by the star of the film (and local resident) Mark Rylance. Other films lined up for the festival include Victoria, Easy Rider, and The Big Lebowski. Various locations, free, book ahead, 28 April-29 May
WAR ARTISTS: Museum curator Emma Mawdsley leads a tour around the War Paint exhibition, discussing how, in an age before photography, artist impressions were the only images of war available. National Army Museum (Chelsea), free, book ahead, 11.30am
NATURAL HISTORY LATES: The theme of this month's late is sounds in nature. Find out how animals sounds are used to identify and classify them and get hands-on at pop-up science stations, or just explore the museum's exhibits after hours. Natural History Museum (South Kensington), free entry (charge for some activities), just turn up, 6pm-10pm
LITERARY FESTIVAL: Writers of the World Unite is four days of inspirational discussion courtesy of Little Atoms and Speaking Volumes. Speakers include Russian poet Maria Stepanova, Guardian columnist Owen Jones, young people's laureate Caleb Femi, dub poet Linton Kwesi Johnson and many more. Waterstones Piccadilly, free, book ahead, 28 April-1 May
Saturday 29 April
BANK HOLIDAY: Lacking inspiration? Take a look at our guide to how to spend a bank holiday weekend in London.
WILD WEEKEND FESTIVAL: London's newest nature reserve hosts a family-friendly wildlife festival with tours, workshops, talks and debates, a farmers's market and more. Woodberry Wetlands (Stoke Newington), free entry, just turn up, 9am-6pm, 29-30 April
MODERNISM WALK: Recovering from the Blitz, the mid 20th century City of London embraced Modernism during its rebuild. Walk around the remains of this modernist legacy today. Starts at Blackfriars tube station, £12/£9, book ahead, 10.30am-12.30pm
GLUTEN-FREE FESTIVAL: Limehouse Social Market celebrates its first birthday with a gluten-free festival. Expect gluten-free street food (crepes, pizza, hummus, cupcakes), a farmers' market, live music, graffiti workshops and more. Limehouse Basin, free entry, just turn up, 11am-5pm
Art review: collage comes good
What is the role of collage in the world of fine art? This Mayfair gallery pulls together big names in this small show including the brilliant John Stezaker who cheekily collages very different photographs with surreal results. The exhibition is split across their London and New York galleries and while we don't usually like this inconvenient arrangement, the London show does stand on its own. The Ends of Collage at Luxembourg & Dayan, 2 Savile Row, W1S 3PA, until 13 May, free ★★★☆☆ (Tuesday-Saturday) Tabish Khan
Sunday 30 April
JAZZ AFTERNOON TEA: A new afternoon tea, inspired by the golden age of jazz, begins today.  Tuck into ornate mini trombones and the like as you listen to live music. Monday-Thursday, the hotel's regular harpist plays, and Friday-Sunday, jazz musicians accompany your meal. Jazz Afternoon Tea at the Palm Court. Grand Sheraton Park Lane, £39, book ahead, until 30 July
SPRING MARKET: The days are getting lighter and the weather's getting warmer so celebrate by treating yourself to some of London's best independent traders at Beckenham Market. Venue 28, £2 (kids free), just turn up, 10am-4pm
BENGALI MUSIC: The Bengali Baul and Vaishnav Music Festival culminates at Rich Mix today with performances of Bengali folk music, poetry translated into English, and Sufi dance. Rich Mix (Shoreditch), free entry, just turn up, 6pm
Fun things to do with our friends and sponsor Funzing...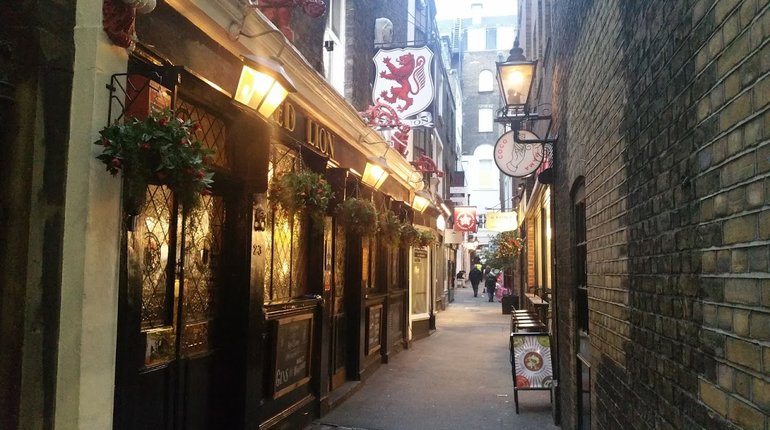 London is a city of incredible transformation. With structural remains that date back to ancient history still in existence, this unique walking tour takes in Lost London in all its former glory. From the Titanic booking office to the graveyards of man's best friend, you'll discover the weird and wonderful places that used to exist in the capital but are now only committed to memory. Using old photographs, newspaper cuttings and stories from the past, you'll be amazed at what has largely been written out of our history books... Get tickets
Whether you're a pre-grated cheddar sprinkler or mimolette fan, this cheesy walking tour will delight your senses. Starting off at a cheese counter in Mayfair that has been serving for more than 300 years, you'll tour the city's best dairy delights - including Fortnum & Mason, where the royals get their fix. Get tickets
Take to the waters and glide about in this beginner paddleboarding session. By the end of it, you'll be standing up and paddling solo, and there's plenty of help on hand to improve your technique. Change of clothes required. Get tickets
Track the journey of humanity through this tour around the British Museum. The tour aims to help you understand why the world is the way it is, and show how humans learned to question absolutely everything. Get tickets