All week
MUSEUM REOPENING: After an 18 month refurbishment, the Garden Museum is back with a bang. Possibly a slightly serene bang, but a bang nonetheless. The Garden Museum, just turn up, 10.30am-5pm, closes at 4pm on Saturdays
ALCHEMY: Southbank Centre's Alchemy festival continues, bringing a dab of South Asian culture to central London. Learn some bhangra dance moves, tuck into Asian street food, or kick back and listen to music by a Sufi vocalist. Southbank Centre, various prices, book ahead, until 29 May
CHELSEA IN BLOOM: The streets of SW3 become extra colourful with the Chelsea in Bloom festival. The floral art show sees restaurants, retailers and more adorn themselves to compete for coveted awards. Free, just turn up, 22 May-27 May
Monday 22 May
FILM & KARAOKE: Every Monday night Dalston's The Alibi shows a free film followed by karaoke. Tonight it's Scream 4 (or Scre4m if you want to be pedantic), followed by Nirvana themed karaoke, so make sure you bring your best guttural slur along. The Alibi, free, just turn up, 7pm-2am
THEATRE TALK: What's it like being artistic director for one of the world's biggest theatres? Well hear all about it from Nicholas Hytner who sat at the helm of the National Theatre for 12 years. National Theatre, £5/£4, book ahead, 6pm-6.45pm
Art review: extreme femininity
One room's walls are covered with uteruses, while the room opposite centres on menstruation. Artist Annette Messager's art is confrontational, but open about what it means to be a woman. This is echoed in the opening room as giant versions of items of domesticity, such as scissors and a comb, hand from the ceiling. Uncomfortable and effective. Annette Messager: Avec et sans Raisons at Marian Goodman Gallery, 5-8 Lower John Street, W1F 9DY, until 27 May, free ★★★☆☆ (Tuesday-Saturday) Tabish Khan
Tuesday 23 May
BOOK CLUB: Discuss books that see the first world war from fresh perspectives. This week it's Dreamers of the Day by Mary Doria Russell. The Petrie Museum, free, just turn up, 1.15pm-1.45pm
LIFE DRAWING: Create your own tarot cards from life models evoking classic cards such as the lovers , death and the devil. The Underdog, £15, just turn up, 7pm-9.30pm
K-POP: The sounds of Korea land in London's Borderline for one night only, with live performances from The Barberettes and Sultan Of The Disco. The Borderline, £15, book ahead, 7pm-11pm
Wednesday 24 May
TODDLER TIME: Take your little sailors aboard the Cutty Sark, for songs, stories and playtimes. Cutty Sark, £5 for adults, free for under 5s, just turn up, 10am-11.30am
AI VS EMOTIONS: How is AI impacting the ways in which humans relate to technology and one another? Are robots taking over? Get answers from experts in the tech industry. Protein Studios (Shoreditch), £10, book ahead, 6.30pm-10pm
CROWDFUNDING: Thousands of films from around the world have only been made possible through Kickstarter crowdfunding campaigns. Tonight watch a selection of a few shorts brought to life this way. 93 Feet East, £3/£4, book ahead, 7pm-11pm
Thursday 25 May
UN-SILENT FILM: Watch one of Buster Keaton's earliest feature films, Sherlock Jr. There's live accompaniment from pianist Meg Morley, to distract everyone from your ridiculous guffawing. 1901 Arts Club, £12.50/£8, book ahead, 7.30pm
IMPROV COMEDY: "Infectious weirdness". So said one review about improv comedy group The Committee. See them along with some special guests. 2 Northdown, £5, book ahead, 8pm-10.30pm
Friday 26 May
BRIXTON BEACH: Cross your fingers for good weather as Brixton Beach opens again for the summer. The Cuban-themed rooftop bar, with street food, cocktails and live entertainment will host events including live music, club nights and beach parties. Brixton Rooftop, entry is usually free but prices vary depending on event, book ahead, all summer
LAST WORD: The Last Word Festival begins at Roundhouse today, with over 30 shows being performed over two weeks. Pick from poetry slams, spoken word, storytelling, live music and more. Roundhouse (Camden), various prices, book ahead, until 10 June
DEAR DIARY: This new King's College exhibition explores the role of diaries in our lives, dating back as far as 1400BC, and considers whether modern equivalents such as blogging can be considered as descendants of the original diary. Somerset House, free entry, just turn up, until 7 July
PADDINGTON COVERS: Adele, The Beatles, Lionel Richie and The Beatles cover bands are performing for free at this mini-festival in Paddington this afternoon. As well as the live music, there are food and drink stalls nearby to replenish you. Other events take place later in the summer. Norfolk Square Gardens (Paddington), free, book ahead, noon-7pm
FILM CLUB: 2013 romantic drama film Enough Said is being screened at this month's Chapel Films Club in Chislehurst. It's the story of a divorced masseuse who begins a relationship, only to discover that he is the ex-husband of her client and friend. Hot drinks and cake included in ticket, BYOB. The Old Chapel (Chislehurst), £5, book ahead, 7.30pm
Food review: all day Americana
Focus is very much on all-day dining at the recently spruced up Diner in Camden. Whether you're just getting started, or looking for a recovery from the night before, The Diner Breakfast Burger will sort you right out. The Freakshow Chicken with hot sauce will blow away a few cobwebs — and leave you craving more. As for the roof terrace; it's an ideal sun trap on those balmy summer days, whether you're on the milkshakes, or something a little harder (Bacon Mary, anyone?). The Diner Camden, 2 Jamestown Road, NW1 7BY ★★★★☆ [Open everyday] Laura Reynolds
Saturday 27 May
BANK HOLIDAY: Looking for things to do over the bank holiday weekend? Check out our guide to spending a bank holiday weekend in London, whatever the weather and whatever your budget.
FOODIES FESTIVAL: Foodies will want to head west this weekend for Foodies Festival. Food and drink stalls, cooking demonstrations from celebrity chefs, live music, yoga classes and a drinks theatre are just some of the activities on offer. We quite like the sound of the cakes & desserts theatre. Syon Park, various prices, book ahead, 27-29 May
CHILDREN'S FESTIVAL: From puppet making to free pasta and film screenings, various Dalston locations are being taken over by the Dalston Children's Festival this weekend. Check out the full list of events here — and if you can't make it, the festival's on again next Saturday (3 June). Free entry, book ahead for specific activities, from 10am
Sunday 28 May
CERAMICS MARKET: Looking for some new decorative items? Head to this ceramics market where over 60 ceramicists will be exhibiting their wares including lamps, jars, pots, jewellery and more. Copeland Gallery (Peckham), free entry, just turn up, 11am-6pm
COMEDY PREVIEWS: Sara Pascoe and Andy Barr are previewing their Edinburgh shows at Laugh Out London comedy night. 2 Northdown Street (previously the Invisible Dot) in King's Cross, £3-£7, book ahead, 7pm
DEPTFORD NIGHT WALK: Storyteller Vanessa Woolf leads a night walk around Deptford's alleyways, streets, and riverside warehouses, telling spooky stories of poltergeists, clowns and politics. Old Deptford, £10, book ahead, 9pm-10.30pm
Fun things to do with our friends and sponsor Funzing...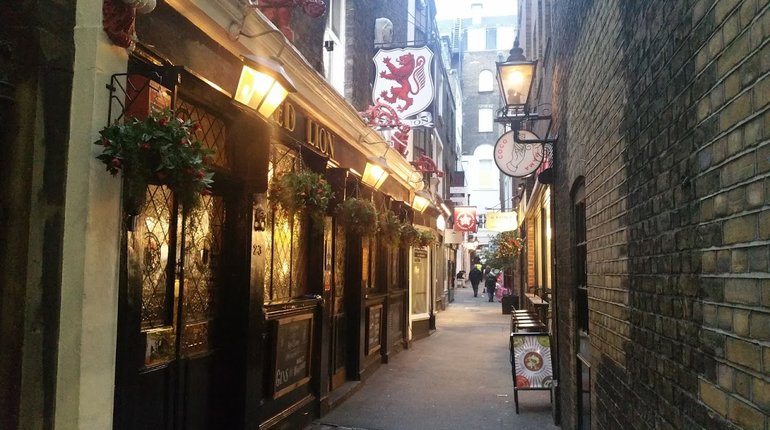 London is a city of incredible transformation. With structural remains that date back to ancient history still in existence, this unique walking tour takes in Lost London in all its former glory. From the Titanic booking office to the graveyards of man's best friend, you'll discover the weird and wonderful places that used to exist in the capital but are now only committed to memory. Using old photographs, newspaper cuttings and stories from the past, you'll be amazed at what has largely been written out of our history books... Get tickets
How well do you really know London? Visit the streets that inspired Harry Potter locations and see London's most superstitious hotel. On Matt's tour you will explore hidden places and discover stories unknown to even the most knowledgeable of Londoners. Get tickets
Struggling to find someone who shares your dark sense of humour? This twisted speed dating event can help. A group of 30-40 people will take part - with equal male/female ratios - and play a few rounds of the hilarious (and slightly dark) card game, Cards Against Humanity. After the event, connect with those who you found suitably sinister using a unique online matching system. Get tickets
If you've never paired ceramics and prosecco before, why on earth not? It's a match made in heaven as Sam and Diana, co-creators of 'Make Your Own', prove at their wonderfully welcoming ceramic painting workshop. Pull up a stool, don an apron and get to work on your very own mug, plate, tile, bowl or ornament. They provide the ceramics as well as a selection of patterns, and will show you exactly how to transfer designs and paint to your heart's content. It's BYO so feel free to pop the prosecco and enjoy the company of like-minded Londoners as you get stuck into your creations. Get tickets