Things to do in London this week is sponsored by Royal Court Theatre.
All week
THE LONDONERS: Whether it's wrestling, waitressing or politics, London has become a hub for job seekers. Explore 400 years of London living with The Londoners: Portraits of a Working City, an exhibition covering the period 1447-1980. London Metropolitan Archives, free, just turn up, until 4 July
HAIR: Explore hairstylist Sam McKnight's work with Hair>, a celebration of his remarkable 40 year career. From Diana's short-do, to Madonna's Bedtime Stories album cover and Tilda Swinton's Bowie-esque style, McKnight has created some of the most iconic images in pop culture. Somerset House, £13/£10.50, book ahead, until 12 March
GLAD TO BE GAY: Discover the struggle of the journey to legal equality faced by gay people since the 1967 Sexual Offences Act. Exhibition Glad to be Gay uses the Hall-Carpenter Archives and The Women's Library collection to consider the legal challenges of the last 50 years. Free, just turn up, until 7 April
Monday 20 February
LUNCHTIME MUSIC: Enjoy a lunchtime concert marking One Day Without Us, a day to stand in solidarity with the world's immigrants and refugees. The World Harmony Orchestra is performing works by migrant and refugee composers. The Wiener Library, Free, book ahead, 12.30pm-1.30pm
STAND UP TO DRUMPF: Lobby the parliament debate on a certain Mr Drumpf's planned visit to London, free, Parliament Square, 6pm-8pm
MONDAY NIGHT LAUGHS: Have a giggle this Monday with Right Funny Comedy. A talented line up includes Leo Kearse, Chris Betts and Jake Howie. Hawkins Forge, Free, just turn up, 7.30pm
POETRY: Join poetry legend Michael Longley for The W G Sebald Lecture on Monday. Longley will be reading from, and commenting on, his youthful versions from Sextus Propertius and will progress onto later poems. British Library, £12/£8, book ahead,7pm-8.30pm
---
Sponsor message
Discover the life of a Hollywood legend at the Royal Court Theatre>
Head for the neon lights of London's Royal Court Theatre to see The Kid Stays in the Picture, a brand new play based on the incredible true story of the rise of legendary film producer Robert Evans.
Directed by Complicite's Simon McBurney (The Encounter), this play chronicles one of the most powerful figures in Hollywood's history in the midst of a changing America. Don't know who Robert Evans was? Actually, you probably do — this is the man who produced blockbusters like The Godfather and even saved Paramount Pictures from collapse in the 60s.
There is, however, a lot more to Evans than his film credits — check out this performance and experience the ups and downs of a story you couldn't make up.
The Kid Stays in the Picture runs at the Royal Court Theatre from 7 March-8 April. Book your tickets here.
---
Tuesday 21 February
POPUP: Coinciding with his exhibition, Miró and Life in General , a John Baldessari pop-up shop is open for a limited time at the Marian Goodman Gallery. Get your hands on mugs, posters, t-shirts, totes and more. Marian Goodman Gallery, free, just turn up, 10am-6pm [Tuesday-Saturday, until 25 February]
POLITICS & LAUGHS: With everything going on in the world right now, it's lucky you've got Lolitics to get you through it. Celebrate left-wing politics and the comedy club's 6th birthday this Tuesday. FYI: lots of free cake will be available. The Black Heart, £5, just turn up, 7.30pm
COMPUTER HUMANS: There is widespread agreement that the human brain has computer-like qualities. Join Daniel C Dennet to find out the brain's way of redesigning its software with If our brains are computers, who designs the software?. The Royal Institution, £14/£10, book ahead, 7pm-8.30pm
Wednesday 22 February
FAIRYTALE CREATIONS: Either make your very own Sleeping Beauty sleep mask, Peter Pan collar or collage a story bookmark with The Make Escape's Fairytale CraftNight. It's a great way to make friends, have fun and be creative. The Hackney Attic, free, just turn up, 7.30pm-11pm
BACK TO NEVERLAND: What would happen in Peter Pan grew up? Celebrate the 25th anniversary of Hook and journey back to Neverland with Peter Banning as he tries to rescue his children from his childhood nemesis. Prince Charles Cinema, £12.50/£10, book ahead, 8.30pm
SCIENCE: Find out how mathematics features in everything we do with this month's Science Museum Lates. From art, to music, to nature, to gaming, maths is present in our life everyday, hiding in plain sight. Science Museum, free, just turn up, 6.45pm-10pm
Guided walk review: Travel through the thin veil of London
In the London of folk-horror pioneer Arthur Machen, sinister ancient horrors — troglodyte races and malevolent fauns — lurk just beneath the surface; all that's required to see them is to 'lift the veil' and step into this magical world. On this fantastical dusk walk around Holborn and Bloomsbury, Rich Cochrane and Robert Kingham seamlessly entwine centuries of history, myth, philosophy and literature to weave a wholly engrossing journey (with a couple of pub stops) that will completely change how you see the city.
Walk lasts approximately 2.5 hours with a 30-minute pub stop en route. Tickets £17.50, £12.50 concessions>. Dates available from February-April. ★★★★★ James Drury
Thursday 23 February
LOVE LONDON: How do you make 'great' writing about London? Join a panel of 'London specialists' on Thursday for Writing London, a special talk with The London Society. Studio Egret West, various prices, book ahead, 6.30pm-8.30pm
MUSIC NIGHT: Join the Moeran Quartet for an evening of music this Thursday. As experienced chamber musicians, the four play regularly with with orchestras, including the Hanover Band, Urban Soul Orchestra, Orchestra of St Paul's and Opera Holland Park. >Lauderdale House, £12/£10, book ahead, 7.30pm
Art review: Abstract photography
Wolfgang Tillmans is a photographer who is often more interested in the the technique of taking a photo than the end result. He purposefully takes small shots, leaving the audience to figure out the wider context. Even when dealing with big issues like Brexit and 'fake news' he can be very abstract about it. The fact he's hard to pin down has made him an art world darling... but in truth he's often elusive and ineffective. Readthis review for a different viewpoint. Wolfgang Tillmans: 2017 at Tate Modern Until 11 June ★★☆☆☆ [Open every day]
Friday 24 February
BOOK WORMS: Enjoy an evening of readings from A Country of Refuge, Lucy Popescu's acclaimed anthology of writings on refugees, migration and asylum seekers. Waterstones Piccadilly, free, book ahead, 7pm-8.30pm
PRINCESS DI: Known for her bold choices, Diana Spencer became a fashion icon in the 80s and 90s, and remains iconic in the fashion world. Explore her fashion revolution at Kensington Palace with Diana: Her Fashion Story. Kensington Palace, £15.40/£12.60, book ahead, 10am-3pm
FRIDAY NIGHT MUSIC: Join musician Jalley Kebba Susso as he launches his brand new album, Banjul-London. A night of traditional Gambian kora music, jazz, rock, blues and Afro-funk will leave you feeling uplifted and captivated. Rich Mix, from £10, book ahead, 8pm
Saturday 25 February
MEASURE THE UNIVERSE: Journey into the farthest reaches of our universe with How to Measure the Universe. Find out whether we will ever grasp the magnitude of what is out there, with cosmologist Dr Andrew Pontzen. The Royal Institution, £14/£7, book ahead, 6pm-7.15pm
DANCE DANCE: Dance into the night with Bite Size this Saturday night. With a line up including Al Zanders, Manu & Ando and Harri Pepper, forget about your troubles and have a boogie. Queen of Hoxton, £5, book ahead, 8pm-2am
MY PRECIOUS: Journey through Middle Earth with Frodo and the gang on Saturday with a screening of The Lord of the Rings Trilogy - Extended Editions. Remember your travelling cloaks and avoid orcs. Prince Charles Cinema, £20/£17.50, book ahead, 8.45pm
Sunday 26 February
REVOLUTION: Communists and anarchists often met in London to argue and debate over the form that the revolution was to take. As the centenary of the 1917 Russian Revolution approaches, explore London's own communist history with Marx, Lenin and Anarchism: Revolution in Fitzrovia. Meet at Goodge Street station, £12/£9, book ahead, 2pm-4pm
SUNDAY NIGHT GIGGLES: Have a giggle on Sunday night and forget about the week ahead with Amused Moos Kings X. Features Ian Smith and Angela Barnes. Water Rats Theatre, £9.90/£8.80, book ahead, 7.15pm
Review: Strictly for Strictly fans
The Sondheim flop whose signal moment in the original production was when a dancer fell into the orchestra pit, inadvertently killing a musician, gets a steadily serious and un-starry revival at The Union. Very much dance-led by Holly Hughes's hectic and balletic choreography delivered by a keen-as-mustard ensemble, the story of a fake miracle, city hall corruption and escapees from an asylum makes no more sense now than it did in 1964. Rachel Delooze carries the best tunes, but it's strictly for Strictly, and Sondheim, fans. Read more. Anyone Can Whistle, Union Theatre, Union Street SE1. Until 11 March★★★☆☆ Johnny Fox
Fun things to do with our friends and sponsor Funzing...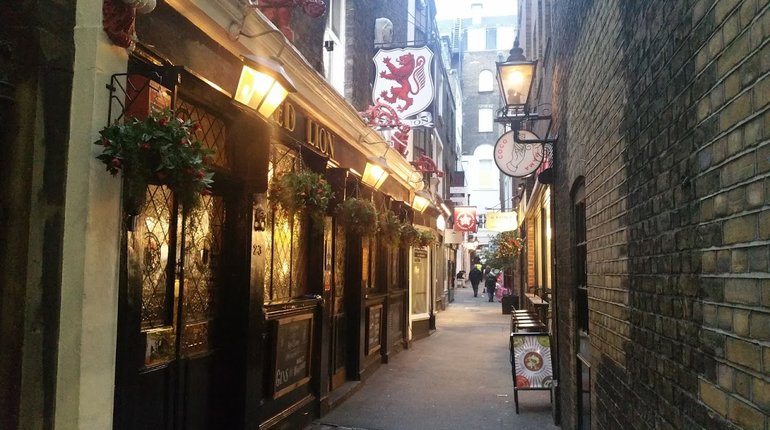 London is a city of incredible transformation. With structural remains that date back to ancient history still in existence, this unique walking tour takes in Lost London in all its former glory. From the Titanic booking office to the graveyards of man's best friend, you'll discover the weird and wonderful places that used to exist in the capital but are now only committed to memory. Using old photographs, newspaper cuttings and stories from the past, you'll be amazed at what has largely been written out of our history books... Get tickets
Tales of torture and plagues await you on a historical walk around London -- see bombed out ruins, discover Medieval markets and even visit a Roman ampitheatre. £12 Get tickets
Cross gas lit alleyways and stroll by ancient pubs as you discover forgotten parts of London. See the world's smallest police station and visit London's most superstitious hotel on a walking tour covering everything weird, wonderful and London. £12 Get tickets
Take to the waters and glide about in this beginner paddleboarding session. By the end of it, you'll be standing up and paddling solo, and there's plenty of help on hand to improve your technique. Change of clothes required. Get tickets