All week
MAKING JAMAICA: The 1890s was a decade of transformation in Jamaica. See 70 photos and slides dating from the time, showing the island as Caribbean paradise, rather than as the place it was pre-emancipation. Rivington Place (Shoreditch), free, just turn up, until 22 April
ACCESS ALL AREAS: Nirvana, Slash, Metallica, Slipknot, and Muse are just some of the rock legends that photographer Paul Harries has captured throughout his career. See some of the photos from his collection in this rocking exhibition. Proud Camden, free, just turn up, until 23 April
CARTOONS: Future Shock: 40 Years of 2000 AD remembers one of Britain's publishing phenomenons. 2000 AD's iconic characters, including Judge Dredd, have had a lasting impact on popular culture. See 80 pages of original artwork displayed from each decade of the comic. Cartoon Museum, £7, £5, £3, just turn up, until 27 April
RE-IMAGINATION: At the London Transport Museum's Poster Parade: Re-imagining historical posters, old posters and memorable designs are cleverly modified for contemporary audiences. London Transport Museum, £16/£13.50, book ahead, until 27 April
ROALD DAHL: In honour of Roald Dahl's 100th birthday, illustrator Sir Quentin Blake has drawn special portraits of Dahl's most famous characters. Celebrate this phizz-whizzing anniversary at the British Library with Quentin Blake: The Roald Dahl Centenary Portraits. Free, just turn up,until 21 May
ROBOT ZOO: A zoo? Inhabited by robot creatures? That'll be the exceptional Robot Zoo. It's educational too; discover what gives animals the ability to change colour, leap high and see at night. Horniman Museum & Gardens, £7/£4, book ahead, until 29 October
Art review: sprawling architecture
We walk through a ramshackle tunnel and learn all about the cats living under the Hermitage in St Petersburg. We then sit on a large slope and watch a surreal video. The architectural element of this show is fantastic fun to navigate. Unfortunately the films are a let down as they are impenetrable and rather dull. Eric van Lieshout: Three Social Works at South London Gallery. Until 11 June, free. ★★★☆☆ (Tuesday-Sunday)
Monday 17 April
BANK HOLIDAY: It's a bank holiday today, so things are pretty quiet. Why not take a look at our guide to things to do in London over the bank holiday weekend for inspiration — but remember that some venues may operate unusual opening hours (or be closed altogether) today, so check before you travel.
BIG SING: Head to Southbank Centre to follow a trail of pop-up performances from youth choirs around the world, culminating in a Big Sing in the Clore Ballroom. Southbank Centre, free, just turn up, 10.30am-noon
Food review: Patty & Bun arrives in Notting Hill
As burger chains go, Patty & Bun is a good 'un, and Notting Hill will be happy to become part of the family. The beef in our Jose Jose Chilli Burger is soft and pink and the chilli relish and pickled onion have the just right spice/acidity. Cocktails are more than decent: the NY Sour, mixed with bourbon and red wine, cuts nicely through the burger grease. The menu is studded with the odd flop (£4.50 for four cheese balls, inside which you have to play hunt the cheese). But it's all about the burgers, and you'll struggle to get better bang for your buck. Oh, and I, Partridge played in the toilets... a stroke of genius. Patty & Bun, 14 Pembridge Road, W11 3BU ★★★★☆ Will Noble
Tuesday 18 April
LUNCH MARKET: If you're in the Canary Wharf vicinity when the lunchtime stomach rumbles set in, get yourself to this lunch market where you can tuck into anything from spicy patties to noodle salads to ceviche — and there's plenty on offer for dessert too. Montgomery Square, free entry (lunch is on you though), just turn up, 11am-3pm
SWINGING LONDON: Keep your hair on, we're talking about the 60s. Take this walking tour around the Oxford Circus area to find out how swinging the 60s really were, with particular focus on 1966. While England's football team was victorious, homelessness and poverty were raging. Oxford Circus station, £10/£7, book ahead, 6pm
CHARITY COMEDY: Russell Kane hosts this charity comedy night in aid of Haven House Children's Hospice, which is headlined by Adam Hills (The Last Leg). Also on the bill are Elliot Steel and Kelly Convey. Union Chapel ( Islington), £20, book ahead, 6.30pm
MIND THE GAP: What makes British people so British?  Author Titia Ketelaar is discussing why Brits are so distant, not only from their European counterparts, but from other parts of British society. Dutch Centre (City of London), £10/£5, book ahead, 7pm
LOLITICS PODCAST: Comedian and friend of Londonist Chris Coltrane runs monthly lefty political comedy club and podcast recording Lolitics. Guests this month include Liz Miele, Joe Wells and Stuart Laws. Upstairs at The Black Heart (Camden), £5, just turn up, 7.30pm
GREENWICH ILLUMINATED: To mark World Heritage Day, famous Greenwich landmarks including the Cutty Sark, the Queen's House and the National Maritime Museum will be illuminated in colour for one night only. The buildings themselves will be closed, but it's a chance to admire them from the outside. Maritime Greenwich, free, just turn up, 8.30pm-10pm
Wednesday 19 April
ENFIELD HISTORY: Hear a slice of Enfield history at Forty Hall. This talk gives an insight into the women who have helped to run the hall in the past — and whose stories are often overshadowed by those of the male owners. Forty Hall, £5, book ahead, 7pm
NERD NITE: Pandas, monkeys and sport are on the agenda at Nerd Nite, in which three expert speakers are each given around 20 minutes to talk about their topic. Find out about some of the planet's ugliest animals, how closely related we are to monkeys, and whether the Tour de France is getting easier. Museum of Childhood (Bethnal Green), £6, book ahead, 6.30pm-10.30pm
Theatre review: 23 positions in a one-night stand
1970 and the air is heavy with sex in this warm and witty two-hander. Older British actor Robert has invited gauche teenager Alan to his Boston hotel room for a drink and a chat (and hopefully a no-strings shag). The gin flows and it's not just flesh that's bared as they probe each other in more ways than one. The pace flags occasionally but overall it's a resonant play touching on themes of alienation and feeling lost within the life you've made. 46 Beacon, Trafalgar Studios 2, 14 Whitehall, SW1A 2DY, £15-30, until 29 April 2017 ★★★★☆ (Tuesdays-Saturdays) Chris Bridges
Thursday 20 April
TYRANNOSAUR CHRONICLES: How did the mighty tyrannosaur evolve? Hear from palaeontologist Dr David Hone about the ecology, evolution and behaviour of this species of dinosaur. Age 7+. The Royal Institution, £14/£10, book ahead, 6pm-7.15pm
STAR SECRETS:  Head to Greenwich to hear from experts in all things star-related. See images from space telescopes in the planetarium show and find out more about the processes of star mapping and planet hunting. Royal Observatory, £10/£8.50/£7, book ahead, 6pm-7.30pm
DOCHEADS: This film night is on the theme of the excluded or marginalised, and features films set in Bradford, Calais and Cambodia. The screenings are followed by a 30-minute discussion with a film maker. Arthouse Crouch End, £10, book ahead, 6.30pm
LIVE JAZZ: Lauderdale House's Jazz in the House series opens with a performance by pianist and singer Ian Shaw, who has won several awards in the jazz world. Lauderdale House (Highgate), £15/£13/£7, book ahead, 8.30pm
Friday 21 April
WORLD PHOTOGRAPHY AWARD: This year's Sony World Photography Awards exhibition opens today, displaying shortlisted photographs from around the world. This year, there's also a special exhibition of work by Martin Parr. Somerset House, £7-£18, book ahead, 21 April-7 May
GUN SALUTES: If you're in the vicinity of Hyde Park around midday, brace yourself for a 41-round gun salute. It's all in honour of the Queen's birthday. Don't say we didn't warn you. Hyde Park, free, just turn up, noon. If that's not enough bangs for you, there should be an even larger 62-round salute at the Tower of London at 1pm. Never let it be said that one does not know how to party.
SISTER ACT: Watch 1992 film Sister Act accompanied by a live gospel choir — and the audience is encouraged to sing along too. The film is about a woman who goes into witness protection hiding — in a convent. Central Hall Westminster, £40/£35, book ahead, 1.45pm/6.45pm
CARRY ON CURATING: Celebrate the V&A Museum's recently acquired Tommy Cooper collection with a night of museum comedy. Performers include John Lloyd and Nish Kumar. V&A Museum, £15, book ahead, 7pm
Saturday 22 April
VINTAGE CAR BOOT: Once again, VW Camper Vans, classic minis and the like roll into Granary Square for the Classic Car Boot Sale, where vintage clothes, retro homewares, vinyl records, collectibles and more are sold out of the vehicles. Granary Square (King's Cross), £4, book ahead/just turn up, 22-23 April, 10am-6pm
SECRETS OF THE UNDERGROUND: London Transport Museum's Acton Depot throws its doors open to the public for an open weekend. See over 320,000 historical objects, hear talks about Crossrail excavation, take a ride on a miniature railway and more. Acton Depot, £12/£10/£6, book ahead, 22-23 April, 11am-5pm
FEAST OF ST GEORGE: Celebrate the patron saint of England at London's Feast of St George. A feast of traditional English food will be set up in the Square, along with live music performances, kids' activities and more. Trafalgar Square, free entry (charge for some events), just turn up, noon-6pm
AMERICA DREAMING: The Royal Academy is open late for an evening themed around the American dream, inspired by the current America After The Fall exhibition. Ticket includes an evening of immersive experiences and curated activities, exclusive after-hours private view of the exhibition and themed cocktail on arrival. Royal Academy of Arts, £35, book ahead, 7pm-11.45pm
STARLIGHT STORYTELLING: Join professional storyteller Vanessa Woolf for an evening of live music and storytelling about Richmond's very own highwayman Jack Judd and his beautiful dog, Lucifer. Adults only.  Secret Richmond location, £3, book ahead, 8pm
Sunday 23 April
LONDON MARATHON: It's Marathon day! Why not head to somewhere along the route to cheer on those hardy runners (and see how many ridiculous costumes you can spot)? We'd recommend avoiding Greenwich and Tower Bridge, as these areas are busiest with spectators. Even if you're not watching the race, be aware that road closures will be in place all over London — more information here. And if you're running: we take our hats off to you. Mass race starts at 10am
KILL IT, EAT IT: Sounds reasonable enough, right? Foodie wizards Bompas & Parr's latest offering aims to get people thinking about what ends up on their plates — by killing it before they eat it. Each participant will be given their own crab for a workshop on humanly despatching crustaceans. Sea Containers, £45, book ahead, 11am-1pm
ST GEORGE: St George is being celebrated in Borough Market today — a rare treat, as the market is normally closed on a Sunday. He's the patron saint of Catalonia as well as England, so both cultures are being celebrated through food, music, storytelling and theatre. Borough Market, free entry, just turn up, noon-4pm
Fun things to do with our friends and sponsor Funzing...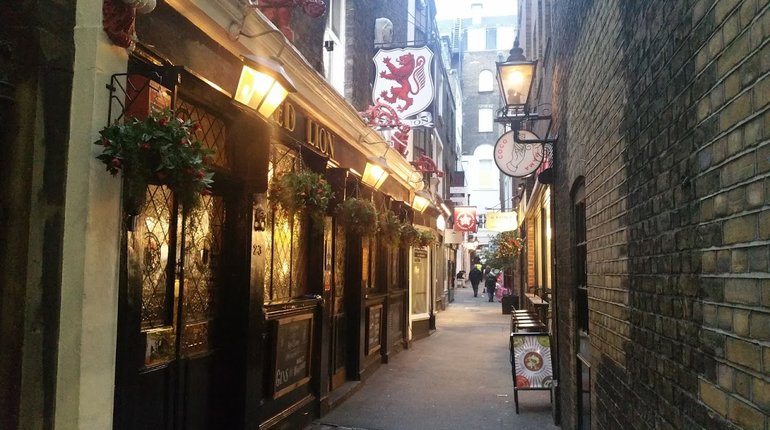 London is a city of incredible transformation. With structural remains that date back to ancient history still in existence, this unique walking tour takes in Lost London in all its former glory. From the Titanic booking office to the graveyards of man's best friend, you'll discover the weird and wonderful places that used to exist in the capital but are now only committed to memory. Using old photographs, newspaper cuttings and stories from the past, you'll be amazed at what has largely been written out of our history books... Get tickets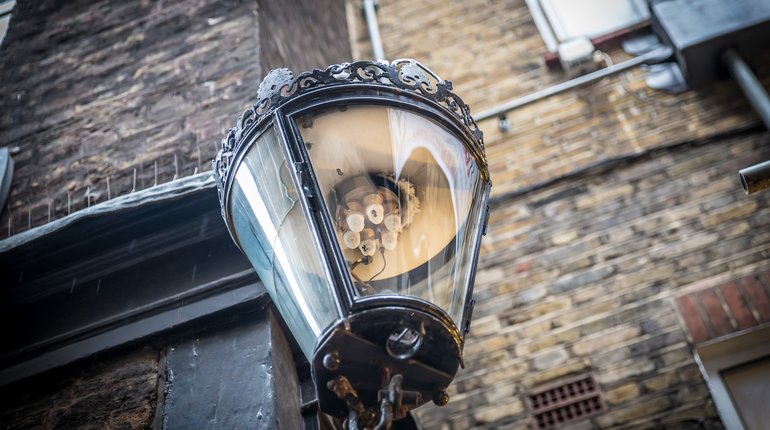 How well do you really know London? Visit the streets that inspired Harry Potter locations and see London's most superstitious hotel. On Matt's tour you will explore hidden places and discover stories unknown to even the most knowledgeable of Londoners. Get tickets
If you've never paired ceramics and prosecco before, why on earth not? It's a match made in heaven as Sam and Diana, co-creators of 'Make Your Own', prove at their wonderfully welcoming ceramic painting workshop. Pull up a stool, don an apron and get to work on your very own mug, plate, tile, bowl or ornament. They provide the ceramics as well as a selection of patterns, and will show you exactly how to transfer designs and paint to your heart's content. It's BYO so feel free to pop the prosecco and enjoy the company of like-minded Londoners as you get stuck into your creations. Get tickets
Tales of torture and plagues await you on a historical walk around London -- see bombed out ruins, discover Medieval markets and even visit a Roman ampitheatre. £12 Get tickets