All week
EXTRA-ORDINARY EXHIBITION: Tread the line between fiction and reality in Somerset House's Terrace Rooms, which have been transformed into the headquarters of The Learned Society of Extra-Ordinary Objects, a fictional society inspired by the real history of Somerset House. This exhibition presents ordinary objects with extra-ordinary stories. Somerset House, free, just turn up, until 3 September
TRAVEL PHOTOGRAPHY: Where did you go over the summer holiday? Perhaps you'll see some familiar places or get inspiration for your next adventure at this exhibit of the international Travel Photographer of the Year awards prize-winning images. 10 Stockwell Street (University of Greenwich), free, just turn up, until 3 September
SYRIAN CONFLICT: You've seen it in the news, now see it through the lens of a different camera as Russian documentary photographer Sergey Ponomarev presents his exhibition A Lens on Syria reflecting upon the ongoing conflict. IWM London (Lambeth), free, just turn up, until 3 September
Monday 28 August
LONDON TRENDING: Guildhall Art Gallery's exhibition #LondonTrending showcases the collaborations between groups of artists from the mid-20th century through to the early '00s that made London the heart of a cultural explosion. Today's your last chance to see it. Guildhall Art Gallery, free, just turn up, 10am-5pm
ILLUSTRATION AWARDS: It's your last chance to catch 50 original illustration projects on show at Somerset House — everything from drawings, to murals, to posters, to packaging — before the winner is announced at the World Illustration Awards. Somerset House, free, just turn up, 10am-6pm
ENVIRONMENTAL FAIR: Down in Sutton, a family-friendly environmental fair is taking place. Along with the usual music, food, face-painting and usual festival malarky, there's some responsible saving the planet stuff too. Everybody wins. Carshalton Park (Sutton), £5/£3, just turn up, 10.30am-8pm
PUMPING STATION: Witness a restored piece of Victorian engineering in action, at this open day for an 1886 sewage pump. Markfield Beam Engine and Museum (South Tottenham), free, just turn up, 12.30pm-4.15pm
POP UP SPRITZ: Get your complimentary Aperol spritz  beside the Thames at Southbank's Sundial Social pop up when the sundial strikes 'aperitivo hour'. Age 21+. London Southbank, free, just turn up, 5pm-8.30pm
SUMMER FESTIVAL: Finish the bank holiday weekend with a bang to the the tune of live music, DJs, dance and family theatre at River Stage Festival, as well as an outdoor cinema screening. Food and drink pop ups are on hand if you fancy snagging a snack but bringing along your own picnic is also a great way to do it cheap. National Theatre (South Bank), free, just turn up, 6pm-10.45pm
Tuesday 29 August
SUPREME TOUR: Can't make it for Open House London Weekend? The Supreme Court is opening its doors for extra dates this summer for visitors to check out the magnificent triple-height Library and Lawyers' Suite overlooking Parliament Square. Repeated 16,17, 22 September. The Supreme Court (Parliament Square), free, just turn up, 9.30am-4.30pm
STATIONARY STATIONERS: Printing and publishing has a long and successful history in London, and a lot is tied into The Worshipful Company of Stationers and Newspaper Makers spanning 600 years. This exhibition, which closes soon, tells the history of the Stationers, with the opportunity to see some of their most precious objects along the way. Guildhall Library, free, just turn up, 9.30am-5pm (until 31 August)
Wednesday 30 August
BEYOND BINARY: Anna Martine Freeman is exploring stereotypes and breaking down boundaries in workshop Beyond the Binary - Acting Beyond Gender with gender-smart casting advocate and theatre director Lucy J Skilbeck, challenging gender-binary casting in performing arts. The Bush Theatre (Shepard's Bush), free, book ahead, 11am-1.30pm
WALK OF FAME: This walk is a whistle-stop tour of the homes previously occupied by important historical figures. You'll come across the house of the first British prime minister to be assassinated, and other important dwellings from the history of literature and invention. Holborn Station Kiosk, free, just turn up, 1pm-1.45pm
Thursday 31 August
IMMERSIVE EXPERIENCE: What is truth? What is the nature of truth? IWM London invites you to investigate in their immersive sensory experience to coincide with the last chance to see Syria: A Conflict Explored. IWM London, free, just turn up, 10am-6pm (until 3 September)
PUBLIC SPACES: How takes care of our public orchards? This talk will explain all about the Hanwell Orchard Trail local community project in the Grand Union Canal corridor. At the same time, learn how to build nature and wildlife habitat improvements in the city and help London become a more sustainable place. Museum of London, free, just turn up, 1pm-2pm
Friday 1 September
ANDY WARHOL: Celebrate the talents and life of Andy Warhol at Croydon's RISEgallery with an exhibition of his work at the gallery, a street exhibition of contemporary artists' tributes, film and documentary screenings, international guest speakers and family activities. Rise Gallery Croydon, free, just turn up, until 30 September
CALLING FASHIONISTAS: Fashion and design are stepping up in Regent Street in a big way this month in celebration of London Design Festival and London Fashion Week. A whole host of events, talks and activities await — browse the events calendar and get booking. Regent Street, free, just turn up, until 30 September
OPEN GARDEN: The monthly public opening of Lambeth Palace Gardens (home of the Archbishop of Canterbury) takes place today. Visit the oldest continuously cultivated garden in London, right by the Thames. Lambeth Palace Gardens, £5 (which goes to charity), just turn up, noon-3pm
BLOOMSBURY PEOPLE:
Discover the homes of
Bloomsbury's famous former residents
from the worlds of science, music, philosophy and religion on this walk as part of the Bee Guided Walks series. Holborn Station Kiosk, free, just turn up,
1pm-1.45pm
Saturday 2 September
FILM BUFFS: A family film festival takes place at Beckenham Place Park Mansion celebrating cinema in the community. From animation workshops to outdoor archive cinema and a fantastic line-up of films, there's something for film buffs of all ages. Beckenham Place Park Mansion, free, just turn up, 11am-6.30pm
WILD COVENT GARDEN: St Giles is opening up its garden for the first time since its 18 month landscaping project for the 8th Phoenix Garden Agricultural Show. The London Pride Morris men will be dancing a jib, with Miller's Ark rare breed farm animals and the West London Beekeepers keeping the wildlife under control. St. Giles in the Fields Churchyard (Covent Garden), free, just turn up, noon-6pm
BANKSIDE AND PROUD: Bankside Summer Festival 2017 is standing in solidarity with local residents and shopkeepers after the tragic attacks on London Bridge and Borough Market by celebrating everything that makes Bankside a unique experience, from diversity to a rich cultural heritage. Bank End & Park Street, free, just turn up, noon-9pm
SHORT FILM: Independent filmmakers around the world were challenged to create short-films using a series of mysterious sounds emitted in space and recorded by satellites. The SSFX Short-Film Festival is showcasing these highly creative works with talks from the filmmakers involved. Rich Mix (Shoreditch), £5, book ahead, 1.30pm-3.30pm
Sunday 3 September
JOYFUL WATERLOO: It will be a sight to behold on Waterloo Bridge as some colourful characters attempt to bring joy and hope to London's troubled bridges and public spaces that have been fraught with tragic news. Storytellers, artists and musicians will get together as a street performance group that anyone can join. Waterloo Bridge, £5, 10am-noon
MUSIC AND POETRY: A Sunday in Hampstead is always a good idea, so how about taking things a little slower and relaxing with an afternoon of music and poetry? You can perform in the historic music room, or sit back with a glass of wine from the cafe and enjoy. Burgh House (Hampstead), free, just turn up, 2pm-4pm
STREET PARTY: Celebrate Poplar's past, present and future with a free street party on Cotall Street as you discover the area's industrious past while making the most of the day's activities such as interactive craft stalls, print screening and soap making, and a walk down the picturesque tree-lined avenue. Poplar Union, free, just turn up, noon-5pm
WAR HISTORY: A Very Secret War tells the little known story of how Hitler's prisoner-of-war generals were surprised to find themselves housed in luxurious conditions in Trent Park... and were lulled into a false sense of security, their every move watched, their every word listened in on. Forty Hall Estate, £5, book ahead, 3pm-4pm
FACTORY EXTRAVAGANZA: Andy Warhol fans get a second treat this week as a reconstruction of Andy Warhol's Factory arrives in Dalston for performances, music, films and colouring in. Farr's School of Dancing (Dalston), £5 suggested donation, book ahead, 5.30pm-11pm
Fun things to do with our friends and sponsor Funzing...
London is a city of incredible transformation. With structural remains that date back to ancient history still in existence, this unique walking tour takes in Lost London in all its former glory. From the Titanic booking office to the graveyards of man's best friend, you'll discover the weird and wonderful places that used to exist in the capital but are now only committed to memory. Using old photographs, newspaper cuttings and stories from the past, you'll be amazed at what has largely been written out of our history books... Get tickets
Take to the waters and glide about in this beginner paddleboarding session. By the end of it, you'll be standing up and paddling solo, and there's plenty of help on hand to improve your technique. Change of clothes required. Get tickets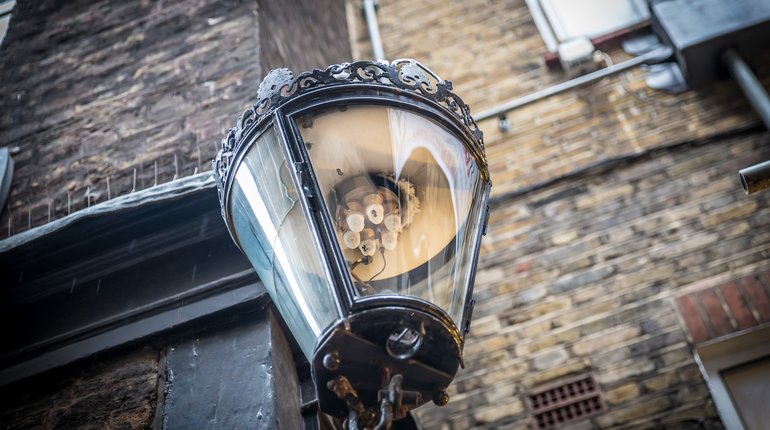 Cross gas lit alleyways and stroll by ancient pubs as you discover forgotten parts of London. See the world's smallest police station and visit London's most superstitious hotel on a walking tour covering everything weird, wonderful and London. £12 Get tickets
Whether you're a pre-grated cheddar sprinkler or mimolette fan, this cheesy walking tour will delight your senses. Starting off at a cheese counter in Mayfair that has been serving for more than 300 years, you'll tour the city's best dairy delights - including Fortnum & Mason, where the royals get their fix. Get tickets