London has many wonderful food markets, from small local collectives to larger, famous institutions such as Borough. We've included the major ones here, plus the main street food collectives and markets which sell both hot food and goods to take away. Get stuck in.
Berwick Street Market
This Soho street market dates back to the 18th century, although it wasn't officially recognised until 1892. You'll find traditional stalls selling flowers, fruit and vegetables, and popular street food traders (it gets very busy on weekday lunchtimes).
One of the most popular stalls here is Savage Salads, which sells colourful, boldly flavoured mixed salads to hungry office workers. You'll also find Sub Cult sandwiches, Jerusalem falafel, burritos, baked goods, souvlaki... traders come and go.
Open: Mon-Sat 8am-6pm.
Broadway Market
This bustling market falls in the centre of Hackney, running from London Fields to Regent's Canal. It's spookily deserted during the week but at the weekend comes alive with popular stalls including the fantastic Dumpling Shack, with their plump, top-knotted dumplings, which seem to mimic some of their customers' hair dos.
Just around the corner you'll find School Yard Market, which is smaller, but with riches still to mine. It's in the playground of London Fields Primary School and tends to have a more regularly changing line up. You'll likely find Crosstown Doughnuts there, though, with their unique, bready style of sweet treat, and we've also spotted dumplings topped with banana and chocolate. No, really.
Open: Sat 9am-5pm.
Brick Lane Market
Brick Lane has much more than tourist-trap curry houses with their annoying touts. A selection of street food traders set up here every day (from the Truman Brewery stretching around to Shoreditch High Street), including the now-famous Rib Man with his giant baps smothered in danger-red Holy Fuck hot sauce.
The Sunday Upmarket at The Truman Brewery is particularly good, with a range of international street food stalls alongside the clothing, vintage handbags and jewellery. The Boiler House Food Hall boasts a really impressive range of street food stalls at reasonable prices, with everything from Polish to Ethiopian food on offer. It's a mixed crowd, with locals, hipsters and tourists muddling together.
Open: Sat 11am-6pm, Sun 10am-5pm.
Brixton Market
There has been a market at Brixton since the 1870s, starting under the railway arches and later spreading along Electric Avenue. It's a great place to buy cheap fruit and veg, including those favoured by the local Caribbean and African communities like yams, exotic fruits and those giant avocados which are the same price as a regular sized pear in the local supermarket.
On Fridays you'll find a range of street food traders including Ethiopian and Caribbean stalls. Of course, there's the covered areas to explore too, and it's worth setting aside an hour or so for a proper look around. It's very popular and many of the restaurants don't take reservations, so be prepared to wait at busy times. Don't miss: the chicken wings at Mama Lan's, brunch at Salon, curry plates at Elephant.
Open: Mon 9am-6pm, Tues-Sun 9am-11.30pm.
Greenwich Market
Different parts of Greenwich Market are open on different days of the week, with all of them open only on Sundays (worth looking this up before you travel). The market was established in 1737, and today you'll find an eclectic mix of stalls, with everything from Indian samosas to Brazilian churros. We always head straight to the oyster stall to sink a few freshly shucked beauties, particularly when feeling the effects of the night before (honestly it works every time).
It's worth noting too that vegan foodies are well served at Greenwich, with a range of stalls selling vegan cakes and savoury goodies.
Open: Mon-Sun 10am-5.30pm.
Chapel Market
A daily street market, this one, and there's a little bit of something for everyone. Think cheap fruit n veg aplenty, flogged by bellowing traders, hands firmly planted into leather aprons, and some basic street food on offer. That is, until Sunday.
Islington farmers' market brings this place alive at the weekend, and attracts a different, more affluent crowd from the surrounding areas. This is when you can stock up on your meat, herb plants, elderflower presse...
Open: Tues-Sat 9am-6pm, Sun 10am-4pm.
Leather Lane Market
Located between Clerkenwell and The City, this is a buzzing market a mere 10 minute stroll from St. Paul's. Among the market veterans selling clothing, books, household goods and so on, you'll find the best of London's modern street food scene, which of course include cheese toasties. It is now mandatory to have at least one cheese toastie stall per market (possibly not legally binding).
We have to say though, Baby Got Mac is pretty special, with their cheesy macaroni squished between toasted sourdough. Nothing says "let's go back to work and have a productive afternoon" quite like double carbing at lunch.
Open: Mon-Fri 10am-3pm.

Lower Marsh Market
Lower Marsh is a godsend for the workers of Waterloo, representing by far the best lunch options in the area. Open Monday to Friday, year round, it's one of London's oldest street food markets, and today is home to a range of stalls selling Cuban sandwiches, salads and cakes.
On Saturdays it's less street food, more produce (and a flea market).
Open: Mon-Sat 10am-5pm.
Whitecross Street Market
Whitecross market was once very down and out but nowadays is home to a run of street food to rival the best. Hoxton beach flog their ever-popular falafels here on weekdays, and Buddha Bowl ram cardboard lunchboxes full of healthy yet tasty salads, topped with not so healthy but always tasty grilled halloumi. You'll also find the fabulous Luardo's burrito truck here (proper veterans of the London street food scene, them), and a wide range of other global options.
Open: Mon-Fri, 10-3pm, all year round.
Borough Market
London's oldest food market, the vibrant Borough Market has been around for over a thousand years. Not only is it UK's best-known — it's one of the most famous food markets in the world.
It's survived for so many centuries because a 1754 Act of Parliament ruled that it would remain "an estate for the use and benefit" of the local community "forever." In its current form, it's owned by a charitable trust and governed by a board of volunteer trustees.
The market is crammed with stalls run by highly knowledgeable small producers who grow, cook, or directly source the food that they sell. Sharing its philosophy of transparency in food production, provenance and flavour with the Slow Food movement, it has many Slow Food-accredited traders. Indeed the market itself, and a number of its stallholders, are regular recipients of Slow Food awards.
Open: Mon-Thur 10am-5pm, Fri 10am-6pm, Sat 8am-5pm.
Portobello Road Market
This is British-American comedy territory, with the market running among elegant white townhouses. Fridays and Saturdays are the best days for food here, and you'll find street food alongside other goods like fruit, veg and cheese to buy and take home.
You'll catch the scent of paella on the air from Jamon Jamon, plus it's always worth popping to Polpata for some cheesy chips. Oh, and did we mention that there's a gin hotel?
Open: Mon-Wed 9-6pm, Thurs 9-3pm, Fri- Sat 9-7pm.
Exmouth Market
Exmouth Market is open all year round and boasts a great mix of established restaurants alongside street food stalls. From Monday to Friday you'll find queues of people waiting for a fix of hearty Ghanaian stew from Spinach and Agushi, one of the more established and popular vendors.
There's plenty more to choose from if that's not your thing, including salt beef sandwiches, mac n cheese and burritos. Like many of London's markets, flavours are global. What a wonderful city we live in.
Open: Mon-Fri 10am-3pm.
Sunday UpMarket
Inside the Old Truman Brewery, you will find no less than 140 stalls selling fashion, art, accessories and a lot of other stuff that's much less important than the food. As you'd expect, there's a wide variety of flavours on offer but we always like to follow our noses to the Ethiopian coffee stall for an injection of energy before getting started. It's like rocket fuel.
Just Baked By Jo is one of the most popular stalls, her baked goods having an 'OTT in the best possible way' selling point. The millionaire's shortbread and Oreo brownies are legendary.
Open: Sundays, duh, 10-5pm, all year round.
Old Spitalfields Market
Old Spitalfields is a curious one, the edges fringed with some of London's well-respected restaurants, like the Portugese Taberna do Mercado (get the custard tart) and less permanent street food traders coming and going.
One of the most famous traders has been the now famous Bleecker Burger, and although you'll also find some chains creeping in, it's worth a look for the diamonds in the rough.
The Startisans Market takes place on Lamb Street every Friday and is designed to showcase start ups, so head here if you want to find out who will be the next big name.
Open: Mon-Sat food trucks open until 9pm.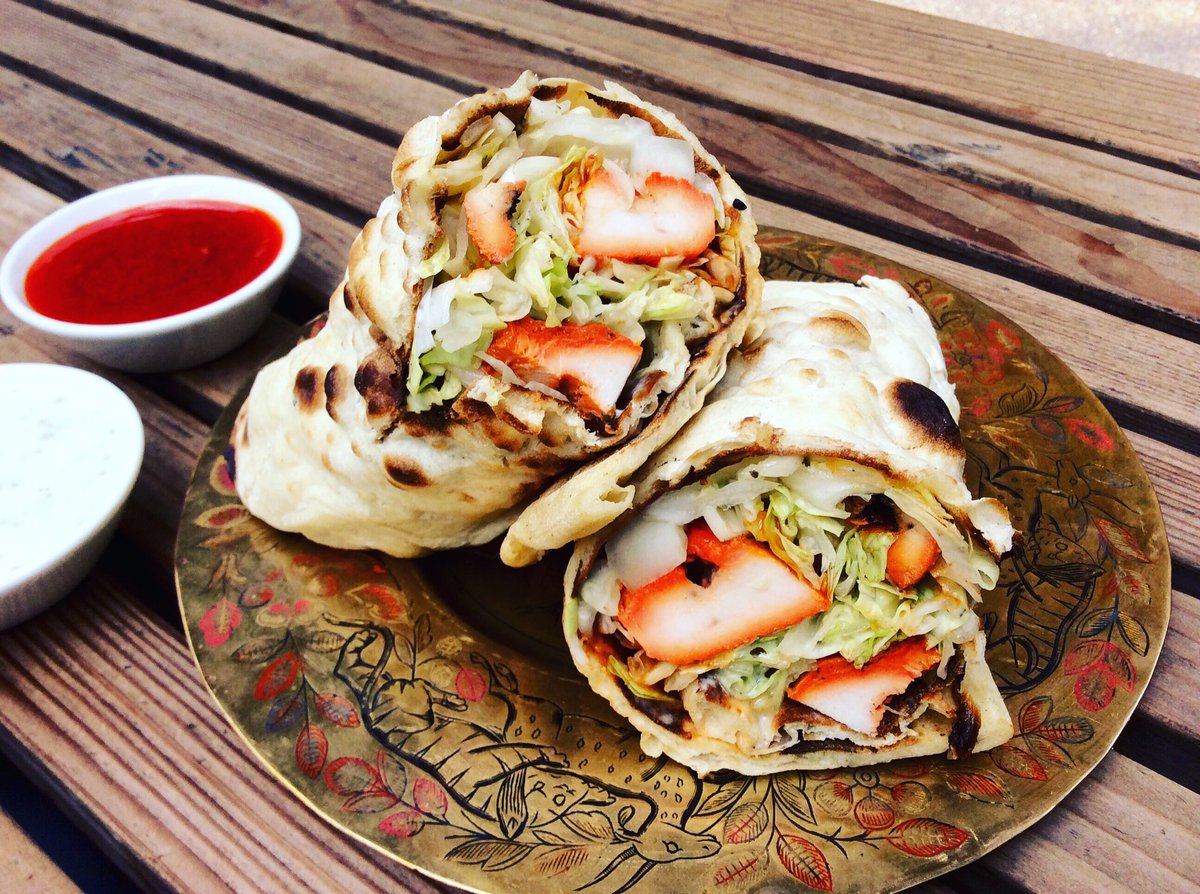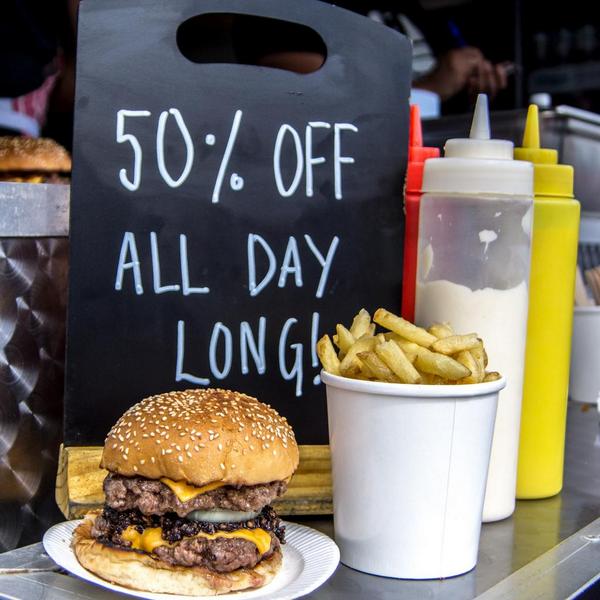 Maltby Street Market
Just around the corner from Druid Street Market (do both together), this young market (open since 2010) fast became one of London's hottest food destinations. It's a lovely market to walk around, underneath archways, bunting flapping in the breeze, and it has some of our finest traders.
Get stuck into the likes of Bavarian sausages, falafel and pulled pork buns. You'll find plenty to buy and take home, too, like African Volcano hot sauces, made by South African Grant Hawthorne.
Open: Sat 9am-4pm, Sun 11am-4pm.
Netil Market
Super trendy east London market Netil has been home to some of London's street food greats like Bao, who still have a Taiwanese steamed bun stall here, despite taking London by storm with their restaurants.
There are 15 permanent stalls here, and one of our favourites is LemLem Kitchen, an Ethiopian stall which serves some of the most delicious chicken wings ever made. They also do mini taco-sized portions of injera, which is a great way of trying Ethiopian food without commiting to a whopping three foot flatbread.
Open: Sat 11-6pm, Sun noon-5pm.
Brockley Market
This pretty little south London market is something of a destination for the area's foodies on a Saturday morning, and you'll often spot them bumping into each other over coffee and humungous bacon sandwiches. There's lots of food to try on site, like the Luardo's tacos van (pray for the fish tacos to be on!), Spit n Roast fried chicken and Tongue n Cheek with their famous Heartbreaker burgers.
There's produce to take away, too, with beautiful fruit and veg, meat from Fosse Meadows, bread and cakes, plus an outstanding seafood stall which not only sells brilliant and unusual catches, but is really good value to boot. Yes, you are still in London.
Open: Sat 10am-2pm.
Lewisham College Car Park, SE4
Kerb KX
Kerb King's Cross is open Wednesday to Friday lunchtimes and is where you'll find a mix of established Kerb traders and new faces on the scene. We're hooked on the piadina from The Piadina Project -- these thin flatbreads are hugely popular in Italy and are often filled with ham, cheese and leaf combos, like Lincolnshire sausage, burrata and rocket. Yum.
You'll find it the market around the side of the station on King's Boulevard, which seems to be developing rapidly.
Open: Wed-Fri noon-2pm.
Southbank Centre Food Market
As you'd expect this gets very busy during peak times, but there's a fairly good mix of large, slick outfits alongside smaller (and often more interesting) traders. We love Hank's Po Boys, with their poor boy fried shrimp subs and the Indian street food from Horn OK Please.
Open: Fri noon-8pm, Sat 11-8pm, Sun noon-6pm, with slightly longer hours during summer.
Kerb Gherkin
Guess where this one is? It's a Thursday only lunchtime event and one worth waiting for, with 8 traders or more lining up every week. One of our fabourites here is BBQ Dreamz, with their fresh, Flipino take on grilling. The Crispy Baboy is the stuff of your food aspirations, with crispy pieces of pork belly sitting on top of fluffy Jasmine rice. The killer blow is dealt by the green bean salad and cucumber, which bring freshness and piquancy to an otherwise rich meal. Oh by the way, there's crackling too.
Open: Thur noon-2pm.
Urban Food Fest
The traders at Urban Food Fest market change weekly, which makes it quite unique among London markets. Open during the summer months, you'll find hot food stalls, plus drinks, games and live music.
Open: spring until the end of summer.
Euro Car Parks, 162-167 Shoreditch High Street, E1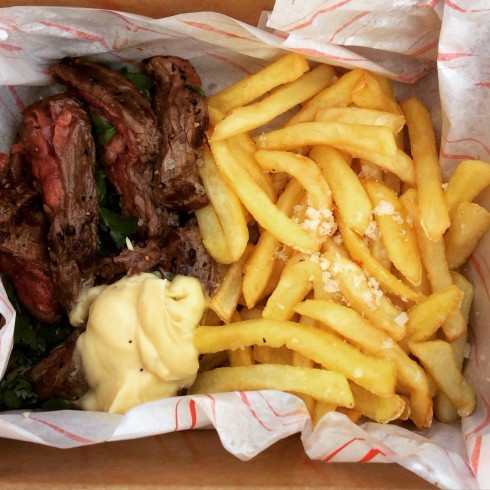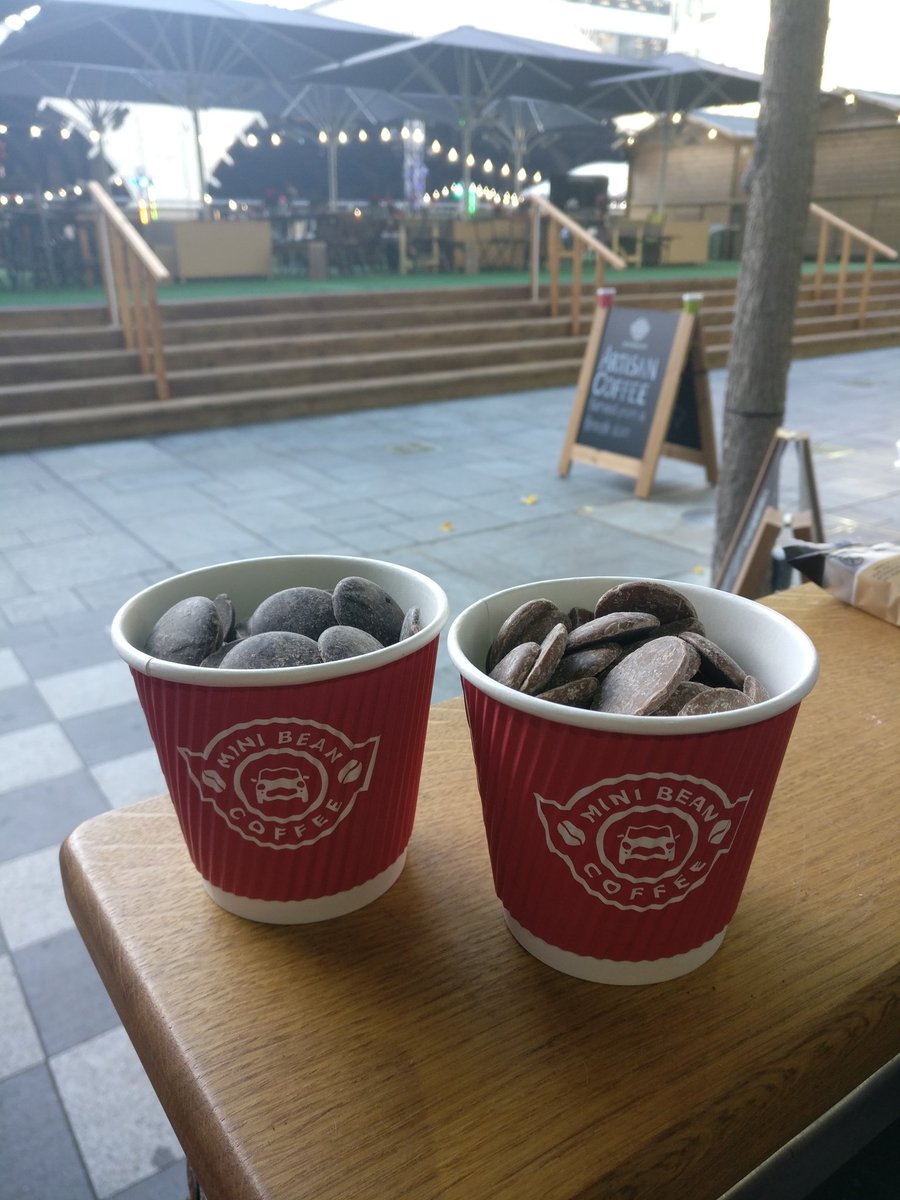 Camden Market
Camden Market started in 1974, making it a baby compared to the likes of Borough Market and Covent Garden. Today, Camden Market is a misleading name, suggesting as it does, only one location. While Camden Market proper is the original market next to Regent's Canal, there are at least six others stretching from Camden Town to Chalk Farm; Camden Lock, Camden Stables Market, Canal Market, Buck Street Market, Inverness Street Market, and the one inside Electric Ballroom.
The main draw now however, is Kerb, which has set up its largest collection of traders here. This is some of London's best street food all in one location including kati rolls at Kolkati and halloumi fries at Oli Baba's, among many others. There are 34 traders in total.
Open: Mon-Sun 10am-6pm.
Deliveroo now from Mornington Crescent
192-200 Camden High Street, NW1
Street Feast Model Market
Lewisham lucked out with this street food market. It's only open during summer, but is home to many famous names like Up In My Grill (steak n chips) and Mama's Jerk Station. Oh and five bars.
Open: April-end of summer.
196 Lewisham High Street, SE13
Street Food Union
You'll find Street Food Union on Soho's Rupert Street, with vendors selling everything from Tibetan dumplings to giant burritos. We love Hot Mess Poutine, who aim to convert London to the wonders of this classic dish from Quebec. It's chips, cheese curds and gravy and it's serious comfort food (think about how cold it is in Canada -- they know what they're doing).
The stall holders pride themselves on opening up in all weather conditions, too. Bravo.
Open: Wed-Sat lunchtimes, all year round, all weathers.
Dinerama
Part of the Street Feast company, this street food market is a huge draw for foodies during the summer months -- in particular, when it goes open air. Open Thurs-Sat, there's a selection of global street food traders (check the website for up to date residents) along with a full four bars. Four. Oh and one of them is called German Sex Dungeon. Why would you ever need to leave?
It does get very busy, so get there early if you're particularly hungry, or be prepared to wait a little. All good things etc.
Open: Fri-Sat 5pm-midnight.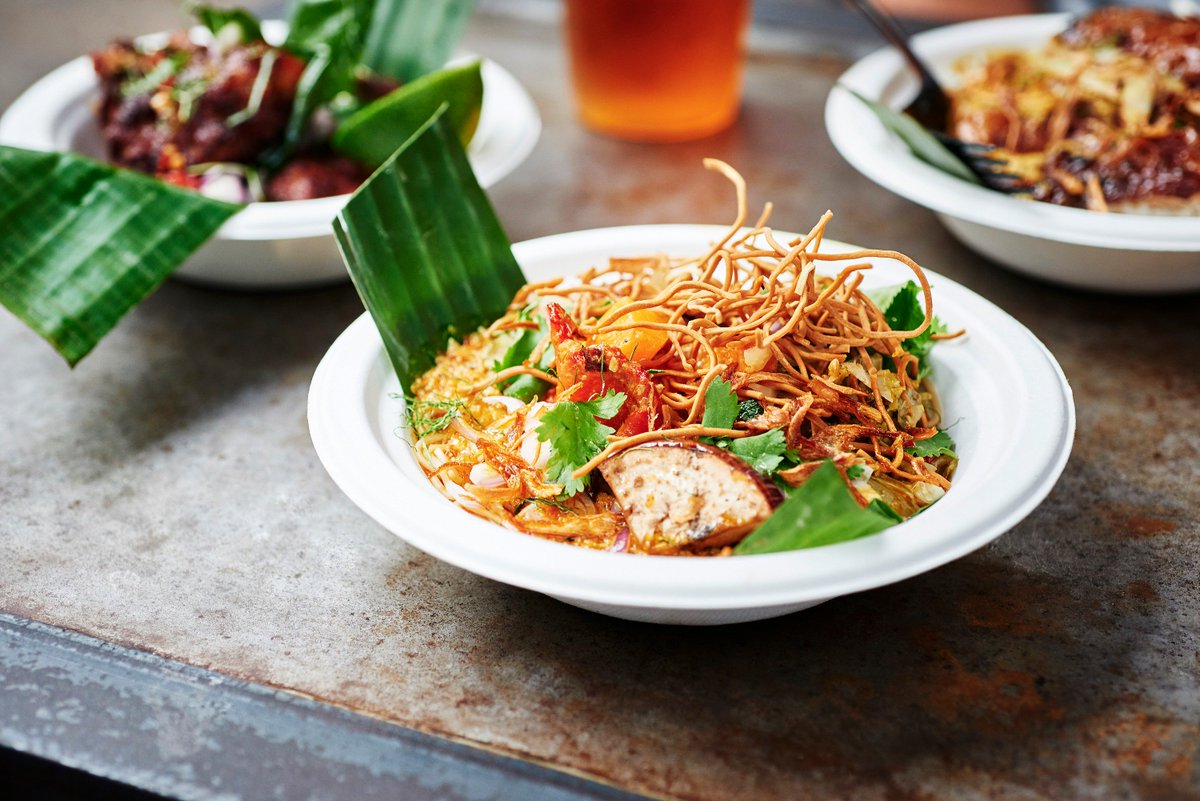 Druid Street Market
This beautiful little market is one of London's youngest, and it has to be one of our favourites. It's very close to Maltby Street market, so the two are worth doing in the same morning, and it's filled with unusual and innovative traders. You could also combine it with a walk over to Borough Market, if you're really in the mood.
The wonderful Fattie's Bakery is here, where you can buy some of the best sweet things in all of London, including brownies which ooze with deep pockets of salted caramel, and, in winter, hot chocolate crowned with rings of toasted marshmallow. Say no more.
Open: Sat 10am-4pm.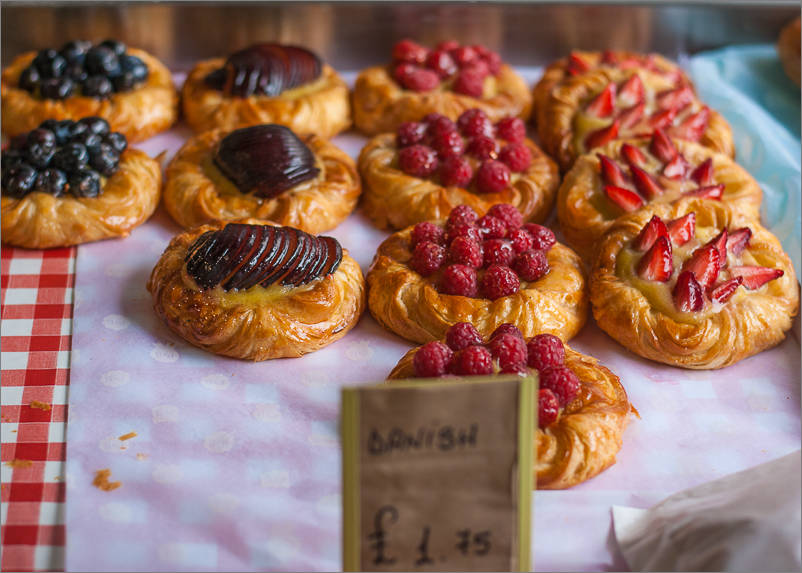 Street Feast Hawker House
Another huge street feast venue, with 12 traders alongside eight bars. Eight. We love Chin Chin labs for their crazy ways with ice cream sandwiches, and White Men Can't Jerk (they can). Yum Bun are also still going strong with their simple, yet addictive Taiwanese steamed buns, which offer a very likeable alternative to the more serious Bao.
Open: Fri-Sat, 5pm-12am.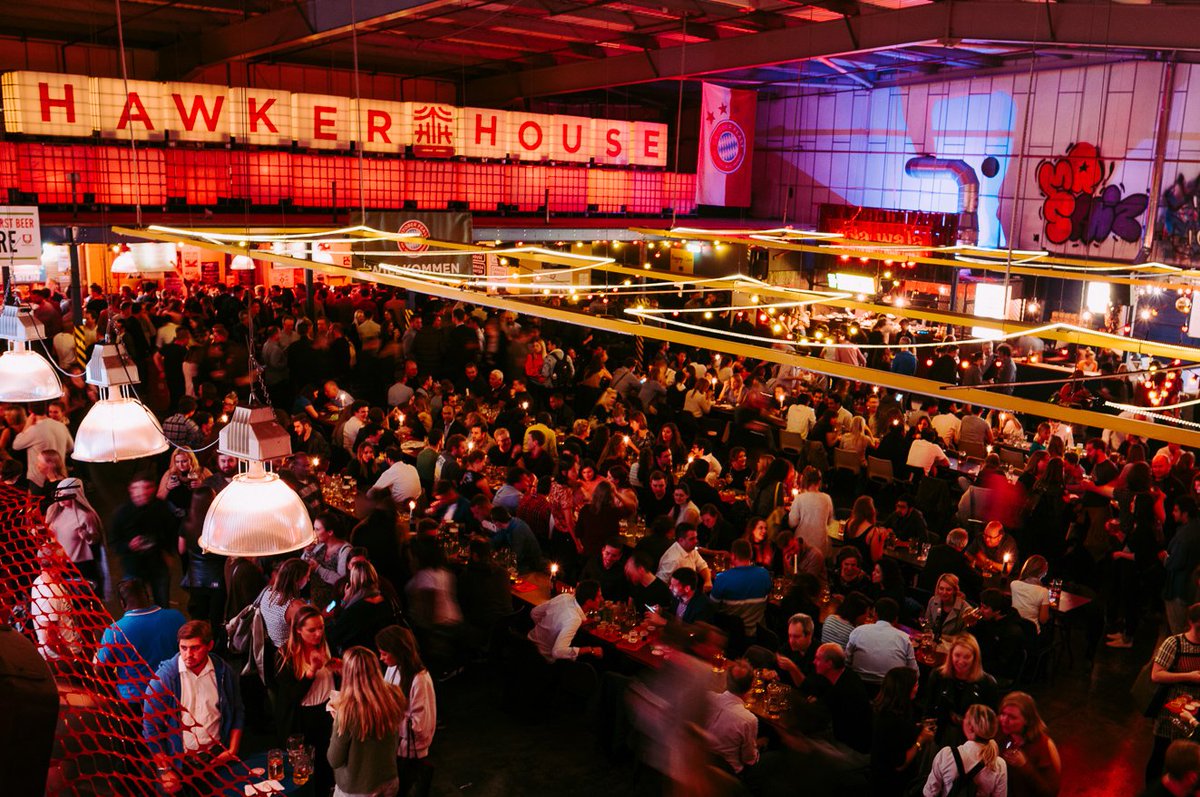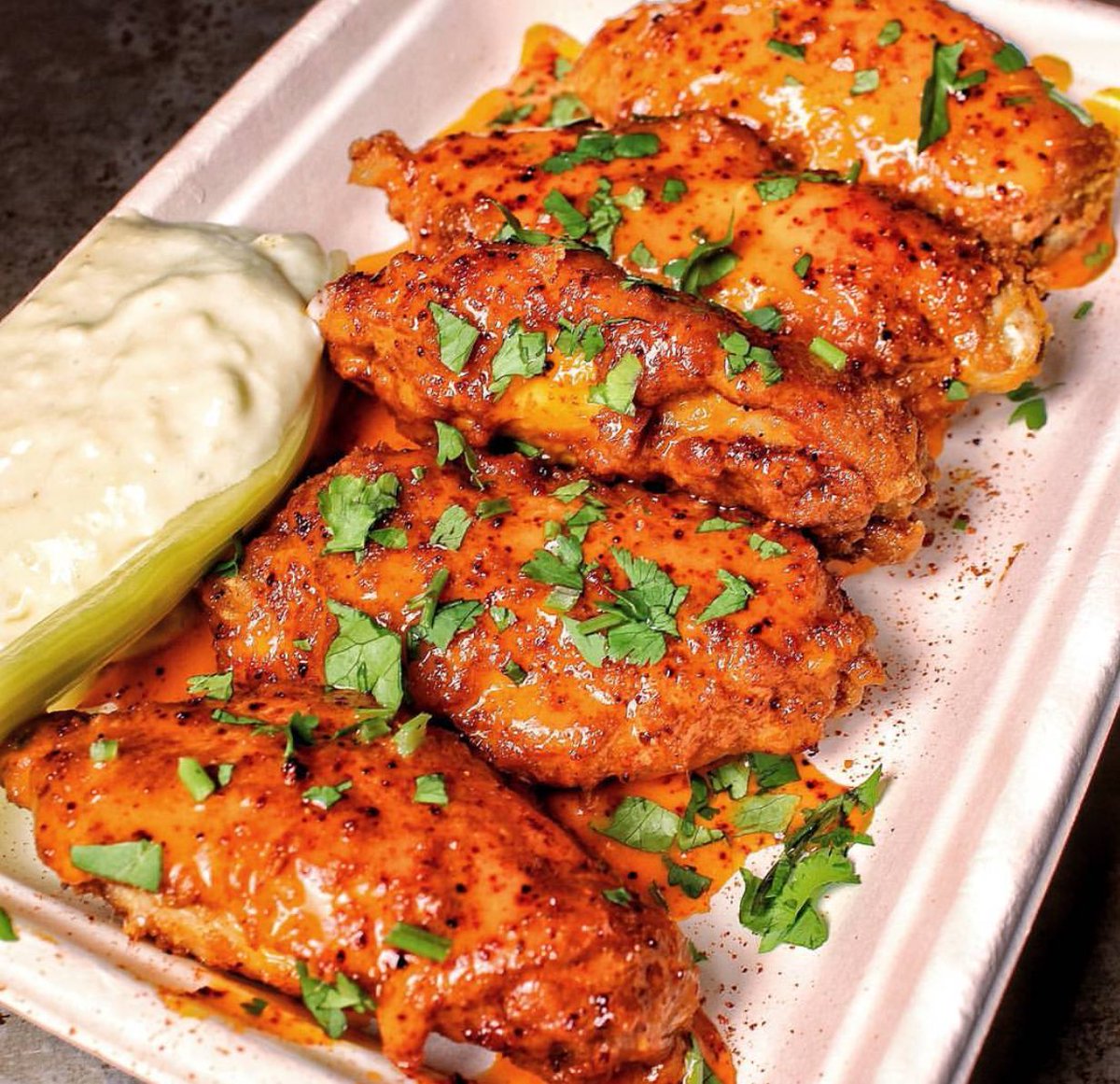 Kerb West India Quay
Kerb on The Quay is the Canary Wharf outpost of the Kerb street food collective and the quality is high, as you'd expect. Wednesday to Friday you'll find lines of suits queueing for the likes of souvlaki from The Grilling Greek (do NOT miss their chips with oregano and feta, which are a total game changer), and pork chop rice boxes from Taiwanese stall Bian Dang. We're addicted to the gooey egg that comes with.
Open: Wed-Fri 11.30am-2pm.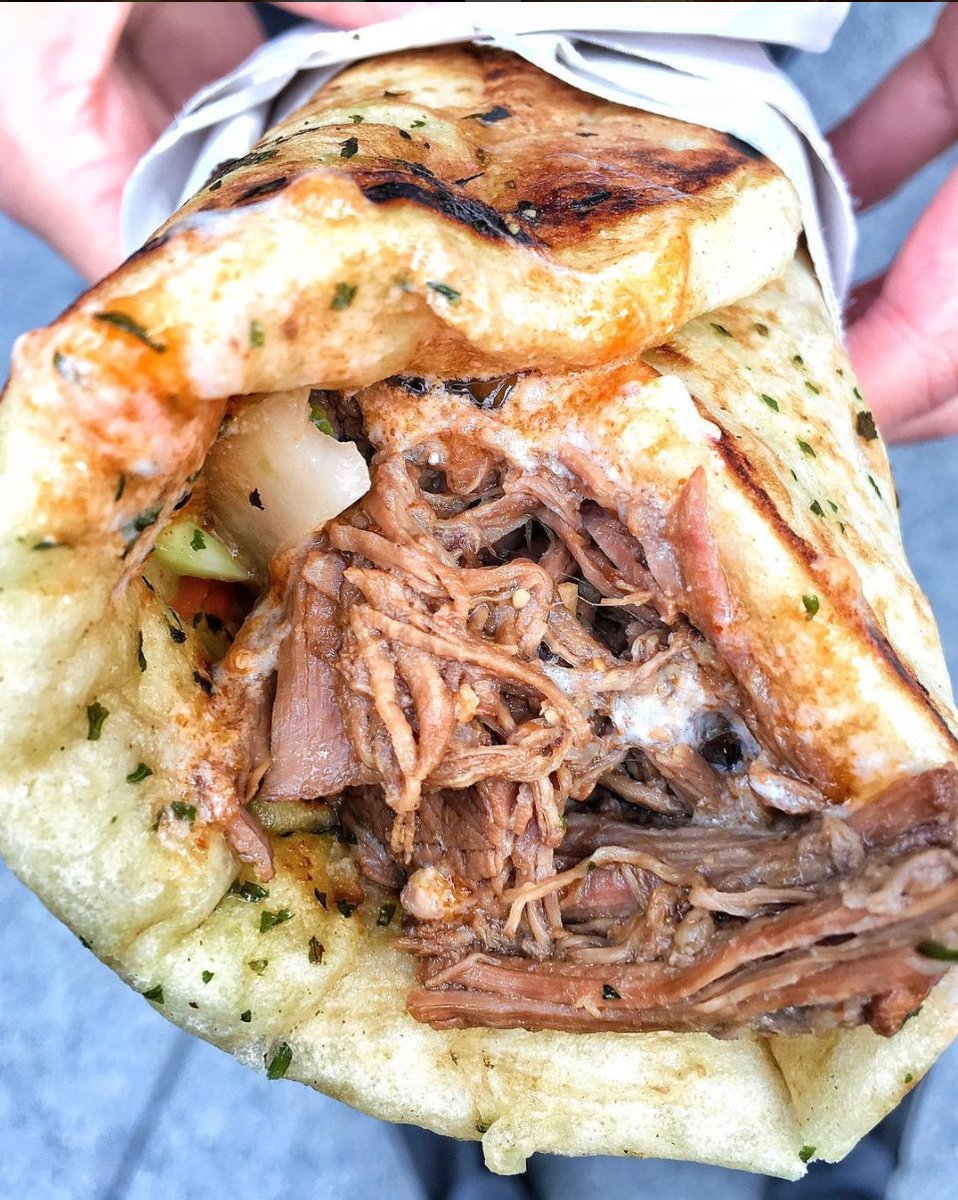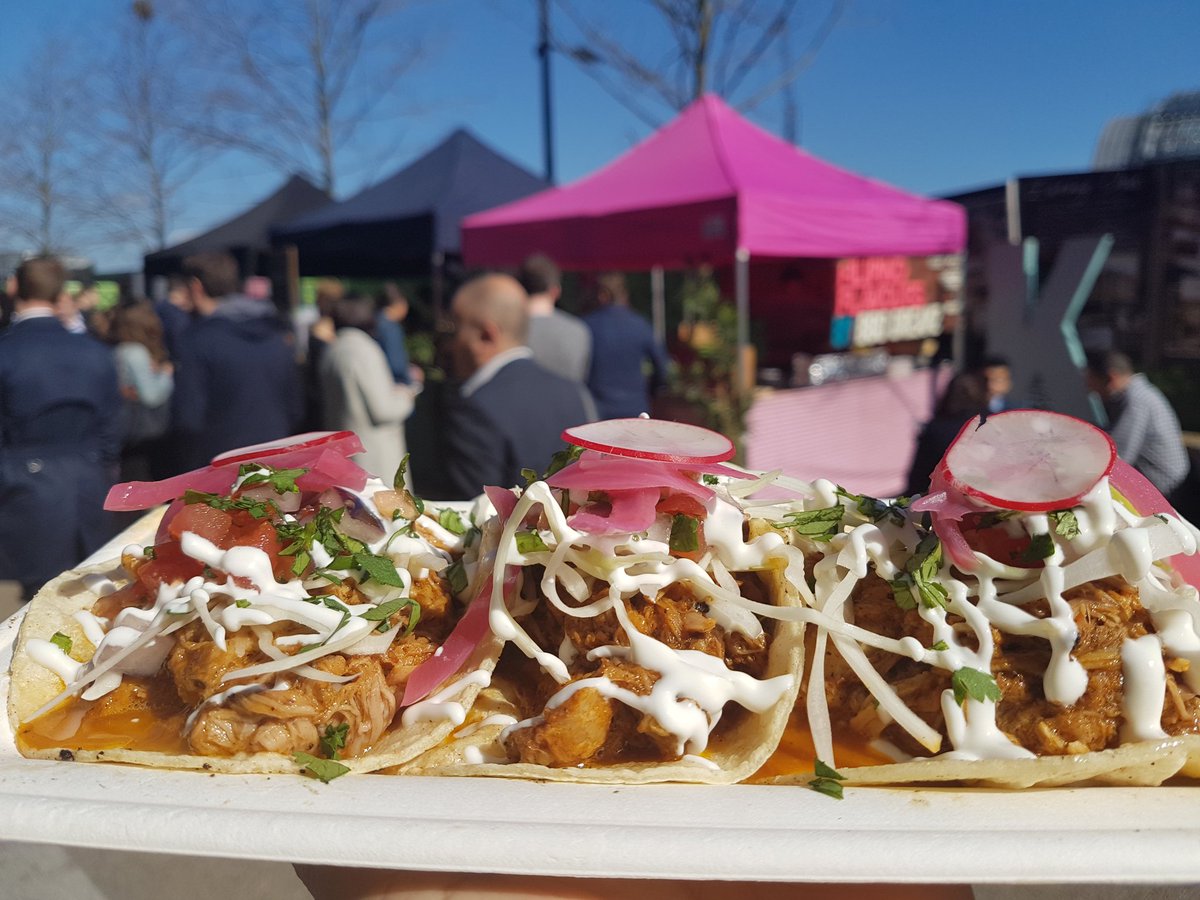 Mercato Metropolitano
This 45,000 square foot food market is home to a massive warehouse full of food stalls, shops and bars with global flavours, plus an Italian food market with a deli selling cured meats, cheeses, pasta, sauces, you name it.
You could easily spend a morning at least walking around here, and by the time you've eaten something and had a wander, it'll be no doubt time to eat again. Read our full review.
Open: Tues-Sat 11am-11pm, Sun 10am-9pm.