Milk, paper towels and total disregard for the sanctity of your own intestines at the ready; things are about to get a little hot ...
Barshu
For a dish that leaves no doubt it is about to drop-kick you in the face with spicy heat, Barshu's boiled seabass with sizzling chilli oil has the aesthetic of molten lava.
The tender, soft, aromatic fish barely manages to peep up between the swirling mass of glorious red chillis and Sichuan peppercorns. You don't eat the dried chillis, they're put to the side - but they'll have already left their mark. The result is an alternately numbing, tingling and sweat-inducing dish that will have you reaching for the plain boiled rice like never before. Also try the equally delicious fragrant chicken in a pile of chillies. The name doesn't lie; it truly is a pile of chillies.
Deliveroo now from Soho
|
Deliveroo now from Soho
India Club
Inside the unassuming Hotel Strand Continental is this 70 year old Indian restaurant, still doing things right. It's simple, charming and seemingly unaffected by the passing of time, boasting the same decor and same authentic South Indian cooking it has for years. Don't be fooled into thinking their Chilli Bhajias are just onion bhajis with a gratuitous sprinkling of spice, for they are in fact fiery whole green chillis, deep fried in batter and served with a creamy coconut chutney which does little to abate the glorious furnace rising in your mouth.
Deliveroo now from Stratford
Silk Road
When Silk Road say 'extra hot', they mean it. Many people head to this Xinjiang restaurant for their famous Home Style Cabbage, made with preserved chilli. It's an inarguably delicious dish, but it's a pot of yoghurt compared to the Extra Hot Chinese Leaves that resides above it on the menu.
It even looks angry, with soft shreds of cabbage swimming in a pool of aggressively red chilli oil, vinegar and fresh red chillies. It's flavourful, fresh and supremely punishing.
49 Camberwell Church Street, SE5
Apollo Banana Leaf
Spice levels at this Sri Lankan restaurant are to be taken seriously. If you're not sure whether you're a two-chilli-icon-on-the-menu sort of person, then chances are their devilled meat dishes are not for you.
Choose from chicken, mutton or prawn. Each is marinated in vinegar before being dry-fried with onion, ginger, garlic, peppercorns and a hefty dose of green chillies. All form a paste to smother your chosen meat in a flavour that begins with a pleasurable tickle at the back of your throat and soon grows into an altogether greater beast. Don't worry though, it's BYOB, so bring that much-needed pint of milk in with you.
188-190 Tooting High Street, SW17
Red Dog Saloon
Serving up the heat in Hoxton is Red Dog Saloon's hot wings challenge. Claiming just a 5% success rate (and a current record time set of 24 seconds - glad we didn't have to share a bathroom with 'Paul' that evening), all contestants have to do is polish off a handful of chicken wings. But the rub is in the sauce. Made with no less than five different types of chillis, including the world's hottest Naga Viper chilli, it's an eye-watering challenge that gets the punters in, but certainly likes to finish them off too. Naga chillis are over 500 times hotter than tabasco sauce. We think we'll stick to just cheering others on.
Roti Chai
Set across two floors, Roti Chai is a modern Indian eatery of two halves. Downstairs is the more formal dining room serving beautifully spiced and prettily presented dishes, while the upstairs Street Kitchen is all about snacks, small plates and... Hakka Chilli Paneer.
It's one of their specialities, and through our watery eyes, we can just about see why. The soft, delicate pang of paneer is laced with a generous helping of fresh green chillies, red peppers and coriander. The menu describes it as 'fiery' - no arguments from us.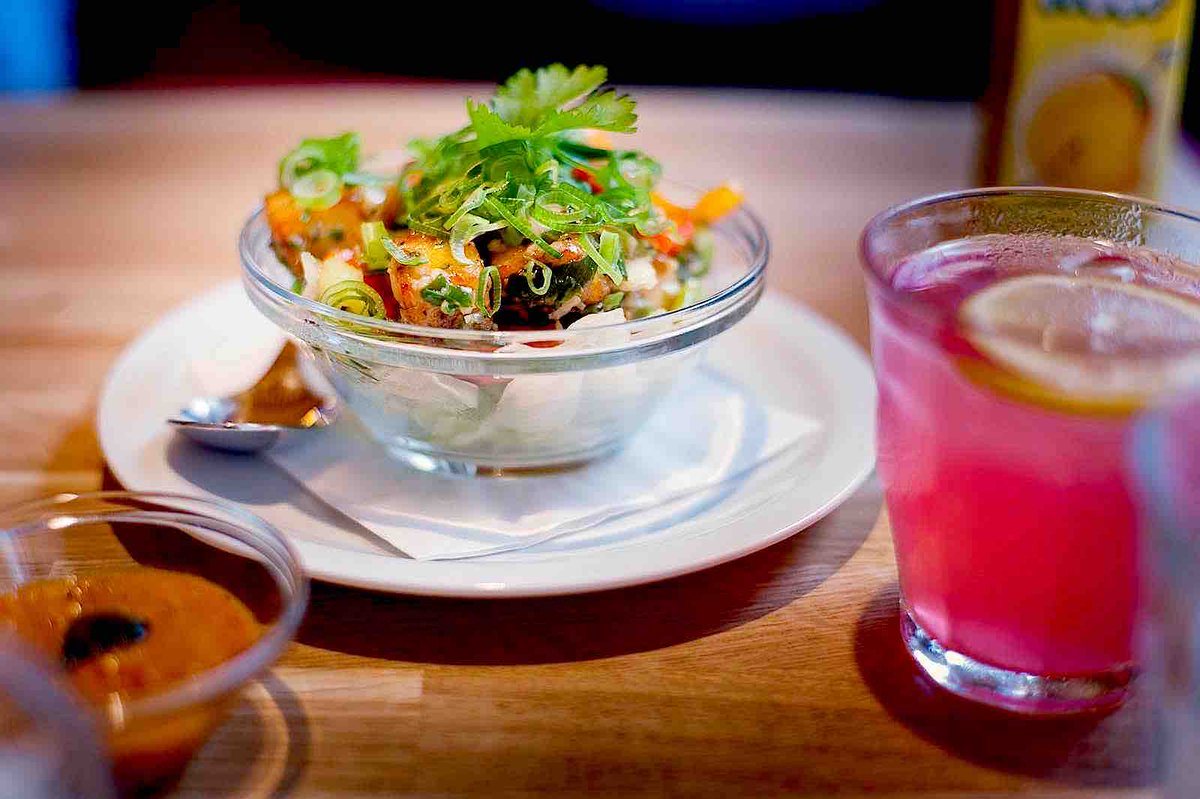 The Orange Buffalo
Situated opposite Old Truman Brewery, you may be grateful for a beer or two once you'ved opted for the Viper Sauce topping on this food truck's buffalo wings. A generous choice of eight buffalo sauces await you, from meek and mild to blow-your-socks off.
If you're not sure you can handle the whole caboodle, opt for their Snake in a Basket: 8 wings where one single Viper wing nestles inconspicuously amongst the others. You'll leave with fire in your belly, stains on your fingers and a smile on your face. Bonus points for the cooling blue cheese dip accompaniment.
The Heron
Top Thai in a basement pub. We love The Heron for its great service, quirky decorations and Larb salads - a classic Thai dish of meat, lime, chilli, onion and rice. It may sound innocent enough - how hot can a salad be? - but you're in for a treat.
At first the citrus hits you, but the ground red chilli paste wastes no time in bubbling to the surface, giving you a hearty smack round the face for being so foolish as to think a salad can't be spicy. Each mouthful contains a similar flavour eruption which, over the course of eating, leaves you wondering if you have sufficient stock of milk and toilet roll back home. Choose from pork (our personal favourite), beef, chicken, duck, catfish or seabass.