Ever feel like there's not enough crunch to your cocktail? Enough wriggle to your salad? Or enough mealworm to your meal...? There aren't many places in London where you can enjoy a good insect, but here are a few where you can feast on a six-legged protein source.
Archipelago
There's a colourful array of golden idols and exotic bird feathers, as well as vibrant but mismatched furniture at Archipelago. It feels like you could be dining in the plunder-strewn campaign tent of one of Alexander's generals. And the fare's no less unusual. Locusts, crickets and 'Love Bug Salad' are served alongside crocodile, wildebeest and kangaroo at this Fitzrovian gem. Finish up your meal with a chocolate-covered scorpion alongside your after-dinner espresso.
Selfridges Food Hall
For a more direct insect-to-stomach journey, Selfridges department store sells chocolate-covered giant ants by Edible in its Foodhall. The choccy-crawlies contain energy-providing enzymes and are a favoured delicacy of native South American people, apparently.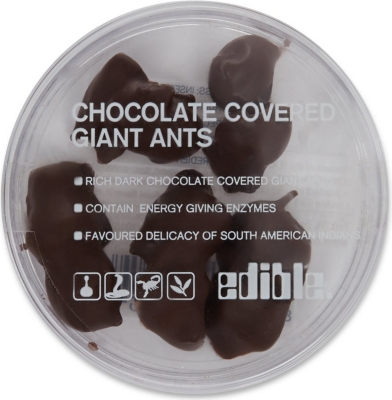 Nightjar
Nightjar opened in Shoreditch in 2010 and its speakeasy feel and live music have proved so popular that it now takes bookings months in advance. If you can get a table, you may want to try the Inca cocktail, which includes tequila, chilli wine and buffalo worms – the larval form of the litter beetle.
Lao Café
Lao Café began life as a pop-up in 2015, and now serves authentic Laotian cuisine from its permanent Covent Garden location. Chargrilled meats and curries are served not in structured courses, but dished up throughout the evening.
Most of the dishes are insect-free, but you can opt for a portion of malang tod, or crispy fried bugs, as an accompaniment. And if a mixed mushroom soup doesn't seem adventurous enough, you can also throw in some ants' eggs for an extra £2.
Planet Organic
Londonist writer Lydia Manch notes that the Wandsworth branch of Planet Organic stocks edible insect brand Jimini's:
'This French brand is genuinely passionate about insects snacks — treating them not as a trend or a way to get a talking point out of your garnish, but as the sustainable protein source of the future. Their website's crammed with stats and data to persuade you of the benefits of eating bugs — crickets contain significantly more protein than beef per 100g, and more than double the protein of chicken, for example — and their mission statement is, 'to make you want to try and enjoy it, with pleasure and open-mindedness.' Hit them up for insect pasta, recipe ideas and crunchy insect bar snacks.
Planet Organic, 52 Garratt Lane, SW18 4TF.
Santo Remedio
Santo Remedio was a short-lived Mexican restaurant set up in Shoreditch by Natalie and Edson Diaz-Fuente following a residency at Street Feast. The first venue served tacos, ceviches and grasshopper-sprinkled guacamole. It closed in 2016, but following a successful Kickstarter campaign they've found a new Tooley Street site for their second coming. Expect more grasshoppers from Santo Remedio's new restaurant, coming in autumn 2017.
Santo Remedio, 152 Tooley Street, SE1 2TU.