It may sound like an oxymoron, but the vegetarian fry-up is no myth. For those times when only a Full English will do, here are our favourite lip-smacking, napkin-wiping, hangover-busting places to get our veggie grease on - no bacon required.
Pavilion Cafe
Always busy and always delicious, you can expect to have to fight for a spot at this popular Victoria Park cafe overlooking the boating lake. Breakfasts are where they excel, and we love their inclusion of a 'veg patty' in their fry-up. It's basically bubble and squeak, and we love it. Sitting alongside beans, mushroom, tomato, halloumi, fried egg and sourdough toast (freshly-baked in house - nice touch), it makes an already great fry-up that little bit extra special.
The Gallery Cafe
Exhibition house, event space and home to a cracking selection of vegetarian and vegan dishes, The Gallery Cafe in Bethnal Green is a local treasure, run by community charity St Margaret's House. All profits from the cafe go straight back into the charity, so your rumbling stomach isn't the only reason to give this wonderful spot your custom. There's a daily-changing menu of specials, but their vegan Full English is as familiar as an old friend, featuring 'sausage', mushroom, tomato, scrambled tofu, hash browns, spinach and beans. Portions are big, the atmosphere is bright, peaceful and friendly. Go.
Greenberry Cafe
Cosy, relaxed and usually packed full of locals, Greenberry Cafe is the ideal place to enjoy a long, lazy weekend brunch. It's not a vegetarian cafe, but their breakfast menu (available until 3pm - can we get a HELL YES!) is packed full of veggie-friendly options. Eggs are their speciality - team two of them with Haas avocado, Portobello mushroom, roast tomato, sourdough toast and - thank you breakfast gods - pan-fried halloumi, and you've got yourself a pretty mean veggie fry-up. Wash it down with one of their fresh juices. Delicious.
Black Cat
Alongside their killer selection of baked goods, this strictly-vegan cafe also offers a mean Full English breakfast. Next to the 'sausage' and ambiguously-named 'rasher', hungry breakfasters can expect tofu scramble, beans, mushrooms and the option of toast OR pancake. It's all delicious and, importantly for a good fry-up, the portions are generous so you'll have to hold off on the tempting cakes for another visit. Bonus points for being decently-priced too.

NAMA
Possibly as far away as you can find from the greasy spoons of old, Nama is all about healthy, raw, vegan food. Also gluten-free friendly and organic, their breakfasts take 'natural' to a whole new level.
Their Full English features cashew scrambled 'eggs', aubergine 'bacon', herbed 'sausage' and raw tomato ketchup. Not a single item is cooked and the flavours are pretty inspired. It is expensive but delivers on taste, presentation and nutrition. Guilt-free fry-ups aren't easy to come by, but these guys have it nailed.
Mildreds
A vegetarian staple in the capital, Mildreds has been in the veggie biz nearly 30 years and there's no doubt they know their craft well. The original site is in Soho, but it's the King's Cross venue that offers a dedicated brunch menu. Portion sizes are good and the oak-smoked house beans that come with the fry-up are superb. Organic scrambled eggs can be easily swapped for tofu to make it vegan-friendly. No bookings and it gets absolutely packed, but it's absolutely worth dragging yourself out of bed that little bit earlier.

Deliveroo now from King's Cross | Deliveroo now from King's Cross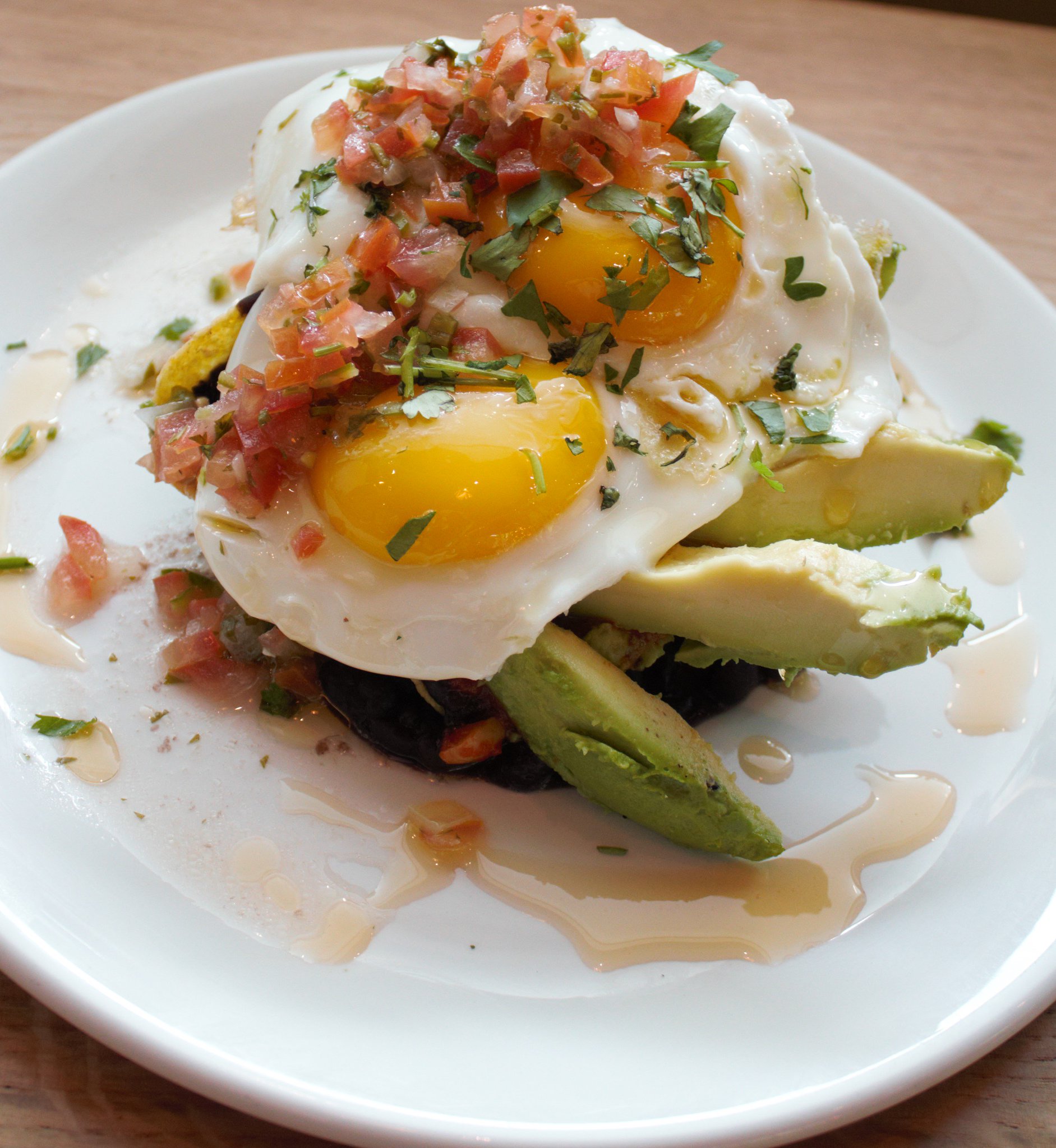 The Gate
Ticking nearly every fry-up box on the list, The Gate's veggie breakfast (which can be made vegan and gluten-free on request) offers butter bean sausages, tofu bacon, hash brown, homemade baked beans, mushroom, tomato, egg AND toast. You won't be going hungry. There are branches in Islington and Hammersmith too, but it's the Marylebone branch that serves up the breakfast goods.