Created by the French colonies in Vietnam, the banh mi is a winning combination of the best of both cuisines. Vietnamese skill with barbecued meats, peanut and lemongrass marinades and pickles fuse with its French other half: the fluffy-centred baguette and savoury pates.
Safe to say, there's a few to choose from in London - we've narrowed it down for you, to what we reckon are some of the best banh mi about.
Banh Mi Nen at Greenwich Market
Order: the chicken baguette for £6
Banh Mi Nen is the brainchild of Ngoc Thanh Tran, who made his journey from Vietnam to London and was both saddened and excited not to find a banh mi in Greenwich Market. Their chicken baguette could run rings around anything from your local Pret; moist lemongrass chicken topped with crunchy red onion, carrots and coriander, and topped with an addictive sauce.
City Càphê
Order: lemongrass beef banh mi, for £5
This spot is a City boy favourite for punchy and comforting Vietnamese food, with a range of authentic delights including excellent banh mi. Their baguettes are freshly baked every morning, light and crispy with a soft inside - the perfect vehicle for their beef, which comes thinly sliced with shallots, garlic and lemongrass, along with the usual suspects as toppings.
Bánh Mì Hôi-An Vietnamese Street Food in London
Order: the curried beef meatballs banh mi for £5
This one makes for a seriously messy banh mi - the baguettes are squidgy rather than crisp, combined with juicy meatballs and topped with crunchy veg. The pickles are just the right balance of sweet and sour and the chilli and herbs full on.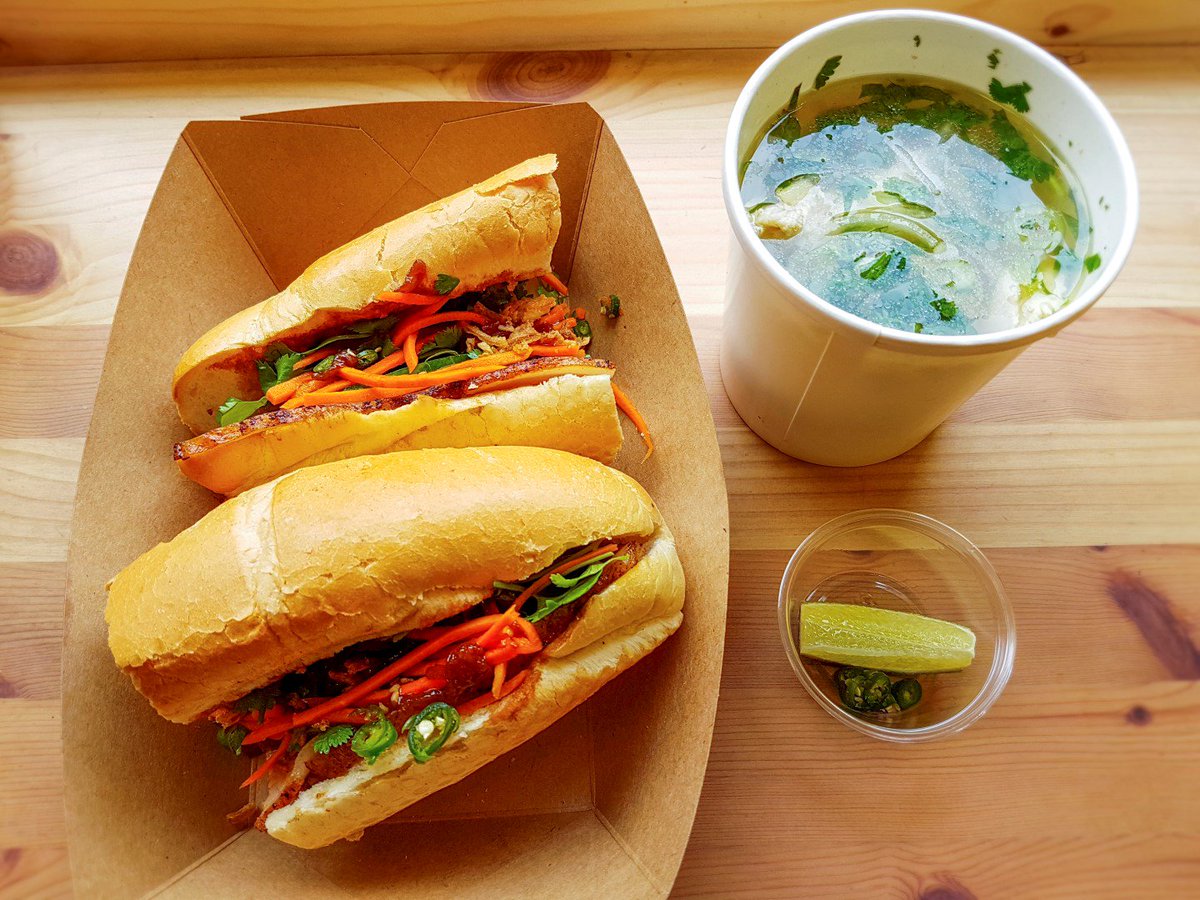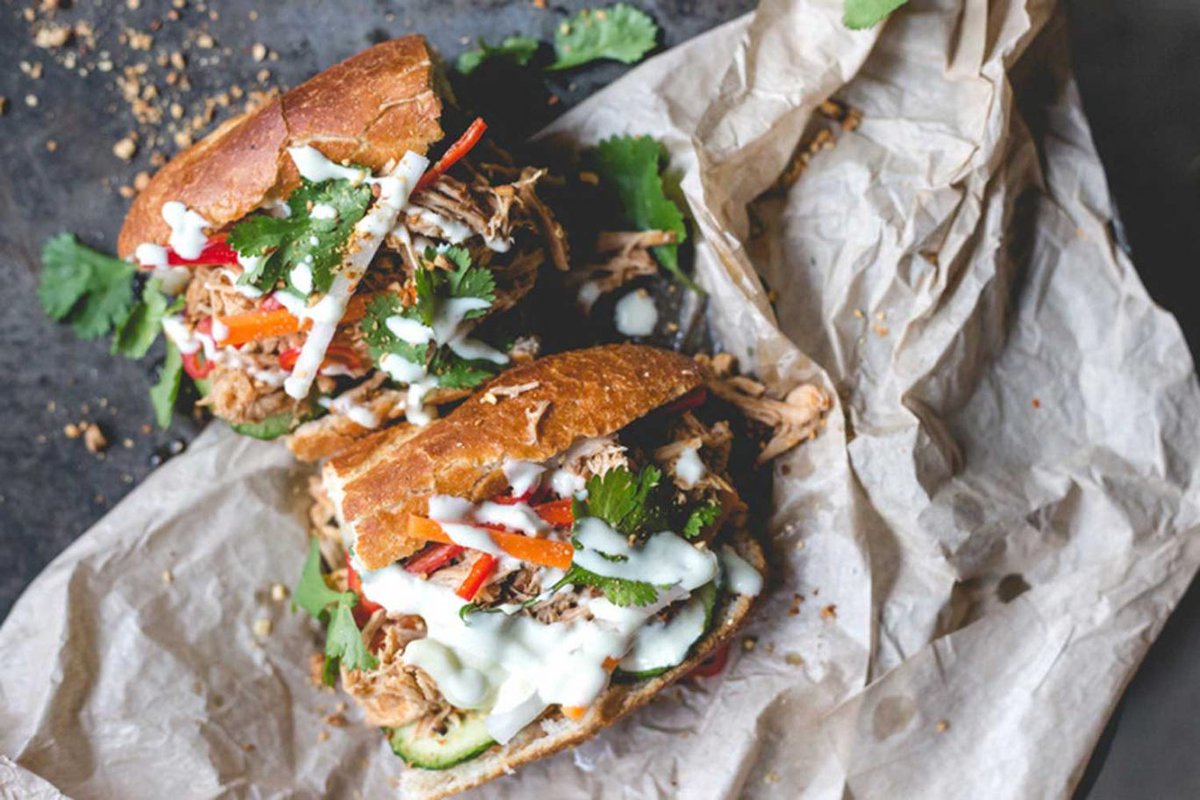 Carrots + Daikon
Order: Honey caramelised pork banh mi for £6
Family-run Carrots & Daikon has been providing hungry North Londoners with their banh mi fixes for years. The deli cafe serves a large variety of Vietnamese food, from fragrant pho to salad boxes, but their banh mi is a cut above the rest. Their best seller is the honey caramelised pork, topped with a choice of peanut, hoisin or chilli sauce. Their house chicken pate is a welcome addition, its smooth and salty richness harmonising with the crispy meat.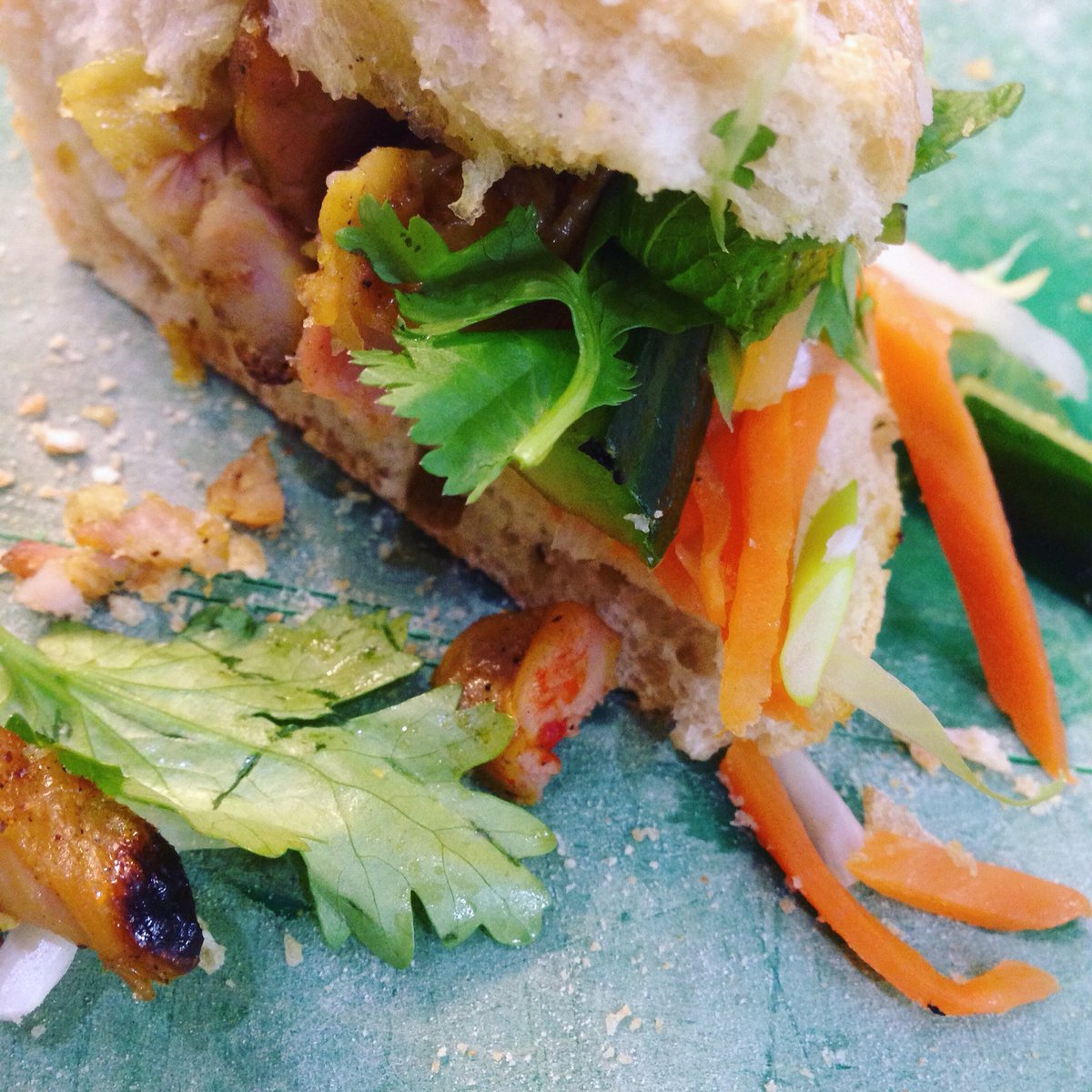 Banh Mi Bay
Order: the grilled prawn banh mi for £5.95
Banh Mi Bay claim to be pioneers of the banh mi in London, and the first restaurant in the UK to serve it. Using a recipe shared through generations they've perfected an envious banh mi, with everything from shredded caramel pork to grilled chicken satay on the menu. Our favourite is the grilled prawns, with a barbequed outside and juicy centre.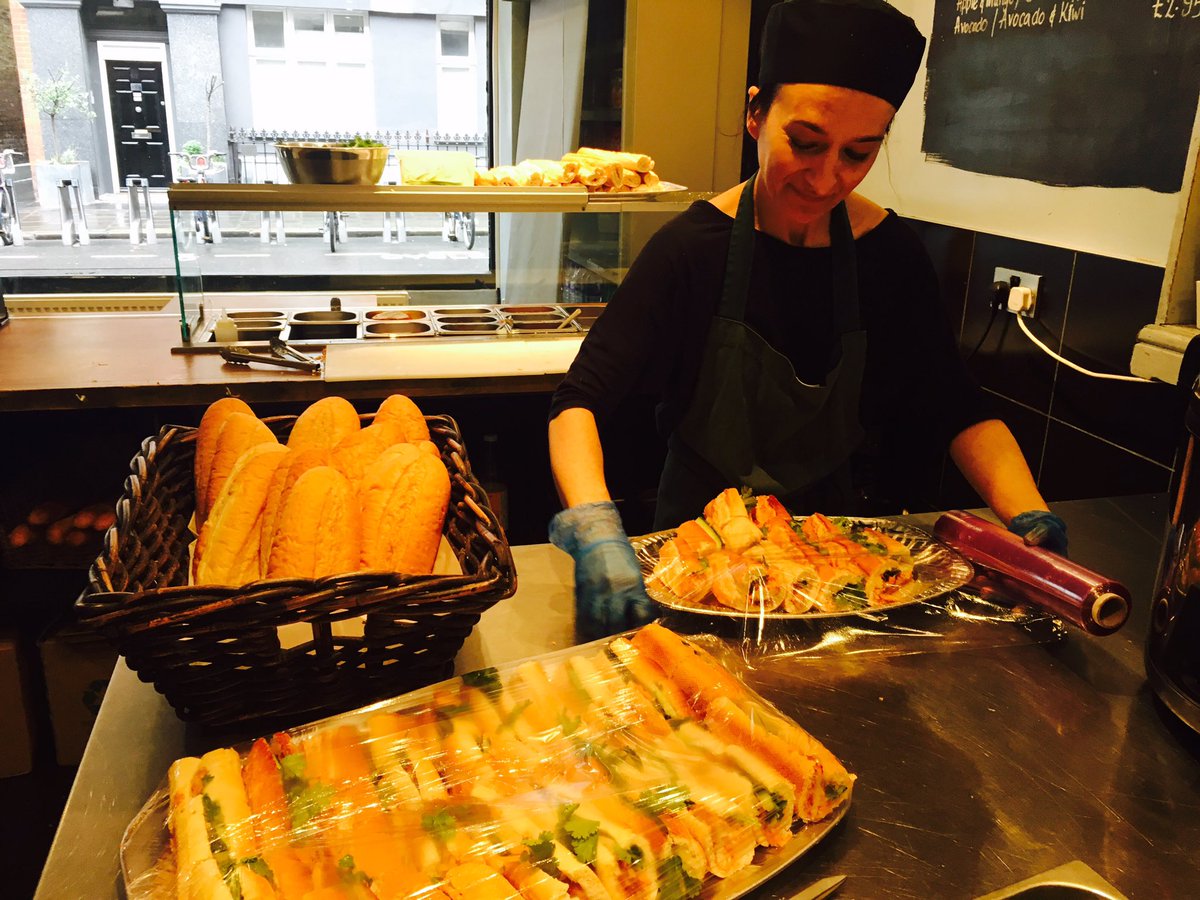 Banh Mi Town
Order: the satay chicken banh mi for £5.50
This Soho spot does a cracking banh mi, with their satay chicken a firm favourite. The chicken can be topped with an extra of pork sausage for 25p, which weirdly works well. Baguettes are all topped with mayo, soy sauce spread and the usual trimmings.
Deliveroo now from Fitzrovia
CôBa
Order: the BBQ duck banh mi for £7
Starting out as a supper club, Australian and Vietnamese fusion restaurant CoBa have innovative cocktails and steaming bowls of pho worth a visit at dinner time. But their lunch menu includes a gourmet selection of banh mi. The BBQ duck banh mi is out of this world, a sophisticated combination of smooth pork pate, spicy mayo, cucumbers, pickled carrots and daikon topping the rich duck.
Whaam Banh Mi at Mercato Metropolitano
Order: roast beef with five spice banh mi for £5.50
Whaam Banh Mi are based 90% online, but you can still find their banh mi in a handful of places across London, including Mercato Metropolitano. Friendly chefs Song and Kong are particularly proud of their banh mi recipe, with 70 years banh mi making experience between them. The roast beef with five spice is a succulent baguette, and like all of their offerings, it's gluten free.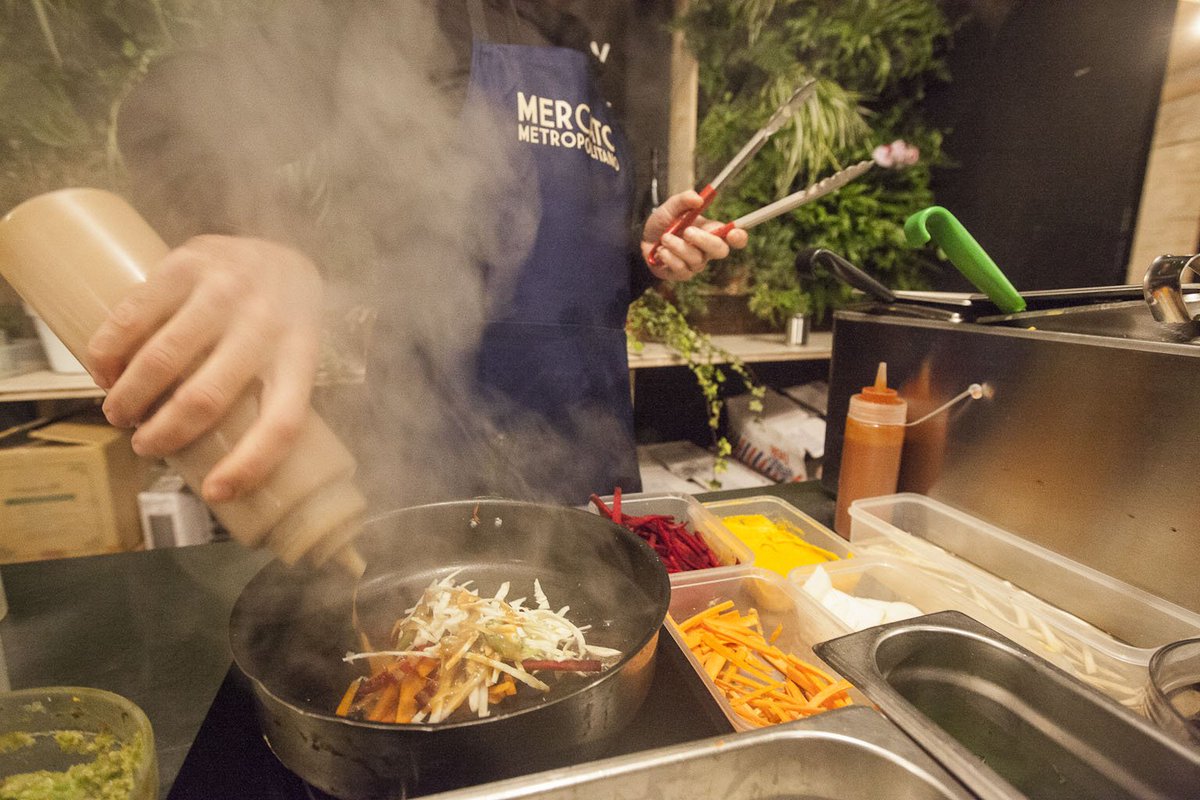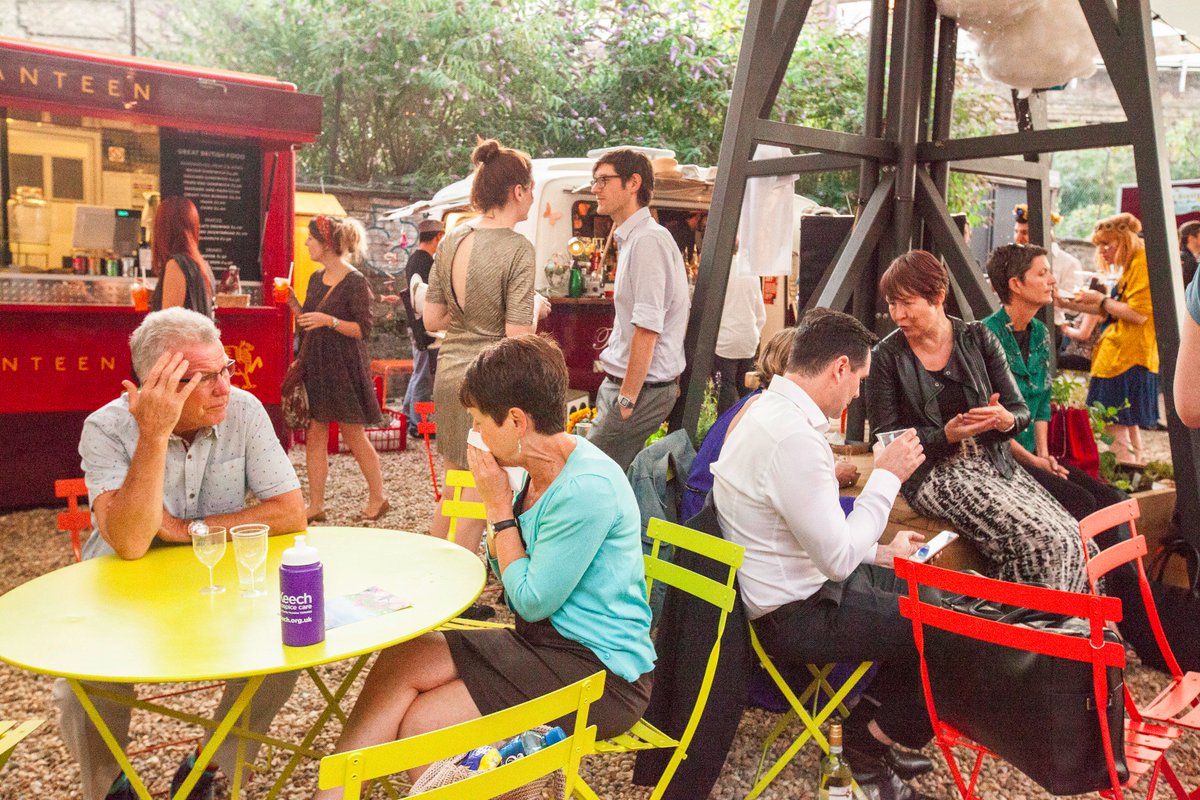 Moi An
Order: crackling pork belly banh mi
City Caphe's little sister Moi An gives the original place a run for its money. Their crackling pork belly banh mi combines the usual mix with British favourite of pork belly, lending a Sunday roast edge to the baguette. The pickles are strong and cut through the fatty pork beautifully.