Produced in partnership with Deliveroo.
Look. Living in London, you have more reasons to go out every single night than there are stars in the sky.
But there's one, really compelling reason to stay in. And that reason is: sofa.
Order your food, order it now. Order it to your doorstep and spirit it away to your sofa. Alright, or dinner table, if you want to get fancy about it. Or bed, if you want to get indulgent about it. Because while going out is great and all — staying in? Staying in is splendid.  
North
Mildred's
North Londoners are spoilt for choice when it comes to vegan options; Camden Market alone has delights like Magic Falafel and Young Vegans Pie and Mash, deliverable straight to your door. And yet it is Mildreds, the veggie/vegan staple that has been in the biz for nearly 30 years, that takes the crown.
Their King's Cross outlet offers a mouth-wateringly vast array of vegetarian and vegan dishes, ranging from guilt-free lunch deals (hello mushroom and ale pie with mushy peas) to full-blown dinner options (we're looking at you, deep-fried vegan buttermilk and panko mock chicken). A range of cuisines are covered and all-in-all it is fuss-free, fantastic vegan fare as it should be.
Deliveroo now from Camden | Deliveroo now from Dalston | Deliveroo now from King's Cross | Deliveroo now from King's Cross
Jamestown Road, NW1 | 200 Pentonville Road, N1 | 1 Dalston Square, E8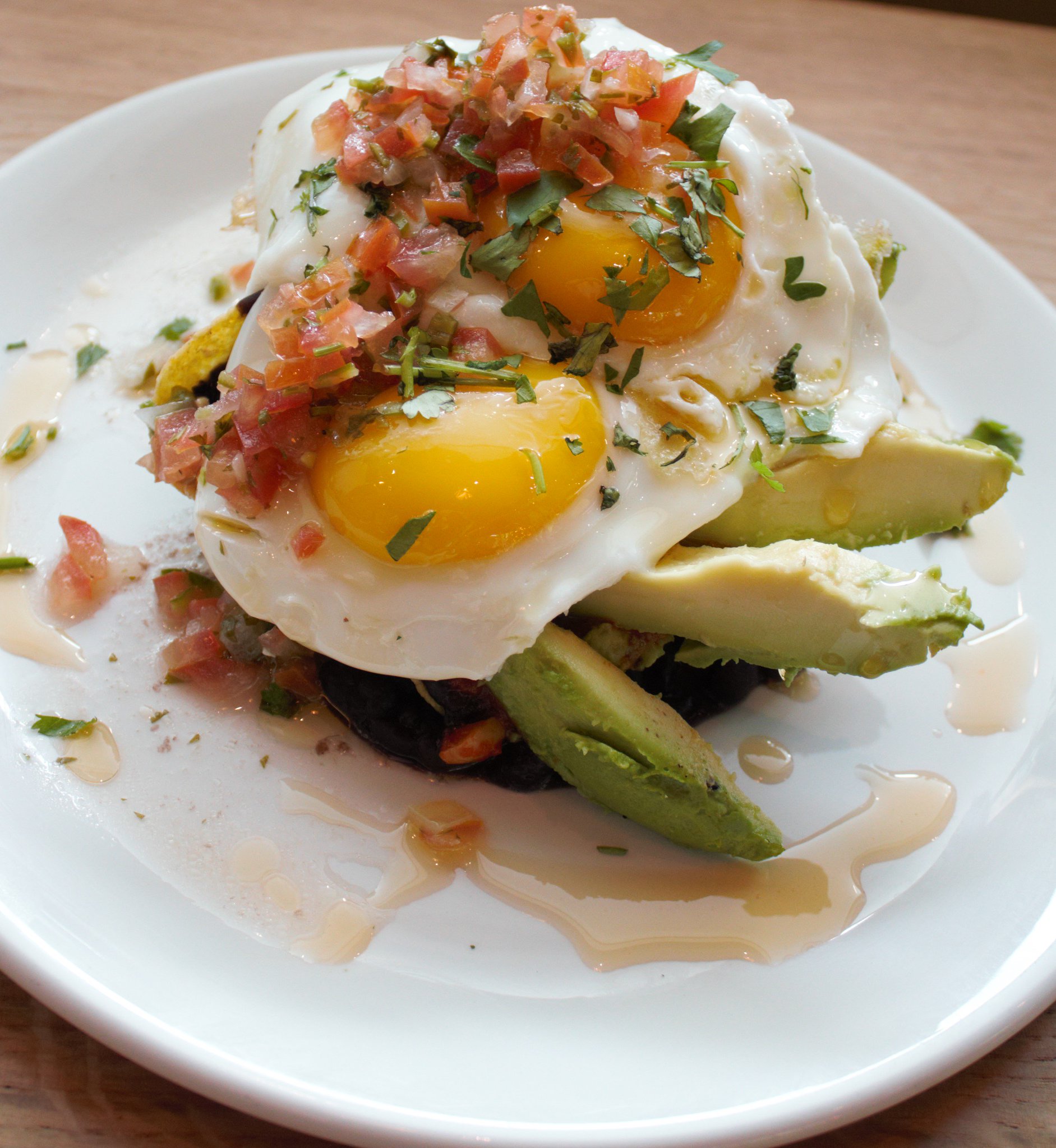 Atari-Ya
This is a sushi and sashimi bar from the excellent Atari-Ya Japanese supermarket. Londonist's Helen Graves champions it for using their own supply of fish, meaning you'll find options on the menu you won't see in other places in the same price range. Its selection is extensive, with lesser-known delicacies including two sorts of fatty tuna and masago (orange fish roe). Fans of natto (fermented soy beans) can order their fix too.
Deliveroo now from Temple Fortune
Le Sacre Coeur
It's not usual to find French cuisine deliverable to your door in the capital, yet that's exactly what's on offer at this traditional bistro in the heart of Angel. Whether you manage to nab a table at this cosy outlet, or just enjoy their dishes to go, Le Sacre Coeur is all about authenticity and indulgence. Reading through the menu is a mighty test of willpower, with almost every dish irresistible: onion soup, escargots, baked camembert to start; moules marinieres, coq au vin, confit duck leg and boeuf bourgignon for main; tarte tatin and creme caramel for dessert. All superbly cooked and reasonably priced. We tend to over order but, hey, je ne regrette rien.
Deliveroo now from Upper Street
My Cottage Cafe
The words 'family-run' and 'Lebanese' are enough to make anyone's eyes light-up, and My Cottage Cafe in Finsbury Park does not disappoint. Hefty portions meet fresh flavours - this is a local independent that clearly puts a lot of love and care into their dishes. The joy of mezze is in the sharing, so grab your friends and hunker down on delights such as grilled or fried halloumi, soujok (homemade spicy sausages), moussaka (fried aubergine baked in tomato) or three types of hummus. The mains are equally divine, ranging between grilled means, veggie stews and freshly-baked wraps.
Deliveroo now from Finsbury Park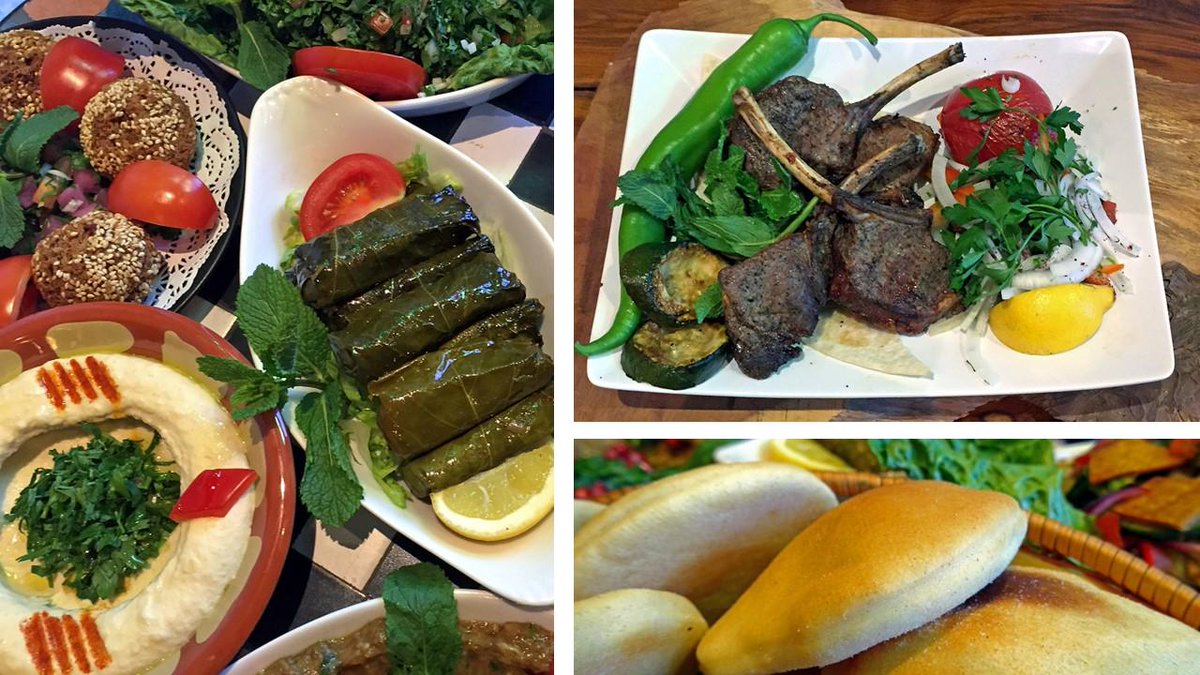 Ozzi's Burrito Shack
Has anyone ever gone hungry after devouring a burrito? Ozzi's on Barnet High Street is no different, packing their Mexican tortilla wraps with chipotle chicken, pulled pork, chilli con carne or beef. Be warned, a stack of napkins might be needed to mop up the aftermath thanks to the consistent ooze of rice, sour cream, beans and salsa from within. If you're of the belief that it's what's inside that counts, then Ozzi's Naked Bowls -- containing all the yummy innards but without the wrap -- will be right up your street.
Deliveroo now from Barnet
North east
Orford Saloon
For a little corner of Spain in central Walthamstow, Orford Saloon Tapas Bar is a stand-out. The menu isn't extensive but contains all the firm favourites you would want from your tapas: croquetas, boquerones (anchovies), albondigas (meatballs) and the obligatory patatas bravas.
The focused menu results in exquisite dishes cooked to a standard rivalling the bonafide tapas bars of Seville, although with a greater selection of vegetarian options that are often harder to come by in the Mediterranean. The creamed spinach is a masterclass in indulgent vegetarianism: rich, delicate and smooth, with the savoury crunch of pine nuts peppered throughout.
Deliveroo now from Walthamstow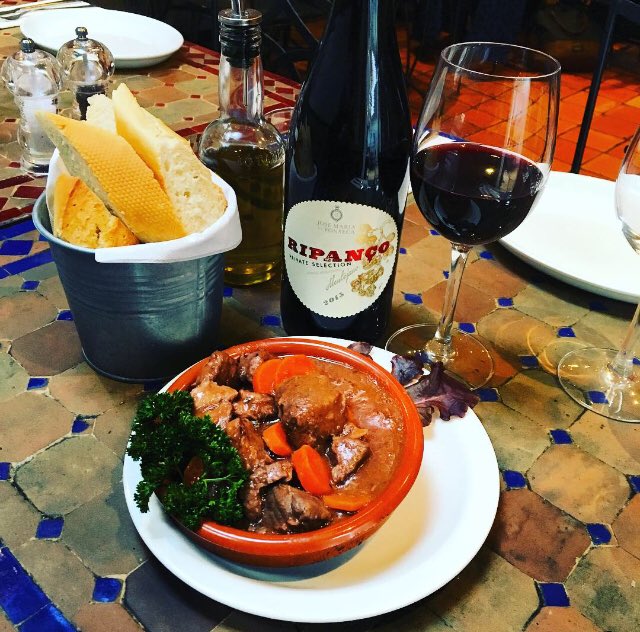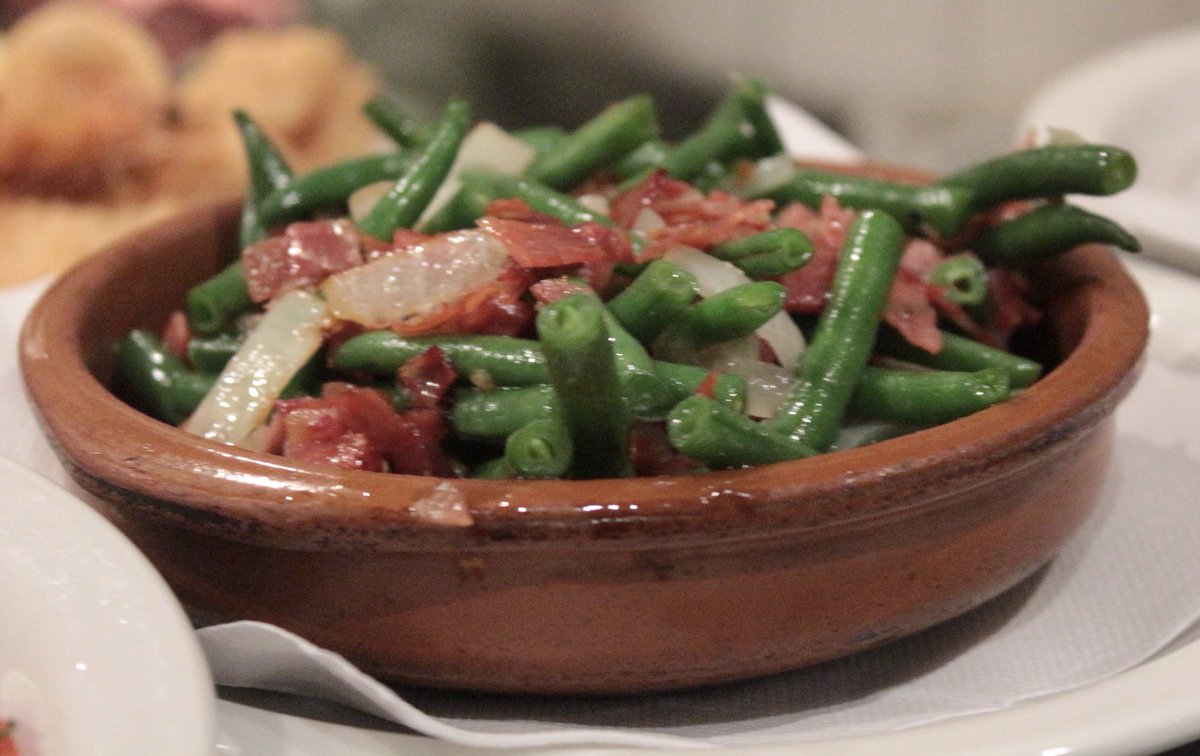 In Vino Veritas
Why should evening takeaways only mean food? If you're treating yourself then get a bottle of decent plonk in on the action thanks to In Vino Veritas. This little independent wine merchants is tucked away in Walthamstow Village and run by four friends, passionate about wine and keen to shine a light on top-quality tipples from lesser-known vineyards. You'll need to source your dinner elsewhere, but washing it down will be covered with their handpicked varieties of red, white, rose and sparkling wines.
Deliveroo now from Walthamstow
Mini Hiba
An offshoot from Holborn favourite Hiba Express, Mini Hiba is a family-run Lebanese joint with Grandma remaining at the helm as head chef. As you might expect, that means simple dishes brimming with flavour and authenticity. The hummus, falafel and shawarmas are understandably popular choices, but we wholeheartedly recommend opting for a couple of mezze wildcards including the Batata Harra (spiced potato cubes topped with garlic, herbs and fried vegetables) and Bammieh B'zeit (fried okra fingers served in a tangy tomato sauce).
Deliveroo now from Walthamstow
North west
Chicken Shop
There are branches of Chicken Shop across town, doing - guess what - chicken, and doing it splendidly.
Their menu's simple but renowned. Their rotisserie chicken, likewise. A perfect Chicken Shop Deliveroo order equals: half chicken, extra hot sauce, side of corn on the cob, side of crinkle cut fries. No deviations, no cutlery, no regrets.
Deliveroo now from Covent Garden | Deliveroo now from Gospel Oak | Deliveroo now from Marylebone
79 Highgate Road, NW5 | 141 Tooting High Street, SW17 | 199-206 High Holborn, WC1V | St John's Wood High Street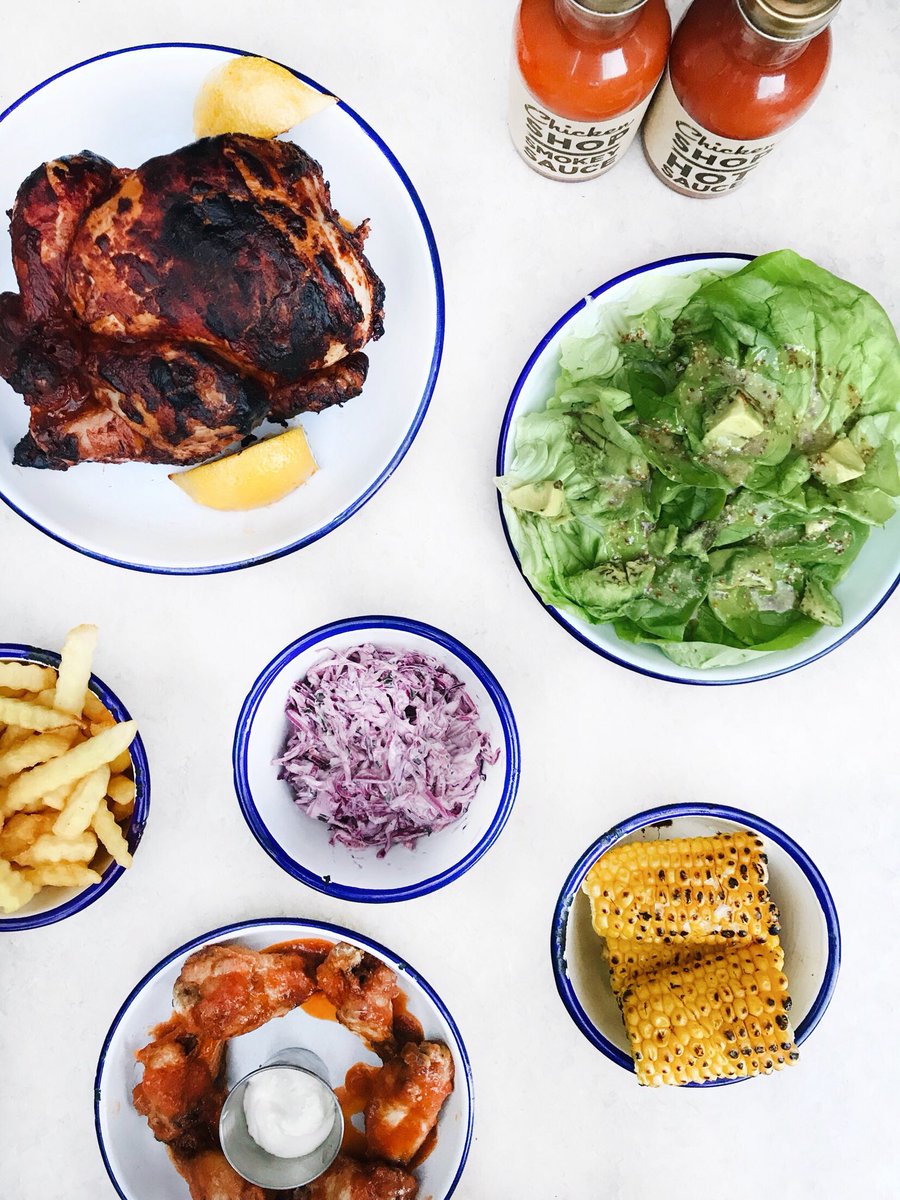 Voodoo Ray's
Now you can order Voodoo Rays' pizza - sold in-restaurant as giant New York-style slices - as still-pretty-giant 15" pies for delivery. Compared to traditional Neapolitan pizzas with their fluffy crusts and softer centre, these are cooked for a longer time at a lower temperature. The result's a thinner, crisper crust and a firmer base, making for slightly neater eating than the Italian version. Even so, we can confirm covering yourself with forest-green pesto, creamy Russian dressing or thick, sausage-crumb scattered tomato sauce is a known hazard of their generous, thickly-loaded toppings.
The Green Velvet's a powerhouse of artichokes, olives, mozzarella and tomato, and possibly 20 of your five-a-day (as long as you eat enough of it). It's just one of the ways vegetarians are spectacularly catered for by Voodoo Rays.
For meat-eaters the King Tubby's a reliable favourite: a heap of fennel and chilli sausage, kale, and sweetness from marinated tomatoes and caramelised onions. And to experience the peak of their lunatic genius there's the Rubenesque - a twist on the Reuben sandwich, topped with salt beef, two cheeses, sauerkraut, parsley and Russian dressing. Sounds deviant, right? But when you're this good, you can mess with tradition. And gluten-avoiders, you're in good hands. Their greatest hits also come as 10" gluten-free pies.
Deliveroo now from Camden
Unit 92/1, North Yard, Stables Market, NW1
Lazy Hunter
This Kentish Town restaurant's serving up a mix of burgers, stews, steaks, sausages, grilled fish... all the good stuff. If you wanted to give it a corner of America to belong to you could point to the beans-and-roasted-hog stews or the venison, chestnuts and seasoned potatoes everywhere and call it Southern. The menu does read like a chapter of Cold Mountain - that has to be untold points in its favour, right? - but there are enough modern touches to please anybody after a roasted chicken leg, a rocket salad and a good wine list. But if you can bring yourself not to order Hog on Fire or Feast Stew, you're stronger than we are.
Deliveroo now from Kentish Town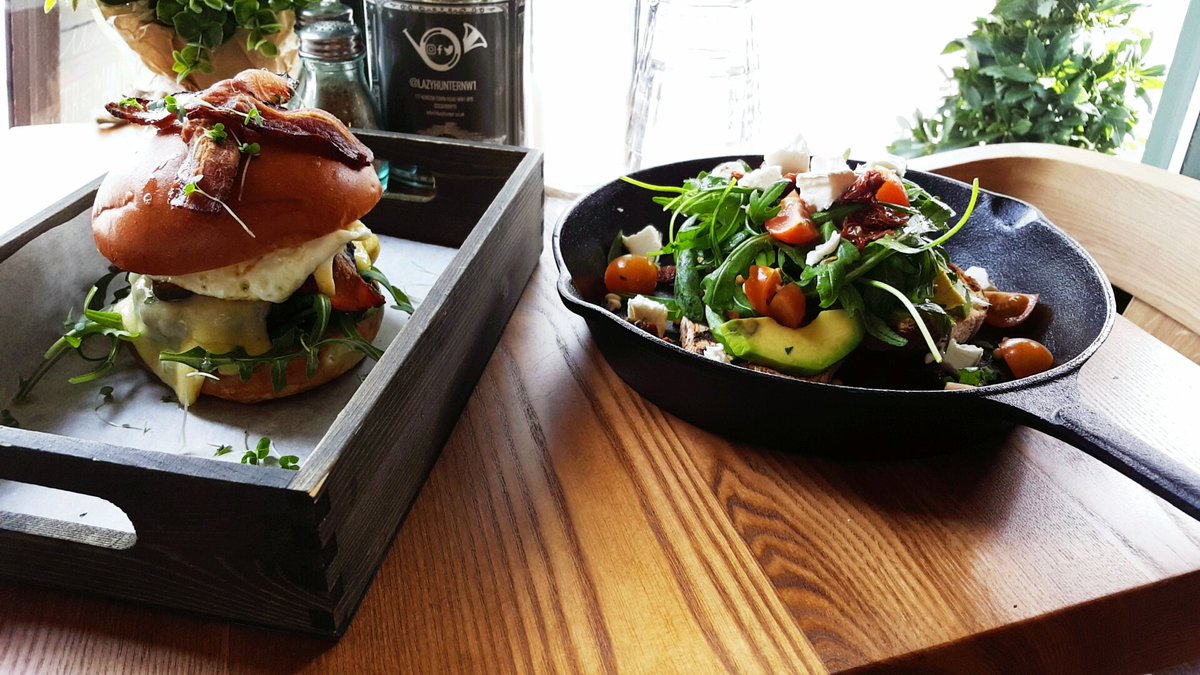 Beer + Burger
Do you live near - or in the delivery zone - of this Willesden Green restaurant? If you can get your hands on of their multiple-patty burgers, side of fries, couple of rough-edged, gloweringly dark ales or summer-bright IPAs whenever you like - then you, my friend, are the only person in the world allowed to use #blessed unironically.
These guys use two patties in even their standard burgers - which cook through faster than a thick wedge of burger, keeping them tender on the outside. Burgers are covered in cheese, "goop" (their signature, sticky sauce), and a high pickle presence that'll ruin all other burgers for you. For the truly hungry it's got to be the Double Cheeseburger: an innocent-sounding name. But treat it with reverence and respect for its how-do-I-actually-fit-my-mouth-around-this-though smiting power - it's four patties, double everything and 100% certainty you'll want to be horizontal on a sofa afterwards.
Deliveroo now from Brondesbury
88 Walm Lane Willeson Green, NW2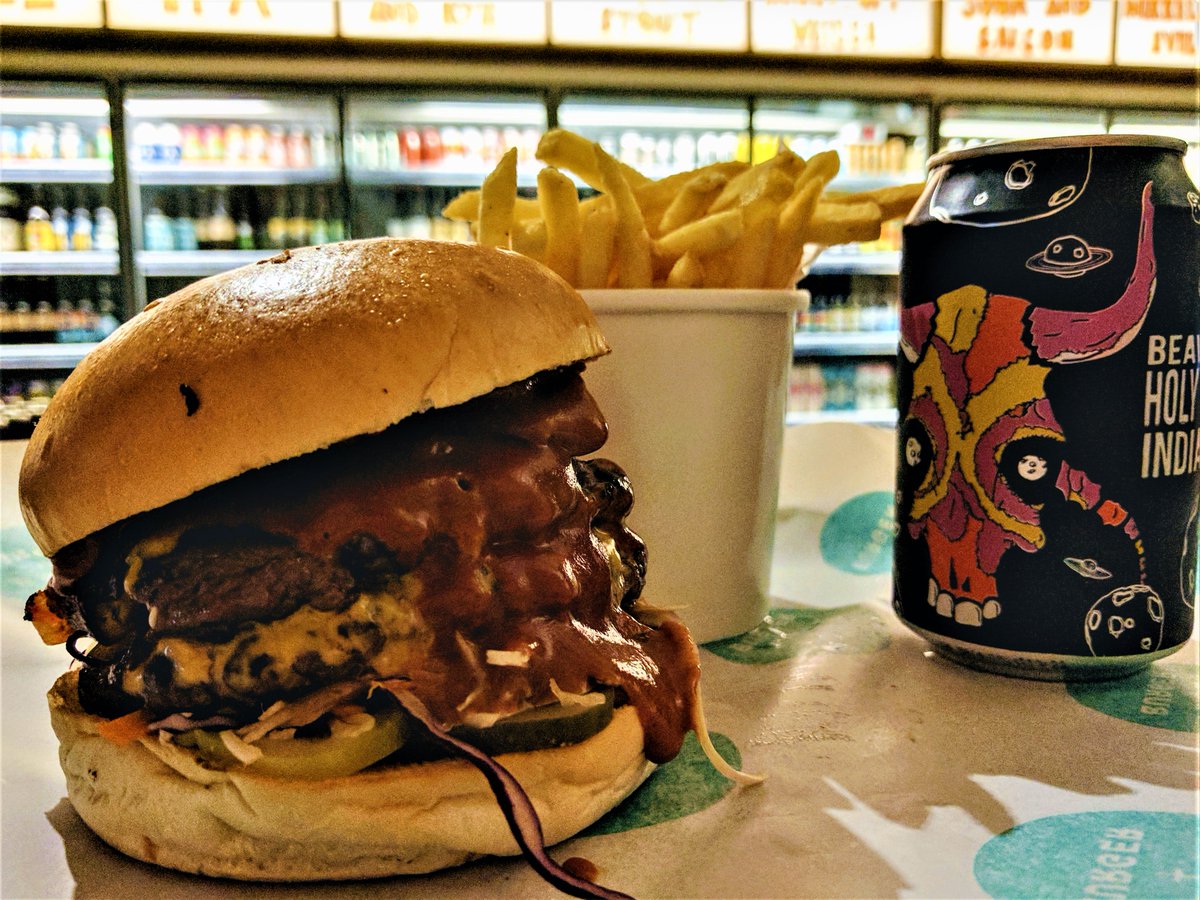 South west
Rosa's Thai Cafe
Rosa's expansion is a good thing for anybody into reliable Thai classics. The different branches - of which there are 10 across London - are branching out from the standards, with occasional regional menus making cameos at different sites. Availability will depend where you're Deliveroo-ing from, but we'd recommend trying at least one of their minced pork and chilli northern Thai dishes if you can find it, or their rich, sticky pork curry simmered with tamarind. From their greatest hits - available across all the branches - the fiery drunken noodles are a favourite.
Deliveroo now from Brick Lane | Deliveroo now from Brixton | Deliveroo now from Chelsea | Deliveroo now from Covent Garden | Deliveroo now from Soho | Deliveroo now from Soho | Deliveroo now from Spitalfields | Deliveroo now from Stratford | Deliveroo now from Upper Street | Deliveroo now from Victoria | Deliveroo now from West Hampstead
12 Hanbury Street, E1 | 48 Dean Street, W1D | 2 Stratford Place, E20 | 246 Fulham Road, SW10 | 6 Theberton Street, N1 | 25 Gillingham Street, SW1V | 36 Atlantic Road, SW9 | 152A West End Lane, NW6 | 26 Earlham Street, WC2H
The Joint
The Joint gets queues outside its Brixton and Tooting market branches for a reason. The burgers are highly coveted, and worth a wait - but thanks to Deliveroo, there's no queuing needed.
Deliveroo can't help with the decision making process, though, which is surprisingly tricky for such a short menu. Bun or wrap? Pulled pork or chicken? BBQ or Asian? And just how many of their excellent side orders (piping hot hush puppies, crunchy fries, deep-fried mac and cheese) can one person legitimately get through themselves?
The meats are both slow-cooked into juicy, falling apart piles. The BBQ version comes with slaw and candied bacon, rich with mapley flavours, but the Asian version's zingy with ginger and chilli. But we can help make one decision simpler for you: bun rather than wrap, every time. It's a sweetish, fluffy brioche (trust us, it works) that soaks in the meaty juices a treat.
Deliveroo now from Brixton
6th Avenue, Brixton Village, SW9
BabaBoom
Bababoom serve up surprisingly healthy dishes from their SW11 charcoal kebab kitchen. Alright, we're not going to claim it's as virtuously low-fat, fibre-rich an option as going for a bowl of steamed pulses. But if you're going to eat healthily in a way that doesn't feel like a punishment, this is a great menu for it. Their delivery dishes include options like saffron and orange chicken shish with red peppers, or rotisserie lamb shoulder with pomegranate onions cradled in flatbreads.
Deliveroo now from Clapham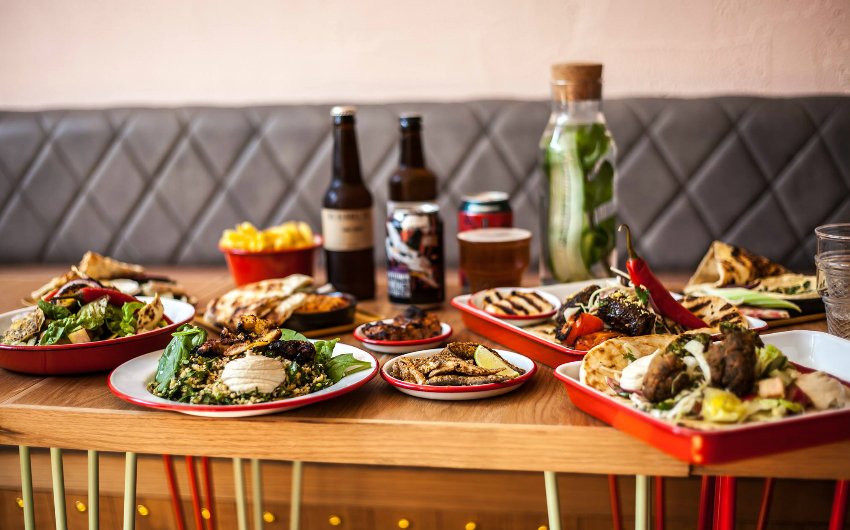 South east
Goddards at Greenwich
When we think of Goddards pie and mash shop in Greenwich, we think of one word: proper. We're talking jellied eels, we're talking liquor (that's a parsley sauce by the way, not an alcoholic bevvy), we're talking mashed-to-high-heaven mushy peas. Heck, there's even apple crumble on the menu. But more than that, it's just downright delicious and a pure hit of nostalgia. The wide selection of pies on offer even extends to vegan options, so no one need miss out on what feels like a a classic, local treat that makes you proud to be a Londoner.
Deliveroo now from Greenwich
Enish Restaurant + Grill
For piping-hot, authentic Nigerian food, Enish never fails to deliver. Get ready to be socked in the face with a whole plate-load of flavour, as is the traditional "Naija" way, with each and every dish generously portioned and welcomely spicy. Their Efo Riro vegetable soup, a popular Yoruba meal, comes with a choice of meats and fishes and arrives a sumptuous, steaming stew - pounded yam on the side perfect for soaking up those leftover sauces. Also make the most of Enish's Moi Moi, a steamed bean pudding accompanied by peppers, onion, egg and mackerel. It's on the starter menu so you can enjoy it alone as a snack, but it's also a great accompaniment to jollof rice, fried rice and plantain.
Deliveroo now from Lewisham
228 Lewisham High Street, SE13
Sticks'n'Sushi
This chain is one of Denmark's finest, and their presence south of the river is something for Greenwich natives to celebrate. Hosting a harmonious marriage of yakitori (aka 'tiny bits of meat on sticks') and sushi, there are some incredible fusion dishes to be had (raw fish and BBQ sauce? Trust us, it works). One of the reasons its fare is so damn good is the fact the chain owns its own rice field in California. The Japanese are (understandably) reticent to export large quantities of its high grade rice, but these guys have their own supply.
Deliveroo now from Greenwich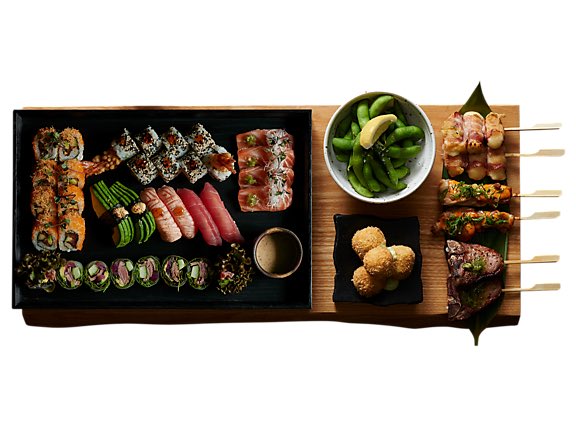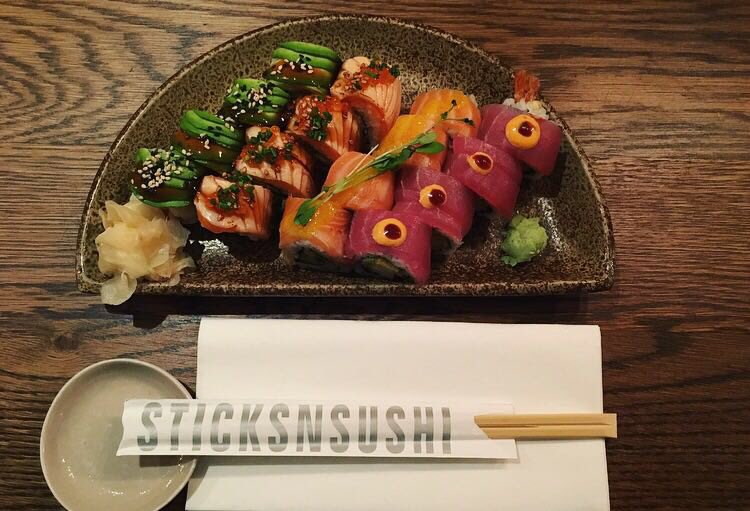 Kitcho
Japanese food fans will find Kitcho's extensive menu a welcome sight, scrolling through temptations like nigiri, sashimi, maki, tempura, donburi, udon, ramen... the list goes on. The crispy duck maki has all the right savoury sweetness to make you go weak at the knees, while the sashimi sets range from traditional tuna and salmon to lesser-found sea urchin and surf clam. It really is the sushi here that steals the show, but if it's a hot dish you're after then the ramen and donburi options are also big crowd-pleasers.
Deliveroo now from Greenwich
South
Cappadocia Restaurant
Hearty portions abound at Cappdocia Turkish restaurant in Kingston, from their charcoal-grilled meats to pizzas topped with sucuklu (spicy sausage), kavurma (diced lamb) and ispanakli (spinach). Any one is sure to hit the spot and leave you with a full stomach, but if you're looking for a meal to really loosen a notch on your belt then opt for the mixed grill: lamb cutlets, diced chicken, diced lamb and lamb kofte accompanied by a somewhat gratuitous green salad. And if you can fit any more in, their poached fig dessert with walnuts and Baileys is the final word in indulgence.
Deliveroo now from Kingston
Addommè
Tucked away next to Streatham Hill station, Addomme is a family-run outfit that takes their pastas, pizzas and puddings seriously. The husband-and-wife team behind it originate from the island of Capri and their Neapolitan pizzas are finger-licking good, generously topped with high-quality ingredients. It hard to go wrong when it comes to the mains with a fantastic array of options. We do have firm favourites when it comes to the other courses though: to start it has to be their crispy, golden courgette and aubergine fritters, still sizzling on your plate. And for dessert? Bomboloni. It's fried pizza dough filled with nutella - 'nuff said.
Deliveroo now from Balham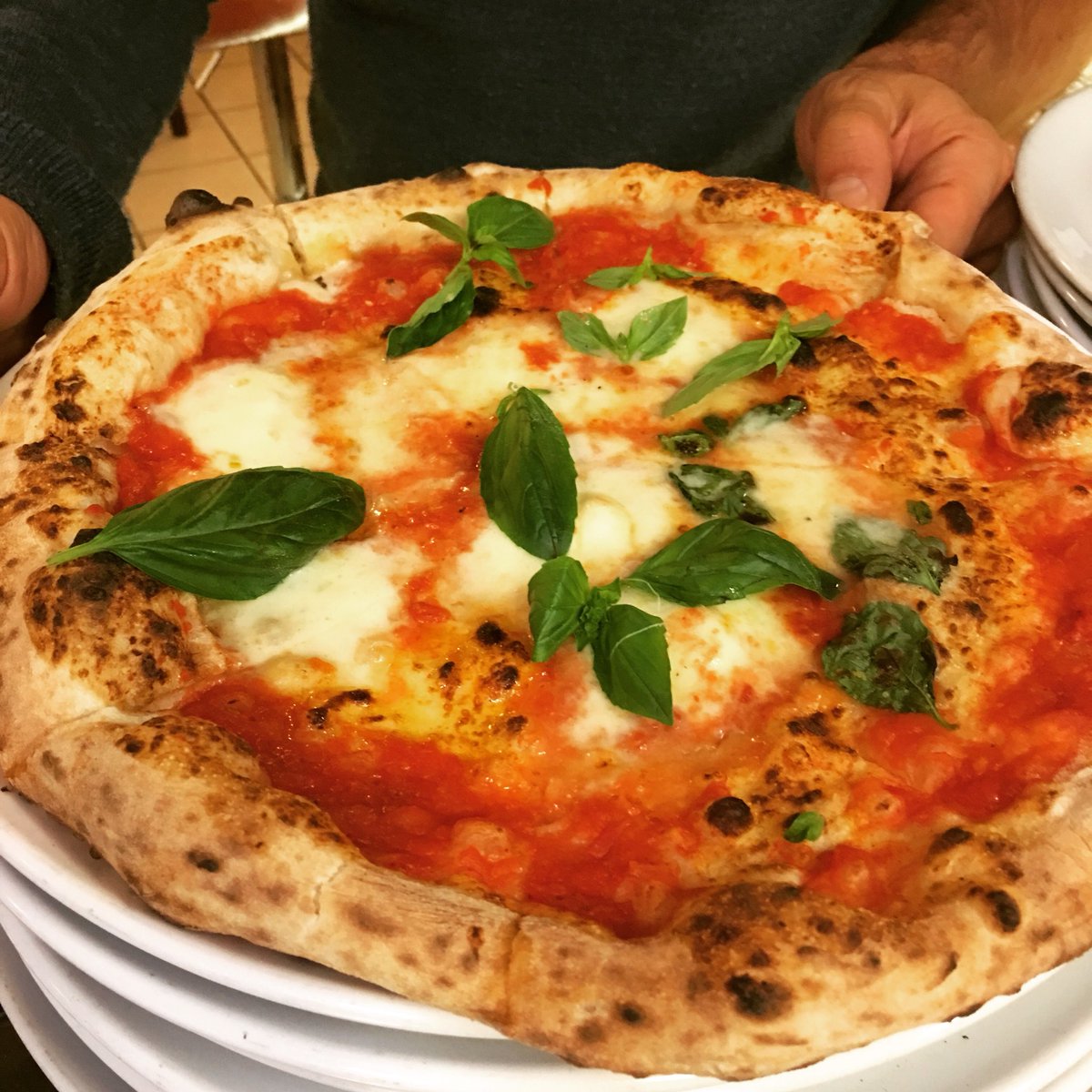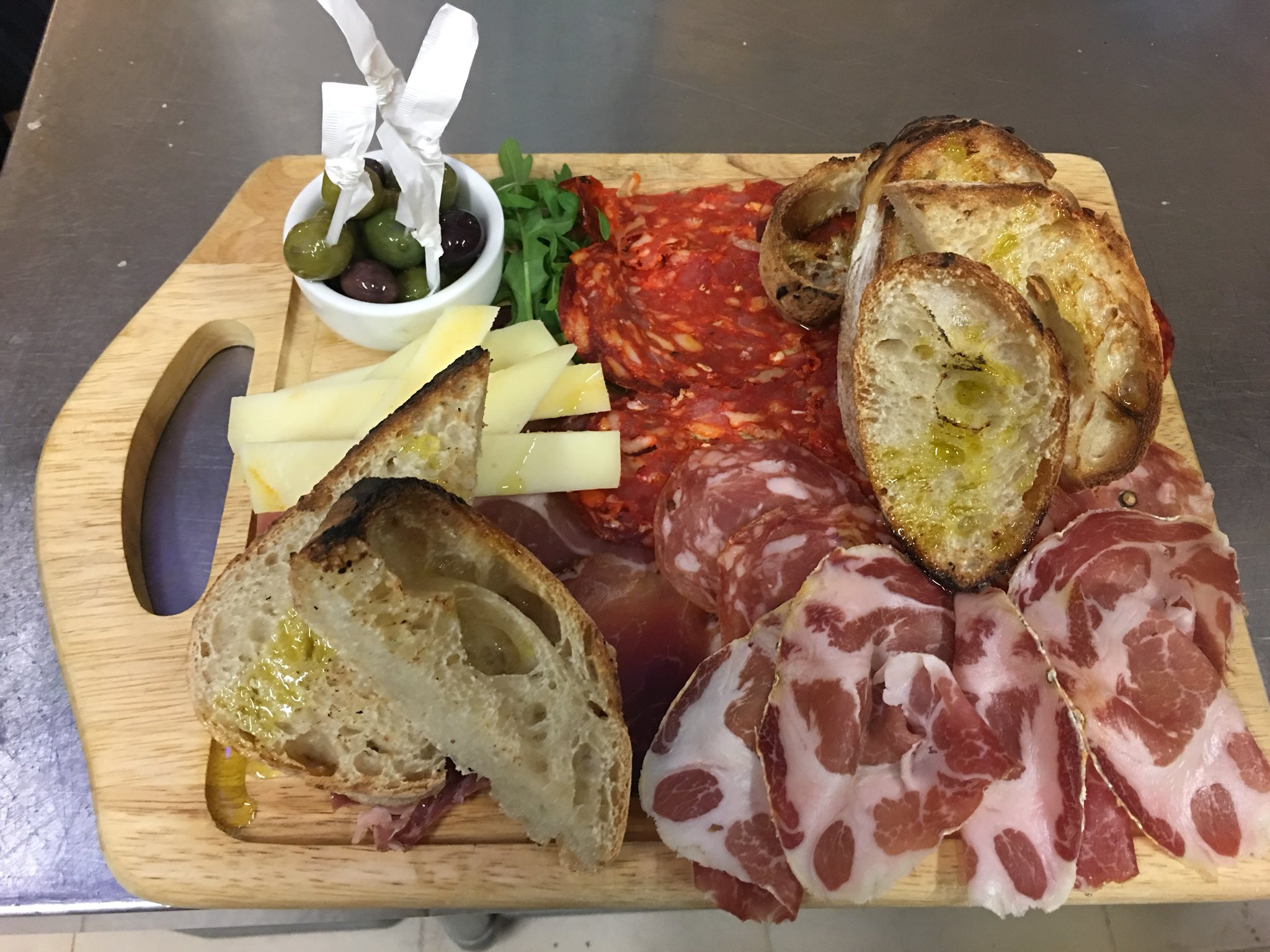 Indigo
Boxpark's second home in Croydon has brought a whole other side to dining options in the south London area. An array of cuisines from around the world can be found in this large covered market, but Indigo's Indian street food comes out top time and time again. Why? Vibrant colours meet vibrant flavours, with menu favourites including butter chicken, paneer tikka wrap and lamb biryani. The Indi-Bento plates are the centrepiece though, coming on a dish resembling a portioned school-dinner tray, but filled with your choice of curry, fluffy rice, bhajis and naan, rather than potato smiley faces. Good vegan and gluten-free options too.
Deliveroo now from Croydon
East
Sichuan Folk
Sichuan cooking is well-known for its sweat-dripping, eye-blurring fieriness - a label Sichuan Folk is clearly happy to retain with such fantastically-named dishes on the menu as 'Chicken in Numbing Sauce' and 'Fragrant and Hot Pig's Trotters'. If your palate has been squandering in a flavour hiatus then this is the place to shock it back into life. The extensive menu is a veritable playground of ingredients and flavours, so just have fun with it and go with whatever first catches your fancy (and trust us, plenty will). You're bound to enjoy the resulting taste sensation.
Deliveroo now from Brick Lane
The Old Baths Cafe
As the name suggests, this welcoming Hackney eatery is based inside a listed building that formerly served as public baths for local residents. It's an exciting find, and even more so when you uncover the delightful Greek food that's on offer within. As a cafe, all-day breakfasts, salads and brunch-esque treats abound the menu, although there is also a small selection of Greek stews, pies and specials to tempt those looking for a heartier meal. The Fava soup, featuring cooked white lentils with turmeric and lemon, is a creamy, warming pleasure and a sheer delight to mop up with the side of freshly-baked sourdough.
Deliveroo now from Hackney Wick
Gunpowder
Proffering superb Indian 'tapas', Gunpowder's small menu is designed for sharing. It's a great place for a meal with friends, but make sure they're good friends, as it's all too easy to turn into a green-eyed monster when you see others polishing off dishes this good. Succulent lamb chops, falling apart at the bone and coated with a masterfully spiced and peppery rub; juicy soft shell crab so full of tender meat and bursting with flavour inside a crisp, light batter; an egg curry that is simple in name, but indulgent in its execution. You don't go here for the portion sizes, you go for the simple, sheer pleasure of eating stunningly flavoured and cooked food.
Deliveroo now from Spitalfields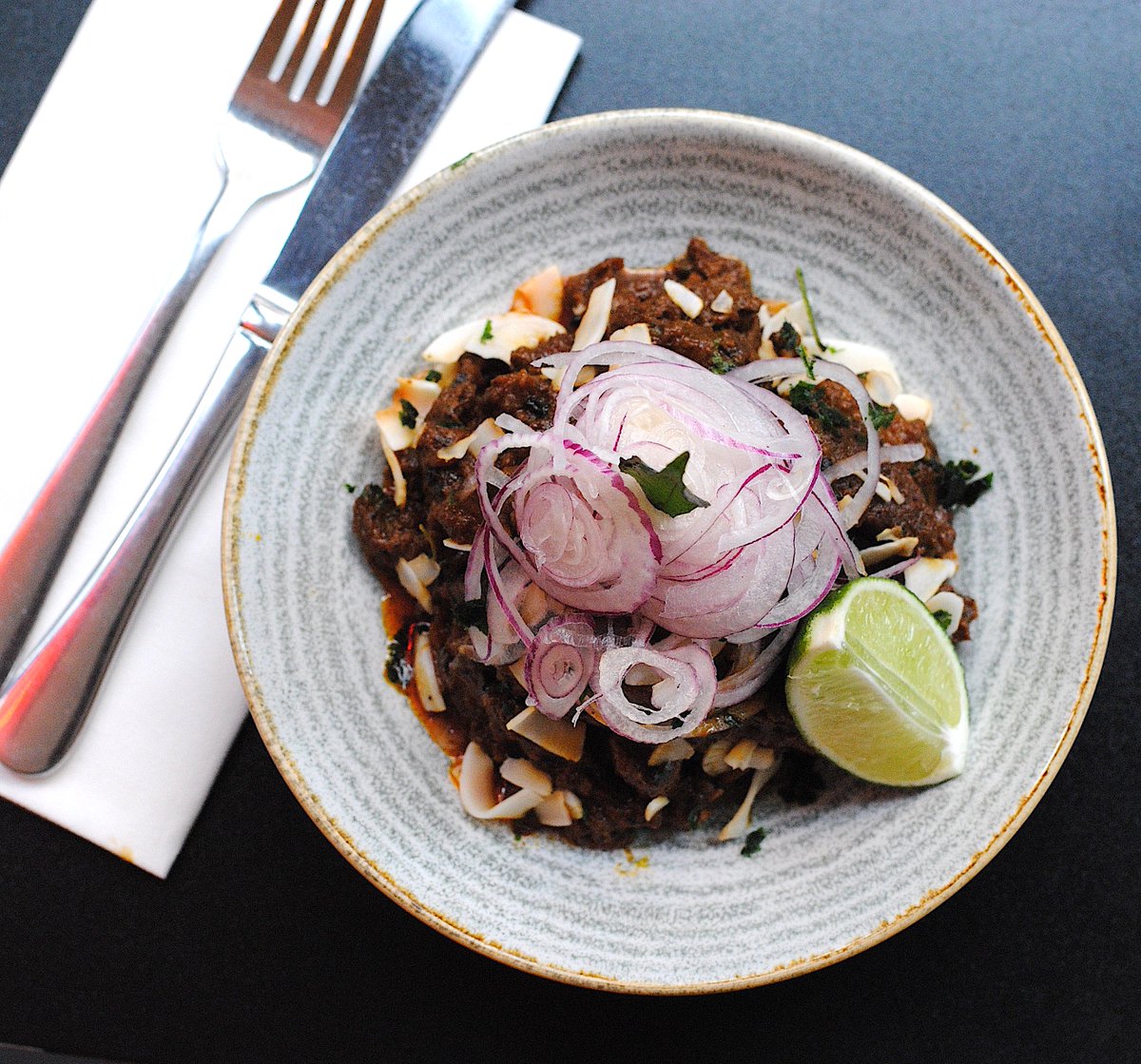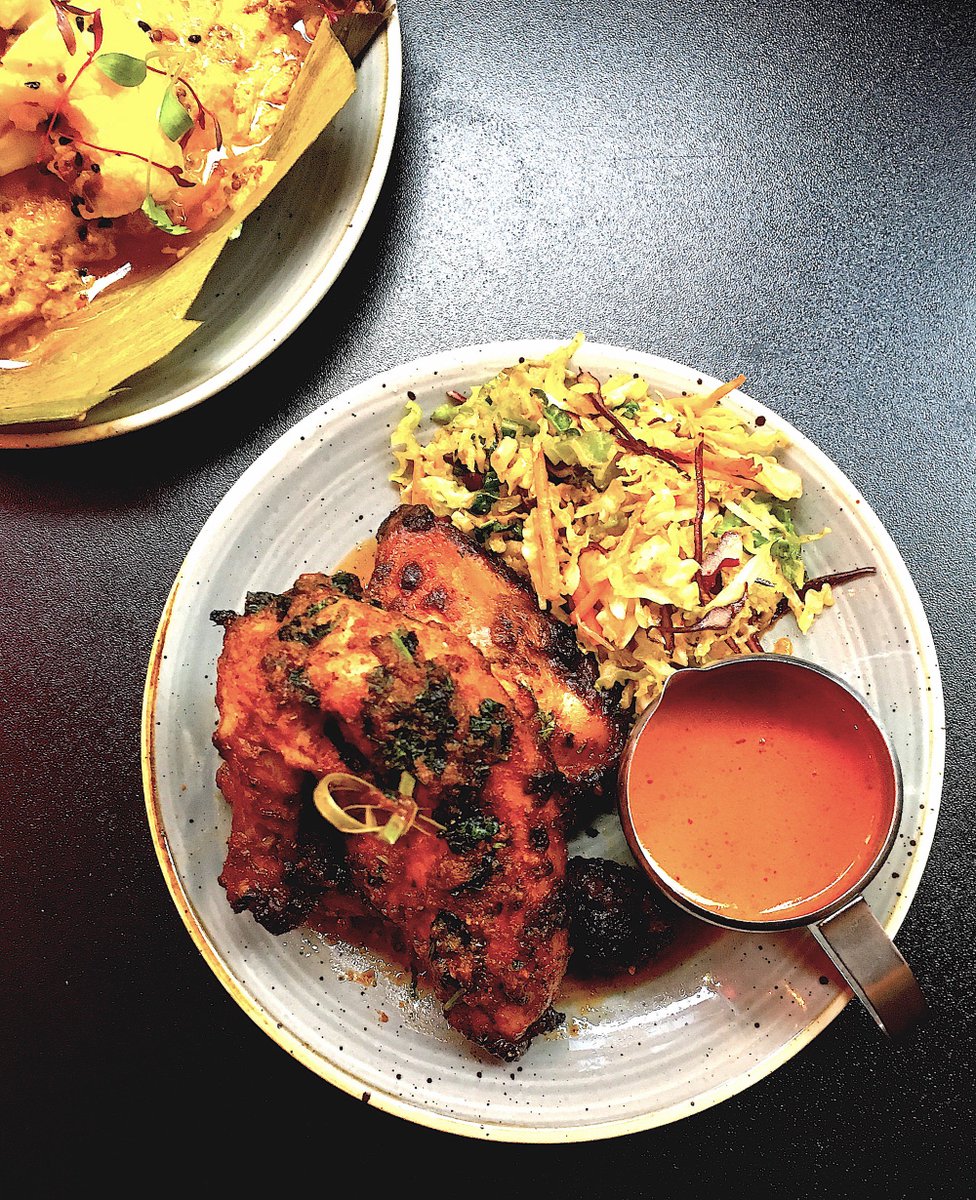 Bento Bab
The snap and succulence of crispy Korean Fried Chicken is the stuff of dreams, and Aldgate's Bento Bab has us drooling all over our pillows on an almost nightly basis. A small takeout space with just a handful of seats, you can get your fill of fluffy steamed buns, mixed rice and veggie bibimbaps, bento boxes packed with goodies and even Korean-style sushi called Kimbab here. But whatever you choose, make sure to at least get a taste of their light and flavourful fried chicken, doused in a sauce of your choice. You won't even mind if there's no space to eat, for the quicker you leave, the quicker you can come back again.
Deliveroo now from Whitechapel
Monty's Deli
Classic, unpretentious Jewish fare in a New York deli setting, Monty's is a firm lunch favourite and sees workers, friends and solo eaters alike pack it out on a daily basis. The age-old question: salt beef or pastrami? Salt beef or pastrami? Heck, opt for both with their Reuben Special sandwich. It's a bang-on mix of meats, slathered in house mustard and topped with swiss cheese, garlic and sauerkraut. Oh, and there's a kicker of a pickle on top to boot. If you're dining solo, grab a seat at the counter to watch them construct the beast in person.
Deliveroo now from Hoxton
West
Lola's Cupcakes
You probably know Lola's as the cupcake kiosks dotted around the capital's tube stations and shopping centres. If the luminously-coloured cupcakes themselves aren't enough to draw you in (and with flavours like Cookies and Cream, Caramel Macademia and Bannoffee - why wouldn't they?) then their ice cream sundaes and cupcake milkshakes are sure to ensnare you. Cupcake milkshakes? Yep, that's a whole cupcake blended into oozy goodness with milk and ice cream. It would be obscene, if it weren't exactly what's been missing from our lives.
Deliveroo now from Hendon | Deliveroo now from Mayfair
16 Lansdowne Row, W1J | Spitalfields Market, E1
On the Bab
Korean street food is the name of the game at On The Bab, where lunchtimes see hungry patrons queuing out the door for a taste of their Korean fried chicken. Punchy flavours abound here, and while it's always a struggle to resist any of their steaming hot bibimbap dishes, Londonist's Lydia Manch is a firm champion of their On The Bun dishes: 'the spicy pork or bulgogi beef are perfectly sticky, the buns they're wrapped in, perfectly soft...'
Deliveroo now from Blackfriars | Deliveroo now from Hoxton | Deliveroo now from Marylebone
39 Marylborne Lane, w1u | 305 Old Street, EC1V | 9 Ludgate Broadway, EC4V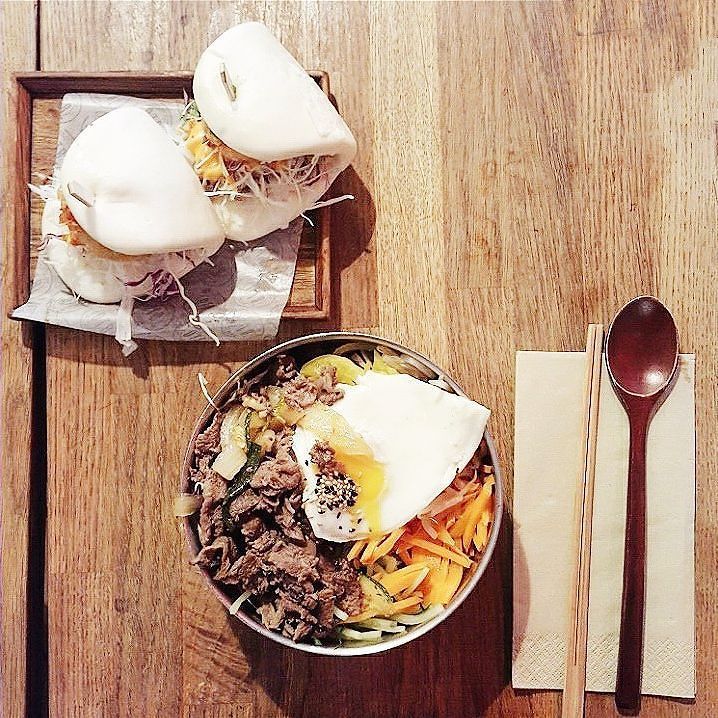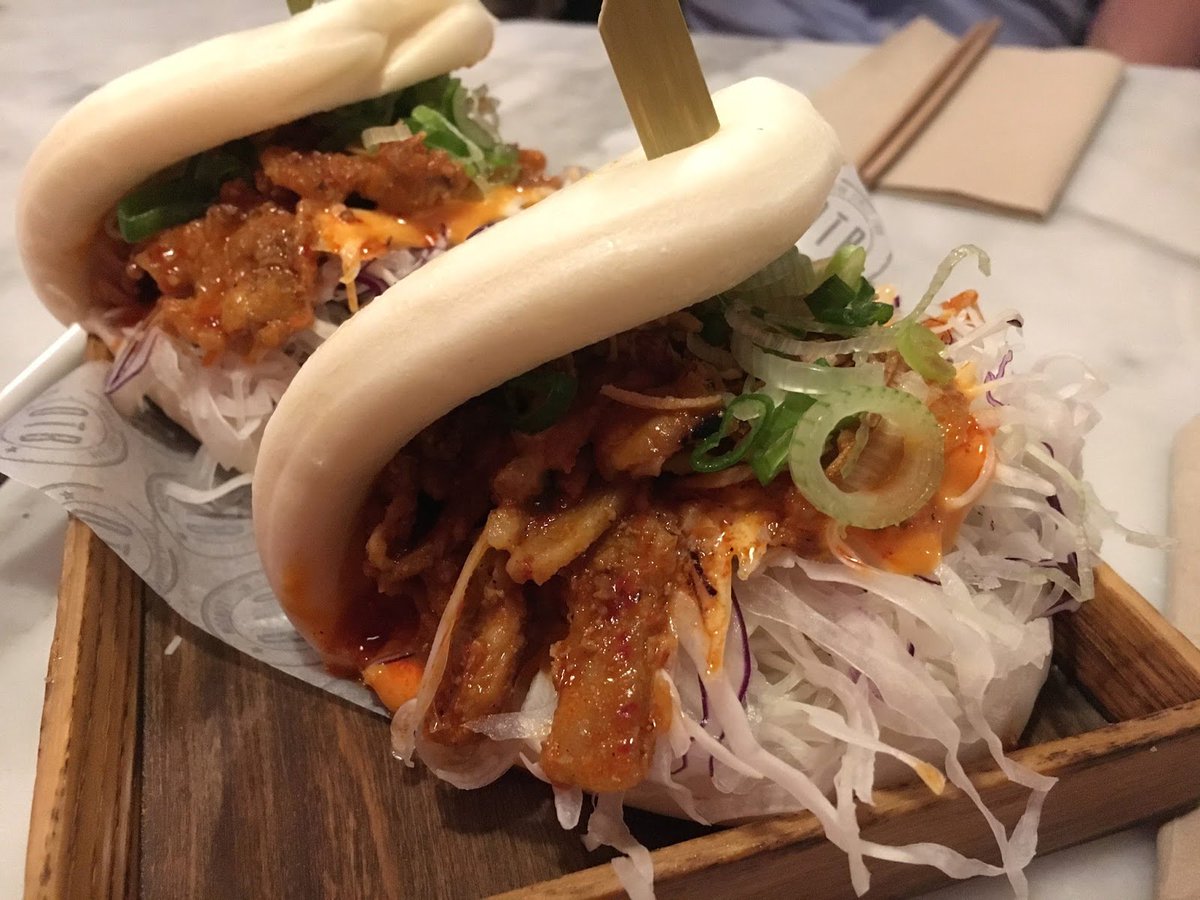 Mr Falafel
A west London institution, our sandwich loyalty to Mr Falafel is unwavering. But don't be fooled into thinking this is just a one-off lunch-time option. A Deluxe Falafel Wrap for lunch one day (packed with hummus, aubergines, crispy cauliflower and tahini - our personal favourite) will soon turn into a Falafel Platter for lunch the next day, and the Falafel and Halloumi Wrap the day after that. For chickpea fans Mr Falafel is an absolute must, and you'll soon join the army of loyal patrons who have been guzzling their goods for years.
Deliveroo now from Shepherd's Bush
T4-T5 New Shepherds Bush Market, W12
Saigon Saigon
With a large menu packed full of vibrant, Vietnamese dishes, ordering from Saigon Saigon is a decision worth taking your time over. Options range from the classics such as simmering pho, packed full of rice noodles, richly-flavoured broth and a selection of meats (opt for the beef brisket - you won't regret it), to more imaginative dishes with clear Chinese and French influences. Londonist's Sejal Sukhadwala urges you to try the "deep-fried battered frog's legs topped with fried garlic and salted French butter", if you're feeling adventurous.
Deliveroo now from Hammersmith
Ceviche
Peru's national seafood dish, ceviche, is a tart, fresh delight that never fails to bring the flavour and cleanse the palate. Consisting of raw fish cured in citrus, this namesake restaurant does the dish justice with a range of iterations. The Don Ceviche is the standout: fresh seabass with amarillo chilli "tiger's milk", red onion and a welcome side of sweet potato crisps. Ceviche is king here, but there are equally Peruvian-proud dishes on offer such as marinated grilled octopus with black lentils and corn cake with feta. The dishes are small and made for sharing tapas-style, which is lucky, because you'll want to devour as much of it as you can in one sitting.
Deliveroo now from Soho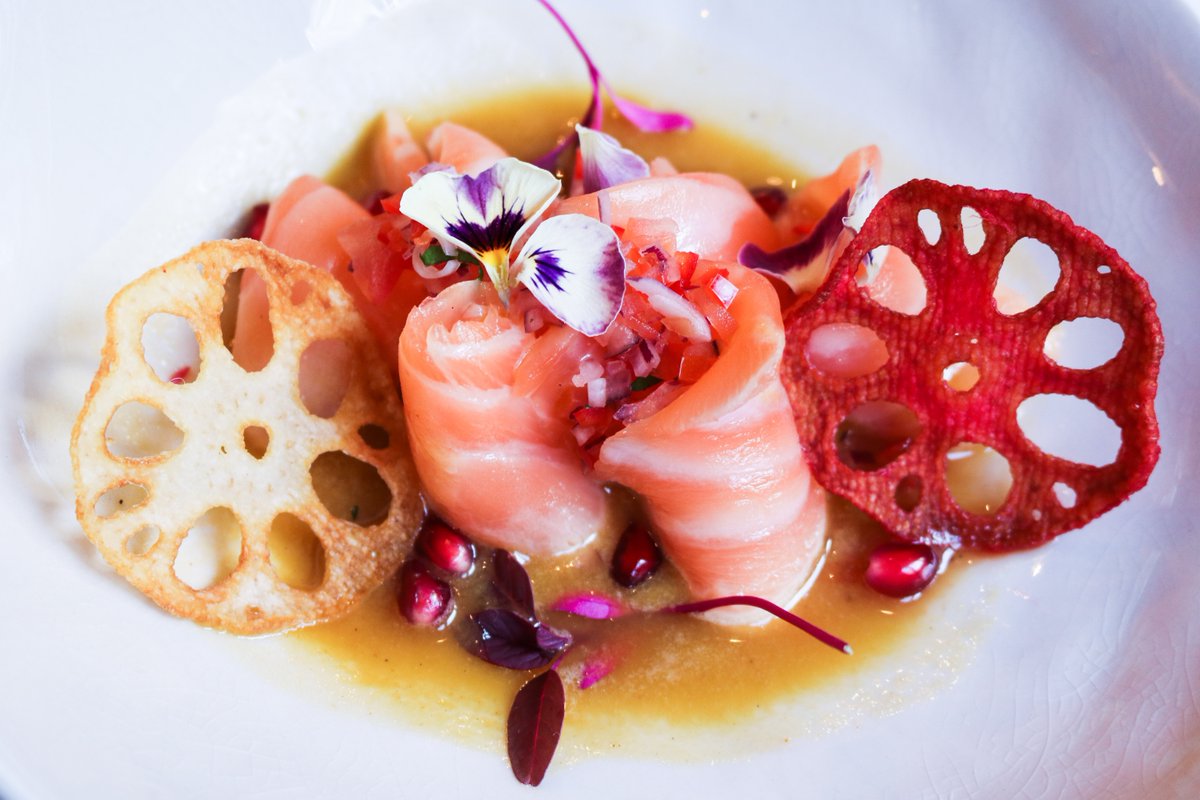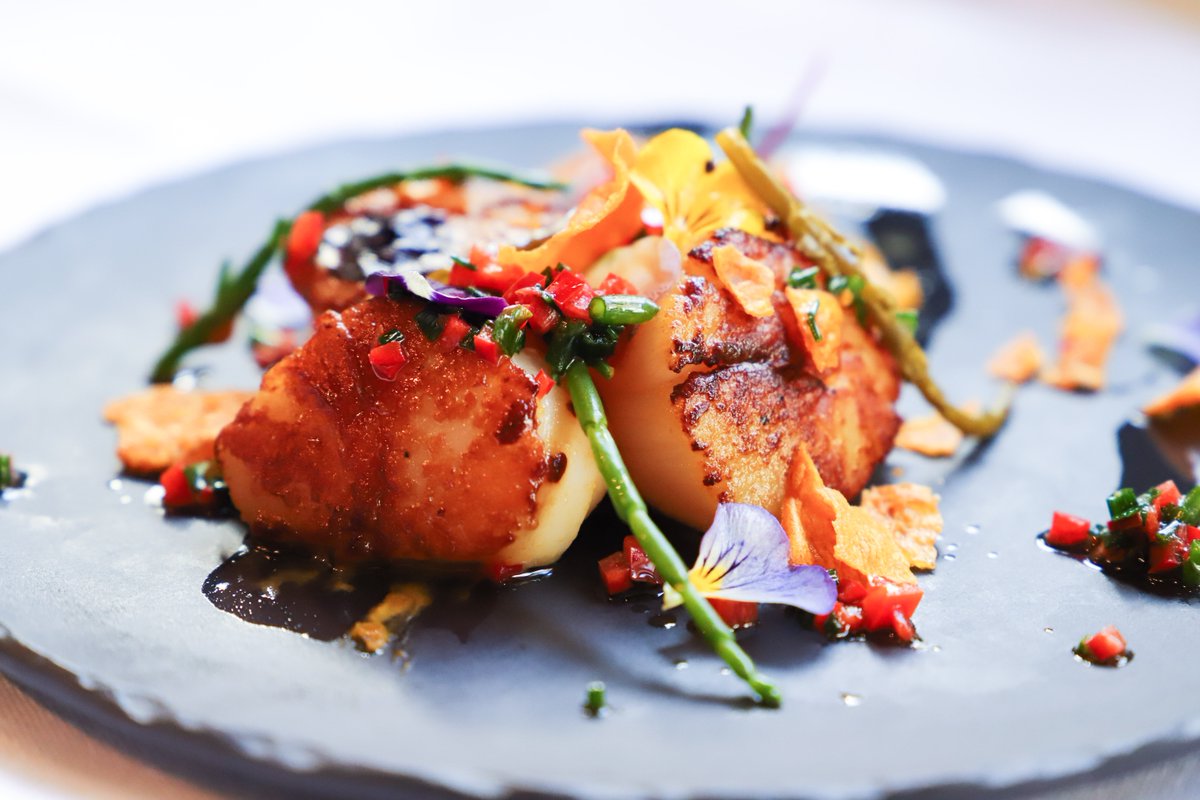 Kova Patisserie
Soho has no shortages of delectable dining delights available for delivery: for ramen there's Bone Daddies, for veggies there's Tibits, for fish and chips there's Poppies. But what to do when your desire for savoury runs out? Introducing: Kova Patisserie.
Describing itself as a 'Japanese Patisserie', Kova has made its name through its distinct aesthetic and mouth-watering flavour combinations. Londonist writer Ruth Hargreaves recommends their signature dish: Mille Crepes. Available in matcha, chocolate, vanilla and coconut flavours, each slice of this layered crepe/custard concoction is so supremely fluffy it just melts in your mouth.
Deliveroo now from Soho