The sports bar might be a thoroughly American tradition, but these days London's got them all: the bars where you can watch sports; the bars where you can watch sports while you play sports... and the bars where you can catch the big games, the niche games and the dirty fouls in a veritable shrine to sports.
Bar Kick
Bar Kick has become a Shoreditch staple since opening on the site of an old shoe shop in 2001. It serves Spanish and Portuguese food and drink, with charcuterie platters, cheese boards and chorizo sandwiches with piquillo peppers washed down with Sagres, Super Bock and Estrella beers. Its many Bonzini football tables provide regular entertainment within walls blazoned with colourful soccer scarves and flags, and there aren't many more enjoyable places to watch live football.
127 Shoreditch High Street, E1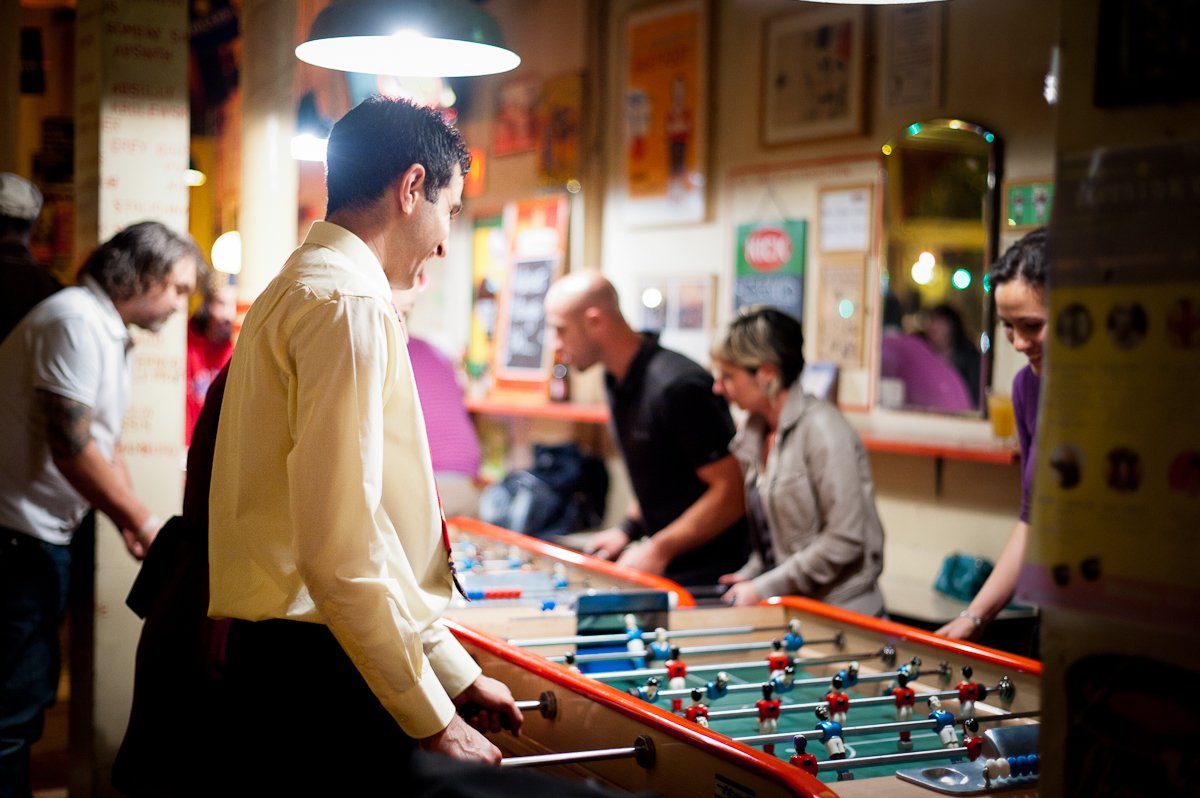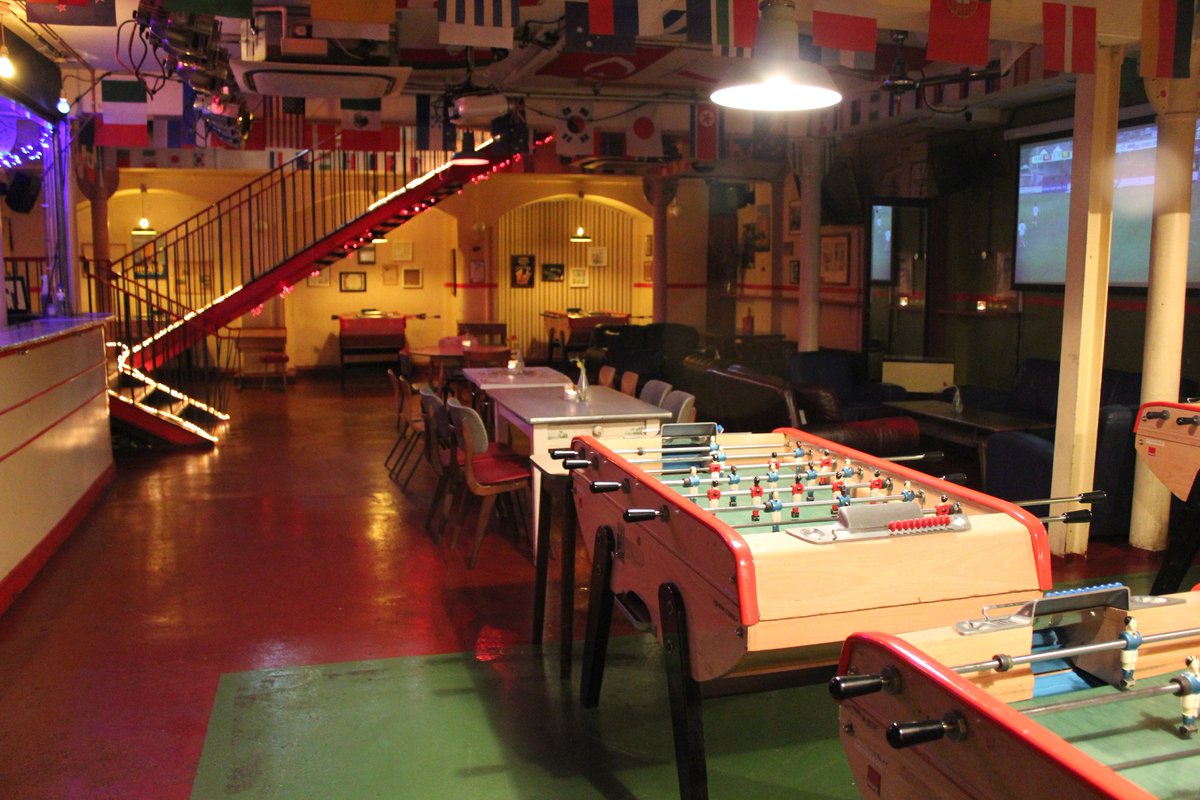 Famous Three Kings
The Famous Three Kings is a pub dedicated to showing live sport, and lots of it. There are three big screens, 13 plasma screens and two 3D TV screens. There are six audio zones. It can show up to 14 different games at the same time. It has access to over 71,000 TV channels covering 25% of the earth's satellite demands. You cannot argue with these stats. Also it serves up pizzas, burgers, sandwiches and sides alongside all that sports, with cocktails, shots and bombs to celebrate or commiserate accordingly.
Sports Bar And Grill
The Sports Bar and Grill has locations in Marylebone, Victoria, Waterloo and Canary Wharf. All follow the same formula. Masses of strategically placed big TV screens showing everything from national and international football tournaments, rugby union & league, golf and boxing to tennis championships, Formula One, and even professional and college American sports. Your usual bar and food options are available. Go there to watch sport, because that's what it's for.
Riley's Sports Bar
Riley's Sports Bar is a sports bar that does exactly what sports bars are supposed to do. Thirty plus screens showing sports from around the world with big, local interest games getting huge coverage? Check. Sports tables for table tennis and pool to keep the punters entertained in the quieter times? Check. Food ideal for snacking on pre-, post- and mid-game? Well, there are burgers, hot dogs, chicken wings, racks of ribs, potato skins, pulled pork wraps and pizzas. So yes, check. A safe bet, but a good one.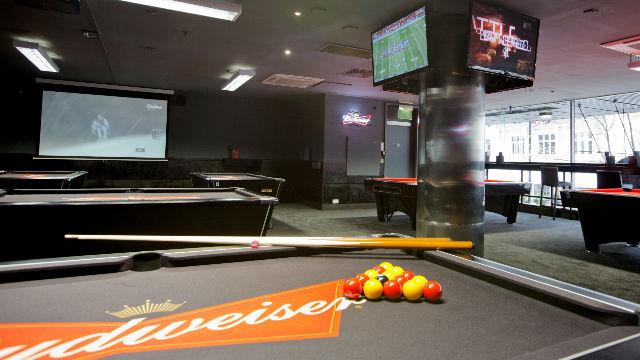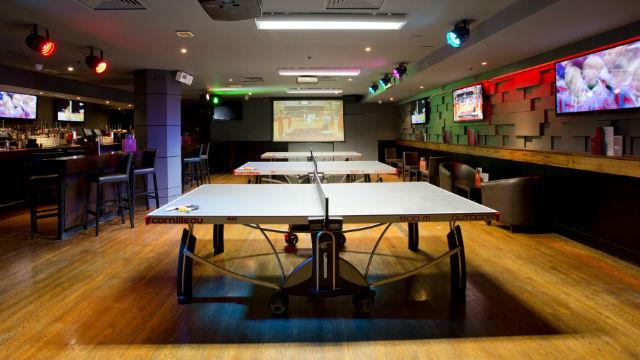 Bad Sports
Bad Sports is, as the name suggests, not your usual sports bar. If you're after big screens and traditional bar snacks you might want to look elsewhere. It serves tacos and quesadillas upstairs and negronis and frozen daquiris downstairs. NBA and NFL games are projected on a wall at one end of the bar, with a reel of cheap shots, big hits, dirty fouls and other 'bad sports' playing on a screen at the opposite end. This bar began as the result of a series of great American sports-themed parties, and it shows.
Greenwood
You can fill a thoroughly satisfying day exploring the sports bar deluxe offering at the Greenwood in Victoria. Stonebaked pizzas and rotating craft beers are served in a beautiful bar under four overhanging copper beer tanks, and the onsite grooming space offers haircuts and brow pluckings. Freshly snipped, you can then head upstairs to a ridiculously well-equipped sports lounge, decked in sumptuous wood and equipped with an American 8-Ball pool table and two shuffleboard tables as well as five screens (two of them "mega") showing sport throughout the day. Then perhaps a quick cocktail before heading out to the theatre. Marvellous.