Things to do today is sponsored by Queen Elizabeth Olympic Park.
What we're reading
Things to do
EXTRA-ORDINARY EXHIBITION: Tread the line between fiction and reality in Somerset House's Terrace Rooms, which have been transformed into the headquarters of The Learned Society of Extra-Ordinary Objects, a fictional society inspired by the real history of Somerset House. This exhibition presents ordinary objects with extra-ordinary stories. Somerset House, free, just turn up, until 3 September
BREAKFAST RAVE: Start the day with one of Morning Gloryville's sober raves. This time they're celebrating the 50th anniversary of 1967's Summer of Love with hundreds of early risers — dance the morning away, recharge at the massage station and refuel with a superfood smoothie. Watch out for the secret headline act too. Ministry of Sound (Elephant & Castle), £18, book ahead, 6.30am-10.30am
GUN SALUTE: As is customary for a State Visit, there will be a Royal Gun Salute of 41 rounds to welcome the King and Queen of Spain to London. Tower of London, free, just turn up, noon
PUB LAUNCH:Unfiltered, unfinned and unadulterated: all the beer at this new bar is sustainably produced, sold and consumed under one roof. They'll even be serving 6% cookie beer — now there's one we've not seen before. Long Arm Pub (Shoreditch), free, just turn up,6pm-11pm
MELTING POT: Soho has long been a magnet to foreigners. This walk celebrates 350 years of immigration to this melting pot of culture, starting in Soho Square and ending up in an iconic drinking venue, naturally. Tottenham Court Road station, £10/£7, book ahead,6.30pm-8.15pm
SCAVENGER HUNT: Battle against the clock with your knowledge of the natural world in this two-hour scavenger hunt around Hyde Park. Teams of up to four people are welcome — choose your teammates wisely, or if you feel like your mates will just hold you back, compete solo against them. Hyde Park, £20 per team, book ahead, 6.30pm-8.30pm
PLOT TWIST: If you usually stay for pudding, you might think twice next time as Dessert hits the stage with a lavish dinner party that suddenly takes a sinister and alarming turn. Southwark Playhouse, £20/£16/£12, book ahead, 7.30pm (until 5 August)
PURELY COMICAL: If a night of free standup comedy in a cozy pub sounds just the ticket for a Wednesday evening, then head over to Sir John Balcombe in Marylebone for a selection of some of the best up and coming comedians on the London comedy circuit, including Ashley Gorman. Sir John Balcombe, free, just turn up, 7pm-8pm
GREEN FINGERED: Find out all about the ins and outs of exotic plants and flowers, terrariums, succulents and other fabulous foliage before putting pencil to paper for some wild life drawing. All drawing materials are supplied, including paper and drawing boards. 10 Cable St, £25, book ahead, 7pm-9pm
---
Sponsor message
Get ready to feel inspired: Liberty Festival is the ultimate day out
On 15 July, Liberty Festival will celebrate the talent of deaf and disabled arts and sports stars at Queen Elizabeth Olympic Park. Check out Finnish deaf rapper Signmark, and watch in amazement as Deaf Man Dancing perform fusion style moves with added sign language.
Give wheelchair basketball a go, or see if you've got what it takes to master the art of sitting volleyball. Running alongside this free, one-day festival, the World Para Athletics Championships will be taking place at the London Stadium — worth a watch if you want to be thoroughly inspired. Find out what's happening on the day here.
---
Art review: pure escapism
Take your perfect postcard image and make it better — more colour and more definition so that it becomes hyper-real. That's how we'd describe the beautiful paintings by Will Martyr. We wish we could step right into them. Will Martyr: Wanderlust at The Unit London, 147 Wardour Street, W1F 8WD, free. Until 27 July ★★★★☆ Tabish Khan
Food review: funfair cocktails and fiery meze
By the time you've reached Firedog's bar — flanked by an onslaught of TOTP neon and He-Man style illustrations — you'll be needing something stiff. You've come to the right place; the Lamb's Floss (hibiscus gin, sour cherry compote and pomegranate syrup, festooned with rose petal candy floss and a slab of turkish delight) placates the most flamboyant drinker; the Skell Bent is less funfair attraction, but still insists on making you slurp up apple sherbet through a rice paper note (like it or not, you're having fun tonight). Bring on the meze! we cry — and Firedog ramps up this culinary party to the next level. Meaty octopus legs, writhe (not literally, thankfully) in smoked corn puree, and as for those chilli glazed charcoal prawns — if they came with a side of rice, we'd probably award them Best Seafood Curry This Side of the Arabian Sea. And then the mains crash in, slightly harshing our vibe. OK, the charred lamb cutlets, and braised ox cheeks are sticky and smokey in all the right places. But £18 and £16 respectively... sans sides? Too rich for our blood/bank account. Do your wallet a favour and stick to the meze plates. Firedog, 92 Newman Street, Fitzrovia, W1T 3EZ ★★★★☆ Will Noble
Good cause for the day: SHE choir
Spend the evening listen to some of your favourite pop, R&B and indie hits in three-part harmony with all-female choir SHE Choir London. From Destiny's Child to Britney Spears, Summer Sounds is a treat for the ears, and all profits from the event will go to Body and Soul, an Islington-based charity supporting people of all ages who have experienced significant childhood adversity. Islington Assembly Hall,  £8/£5, 12 July, 7pm
Fun things to do with our friends and sponsor Funzing...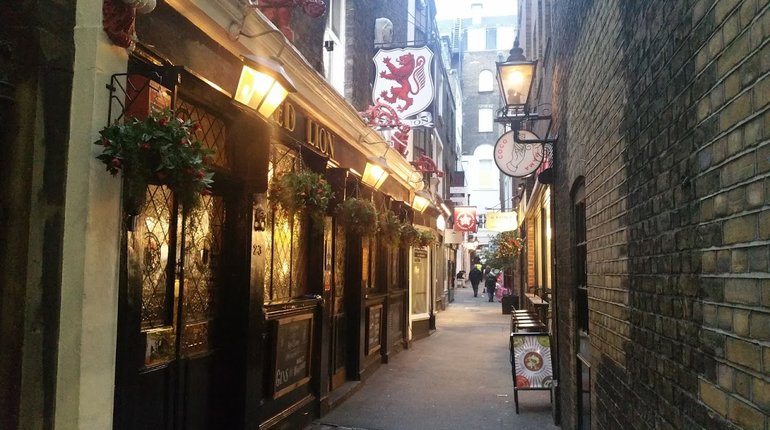 London is a city of incredible transformation. With structural remains that date back to ancient history still in existence, this unique walking tour takes in Lost London in all its former glory. From the Titanic booking office to the graveyards of man's best friend, you'll discover the weird and wonderful places that used to exist in the capital but are now only committed to memory. Using old photographs, newspaper cuttings and stories from the past, you'll be amazed at what has largely been written out of our history books... Get tickets
Take to the waters and glide about in this beginner paddleboarding session. By the end of it, you'll be standing up and paddling solo, and there's plenty of help on hand to improve your technique. Change of clothes required. Get tickets
Cross gas lit alleyways and stroll by ancient pubs as you discover forgotten parts of London. See the world's smallest police station and visit London's most superstitious hotel on a walking tour covering everything weird, wonderful and London. £12 Get tickets
The afterlife is an intriguing subject, but how close to ghosts do we truly want to get? For those with a fascination of all things spooky, test your limits with The Westminster Ghost Walk. You'll explore this deeply historic and fascinating area of London and hear tales of ghosts, poltergeists and body snatchers along the way. Your experienced guide will lead you through dark alleyways, haunted buildings and human burial grounds - sharing the chilling secrets London has long been hiding in its past. Get tickets