What we're reading
Things to do:
MOVING HEARTS: Nothing gets the blood pumping like moulding a human heart out of clay. The aim is to make 1000 of the hearts by 24 March, when they'll be paraded in a procession to their new home in an installation at the Migration Museum. No arty experience necessary to get stuck in and make one at these workshops. Free, book ahead, 10am-12.30pm at London South Bank University, or 7pm-9.30pm at the Migration Museum, Lambeth (plus other dates in other venues).
TRAMWAYS POSTERS: We've all seen those gorgeous old-fashioned tube posters, but did you know that similar ones were made for tramways in the 1920s? London Zoo, museums, galleries and football grounds are just some of the venues that appeared on the adverts, which are on display today. London Metropolitan Archives (Clerkenwell), free, just turn up, 11am-3.30pm
LUNCHTIME CONCERT: Inject some culture into your lunch hour by heading to this concert, given by some of the college's advanced piano students. Morley College (Lambeth), free, just turn up, 1.05pm-1.55pm
WILLESDEN LANE: As part of Jewish Book Week, hear the story of how one woman escaped Austria on the Kindertransport and ended up living in London. Author Mona Golabek wrote The Children of Willesden Lane based on her mother's own experiences. JW3 (North Finchley), £8, book ahead, 2.30pm
NATIONALIST PARTIES: The Scottish National Party and Plaid Cymru are currently two of the biggest nationalist parties, fighting for devolution of power — but how did this rise of nationalist parties happen? This Gresham College lecture digs into the issue. Museum of London, free, just turn up, 6pm-7pm
CONSERVATION AREAS: Care about conservation? Two representatives from Historic England will be talking about Conservation Areas in London, how they've fared over the past 50 years, and how they're affected by changing policy. Talk followed by a chance for questions and discussions. The Gallery (Farringdon), free (donations welcome), just turn up, 6.30pm-8.45pm
FORGOTTEN WOMEN: Women in science is the theme of this International Women's Day event, and who better to hear from than Roma Agrawal — structural engineer of The Shard — and science journalist and author Angela Saini. They're chatting with author of the Forgotten Women series, Zing Tsjeng, about historical and current experiences of women in science. Waterstones Gower Street, £6-£18, book ahead, 6.30pm
WHO SPEAKS FOR MUSLIMS?: In the media, on social media and in every day life, Muslims are being presented in a negative light, Islam becoming almost synonymous with terrorism. Head to this talk to hear the results of academic research into the #StopIslam Twitter campaign — the results could be surprising. British Academy, free, book ahead, 6.30pm-7.45pm
CARMEN LIVE: Can't make it to the Royal Opera House for this rendition of Bizet's ever-popular opera, Carmen? Not to worry, it's being screened live from Covent Garden to cinemas all over London tonight. £21, book ahead, 6.45pm
GENDER IN ARCHITECTURE:  Architecture is taking on International Women's Day in the form of this evening about how gender diversity can be improved in the field of architecture. Presentations and workshops will be led by representatives from architecture firms which are already leading the way when it comes to women in architecture. RIBA (Portland Place), £9.50, book ahead, 7pm-8.30pm
HEADS AND BODIES: The only thing better than reliving a childhood game is doing so powered by booze. We can only imagine the sorts of creations that'll come out of this game of heads and bodies (y'know... draw a head, fold the paper over, the next person draws the torso, and so on). Queen of Hoxton, free entry, just turn up, 7pm
SELF AND SELFIE: The 'selfie generation' is often written of as vain and self-absorbed, but could this narcissism be the key to success and happiness? Or is it damaging to self esteem and causing misery? Head along to this event to get in on the debate. The Store (Strand), £20, book ahead, 7.30pm
COMEDY: Impressionist and beatboxer Stefano Paolini and comedian Carl Donnelly are the acts trying out new material on the Clapham Comedy Club audience tonight. The Bread & Roses (Clapham Common), £6, book ahead, 7.30pm
Good cause of the day
5k or 10k are your options for the British Heart Foundation fundraising run round the Queen Elizabeth Olympic Park. Sign up today to give yourself nearly two weeks to get in tip-top form. £20, book ahead, 18 March
Fun things to do with our friends and sponsor Funzing...
London is a city of incredible transformation. With structural remains that date back to ancient history still in existence, this unique walking tour takes in Lost London in all its former glory. From the Titanic booking office to the graveyards of man's best friend, you'll discover the weird and wonderful places that used to exist in the capital but are now only committed to memory. Using old photographs, newspaper cuttings and stories from the past, you'll be amazed at what has largely been written out of our history books... Get tickets
Whether you're a pre-grated cheddar sprinkler or mimolette fan, this cheesy walking tour will delight your senses. Starting off at a cheese counter in Mayfair that has been serving for more than 300 years, you'll tour the city's best dairy delights - including Fortnum & Mason, where the royals get their fix. Get tickets
Take to the waters and glide about in this beginner paddleboarding session. By the end of it, you'll be standing up and paddling solo, and there's plenty of help on hand to improve your technique. Change of clothes required. Get tickets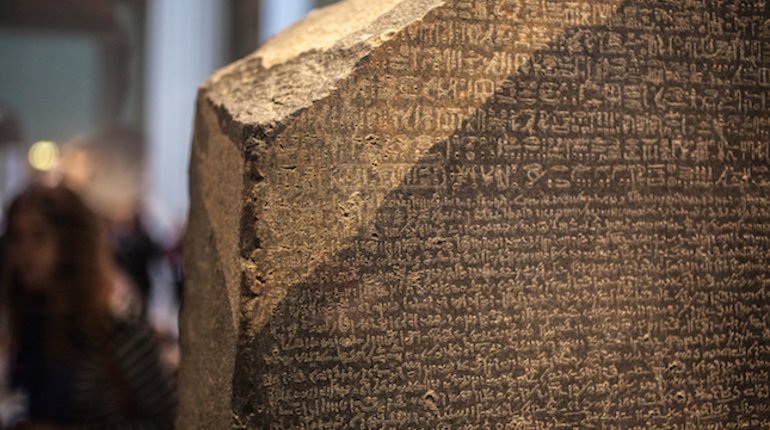 Track the journey of humanity through this tour around the British Museum. The tour aims to help you understand why the world is the way it is, and show how humans learned to question absolutely everything. Get tickets