Today's Things To Do is sponsored by TicketSwap.
What we're reading
Things to do
ROBIN INCE VARIETY NIGHT: Robin Ince's Christmas variety night: Nine Lessons and Carols for Godless People is back and we're excited. Expect familiar faces Josie Long, Jim Al-Khalili, Helen Czerski and Grace Petrie, plus new acts for four nights of science, comedy, and music. Conway Hall, £26.50, book ahead, 7pm-10.30pm, until 22 December
NIGHT LIGHT: Teater Refleksion and Andy Manley are known for their enchanting and poetic performances and we reckon children (suitable for ages 3-6) will be mesmerised by this magical theatrical journey through the night. Southbank Centre, £14/£7+bf child, book ahead, 19-31 December
ART FOR LOVE FINALE: Saxophonist Aaron Liddard and his band The Argonauts, an international collective of musicians, play their funky fusion of jazz, gospel and alt-rock for the grand finale of this free festive arts festival. Devonshire Square, free, just turn up, 6pm-7pm
WATERLOO CHRISTMAS CAROLS: Gather around a vintage open-top bus to have a jolly good sing-a-long with a brass ensemble backdrop. If the festive spirit is alive anywhere in London tonight, it's here. Lower Marsh, free, just turn up, 6pm-8pm
RUSSELL BRAND: Due to popular demand, you can catch the eccentric comedian and new dad Russell Brand performing his show Re:Birth tonight. According to the Telegraph, Brand has "matured and mellowed", so take that haters. O2 Academy Brixton, £32.20, book ahead, 6.30pm
UNICEF CAROL CONCERT: Clapham sweetheart and pop star Jessie Ware is performing under the beautiful dome of St Paul's tonight alongside readings from Muzoon Almellehan, Martin Bell OBE, Andrew O'Hagan and others. All proceeds from this carol concert go towards Unicef UK and its work helping the children of Syria. St. Paul's Cathedral, £35-65, book ahead, 7pm-8.15pm
VERNACULAR: A YULETIDE CELEBRATION: Christmas isn't always about mince pies and mistle toe. Learn about Christmas traditions from around the world through song, plus storytelling and folklore from Cunning Folk. The Old Church (Stoke Newington Church), £11.05, book ahead, 7.30pm-10.30pm
LIVE MUSIC: Hear a lovely acoustic set from the softly spoken James Yorkston preceded by a set from the brilliantly loud Salena Godden, (who we reviewed here). The Moth club, £16.31, book ahead, 8pm-11pm
THAMES CLIPPER RIVER LATE: The best mince pies in life are free. Soak up the sparkling city lights on a Thames Clipper, while munching this festive treat and being serenaded by Transport for London accredited buskers. Embankment Pier, £6, book ahead, 9.30pm, until 20 December
LYRICAL LOCKOFF: Want to listen to the most "significant musical development within the UK for decades"? Then get down to this late night shindig featuring legendary grime DJ Logan Sama, with high energy MC's YGG and Capo Lee on the mic.Brixton Jamm, £8, book ahead, 10pm-4am
---
Sponsored message
Want to win £80 worth of tickets to a show of your choice?
Get your Christmas off to a fantastic start by winning £80 of credit for tickets to a @ticketswap event of your choice, including concerts, festivals, sport events, theatre and comedy shows. To be in with a chance of winning, follow @ticketswap, like this post and tag the friend you'd take with you. Competition closes 20 December
---
Good cause of the day: Scoff doughnuts for charity? Yes please
Australian import Doughnut Time is embracing the season of giving at its new Shoreditch branch with some deep-fried deliciousness. Order a Stout Out to Shoreditch doughnut — the one topped with Stout-flavoured chocolate cake pieces, gold dusted mocha beans and a coffee glaze drizzle — and the shop will donate £1 from your purchase to east London charity Step Forward, who support young people living in Tower Hamlets in the fight against poverty. Sweet stuff! Doughnut Time, just turn up, until 31 December
Fun things to do with our friends and sponsor Funzing...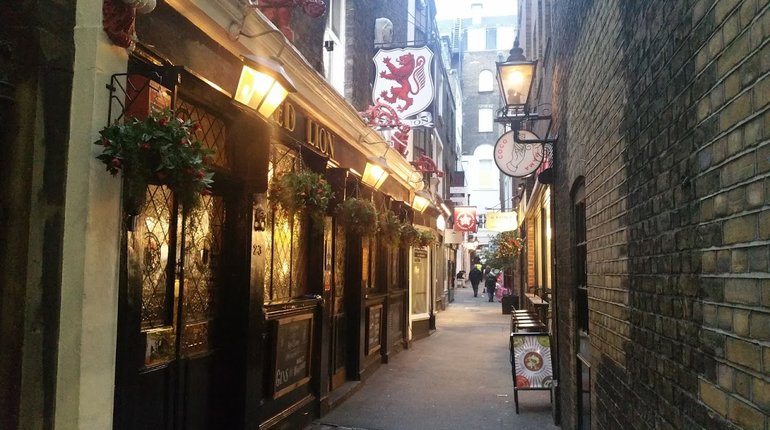 London is a city of incredible transformation. With structural remains that date back to ancient history still in existence, this unique walking tour takes in Lost London in all its former glory. From the Titanic booking office to the graveyards of man's best friend, you'll discover the weird and wonderful places that used to exist in the capital but are now only committed to memory. Using old photographs, newspaper cuttings and stories from the past, you'll be amazed at what has largely been written out of our history books... Get tickets
Take to the waters and glide about in this beginner paddleboarding session. By the end of it, you'll be standing up and paddling solo, and there's plenty of help on hand to improve your technique. Change of clothes required. Get tickets
Tales of torture and plagues await you on a historical walk around London -- see bombed out ruins, discover Medieval markets and even visit a Roman ampitheatre. £12 Get tickets
We love London. It's pretty odd though, isn't it? Our city is a treasure trove of weird goings on, so why not delve a little deeper? Join your tour guide and explore a different side to London, full of things you won't see on the tourist trail - from magnificent old churches, to monuments, architecture to pubs... this one won't disappoint. Get tickets