Things to do this weekend is sponsored by Alexandra Palace.
All weekend
INDONESIAN FESTIVAL: A vibrant, colourful celebration of the food, culture, fashion, music and tourism of Indonesia rocks up in central London. There's even a beach created from 50 tonnes of white sand, to transport you across the world. Potters Fields Park (Southwark), free, just turn up, 22-23 July
FLAG MAKING: Create flags to foster togetherness during these times of separation and uncertainty. Using drawing, materials, colour, text and symbols, you can create your own large scale banners celebrating diverse cultures. Serpentine Gallery, free, just turn up, 22-23 July
COUNTRY STARS: Nashville lands at Canary Wharf for a weekend music festival to warm the hearts of any country music fan. This year's lineup includes US-based acts Russell Dickerson, Lucie Silvas, Ashley Campbell, Sam Outlaw, Angaleena Presley, and Jo Smith, along with UK-based acts. Canada Square Park, free, just turn up, 22-23 July
COLOURFUL MAZE: Artist Camille Walala has used her signature colourful, patterned designs to create a psychedelic maze that sounds part puzzle, part fun house, part Alice in Wonderland rabbit hole. Solve clues, look at things from different angles, and embrace the fun of playing. NOW Gallery (Greenwich Peninsula), free, just turn up, until 23 September
Saturday 22 July
BOAT PARTY: Immerse yourself in 1960s flower power spirit, and turn back time to the epicentre of the hippie movement. The double decker Pride of London cruises down the Thames while DJs spin your favourite tunes. Departing from Festival Pier (South Bank), £20, book ahead, 4pm-8pm
SWEATLIFE: Lululemon hosts a one day wellness event, including fitness classes, yoga experiences, personal development workshops and sessions with wellness partners. With so much going on, you're sure to work up a sweat. Tobacco Dock, £30, book ahead, 9am-9pm
DRAW N' TOUR: Uncover 900 years of Southwark Cathedral's architecture, while sketching the beautiful spaces in this glorious place of worship. Your guide will share stories behind the architecture as you cover six stops in the cathedral. Southwark Cathedral, £7, book ahead, 10.30am-11.30am
TOTALLY WILD: A variety of free, family activities are on offer at the beautiful Camley Street Natural Park near King's Cross. From pond dipping to bug hunting and nature crafts to games and songs, there's something to keep every little adventurer occupied. Camley Street Natural Park (King's Cross), free, just turn up, 10.30am-1pm and 2pm-4.30pm
TALES FROM THE SHED: An afternoon of really silly, colourful and fun interactive theatre shows, just for young children. Great to keep the little ones occupied. Alexandra Palace, free, just turn up, 11am-6pm
ALL'S FAIR: Love music? Love markets? Camberwell Fair is celebrating diverse people, culture and community in the local area with two quality music stages, 40 market stalls, food, bars and games. Camberwell Green, free entry, just turn up, midday-9pm
STREET CYCLING: Watch this exciting racing format that challenges competitors over a short, technical cycle race circuit, riding brakeless, fixed-gear cycles traditionally used on a velodrome. Get down early to grab a free Rockstar Games cowbell so you can be that person who makes all the noise during races. Greenwich Peninsula, free entry, just turn up, midday-9.30pm
LOTS OF POETRY: And we mean lots. Come and hear 61 poets in an all-day, non-stop poetry reading bender. Raising money for the Poetry Café, each poet will read for eight minutes. Don't worry — you can come and go as you please in case you get all poetry'd out. The Poetry Café (Covent Garden), £5 donation suggested, just turn up, midday-10pm
CRAFT BEER FEST: Sample south London's best craft beer, with over 20 breweries showcasing their latest and greatest. Of course, there's live music and tasty street food too — but how you wash it all down is the important bit. Copeland Park (Peckham), free, just turn up, midday-11pm
INDUSTRIAL HERITAGE: Trace London's industrial heritage on this walk of the lower Lea Valley, from fine porcelain in the 18th century, through gasworks, gin, explosives and film studios.  Pudding Mill Lane DLR, £10, book ahead, 1pm-4pm
NATURE RESERVE: We went to visit Gunnersbury Triangle Nature Reserve recently, and absolutely  loved it. Why not go and visit this little oasis yourself on its summer open day? Expect pond dipping, guided walks, stalls and more. Gunnersbury Triangle, free, just turn up, 1pm-4pm
BEES IN THE CITY: What do the bees do for us? Alison Benjamin of Urban Bees Ltd. reveals the answer, as well as what we can do for them. You'll even get the chance to make your own bee hotel to take home. Museum of London, £25, book ahead, 1.30pm-4pm
JAZZ JAM: This one day music extravaganza brings exciting acts from the best jazz clubs around the world to London. There's also delicious American-style food alongside the music. The Piano Bar Soho, free entry, just turn up, 2pm-8pm
---
Sponsor message
Have you got your tickets for Alexandra Palace's amazing summer festival?
Round up your mates and head to the People's Palace this weekend for a day of unforgettable Summer of Love-themed celebrations.
Entry is free but you'll need to book tickets if you don't want to miss out on some of the top-notch activities lined up. On 22 July, you could be reliving your childhood by zooming down an epic 100m inflatable waterslide, or throwing some shapes at the Little Fish Big Fish family rave, with added glitter cannons, hula hoop performances and enough bubbles to keep your little one entertained for days.
Over at the outdoor cinema, it'll be innuendo central as Austin Powers is screened at sunset. Check out what's on and nab tickets for this day of summer celebrations, before they sell out.
---
Sunday 23 July
CITY CEMETERY: This 200 acre natural beauty site opens its doors for a guided history and heritage walk. Featuring more than 3500 trees, 32 acres of memorial landscaped gardens, water features and ponds, this afternoon will be full of Victorian heritage. The City of London Cemetery and Crematorium (near Wanstead Flats), free, book ahead, various times
COLINDALE TOUR: Cast your prejudices aside, and realise that Colindale is a lot more interesting than you might think on this walking tour — covering everything from its first aerodrome to the opening of the museum. RAF Museum London, free, just turn up, 11am and 2pm
PINEAPPLE STUDIOS: If you want to be the next Louie Spence, or just adore his crazy antics, sign yourself up for free dance classes at the Pineapple Studios. Lesson styles for beginners include street and hip-hop, Bollywood, burlesque, jazz, tap and commercial dance. Pineapple Dance Studio (Covent Garden), free, just turn up, 11am-6pm
WALK THE CITY: The City is built on business, with evidence harking back to Roman times. Walking through its heart, you'll discover the foundations for trade in this historic part of the city, and how some have attempted to destroy its financial infrastructure. St Paul's Churchyard, £12, book ahead, 11.30am-1.30pm
JUMBLE SALE: Putting things in the bin is bad. Why not buy, sell or swap your stuff that would have otherwise gone to waste with other local residents? They'll be sure to give them a good home. RM12 (Havering), free, just turn up, midday-4pm
NOSE AROUND: Fancy having a nose around Opera Holland Park? Maybe even singing on the stage, or conducting the orchestra? Now's your chance, at this open day full of free and fun activities for all the family to enjoy. Opera Holland Park, free, just turn up, midday-5pm
ROSÉ FESTIVAL: It's the UK's first and only festival dedicated to rosé wine, and it features an abundance of the stuff. Need we say more? The Geffrye Museum (Hoxton), £15, book ahead, midday-7pm
JUNGLE BOOK: A screening of this childhood classic in a park sounds like the recipe for a good evening to us. A fully stocked bar, food and popcorn completes this round off to the week. Bishop's Park (Fulham), £12/£6, book ahead, 7.30pm
MACBLAIR: You've lived through the New Labour years, and you've seen your fair share of Shakespeare... but how about a combination of both? This is the story of Tony Blair, reimagined as a Shakespearean tragicomedy. Omnibus Theatre (Clapham Common), £9, book ahead, 7.30pm-8.30pm (repeated tomorrow)
DRUNK SHOWTIME: We bet you've never seen the Wizard of Oz where one actor is absolutely off their face before. No? Well now's your chance... Leicester Square Theatre, £15, book ahead, 8pm
Fun things to do with our friends and sponsor Funzing...
Take to the waters and glide about in this beginner paddleboarding session. By the end of it, you'll be standing up and paddling solo, and there's plenty of help on hand to improve your technique. Change of clothes required. Get tickets
London is a city of incredible transformation. With structural remains that date back to ancient history still in existence, this unique walking tour takes in Lost London in all its former glory. From the Titanic booking office to the graveyards of man's best friend, you'll discover the weird and wonderful places that used to exist in the capital but are now only committed to memory. Using old photographs, newspaper cuttings and stories from the past, you'll be amazed at what has largely been written out of our history books... Get tickets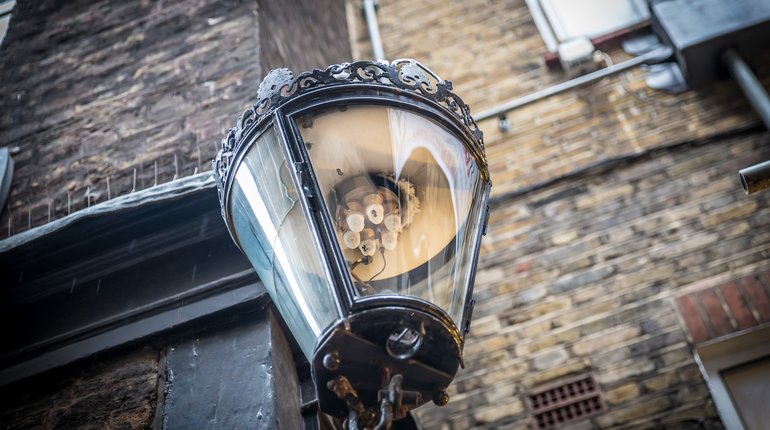 How well do you really know London? Visit the streets that inspired Harry Potter locations and see London's most superstitious hotel. On Matt's tour you will explore hidden places and discover stories unknown to even the most knowledgeable of Londoners. Get tickets
Struggling to find someone who shares your dark sense of humour? This twisted speed dating event can help. A group of 30-40 people will take part - with equal male/female ratios - and play a few rounds of the hilarious (and slightly dark) card game, Cards Against Humanity. After the event, connect with those who you found suitably sinister using a unique online matching system. Get tickets