All weekend
BANK HOLIDAY WEEKEND: If you're lucky enough to have all four days off over Easter, make the most of it with our guide to spending a bank holiday weekend in London. From little-known museums to walking and cycling routes, secret gardens and more, there's something for all budgets.
EASTER EGG HUNT: London's not short of Easter egg hunts this weekend but we like the sound of this offering at Forty Hall in Enfield. Keep the kids occupied with a trail around the Hall before they get their chocolate reward. £1, book ahead, 14-17 April
TALL SHIPS: If you're in the Greenwich vicinity, keep your eyes peeled for some unusual boats on the river; Tall Ships Festival is back. For a charge, you can visit some of the larger ships. There are also events going on back on dry land throughout the week. Greenwich and Woolwich, 14-16 April
EASTER FAIR: Puppet making, face painting, dance workshops and Alice in Wonderland storytelling are just some of the family-friendly activities at the Horniman Easter Fair. There's also an arts and crafts fair in the Conservatory, as well as the weekly farmers' market. Horniman Museum (Forest Hill), free entry (charge for some individual events), just turn up (although you'll need to book ahead for storytelling), 15-16 April, 10.30am-4.30pm
EXPERIMENTAL MUSIC: Cafe Oto in Dalston is a haven for experimental music in London. Watch a carefully crafted film weaving together improvised performances, as a narrator speaks on discovery and resistance. It's playing on a loop all weekend. Cafe Oto, free, just turn up, 15-16 April, noon-8pm
Saturday 15 April
HARRY POTTER TOUR: See the precise London locations that inspired J.K. Rowling's magical Harry Potter series. Various locations, £12/£10/free, book ahead, 10am-noon
MAP LONDON: We're quite excited about this one — London Metropolitan Archives is digging out some of its most interesting maps of London and showcasing them for the day. Royal Festival Hall, free, just turn up, 1pm. Also at Southbank Centre today is Craft the City, a chance to use cardboard to show what you think cities of the future will look like. Free, just turn up, 11am
BOOK SWAP: Kids run out of reading material? Take them along to this book swap where they can get rid of their old books, and take home a new tome or two to keep them busy. Children's book lovers will be on hand to help them choose their new books too. Rich Mix, free, just turn up, 11am-1pm/2pm-4pm
CLASSIC CARS: The monthly classic car show and meet-up returns to Lower Marsh Market in Waterloo. Admire these beauties, aged like a fine wine. There's a flea market going on in the area at the same time. Lower Marsh Market, free, just turn up, noon-4pm
EASTER CARNIVAL: It's party time at The Magic Roundabout. DJs, dancers, contortionists, mimes, magicians and sketch artists will be doing their thing, right above Old Street station — plus, there's free chocolate up for grabs. The Magic Roundabout (Old Street), £10-£15, book ahead, 1pm-11.30pm
SHORTS ON TAP: New beginnings is the theme of this short film evening. Watch the films, which focus on childhood and preadolescence, then take part in Q&A sessions with the filmmakers. Rich Mix, free, book ahead, 7pm
MODERN HAIKUS: A book launch for Gordon Gordon's Modern Haiku Collection, which moves away from traditional haiku territory to offer 17 syllables for all manner of modern situations. Enjoy wine, laughter and (brief) poetry. Review Bookshop (Peckham), £5, book ahead, 7pm-9pm
NON-CLASSICAL MUSIC: Get groovy to an orchestral club night in Hackney, as the 40 piece Street Orchestra of London collaborate with specially selected guests and DJs. Hackney Showroom, £12/£10/£7, book ahead, 7.30pm-11pm
Easter Sunday 16 April
NORDIC LONDON: Celebrate Easter Sunday Norwegian-style in Rotherhithe, the hub of London's Nordic community. This guided tour has an authentic Norwegian buffet lunch included. St Olav's Church, £30, book ahead, 10.30am-2.30pm [bookings close 13 April]
CARDBOARD CITY: Build a spectacular city of the future entirely out of cardboard with the help of artists from Animate Arts Company. Southbank Centre, free, just turn up, 11am-5pm
CROW CAFE: London's first ever Crow Café squawks into town on Sunday. Meet some crows, learn about them and — slightly bizarre, this — eat some crow-shaped snacks. But not actual crows, we assume. Off Quay (Docklands), £10/£5, book ahead, noon-3pm
RECORD FAIR: Looking for that perfect record to complete your collection? Who are we kidding, no record collection is ever complete. However, you can definitely make yours bigger at this Record Fair in London Fields. There's a party afterwards too, for you crazy folk. Night Tales, free, just turn up, fair is noon-5pm, party 5pm-3am
FAMILY DAY: Spend your Easter Sunday tracking down bunnies in the gardens of Keats House in Hampstead. Kids can also make their own carrot cone, which they can carry their chocolate prize home in. £1 donation suggested, just turn up, 1pm-4pm
OPEN MIC: Expect an eclectic blend of funk, soul and house music at Allsortz Open Mic Night. Rich Mix, free, just turn up, 7.30pm
TITANIC: Relive the incredible journey of Jack and Rose — on the 20th anniversary of James Cameron's epic tearjerker — in glorious 35mm. Prince Charles Cinema, £10/£7.50, book ahead, 7.45pm
MADONNA NIGHT: Bloomsbury Bowling Lanes is honouring 35 years of pop royalty: Madonna. Don't stay Hung Up at home, Get Into The Groove and Express Yourself at this Celebration. Bloomsbury Bowling Lanes, £5, book ahead, 9pm-3am
Fun things to do with our friends and sponsor Funzing...
London is a city of incredible transformation. With structural remains that date back to ancient history still in existence, this unique walking tour takes in Lost London in all its former glory. From the Titanic booking office to the graveyards of man's best friend, you'll discover the weird and wonderful places that used to exist in the capital but are now only committed to memory. Using old photographs, newspaper cuttings and stories from the past, you'll be amazed at what has largely been written out of our history books... Get tickets
Take to the waters and glide about in this beginner paddleboarding session. By the end of it, you'll be standing up and paddling solo, and there's plenty of help on hand to improve your technique. Change of clothes required. Get tickets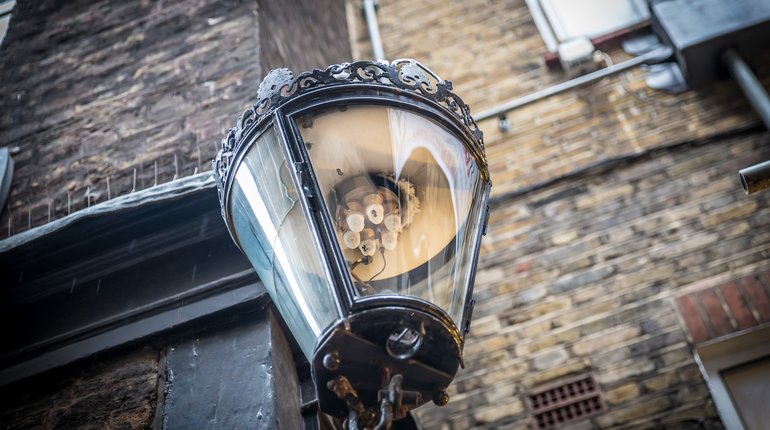 How well do you really know London? Visit the streets that inspired Harry Potter locations and see London's most superstitious hotel. On Matt's tour you will explore hidden places and discover stories unknown to even the most knowledgeable of Londoners. Get tickets
The afterlife is an intriguing subject, but how close to ghosts do we truly want to get? For those with a fascination of all things spooky, test your limits with The Westminster Ghost Walk. You'll explore this deeply historic and fascinating area of London and hear tales of ghosts, poltergeists and body snatchers along the way. Your experienced guide will lead you through dark alleyways, haunted buildings and human burial grounds - sharing the chilling secrets London has long been hiding in its past. Get tickets