Traditionally made with fermented cabbage, garlic, ginger and chilli, kimchi packs one hell of a flavour punch. As Korea's national dish, it is a firm favourite on Korean restaurant menus and while it can be enjoyed on its own, it is often incorporated into other dishes.
The intense, savoury flavour provides a lifting zing to stews, soups and starters, although experimentation on London's dining scene has resulted in a few less traditional combinations too. Here are our picks of London's best kimchi dishes.
BiBimBap
As Londonist's Lydia Manch has already pointed out, this Soho restaurant's swift service means it's "not a place for a drawn out dinner". But who needs a drawn out dinner when you're looking for a quick and dirty kimchi hit? Find it here with the restaurant's namesake offering, bibimbap. This mixed rice and vegetable dish comes in many iterations but topped with pickled cabbage is a hearty, warming dream. Generous portions too.
Hawksmoor Seven Dials
For a cuisine mash-up, pay a visit to Hawksmoor Seven Dials. Here you'll find a number of snacks and sandwiches on the bar menu, including the kimchi burger. It's not your usual, but as a venue that takes meat very seriously we know that Hawksmoor doesn't make burger topping decisions willy nilly. The kimchi hums on our palette, the texture is familiar and akin to sloppy fried onions, yet the beef short-rib patty still stands out as it should in any good burger.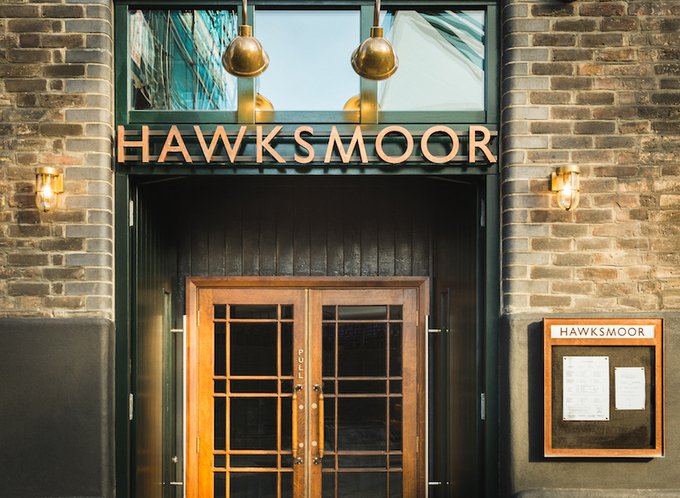 Okan
Situated in Brixton Village, Okan specialises in savoury Japanese pancakes known as Okonomiyaki - a classic dish on Osaka's street food scene. There are 13 fillings to choose from and you can customine your favourites with options spanning meat, fish and tofu. Our recommendation? Beef and kimchi. It'll be gone in a matter of minutes but you won't regret it.
Bone Daddies
Depth of flavour comes by the bucket-load with Bone Daddies' seafood kimchi ramen. In fact, if this was served by the bucket there'd be few complaints. One for seafood lovers and hot-heads, this spicy broth houses prawns, mussels, egg, noodles, vegetables - all the good stuff you'd expect from a ramen - plus the requisite kimchi. Fresh and flavourful, it's a smash hit.
Deliveroo now from Soho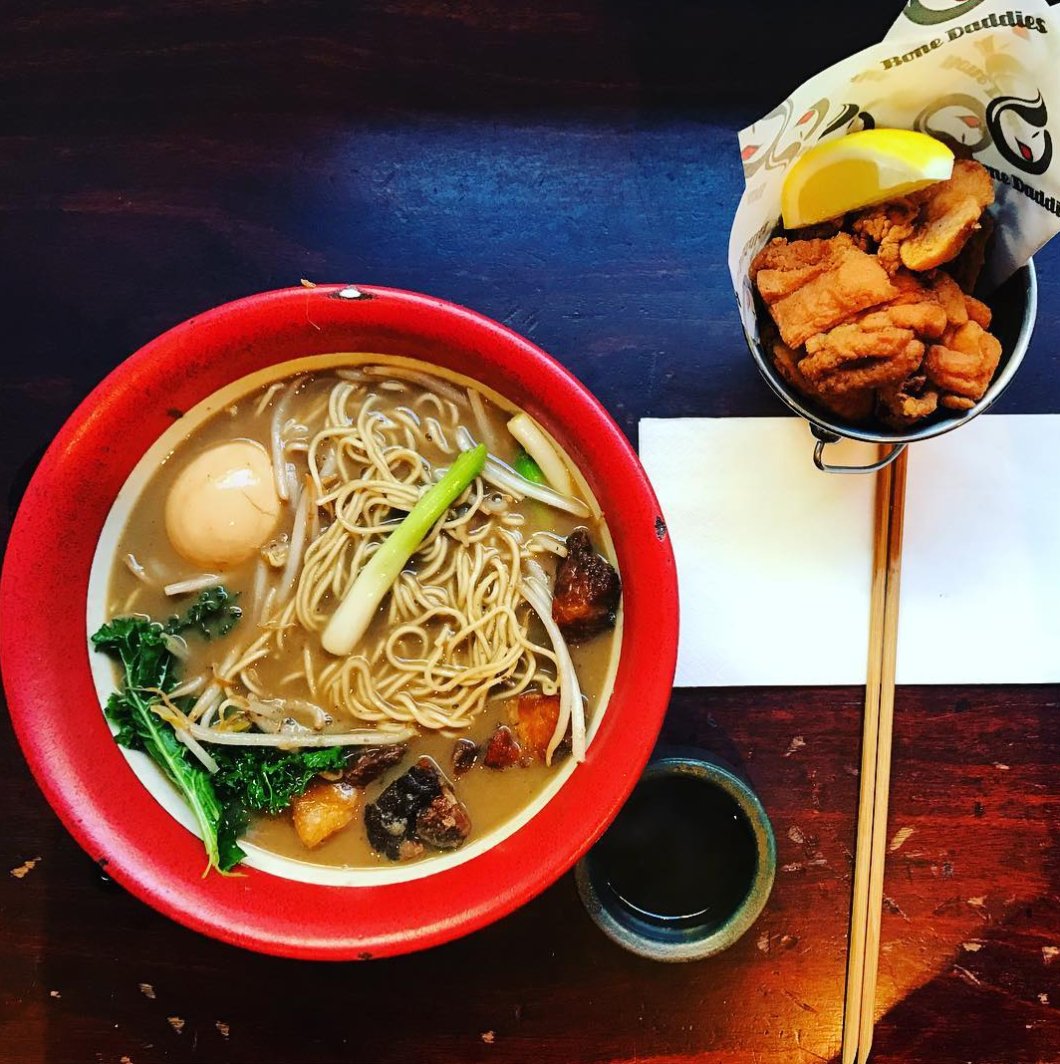 Gogi
Head to the Maida Vale stretch of Edgware Road for a selection of kimchi dishes that would make even the most hardened fermented veg lover swoon. There's the traditional cabbage, but also pickled radish and cucumber variations (you can try all three for £6). The stand-out dish is the kimchi jjigae - a boiling hot stew that is a go-to staple in many Korean homes. This one features soft tofu, fatty pork and of course the flavoursome kimchi.
Deliveroo now from Paddington
On The Bab
All about Korean street food, you can expect fresh flavours in a snap at On The Bab. While there is now a larger restaurant in Covent Garden, we still like to get our kimchijeon fix at the original Shoreditch venue (even if does mean joining the lengthy queue at lunchtimes). This vivid, crispy pancake dish features heavily on many Korean restaurant menus, but it's a popular choice for a good reason. The tart sourness of the kimchi works wonders with the simple savouriness of the batter, making it a moreish snack that will keep you coming back.
Deliveroo now from Hoxton
The Petite Corée
A neighbourhood bistro in West Hampstead, The Petite Corée offers diners Korean-European mash-ups, big on flavour and made with seasonal ingredients. The kimchi pancakes are a great choice, but it's the kimchi arancini (try saying that a few times with your mouth full) that steals the show. Forget the traditional, this combination of kimchi-infused rice with mozzarella and goguchang dressing is a match made in fusion heaven.
JinJuu
A real favourite of ours, Jinjuu is a flavour powerhouse that never fails to get our pulses racing. We are forever to-ing and fro-ing over the menu during our visits, but you can't go far wrong with kimchi fries (that's crispy french fries topped with kimchi, cheddar cheese and jalapenos) washed down with a kimchi Bloody Mary. Yep, that's right: a kimchi Bloody Mary. It's a welcome transformation, swapping vodka for soju and Worcestershire sauce for JinJuu's bespoke kimchi spice mix.
Bala Baya
Simply listed as "Crispy, Sticky, Crunchy" on the menu, Bala Baya's fried chicken with kimchi is a texture hole-in-one and the restaurant's best-seller. Bitter orange, harissa and sweet butternut squash combine with the chicken and kimchi to balance out the savoury flavours, but it's the crunch and ooze that makes this dish a real winner, winner, chicken dinner.
Arch 25, Old Union Yard Arches, SE1
The beauty of kimchi is its simplicity. Whether eaten on its own or as part of a bigger dish, it boasts an intensely moreish flavour that can so easily be combined to enhance other flavours. We heartily recommend all the above dishes, but you can also buy your own kimchi at any number of Asian supermarkets (Japan Centre is a good, central option) to experiment with at home. Geonbae!