What we're reading:
Things to do:
SENSORY SAFARI: Here's a bit of trivia for you — humans can tell the age and health of a tree using only their noses and fingers. Find out how on a morning walkshop that will teach you how to discern the scents of urban nature. Geraldine Mary Harmsworth Park (Kennington), free, book ahead, 10am-11.30am
FULL STEAM AHEAD: Family outings can get pretty pricey. Luckily, the London Museum of Water and Steam is here to help you keep the kids entertained for less this school holidays, with kids going admission free from today until September. There's a splash zone, a free family trail, and plenty of vintage locomotives to admire. London Museum of Water and Steam (Brentford), £12.50 adults, under 16s go free, book ahead, 10am-4pm
FLOCK: See the work of graduates from London's leading art schools, including Central Saint Martins and Slade School of Fine Arts at GX Gallery's annual exhibition. Who knows? You might end up discovering the next Grayson Perry. GX Gallery (Denmark Hill), free, just turn up, 1oam-5pm, until 31 August
A NUMBERS GAME: Struggling to entertain your tween this summer hols? If they're aged 10-12 with a mind for maths, this entertaining and educational workshop at The Royal Institution may just tickle their fancy. Explore whether probability theory can be used to significantly increase their chances of winning various game shows (so think of this as an investment). The Royal Institution (Mayfair), £30 (possibility of financial assistance if required), book ahead, 10.30am-1pm/2pm-4.30pm
BBC PROMS: Liven up your lunch hour with a quirky harpsicord recital. Jean Rondeau pairs music from the big guns of French Baroque with the edgy jazz and improvisational sounds of Eve Risser. Cadogan Hall (Belgravia), from £6, book ahead, 1pm
SASS YOUR SUNNIES: Chances are you've got a whole lot more mileage out of your sunglasses than usual this summer. But are they lacking a certain je ne sais quoi? Sass 'em up at this crafty evening workshop and get ready to shade your peepers in style. Drink, Shop & Do (King's Cross), £5, just turn up, 6pm
THE LOST BOYS: Take a sunset trip across the Thames to an urban island for an outdoor screening of 80s teen vampire flick The Lost Boys. Comfy beanbag and some headphones are provided, and if you get thirsty, simply wave your glow stick in the air for bar service. Raven's Ait Island (Kingston upon Thames), £16, book ahead, 6.30pm
THE EMERGENCE SERIES: Discover new musical talent with the help of record label Tenwest. Tonight you'll see Yizzy, Andro, Holy '57, Naomi Banks, and Dockem & Malone. Plus, 25% of all ticket sales goes to War Child, the charity for children affected by conflict. The Camden Assembly (Chalk Farm), from £4, book ahead, 7pm
MONKEY BUSINESS: One man and a giant monkey are coming to Angel Comedy Club to stare into your soul and help solve your problems... despite being in no way qualified to do so. Monkey and Roy is the debut outing of Nina Conti and Shenoah Allen's new comedy night. If you doubt their commitment to the cause, just know that they formed their double act after a fifty hour improv marathon. The Bill Murray (Islington), £5, book ahead, 9.30pm-20.30pm
Good cause of the day
Live in east London? Sick of inhaling the city's smog? Friends of the Earth Hackney and Tower Hamlets want your help taking their clean air campaign, Reclaiming Streets, to the next level. Find out how you can contribute at their next meeting. It'll cost you nothing but your time.
Fun things to do with our friends and sponsor Funzing...
London is a city of incredible transformation. With structural remains that date back to ancient history still in existence, this unique walking tour takes in Lost London in all its former glory. From the Titanic booking office to the graveyards of man's best friend, you'll discover the weird and wonderful places that used to exist in the capital but are now only committed to memory. Using old photographs, newspaper cuttings and stories from the past, you'll be amazed at what has largely been written out of our history books... Get tickets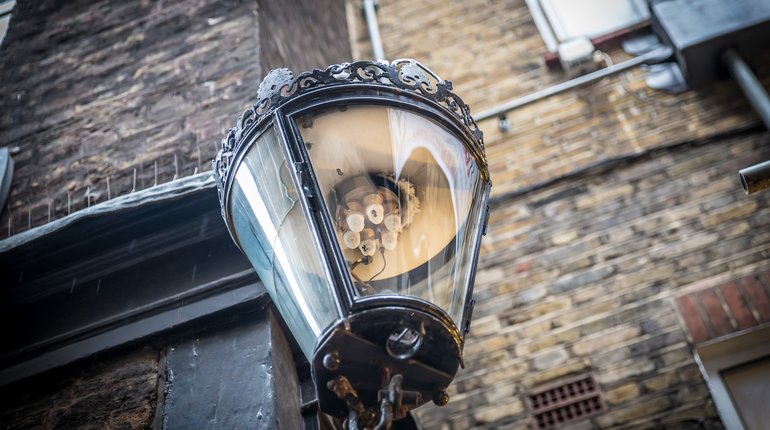 How well do you really know London? Visit the streets that inspired Harry Potter locations and see London's most superstitious hotel. On Matt's tour you will explore hidden places and discover stories unknown to even the most knowledgeable of Londoners. Get tickets
If you've never paired ceramics and prosecco before, why on earth not? It's a match made in heaven as Sam and Diana, co-creators of 'Make Your Own', prove at their wonderfully welcoming ceramic painting workshop. Pull up a stool, don an apron and get to work on your very own mug, plate, tile, bowl or ornament. They provide the ceramics as well as a selection of patterns, and will show you exactly how to transfer designs and paint to your heart's content. It's BYO so feel free to pop the prosecco and enjoy the company of like-minded Londoners as you get stuck into your creations. Get tickets
Join a full moon ceremony and uncover how to fully appreciate the cycles of nature, and how these align with the cycles of our own bodies. Simply, the full moon is a time when our energy peaks - a time of fruition, a time of perception, a time of strength. In this ritual experience, Ena and Gammadian will take you on a beautiful journey guided by the moon, lead a guided meditation and create a safe space in which to reflect, relax and grow in the company of like-minded people. Get tickets