Things to do today is sponsored by Alexandra Palace.
What we're reading
Things to do
LONDON'S POPPIES: How did 2014's 'Poppies In The Moat' at the Tower of London come about? Major Kirsty Baxter will provide the background, preceded by a talk on how the book Poppies, Pomp and People came about, with accompanying photos. Army And Navy Club (Pall Mall), £5/£6, book ahead, 6pm-8pm
RAILWAY HISTORY: From the rediscovery of structures associated with the early Brunel Great Western Railway to the untold stories of Crossrail, head to Museum of London Docklands for a talk tracing the history of the railways. Museum of London Docklands, £10, book ahead, 6.30pm-9.15pm
MUSEUMS SHOWOFF: This cabaret-style show is for people who love museums, with comedy, talks, debates and more from people who work in museums, or who simply can't get enough of them. The Phoenix (Oxford Circus), £6, book ahead, 7.30pm
GOODNESS GRACIOUS: Help Late Night Gimp Fight whittle down their endless jokes and comedy gold into something that will see them bowl over Edinburgh Fringe. Those with delicate sensibilities might want to do some research on this comedy act first... Soho Downstairs, £12, book ahead, 7.30pm (until 22 July)
COTTINGLEY FAIRIES: London Fortean Society marks the centenary of the Cottingley Fairies — a photo taken in 1917 showing a young girl in a garden, with four fairies dancing in front of her. It wasn't revealed to be a hoax until the 1980s — this talk discusses the effect it had on society in the intervening years. Conway Hall (Holborn), £9.25, book ahead, 7.30pm-9pm
COMICAL TIMING: Get the giggles from some up and coming and professional comedians in a modern Mediterranean restaurant that has seen the likes of Alan Sugar, Bill Bailey and Olly Murs sit at its tables. Grove Bar and Restaurant (Hammersmith), free, book ahead for a table, 7.30pm-9.30pm
DAIQUIRI DAY: Bacardi has teamed with with Drink Up London to put on Daiquiri tours to celebrate National Daiquiri Day early. Three bars have been lined up for you with black cabs in between each venue to make sure your rum-based adventure goes off without a hitch. 68 and Boston (Greek Street), £25, book ahead, 7.30pm-10pm
COMICAL FUN: Posh-talking comedian Tom Allen, who you may know from the likes of Mock The Week, meets up-and-coming Stuart Laws for a double bill of comedy previews. 2 Northdown (King's Cross), £7, book ahead, 7.45pm-10.15pm
FACE THE CAMERA: A soldier wants to forget, his wife wants her sacrifices honoured, a photojournalist wants the truth, and the director wants their story. This play about consent and ending conflict responsibly is told through the actions of four characters united by conflict. King's Head Theatre (Islington), £12, book ahead, 8pm (until Saturday)
DANCE DANCE DANCE: It's a Kizomba party at Loop Bar where you can step in time to this Angolan dance. The slow, romantic rhythm should see you through to the early morning hours whether you're a beginner or a regular dancer. Just follow along with the other dancers and you'll be perfecting the moves and having fun in no time. Loop Bar (Mayfair), £10-£12, book ahead, 9pm-1.30am
---
Sponsor message
Don't miss this giant waterslide at Alexandra Palace
Head to Alexandra Palace this weekend for the Summer of Love-themed all dayer, where you can get down to Craig Charles's funk and soul DJ set, fill your face with tasty street food, and enjoy a craft beer (or three) in front of those Instagram-worthy city views.
It all kicks off on 22 July and although entry is free, there are plenty of great ticketed events you'd be gutted to miss out on, including an al fresco screening of Austin Powers, a silent disco in the woods and, of course, that epic waterslide. So grab your tickets (and your swimming cozzie) for what promises to be a fun-packed day out.
---
Art review: wounded portraits
The face of a woman who seems to be in agony is giving depth by being literally punctured. The surface of the skin gives way to crumbling drywall, as if the very structure is breaking apart from the inside. It's an impactful technique that makes the emotions all the more visceral. Wounded: Juan Miguel Palacios at Lazarides, 11 Rathbone Place, W1T 1HR, free. Until 22 July ★★★☆☆ (Tuesday-Saturday) Tabish Khan
Theatre review: music hall magnificence
When a show with a cast of three labels itself as an "Extravaganza", there's naturally a temptation to call Trading Standards. Put the phone down, though, and pop along as this hilarious comedy is the perfect summer theatre experience. Taking part outdoors in Battersea Arts Centre's courtyard, the trio enact a whimsical Victorian-era love story with live music, memorable songs, brilliant characters and just the right amount of audience interaction. Get ready for some genuine belly laughs in this slice of music hall magic. Extravaganza Macabre, Battersea Arts Centre, Lavender Hill, SW11 5TN, £10-£25. Until 29 July ★★★★★ Franco Milazzo
Food review: summertime in the city
Seven floors above Oxford Street, Middle Eastern inspired restaurant Foley's has popped up in John Lewis' bucolic roof garden, offering tasters of its menu. The burnt chicken ends may be too spicy for some, but balance them out with the creamier spiced sweet potato fritters and you'll manage. The alcoholic cocktails are impressive, but on a hot day, the rose lemonade is the way forward. Book ahead if you want a table — or just enjoy the roof with a drink or two. Foley's at The Gardening Society, 300 Oxford Street, W1C 1DX ★★★★☆ Laura Reynolds (Foley's is in residence until the end of July — after this a new restaurant will pop up).
Good cause of the day: educating Malaysia
Do your good deed of the day by simply having a laugh. ABC is a comedy night featuring Josie Long, Phil Wang and Yuriko Kotani in aid of girls' schools in Malaysia The Harinder Veriah Trust assists two schools in Petaling Jaya, Malaysia, which provide poor girls with primary and secondary education. The Bill Murray (Islington), £5, book ahead, 8pm-10pm
Fun things to do with our friends and sponsor Funzing...
London is a city of incredible transformation. With structural remains that date back to ancient history still in existence, this unique walking tour takes in Lost London in all its former glory. From the Titanic booking office to the graveyards of man's best friend, you'll discover the weird and wonderful places that used to exist in the capital but are now only committed to memory. Using old photographs, newspaper cuttings and stories from the past, you'll be amazed at what has largely been written out of our history books... Get tickets
Take to the waters and glide about in this beginner paddleboarding session. By the end of it, you'll be standing up and paddling solo, and there's plenty of help on hand to improve your technique. Change of clothes required. Get tickets
Have you visited London's Roman ampitheatre? What about London's Medieval market places? Hear weird and wonderful tales of our beautiful city as you take a walking tour, seeing everything from centuries-old churches to the hanging place of William Wallace. Whether you've lived here all your life or are visiting for a few days, you're sure to learn something new about London. Get tickets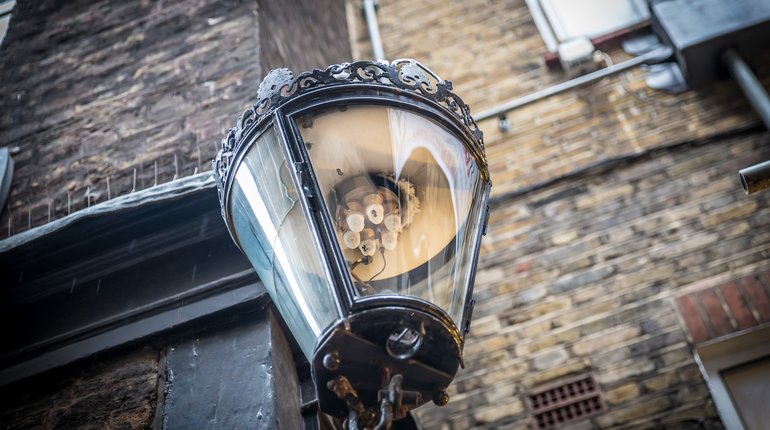 How well do you really know London? Visit the streets that inspired Harry Potter locations and see London's most superstitious hotel. On Matt's tour you will explore hidden places and discover stories unknown to even the most knowledgeable of Londoners. Get tickets