Sometimes nipping down to your local caff for eggs n beans just isn't going to cut it.
Yauatcha
If you love dim sum but also want glam then head to swanky dumpling joint Yauatcha, which turns out perfect buns in a sleek, see and be seen environment.
We love most things on the menu, but don't miss the xiao long bao, or Chinese soup dumplings. King crab and pork broth fill the siew long bun (different name, same soup dumpling) and they're some of the best in town. Just be careful to let them cool sufficiently before attempting to eat them, whole, or your next stop could be St. Thomas' A & E. There's nothing glam about a trip to hospital.
15-17 Broadwick Street, W1F | Broadgate Circle, EC2M
The Wolseley
Forget ham, cheese or even smoked salmon inside your omelette. At The Wolseley, you can order yours filled with 30g of caviar. This combination is dreamy; we can imagine the salty pops of caviar inside the soft folds of buttery egg. In fact, this has to be one of the most desirable breakfasts in London, especially served in that glorious, art deco dining room. Oh, did we mention it costs over £75? Come on, though, you can't deny that it's one seriously glamorous way to line your stomach.
The Delaunay
Another all-day grand European café from Chris Corbin and Jeremy King, this much-adored venue serves a similar breakfast to its younger sister Fischer's -- but with additional specialities, such as oatmeal soufflé with pear compote, grilled kipper with mustard butter, and cured and slightly smoked Kassler ham with fried egg. The coffee comes with whipped cream; and time seems to slow right down while you linger over newspapers.
Duck & Waffle
Playground of foodies and City boys, this restaurant on the 40th floor of the Heron Tower is known for its stunning views and great food, two things which very rarely go together when it comes to London restaurants. Chef Dan Doherty is famous for dishes such as crispy pigs' ears dusted with smoked paprika served in a paper bag, ox cheek grilled cheese sandwiches (one of our favourites) and of course, the duck and waffle. Fruit topped pancakes, perfectly cooked eggs irresistible pastries are also available.
110 Bishopsgate,40th Floor, EC2N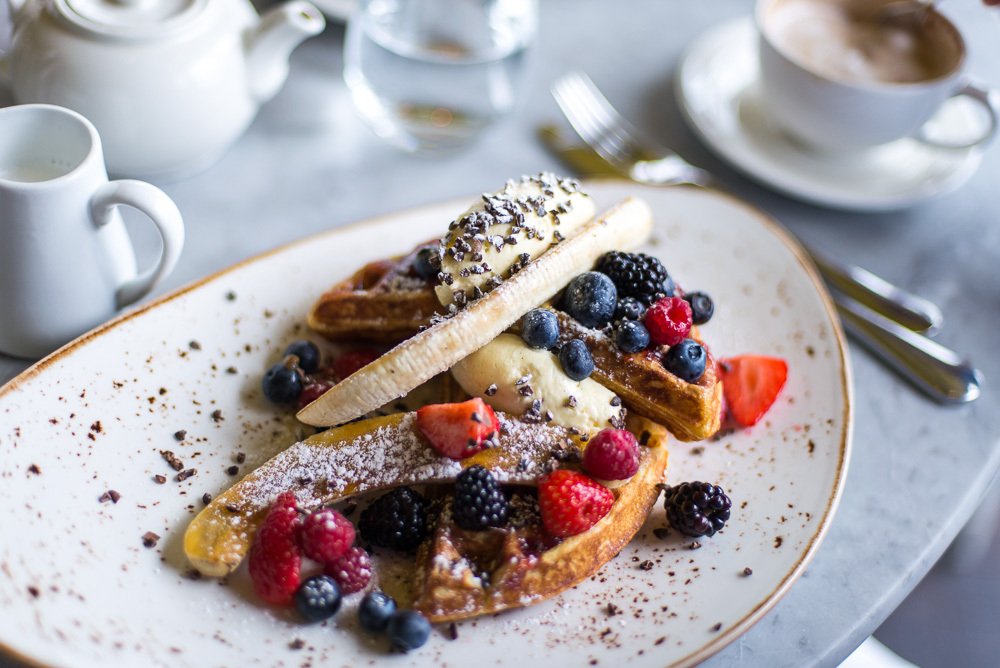 Balthazar
Keith McNally's famous New York brasserie opened a glittering Covent Garden outpost amid much fanfare -- and mixed reviews. It has now found its feet, and serves a great selection of French pastries, tartines and egg dishes such as omelette with fine herbs de Provence, along with lashings of distinctive London and New York style. Slip onto a red leather seat and suck up the glamour.
Aqua
Aqua Restaurant Group is known for its restaurants up high, with flagship Aqua Hong Kong on floors 29 and 30 overlooking the city's iconic skyline and famed harbour. Its London outpost -- Aqua Shard -- is set on level 31 of the highest building in western Europe and follows this formula to the tee, offering a dining room with a view.
Aqua Shard made a name for itself via its weekend brunch menu, which contains everything from breakfast dishes right through to light roasts. We like to keep it classic, however, with a lobster benedict. Colchester blue lobster meat is piled on top of a toasted muffin, topped with a poached egg and hollandaise sauce. Yum.
Berners Tavern
Dining empires will rise and fall before the chandelier-strewn, gilded grandeur of Jason Atherton's restaurant at the London Edition Hotel goes out of fashion. The design is flamboyantly opulent, and the menu's a similar, no-holding-back array of things like ox cheek mac and cheese, or truffle honey, or burnt butter. Special occasion comfort food, basically, with the same mix of the on-trend and timeless that runs through the decor.
Weekend brunch options here are extensive and run from healthy options such as soaked oat pots with chia seeds, to cheddar and smoked ham omelette or brioche French toast.
Chiltern Firehouse
This W1 restaurant's been attracting a high number of extremely in-fashion celebrities since it opened in 2013, which makes it an elder statesman in the fair-weather world of what's fashionable. Civilians wanting to bask in the reflected glow of all the paparazzi flashes going off are going to need to book months ahead. But the lure of the spotlight isn't the only reason to visit: their way with seafood's as famous as many of their guests. And their bacon cornbread is a work of genius -- it's bacon. And cornbread. Their crab-stuffed donuts also have the Londonist stamp of approval:
"These puffs are filled with a mixture of white crab meat and crème fraiche, meaning they're light as anything and incredibly moreish. They arrive dusted with what looks like snow but is actually cauliflower -- just try one and you'll be hooked."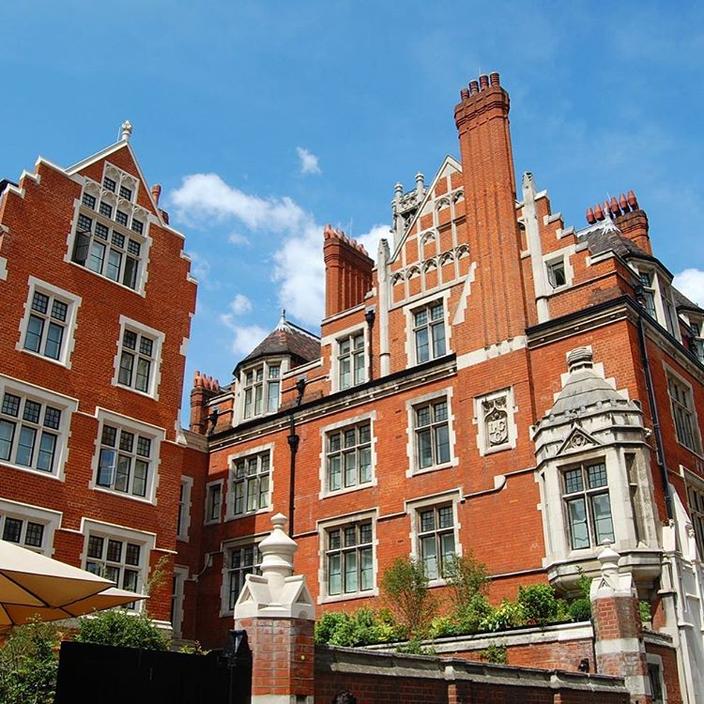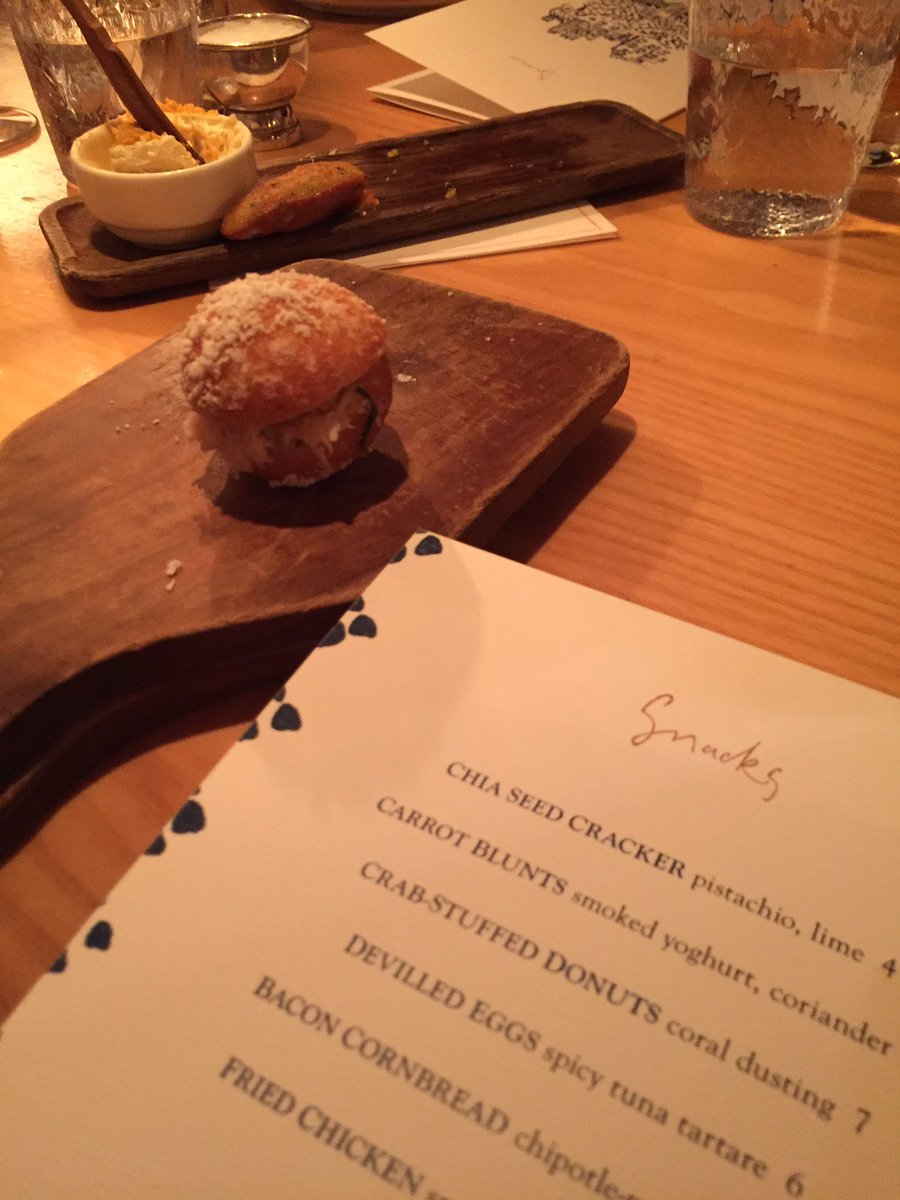 Smith & Wollensky
At a time of day when it's more usual to be gazing down at an avocado on toast, maybe a poached egg for decadence, this American steakhouse turns it up to 11. Steak comes by the impressive, tender -- and enormous -- cut. For the most decadent, most extremely no-tomorrows path through the brunch menu order the 1kg Tomahawk steak for £74, for two to share. If you're not feeling ready for that much meat at brunch, there are plenty of less dangerous but still seriously decadent options. We love the blueberry pancake stack and the velvety eggs with braised short rib.