Evoking memories of gently swaying palms, rum cocktails and that inimitable laid-back vibe, Jamaican food brings a taste of the tropics to London year round. The country's history means that its cuisine is a melting pot of cultures with influences from India (curries), China (rice), Africa (peas, ackee) and so many more - in addition to its indiginous ingredients like cassava, yamsa and guavas etc, all adding up to highly spiced, bbq influenced food with a side of fruit and something filling and starchy. Classic hitters like hot jerk chicken, deeply satisfying curry goat and fried plantain are fairly ubiquitous in Jamaican London - though we've found the best - but there are also plenty of places taking a more modern approach with Red Stripe tempura prawns, jerk halloumi and codfish fritters. With dishes this good available all year round - and not just in the Caribbean hotspots of Brixton and Dalston - why wait for the Notting Hill Carnival for your dose of Jamaican joy?
Negril
A bijou BYO no-frills gaff in Brixton Hill - with al fresco garden area if you're lucky with the weather - Negril is named after the bohemian, hippie area of Western Jamaica made famous in the 1970s for its rustic, relaxed vibe. This Negril in South London shares similar qualities in its chilled out, diverse crowd and - more importantly - bang on jerk chicken (it's all free range). Up the ante with their Calypso Chicken Sandwich, which is the jerk chicken plus roasted peppers and spinach in a burger bun. Vegans will also rejoice in the focus on Ital food (aka Rastafarian, so it's vegan and excludes salt and preservatives) which means there's a plethora of spicy stews, tofu and plenty of fresh produce all going into things like the bean burger or pumpkin curry. Most things are under a tenner too.
Cafe Caribbean
Starting out in Covent Garden in 1993, today Cafe Caribbean is a popular takeaway lunch spot in Spitalfields Market. You'll find all the traditional dishes you'd expect here; think ackee and saltfish, stewed beef, jerk chicken, curry goat and oxtail with butterbeans (all about £6 each). Everything is lovingly cooked by chef and ex-professional boxer Warren Richards, who cooks the delicious authentic food his mother and grandmother taught him from their homeland of St Catherine, Jamaica. Wash it all down with some famous Guinness punch and you're good to go.
Deliveroo now from Spitalfields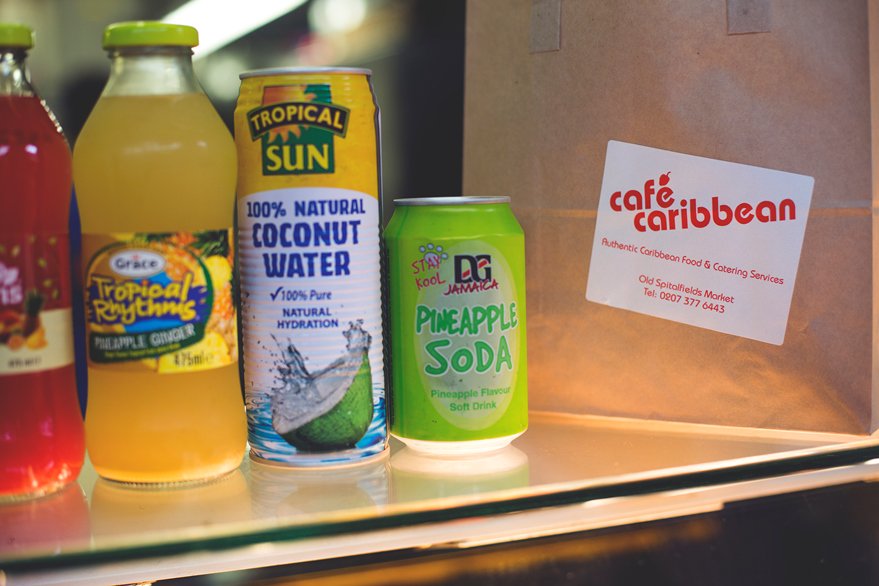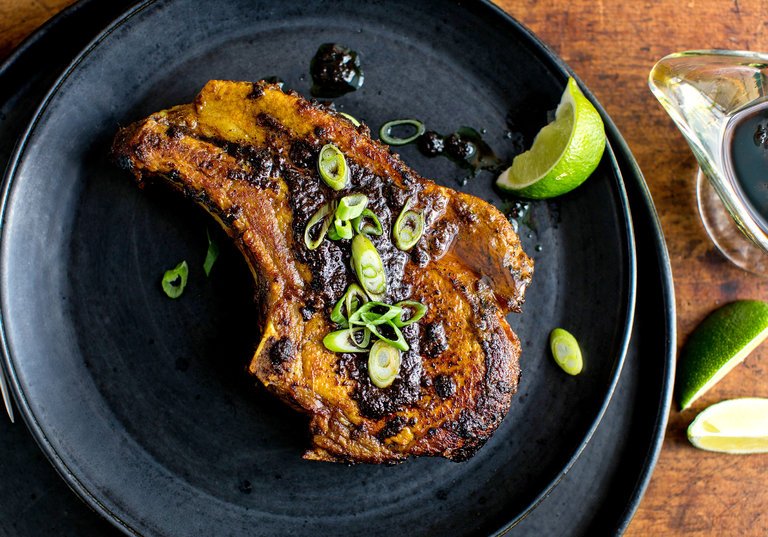 Fish, Wings & Tings
OK, so the guy behind Brixton based Fish, Wings and Tings - Brian Danclair - has a Trinidadian rather than Jamaican background, but Caribbean food has many shared, transferable flavours and south Londoner Brian describes his cooking as 'nouvelle Caribbean'. It's all inspired by his love of his grandmother's native Trinidadian food and there's a big emphasis on community and family spirit as a result. The goat roti comes highly recommended, with string beans, pumpkin, chickpeas, potatoes and kuchela (Trinidad's mango chutney). There's a short list of Trinidad sourced beers, wines and punches plus a rather nice homemade Dark and Stormy.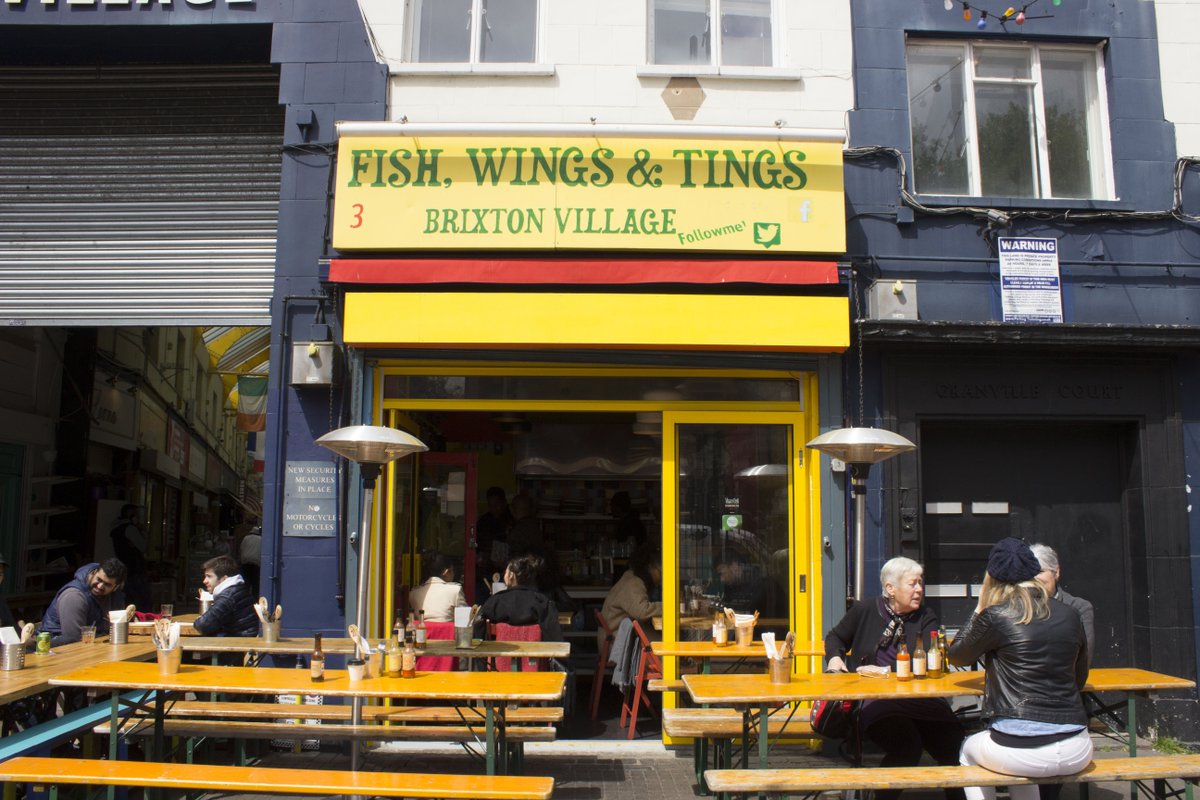 The Rum Kitchen
If you're looking for somewhere to reminisce about your latest Caribbean holiday, this is the place. Rum Kitchen - particularly the almost-open-air Kingly Court branch - has a fun, relaxed beachy ambience with things like driftwood and cheesy Caribbean sayings dotted around the place. Not a bad thing. Food wise, you're looking at Jamaican classics with tiny twists; so, in addition to your curry mutton (a given) there's also a Westernised cauliflower curry topped with pomegranate and coconut flakes. Or while there's an authentic red snapper dish with all the plantain, mango salsa and green chilli trimmings you'll also find a 'roti pizza' topped with jerk chicken, sweet potato mash, jerk bbq sauce, allspice pickled onions and coriander. Not one for the purists looking for a taste of homecooking, but certainly interesting. And the rum won't hurt either.
Fans should also check out the Notting Hill original and the Brixton branch - both of which do brunch (Carnaby doesn't) where you'll find more of the same plus some classic brekkie dishes.
Deliveroo now from Soho
Jamaica Patty Co
If there's one thing we love about Jamaican food it's those tasty patties. Essentially a smaller, spiced Cornish pasty, some of the best we've tried can be found in New Row; the cute cobbled street between Covent Garden and Soho. Here, the Jamaica Patty Co has been since 2013 when its Jamaican born owner finally had enough of not being able to find patties with the right flavours and aromas of her home, and started doing it herself. There's a fabulous array of flavours from the traditional spicy beef to vegetable, ackee and saltfish, jerk chicken and curried goat. The patties are the mainstay of this place, but there's also a nice line in hot meals and some nourishing homemade soups too. A great little lunchtime takeaway stop.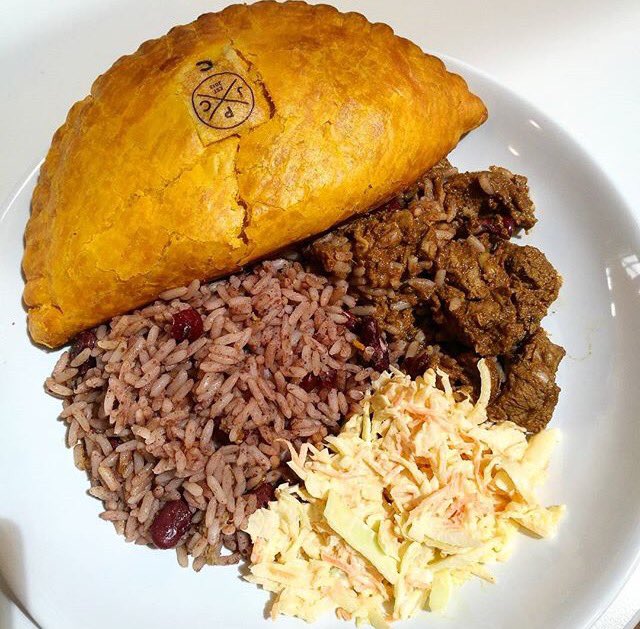 Rudie's
Curry goat is 10 a penny in this town, particularly if you're lucky enough to be near Brixton or Dalston. But it can be hard to find a really good place to eat. Try Rudie's in Dalston and you won't be disappointed; their spin on Caribbean food is spot on and so are their cocktails. If you can manage not to order their incredible jerk chicken then go for their traditional bone-in goat and mutton curry which is perfectly spiced - or at least order a curry goat patty on the side. We're also totally here for the swordfish with roasted yam, cashew and coriander pesto and - finally - some jerk pork belly (it's actually kind of more authentic, don't you know? At one point pigs were far more plentiful in Jamaica than chicken). We love that there's a small plates option too, so you can try most things for the £6-£7 mark.
Deliveroo now from Dalston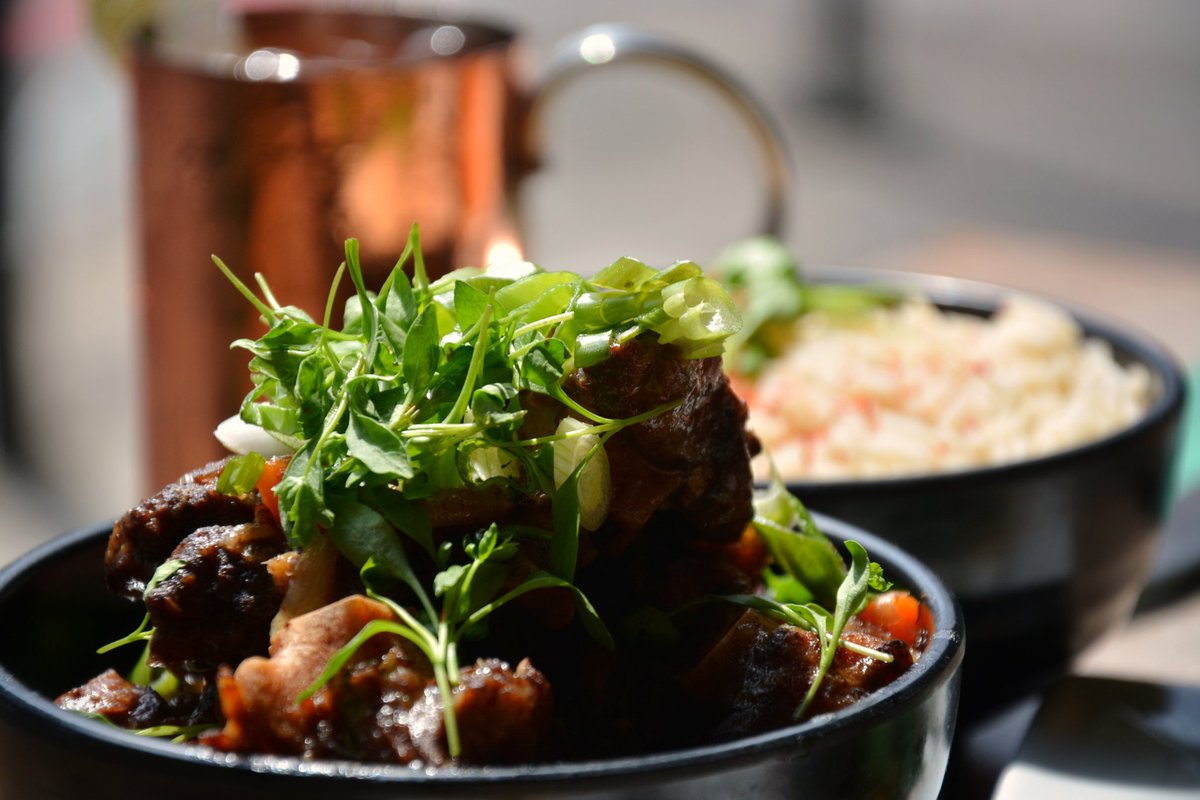 White Men Can't Jerk
A string of residencies around the capital over the last year or two has earned the White Men Can't Jerk crew a loyal following when it comes to their line in carnival food, soul food and wings in particular. Their standout menu item 'It's a Wing Ting' describes itself as crispy coated Red Stripe poached Pterodactyl wings covered in a secret sauce of chilli, herbs, spices and honey and they're just a little bit good; they've competed with some of the best Caribbean jerk experts in the business. The wings' prior poaching allows some of the fat to render and maintains the chicken's natural succulence before it is coated in a robust layer of seasoning to crisp up to the nth degree. The happy result is so Jamaican it hurts. You'll also find gems like curried mutton shepherd's pie, grilled corn on the cob with jerk butter, sour cream and smoked paprila and a Tobago casserole here. There's more. Will travel.
Check the White Men Can't Jerk website for their locations.
Boom Burger
This Portobello Road burger joint with a Jamaican twist is a great shout if you're up West and in the mood for some spice. Owner 'Josh' grew up in Montego Bay and was determined to bring an authentic taste of his Auntie's sizzling fish and jerk to London. His fiery Caribbean spice combinations mean he's definitely achieved it, and happily he's combined it all with well-sourced British meat to make his fabulous burgers with more than a little Boom. Try the Fish Boom: pan fried fish of the day with escovitch sauce, rocket and chilli jam.