Hash browns are arguably one of the world's finest potato products -- kind of like a chip, but bigger and with lots of crunchy bits. It's pretty much a given that any hash brown is going to taste brilliant, but we don't just want brilliant, we want the absolute best. Here's where to find them in London.
Electric Diner
Electric Diner does a fantastic breakfast all round, and we're already all over their generous eggs benedict with its two soft eggs and super thin crispy ham, in place of the usual cold stuff.
Their hash browns, however, also deserve serious attention. One of their best features is the way they're always different shapes and sizes, meaning there's lots of thin, crispy bits along with the fluffy insides. The other important charateristic of note is that the portion size could feed The BFG.
Regency Cafe
They make a mean hash brown at everyone's favourite art deco caff, as part of their classic mammoth fry up. We all know the deal with this place by now - you go in, navigating your way to the counter via a sea of formica topped tables, place your order, then sit down until they shout your order is ready. Loudly.
The best thing about the hash browns here? It's the fact that there isn't anything special about them. Sometimes you just want a classic HB that's probably been plucked from a freezer bag, plunged into hot oil and tipped onto your plate. Squirt on the sauce and devour.
See also: E Pellici and Maggie's in Lewisham.
Hawksmoor Guildhall
We know, it's expensive but the quality is still excellent and there's so much quality on one plate. This City boys haunt still makes one of the best breakfasts in London and we are, as ever, behind the breakfast cocktail menu wholeheartedly.
The hash brown comes with their full English (or the breakfast to share) and the best thing about them is that the potato pieces are cut fairly thick, which makes for a substantial, chunky hash brown which will finish you off after the sausages, bacon, 9am martinis...
M1LK
M1lk, on Bedford Hill, is somewhere bright, light and breezy for a lazy weekend. Its quirky dishes include the fillet o fish sandwich, made with red snapper, baked eggs and nut milk. You'll also find plenty of Aussie influenced classics, however, like eggs benedict and more classic fry up companions.
Why are the hash browns so special? Well, it's because they come with a special addition, an addition that is almost always wanted on any dish, ever -- yes, reader, that item is CHEESE. A fluffy mound of cheese on top of crisp fried potato. It's cheesy chips but y'know, for breakfast.
Duck & Waffle
Playground of foodies and City boys, this restaurant on the 40th floor of the Heron Tower is known for its stunning views and great food, two things which very rarely go together when it comes to London restaurants. Chef Dan Doherty is famous for dishes such as crispy pigs' ears dusted with smoked paprika served in a paper bag, ox cheek grilled cheese sandwiches (one of our favourites) and of course, the duck and waffle -- great at any time of day.
Guess what? Their hash browns are also the bomb. The secret, according to Dan is to use starchy potatoes, season them really well and add some chopped spring onion tops.
110 Bishopsgate,40th Floor, EC2N
Hash E8
Dalston brunch favourite Hash E8 has an unusual take on the hash brown, making it with beetroot, which should be annoying but is actually very good. Generally we're against messing with the classics, but in this instance we love the earthy sweetness the vegetable brings to the crunchy potato party.
Order the full English and embrace the change.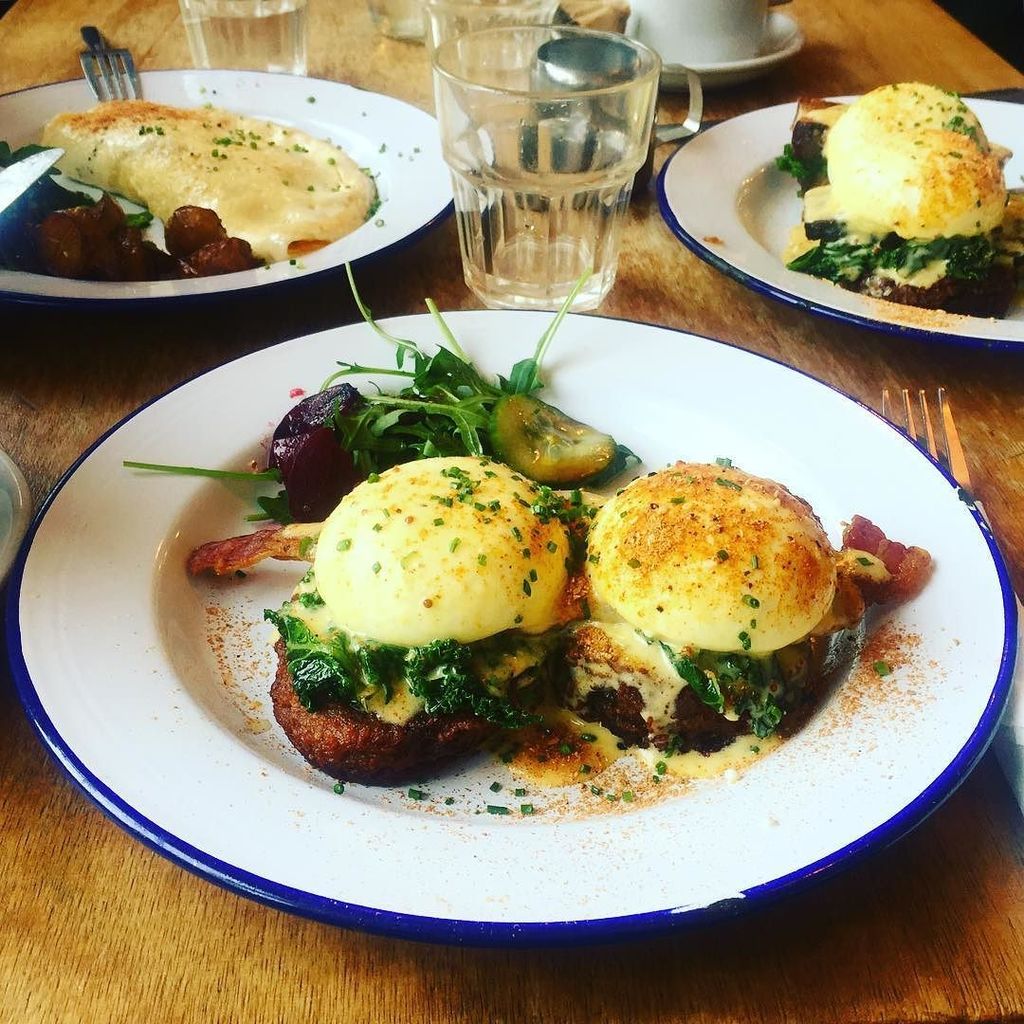 Eggbreak
This trendy Notting Hill breakfast spot is ruling the breakfast scene with its mismatched, floral crockery and menu of highly Instagrammable breakfast classics. They cover everything from healthy bowlfuls of yoghurt with chia seeds on top to fried chicken sandwiches, but it's their hash browns we can't get enough of.
The reason they're so good is the shape -- they look just like onion bhajis, which means there's lots of straggly bits to go all crunchy, while the inside stays as white and fluffy as a baby seal. We could eat these by the bucket load... which is unfortunate because they come in portions of three.
Deliveroo now from Holland Park