Being gluten-free doesn't have to mean saying farewell to lunch treats like juicy burgers, proper Italian pizzas or even swanky sky-high venues. More and more restaurants have wised up to the fact that some simply can't eat the dreaded gluten, and kitchens are responding. Now, there's a wealth of places around town where you can grab a quickie gf sandwich, stop in for soupy Vietnamese noodles or munch on fresh and healthy delights, without fear of repercussion. Here's a few of our top tips for the coeliacs...
Honest Burgers
Burgers are often not an option for those avoiding gluten, and the buns are even more problematic, but at mini-chain Honest Burgers everyone can get involved. All of the burgers are gluten-free, and you can request a free-from bun that is up there with some of the best - you'd never know it wasn't a standard bun, such is its softness and great texture. There's no need to fear cross-contamination, as each Honest branch considerately fries the now-legendary rosemary salted chips separately from no-go items like the onion rings. A gluten-free Daura Damm lager may be in order too, we think.
Deliveroo now from Brixton | Deliveroo now from Camden | Deliveroo now from Clapham | Deliveroo now from Covent Garden | Deliveroo now from Fitzrovia | Deliveroo now from King's Cross | Deliveroo now from Marylebone | Deliveroo now from Notting Hill | Deliveroo now from Old Street | Deliveroo now from Peckham | Deliveroo now from Spitalfields | Deliveroo now from Tooting
Unit 12 Brixton Village, SW9 | 4 Meard Street, W1F | Unit 34A, 54-56 Camden Lock Place, NW1 | 189 Portobello Road, W11 | 251-255 Pentonville Road, N1 | 4 Market Place, W1W | 72 High Street, SW17 | 12 Widegate Street, E1 | 75 Venn Street, SW4 | 6 Baldwin Street, EC1V | 12 - 16 Blenheim Grove, SE15 | 33 Southampton Street, WC2E | 24 Thurloe Street, SW7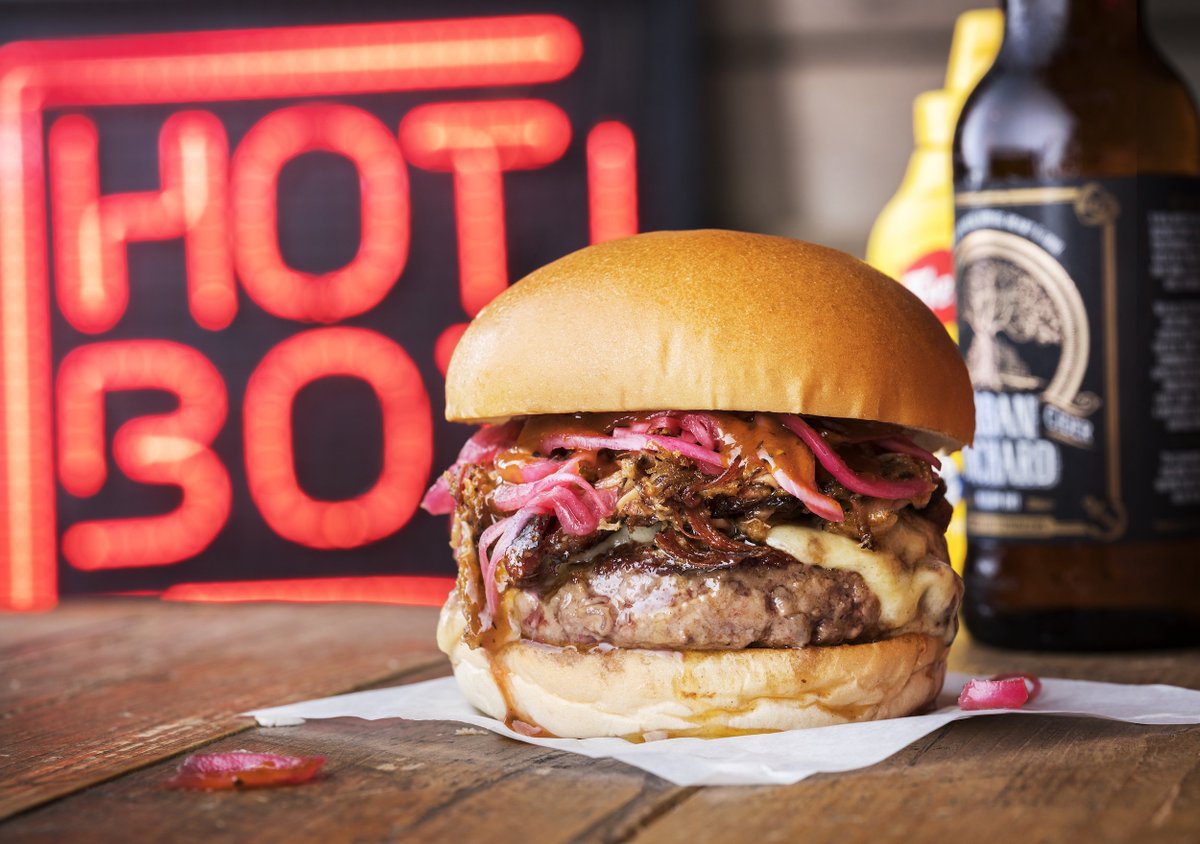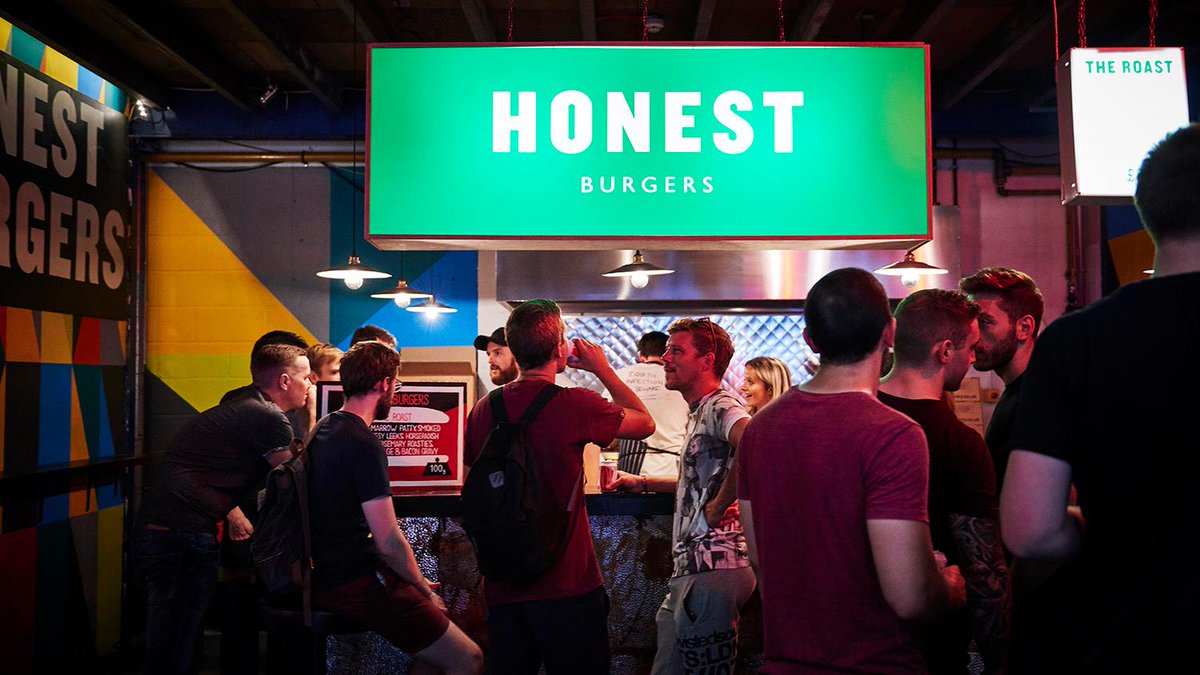 Carluccio's
Pasta without gluten is a tricky one to get right, but we're pleased that Carluccio's has it nailed with its corn and chickpea flour rigatoni pasta. We can report that most of the menu is suitable for those following a gluten-free diet (all three of the bruschettas, the prawns marinara and the chocolate and salted caramel sundae included).
Pasta-wise, you're looking at tempting rigatoni with smoked salmon and vodka, duck pappardelle (we recommend) and the ever-present penne giardiniera - though sadly you'll have to eschew the spinach balls. A solid high-street lunch staple on the gluten-free scene and it's worth noting Carluccio's is pretty wised up to dairy-free items too, should you require.
Deliveroo now from Bankside | Deliveroo now from Bloomsbury | Deliveroo now from Bromley | Deliveroo now from Chelsea | Deliveroo now from Covent Garden | Deliveroo now from Croydon | Deliveroo now from Marylebone | Deliveroo now from Muswell Hill | Deliveroo now from Upper Street | Deliveroo now from Waterloo | Deliveroo now from Westbourne
Garrick Street, WC2E | 108 Westbourne Grove, W2 | 3 Barrett Street, W1U | 305-307 Upper Street, N1 | 8 Market Place, W1W | 1 The Brunswick Centre, WC1N | St Pancras International Station, N1C | 236 Fulham Road, SW10 | Old Brompton Road | The Balcony, Waterloo Station, SE1 | Southern Terrace, W12
The Salusbury Foodstore
This is our coeliac (and dairy-free) friend's favourite pizza place. Hovering somewhere between being a straight deli and a cosy pizzeria The Salusbury Foodstore in Queen's Park scores even more thanks to its delivery option: exceptional gluten-free pizzas in the comfort of your own sofa should not be underestimated.
The trick is using corn, polenta and rice flour in the place of gluten which forms a thin, crispy, wood-fired base and even gluten-eaters prefer it, they say. We agree. The authentic Italian toppings including marinated artichokes, Parma ham, nduja, roasted veg and more mean that you'll definitely be coming back for more.
Deliveroo now from Queen's Park
Duck & Waffle
If you're thinking of heading to London's most renowned 24/7 restaurant then you'll be gratified to learn that you'll have plenty of choice once you're up among the clouds. There are loads of naturally gluten-free menu items, and a seriously switched-on kitchen which is happy to make almost anything suitable if there's something you particularly fancy. Take your pick from the current gluten-free offering of East End eels, goat meatballs, charred mackerel, baked Alaska and whole chicken. Thrillingly, the eponymous - and dribble-inducing - duck topped waffle can also be whipped up to order for gluten-dodgers. One for a special occasion, definitely.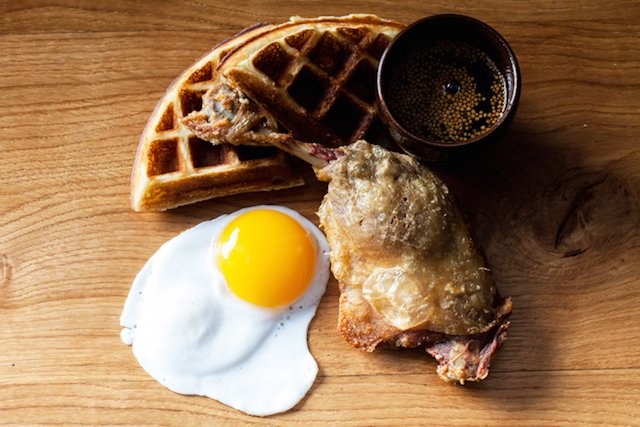 Niche
This completely gluten-free restaurant is really up there in terms of inclusiveness; it's really hard to tell that what you're eating is all free-from, it's not all just rabbit food, and your non-gf mates will all be totally happy to join you here. There's a lengthy menu of seasonal, modern dishes following a casual, bistro-like vibe that suits its Islington locale. You'll find anything from comforting sausage and mash (beef and pork oak-smoked and flavoured with paprika and treacle) to an impressive 'NFC' aka buttermilk fried chicken for all. Don't leave without trying the parmesan and cheddar doughnuts - it's not often you'll find those with a gluten-free label, after all.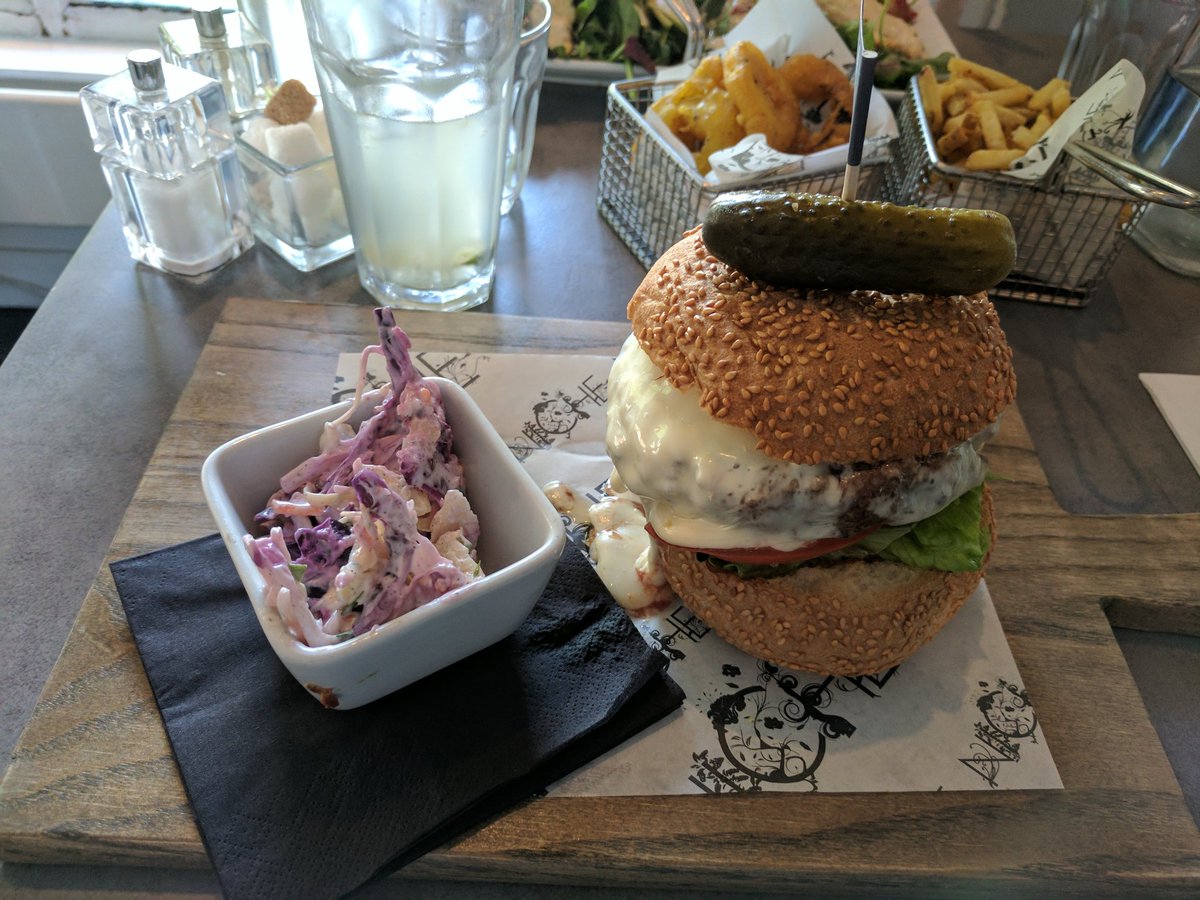 Andina
This Andes-inspired Peruvian Shoreditch joint is well known for its tremendous ceviche dishes, and thankfully all five of those on the menu are naturally gluten-free. Choose from delicious-sounding sea bass with amarillo tiger's milk, goldenberry, avocado and sweet potato and the yana ceviche of yellowfin tuna, rocoto tiger's milk, pickled pineapple and black quinoa.
If you're not in the mood for ceviche then you'll find that most of the (giant) menu will accommodate. Try bistec escabechado - marinated grilled fillet steak, red onion, amarillo chilli and choclo corn puree or little corn cakes with avocado for starters. The kitchen has wised-up to gluten-free customers' needs and uses an entirely separate set of equipment and tools to avoid any cross-contamination, so go wild.
Deliveroo now from Shoreditch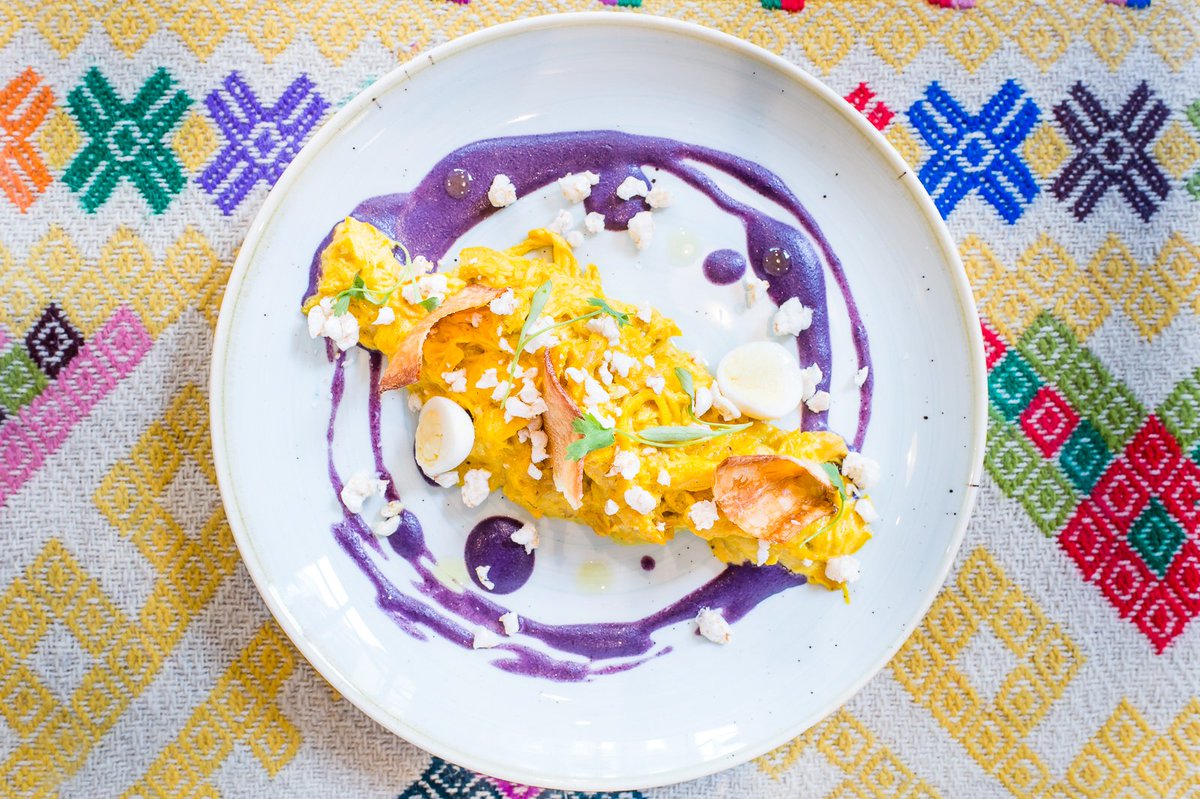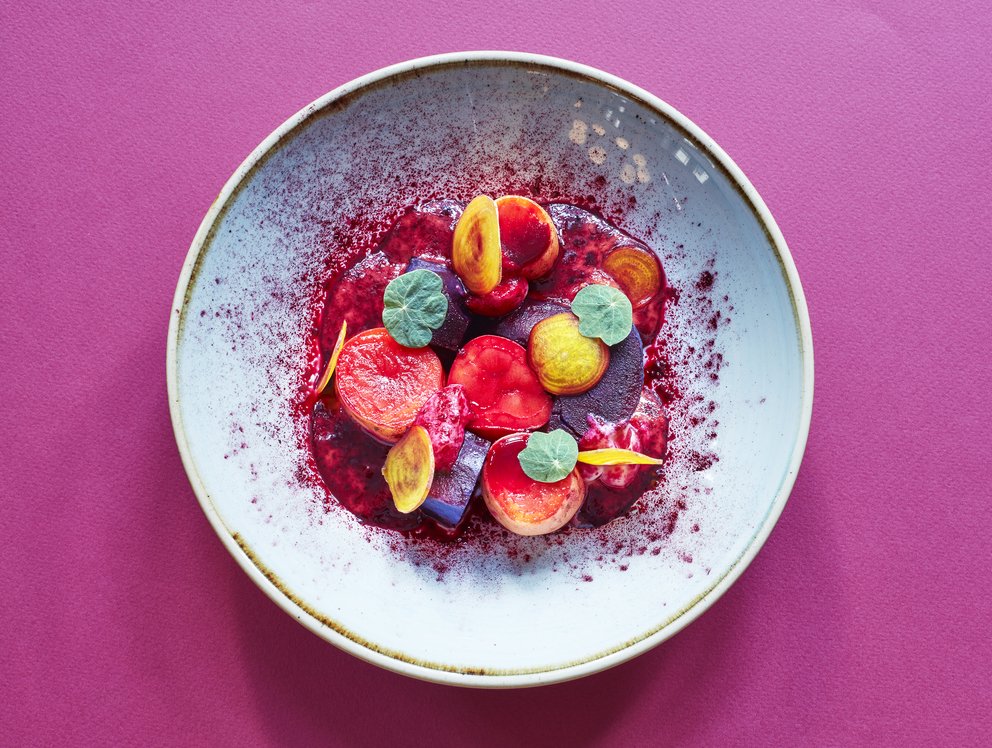 The Trading House
Over in the City? Combine some pretty fab cocktails with a spot of gluten-friendly lunch at The Trading House. Celebrating all things exotic, feast on delights like Malaysian vegetable curry, cauliflower couscous, and rather good piri piri chicken wings. Put theimixologists to the test with peach and cardamom mojito or apricot and jasmine daiquiri. The real star of the show though, are the amazing hanging kebabs. Succulent, well marinated chicken with garlic butter, sweet chili and ginger or salt and pepper pork belly served Portuguese style hanging from a skewer need to be tasted. And they're served with decent chips: yessss.
House Of Ho
Pho is always a good idea for a healthy, warming and tongue-tingling lunch, so Fitzrovia's House of Ho is definitely somewhere to keep in mind. Vietnamese food from celebrity chef Bobby Chin is quite a treat and in particular the bowls of fabulous, steaming pho go down well.
Featuring the traditional, deeply flavoured homemade broth, special rice noodles made from scratch and topped with a choice of meat, fish or veg, all come spruced up with fresh, zingy Asian herbs, chillies and spring onions. All the pho soups are suitable for gluten-free diets - noodles and all - and you can easily go vegan or otherwise too. Service is slick and speedy, making it an ideal working lunch destination - or save yourself for the bottomless weekender.
Deliveroo now from Fitzrovia
Simple Health Kitchen
Healthy types should take a glance at St Pauls' Simple Health Kitchen - there's one in Baker Street too - for a sparkling array of wholesome, healthy salads, plenty of plant-based yumminess and an altogether balanced lunch of protein pots, virtuous puds and a nice line-up of cold pressed juices. Much of it is gluten-free, with a fair amount of veggie, vegan and various free-from options too. They seek to prove that healthy food does not have to be boring, and with dishes like turkey and cranberry burger, sweet potato falalfel and piri piri chicken on the menu, we think they've gone and done it.
Tombo Fitzrovia
Great gluten-free options at this poke and matcha bar in Fitzrovia. Salmon Avo Lux is popular and just happens to be gluten-free. Tombo uses a gluten-free soy sauce, mixed with wasabi for a bit of a kick, to spice up the salmon sashimi, avocado, edamame, salmon rose and wasabi tobiko roe.
All poke dishes are available on a bed of black and white rice or waistline-friendly courgette noodles. Oh, and other sans-gluten options include miso aubergine donburi rice bowl, miso salmon bento and the edamame and spicy shichimi, hijiki seaweed salmon and miso aubergine topped with crispy leeks tapas items.