Finding a good, dog-friendly cafe in London can be quite tricky. While plenty of pubs have woken up to the benefits of allowing people to bring in their dogs (see our article of the best dog-friendly London pubs here), cafes are slower on the uptake. Here's our pick of the paw-fect places to take Fido for a flat white.
Bluebird Chelsea
Possibly one of London's most Instagrammed venues, Bluebird Cafe in Chelsea is all kinds of picturesque. Semi al fresco, during the summer it's a flower-filled, outdoor cafe, while in the colder months it transforms into a cosy, winter terrace. It's a place to see and be seen, and Londonist's Ruth Hargreaves recommends doing that over breakfast when Bluebird's food is at its best. Perfect for pooches looking to boost their social media following.
Nude Espresso
As if offering one of the best flat whites in London wasn't enough, Nude Espresso also welcomes dogs. Since it first opened in 2008, this has been a coffee-lovers' must-visit due to its excellent espresso-based drinks. Freshly-baked breads, pastries and cakes are also on offer - the brownie is particularly good. There are further cafes in Liverpool Street and Spitalfields.
Goswell Road Coffee
A quirky cafe (for Clerkenwell, at least), Londonist's Ruth Hargreaves recommends a poochy pit stop at Goswell Road Coffee. One of three coffee shops managed by independent Jonestown brand (the others are Jonestown on Bethnal Green Road and the charmingly-named F*ckoffee on Bermondsey Street), the focus is on single origin coffees and a range of organic snacks, soups and sandwiches. While you're supping your Papua New Guinea coffee, free biscuits are on the cards for Rover.
L'Eau à la Bouche
Pawfect for people-watching on Broadway Market, or dropping into after browsing the stalls, this lovely French deli and cafe will welcome your chien with open arms. With excellent sandwiches to eat-in or take-away, quiches and salads, this is well worth stopping off at. We dare you not to leave without buying one of the fantastic fromages from the counter...
Franze & Evans
At the other end of Brick Lane from Exmouth Coffee, Franze & Evans offers pan-Mediterranean food from breakfast to dinner. Try the weekend brunch - the poached tuscan eggs are a superb twist on the classic - or just go straight for the cakes which are baked on site. If you order in advance they'll even make a whole one to take away so you can pretend you made it yourself.
St David Coffee House
If you ever find yourself in Forest Hill, check out St David Coffee House. This quaint café filled with wooden chairs, formica-topped tables, vintage finds and local artwork, serves the best coffee around, with beans from Square Mile Coffee and rotating guest filter on the V60 and aeropress. The food is good too and will see you through from breakfast to afternoon cake, with everything in between. Think corn fritters with avocado and house kasundi, toast with ricotta and figs and stunning homemade quiches. The downstairs space is light and airy, a calm working space for freelancers during the week.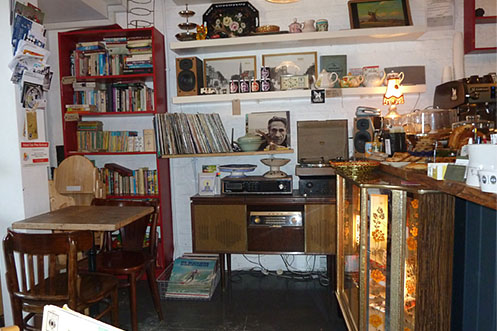 Bodega 50
Not just dog-friendly, but all animal friendly, this vegetarian hidden gem in Stoke Newington is little-known, but it's raved about among those who do know it. Guzzle on vegetarian and vegan breakfasts, toasties, sandwiches, meze and cakes while your pooch relaxes at your feet. Don't forget to say hello to Bruce, the owner's dog, on your way in.
Heap's Sausages
A place that specialises in sausages might be just too much temptation for your dog, but if they can keep their drooling under control, Heap's in Greenwich is well worth a visit. The coffee isn't the greatest in the area, but you don't come here for that - plump for the sausage and mash, or the Lethal Lucifer Hot Dog. There's a decent vegetarian selection too - we recommend the veggie sausage and avocado bap.
Deliveroo now from Greenwich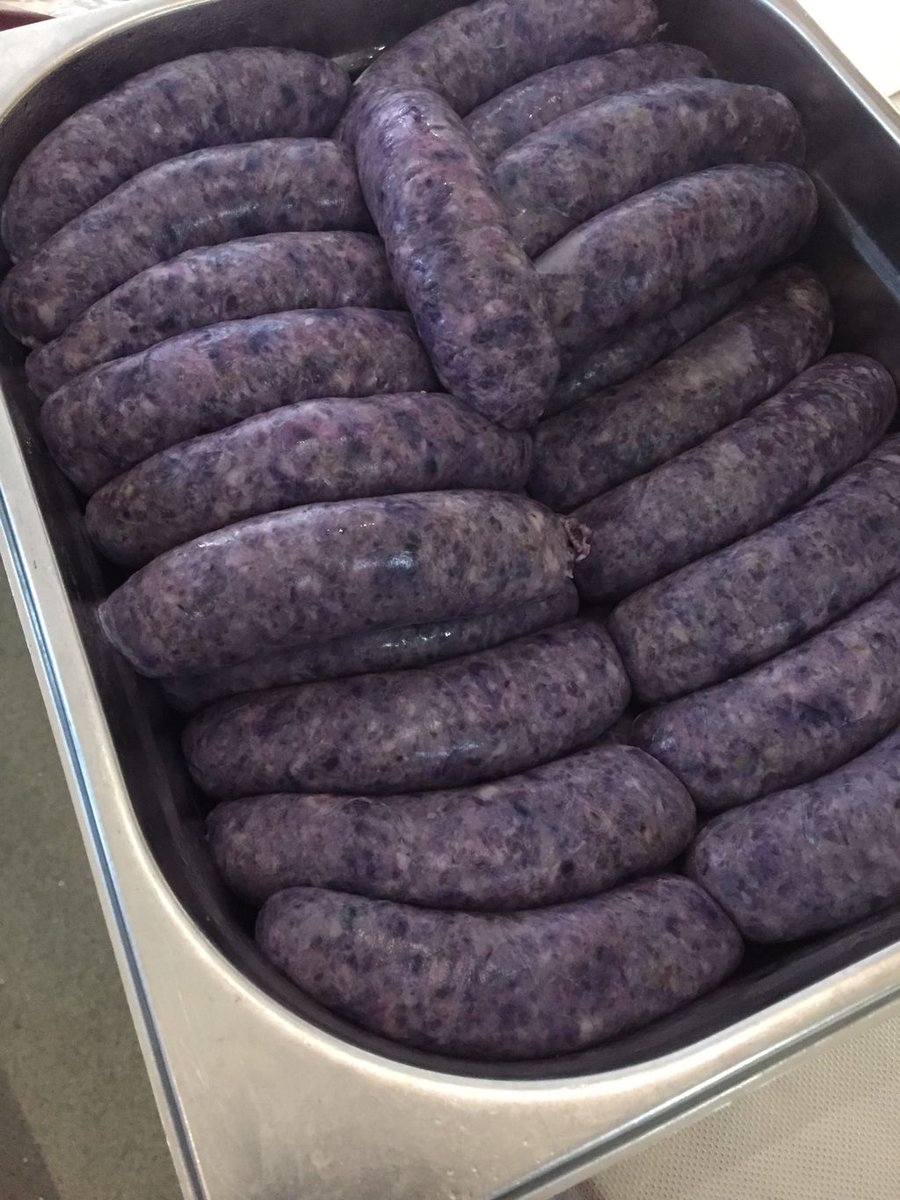 Zealand Road Coffee
A mooch with your pooch round nearby Victoria Park is only bettered by stopping at Zealand Road Coffee either before or afterwards. The avocado on toast is one of the best in the area. They certainly love dogs here as their Instagram feed attests, but the warm welcome is extended to everyone. Decent pastries and cakes as well as good coffee keep people and their pets coming back.
Ben's Canteen
Start with a bracing dog walk on nearby Wandsworth Common or Clapham Common, then make for Ben's Canteen in St John's Hill. Order the Aussie Iced Coffee with coffee, ice cream, milk and Milo and you'll be right as rain in no time. Many opt to have it 'dirty' with a cheeky shot of rum. If you'd rather not get wired on beans, go for Ben's Breakfast Fizz, a freshing combo of vitamin-rich orange juice mixed with marmalade syrup and topped with sparkling wine.
Deliveroo now from Battersea
Ozone Coffee Roasters
If the smell of freshly roasted coffee isn't enough to get you through the door of Ozone in Shoreditch, perhaps the fact they are dog-friendly and their daytime menu boasts bubble'n'squeak will. Head to the brew bar for an aeropress or V60 brewed coffee, before flumping down with Fido and working your way through the freshly-made dishes on offer.
Exmouth Coffee
With options often limited if you have a canine companion, it's tempting to settle for poor quality coffee, just so your furry friend can accompany you. Not at Exmouth Coffee though, where the coffee is excellent. Just a short walk from Brick Lane, this is a great stop-off after exploring the market on a Sunday.
83 Whitechapel High Street, E1
TY Seven Dials - Timberyard
If you're a dog owner also in need of a working space, Timberyard is going to seriously float your boat. Recommended by Londonist writer Ruth Hargreaves, this coffee shop-slash-work space near Covent Garden is full of people tapping away on their laptops while downing serious brews of coffee and big slabs on cake. Furry friends aren't expected to pull their weight work-wise, but they may be treated to a bowl of water nonetheless.
7 Upper St. Martin's Lane, WC2H
Cable co.
Strong coffee and a dog-friendly welcome can be found at Kensal Rise's Cable co. Single-origin blends roasted by London roasters Climpson & Sons dominate on the coffee side, while food is a mix of toasties, pastries and freshly made cakes. It's small, trendy and full of locals - both human and canine.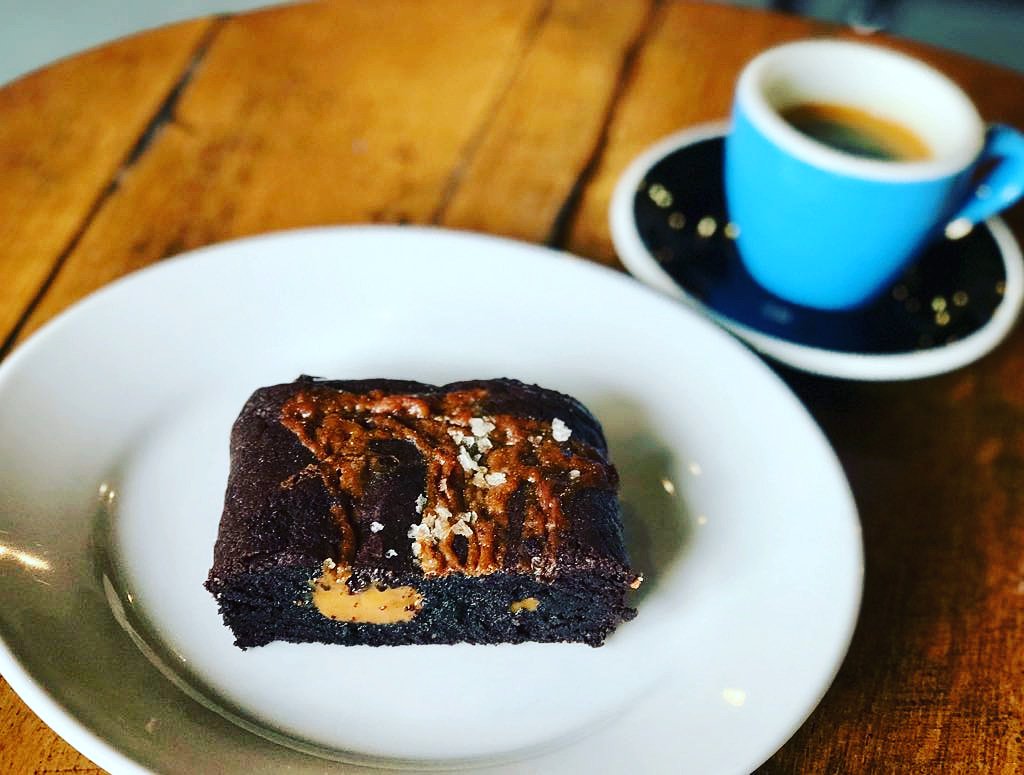 Paws for Coffee
With one venue in Hampton and a second by Richmond, both Paws for Coffee locations are perfectly situated for a post-stroll sit down after a day exploring the wilder sides of London. This is a cafe dedicated to dogs and their loyal walkers, says Londonist's Ruth Hargreaves, so you can expect your pooch to enjoy comfy beds, homemade dog treats and even their very own menu. Puppuccino, anyone?
Paradise Plantbased
Dogs are made very welcome at this, as the name suggests, vegan cafe. Paradise Plantbased ticks almost all the on-trend boxes: smoothie bowls, avo on toast, quinoa porridge, the list goes on. Inside it's cutesy and quaint, but don't let the pastel coloured interior fool you into thinking it doesn't have substance. Their vegan full English packs a decent punch and they serve some pretty knockout cakes too, says Londonist's Ruth Hargreaves.
There you have it. Finding a good, dog-friendly cafe in London no longer needs to be like a shaggy dog story. If you have any more favourites, let us know, in the comments below.