Step away from the watery sausages and overdone scrambled eggs, and start your day with a side of quirk at these more unusual breakfast spots. Tea porridge, bacon naan and trotter baked beans anyone?
Dishoom
We love Dishoom. We love it for lunch, we love it for dinner, and you can be sure we love it for breakfast too. Spicy omelettes, chicken keema topped with fried eggs and of course, that hangover-busting bacon naan roll. This popular mini chain has Londoners jumping out of bed and racing for Indian breakfast dishes.
To drink, try the hearty Breakfast Lassi packed full of creamy yoghurt, fruit and oats. Or for hair of the dog, the Dhoble breakfast cocktail with gin and fresh orange juice will wipe the sleep from your eyes in no time.
12 Upper St Martin's Lane, WC2H | 7 Boundary Street, E2 | 5 Stable Street, N1C | 22 Kingly Street, W1B
Hawksmoor Guildhall
We like to think of Hawksmoor's breakfast offering as the 'make or break' option. Go with a friend, opt for the innocent-sounding 'For 2 to share', and then embark on a Big Breakfast mission to see exactly who has what it takes to pass the finishing line.
A meaty monster, this sharing platter comes topped with bacon chop, sausages (made with three types of meat), black pudding, short-rib bubble and squeak, bone marrow, trotter baked beans (yes, even the beans aren't meat-free), eggs, mushrooms, tomatoes, gravy and ... unlimited toast. The portions are generous and you're likely to need another few hours in bed to recover afterwards.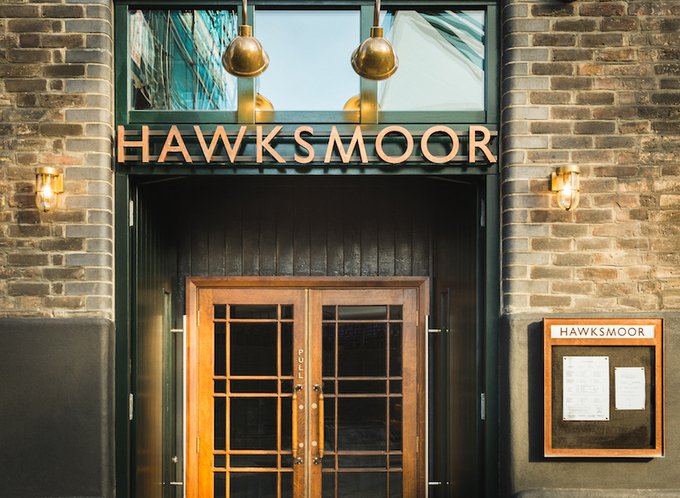 The Attendant
If you've ever had a hankering to devour breakfast in a toilet, here's your chance. The menu at the Attendant is much what you'd expect from any regular cafe - granola, muesli, porridge, pastries - except you'll be enjoying your breakfast choice in a former Victorian toilet.
Built around 1890 and still operational as a public loo until the 1960s, the original Doulton & Co urinals now form a seating bar where you can take your brekkie and, erm, flush it down. Good coffee, too.
Flesh and Buns
Specialising in Asian comfort food, Flesh and Buns serve up flavourful, addictive parcels of deliciousness to hungry punters all day. But their Sunday Brunch menu takes the proverbial chicken yakitori biscuit.
The set price menu allows you to choose from a selection of small dishes including Korean fried wings, mixed seafood ceviche and spicy tuna roll, before selecting your 'flesh' dish, which ranges from rib-eye steak to crispy piglet belly. For dessert (because you're not full yet)? S'mores, with your own little tabletop fire to cook them on. Of course.
Deliveroo now from Covent Garden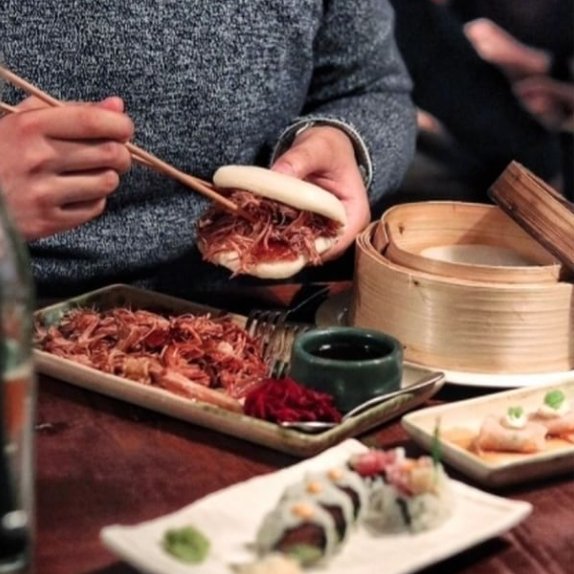 NAMA
Possibly as far away as you can find from the greasy spoons of old, Nama is all about healthy, raw, vegan food. Also gluten-free friendly and organic, their breakfasts take 'natural' to a whole new level.
Their Full English features cashew scrambled 'eggs', aubergine 'bacon', herbed 'sausage' and raw tomato ketchup. Not a single item is cooked and the flavours are pretty inspired. It is expensive (£12 for the Full English) but it delivers on taste, presentation and nutrition. Guilt-free breakfasting isn't easy to come by, but these guys have it nailed.
OPSO
Head to Opso of a weekend morning and this contemporary Greek diner is unlikely to disappoint. Traditional dishes such as Bougatsa (crispy phyllo pastry filled with semolina custard) and Kolouri (sesame-covered milk bread, served with goat's curd) are yummy, but there are a couple of curve balls on the menu too.
Choose rice porridge infused with Earl Grey tea for complementary, aromatic flavours. Opt for snails served with bacon and chips for a full on whack-in-the-face of salt. Job's a good'un.
Deliveroo now from Marylebone
Cereal Killer Cafe
In many ways, Cereal Killer Cafe should be banned from this list. After all, what is more 'usual' for breakfast than plain old cereal?
But with over 120 cereals on offer from around the world, plus a selection of milks that make our teeth disintegrate at the very thought (bubblegum milk - eesh), Cereal Killer Cafe offers a breakfast selection that quite simply cannot be found anywhere else. It's gimmicky, sure, but nearly three years on twins Alan and Gary Keery are still going strong, so they must be doing something right.
Deliveroo now from Brick Lane
Flight Club
Putting quite a lot of trust in the steady hands of their punters, Flight Club in Shoreditch has made the brave decision to combine boozy brunch with games of darts.
£30 each will get you at least 30 minutes of darts with real-time scoring, a bottle of prosecco per person and two hours of endless pizza (another interesting breakfast choice, but good for soaking up the booze we suppose). The atmosphere is buzzy, the pizza is flowing and your ability to focus on a single, fixed point is likely compromised. Hurrah for prosecco!
The Bloomsbury branch is now open and ready for your breakfast bookings.
M Victoria Street
Quinoa porridge, kale and eggs, fried chicken - tasty, but nothing too unusual for a breakfast menu, right? What makes M Restaurant's breakfast offering out of the ordinary is that every Saturday, guests are invited to bring along their furry friends to enjoy the '6 Legs Brunch Menu' together.
That's right, while you crack on with your bacon and peanut butter waffles, so can darling Fido. As you're tucking into a chicken liver and steak salad, little Mimi can join you with their very own plate dried chicken livers. It's certainly ... unusual ... but that's the point, isn't it?