What comes to mind when you think of Russian food? Stroganoff? Caviar? Chicken kiev? How about pelmeni? Okroshka? Pirozhki? Borscht? If these are dishes that you haven't yet tried, it's about time to pop that cherry and see what London has to offer in terms of authentic Russian cuisine.
Bob Bob Ricard
More well known for its 'press for champagne' button feature, Bob Bob Ricard is indeed a British/Russian restaurant, which becomes apparent from the appearance of vodka shots as starters. As Russia is famous for its dumplings, try starting with the truffled potato and mushroom vareniki or the lobster, crab and shrimp pelmeni On to mains and the chicken kiev promises the sun and the moon as long as you can work your head around the fact it costs £24.50. Certainly on the pricier end of the spectrum but impeccable service, excquisite decor and mood lit booths will have you feeling special.
Borshtch N Tears
Borscht is one of the most well-known Russian dishes (despite Ukranian origins). The sour soup's popularity in Russia knows no bounds, so it is a good place to start on the bilingual menu at Borschtch N Tears, one of the oldest Russian restaurants in the UK. You might not think much passing the restaurant's unassuming exterior, but the fittingly rich red decor, low lighting, and live Russian music quickly make you forget the outside world. Once you leave, you'll be surprised to find yourself back in London at the end of the meal.
Mari Vanna
Prepare to step out of London and into authentic-as-it-gets Russia at Mari Vanna, one of London's most famous Russian restaurants. The quirky old fashioned decor leaves you feeling like you're dining in someone's slightly glam living room on another continent. Try the Olivier salad which is traditionally eaten in Russia on New Year's Day. but is served here all year round. The borscht, dumplings, pelmeni, and oladushki all come highly recommended. Everything from the ingredients to the lace decor is head to toe Russian and fabulous.
Dacha Delicatessen Russian Shop
Dacha started life simply as a Russian/Eastern European deli but has now become a full-fledged restaurant at their Aylmer Parade location. A look at the homemade section on their groceries website will give you a good idea of what they serve, from traditional dumplings and pirozhki (stuffed baked buns) to svekolnik (chilled beetroot soup). The best thing about the deli is that anything you try that really takes your fancy, you can then purchase the ingredients for before you head out the door.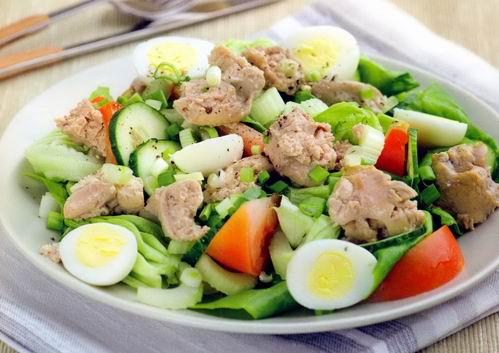 Erebuni Restaurant, Bar & Lounge
Erebuni is a Russian, Armenian and Georgian bar and restaurant right by the Barbican. It has a fantastically varied menu carrying your classic mushroom or beef stroganoff and chicken kiev, to tenderised chicken otbivnaya and Russian golubtsy (cabbage rolls with minced meat, rice and herbs cooked in tomato sauce). The decor is more neon bar than traditional Russia but you'll come for and stay for the food, especially their khachapuri.

Stolle Bakery & Restaurant
For great value authentic Russian food you should be heading to Stolle in Camden. Although the country may not be as famous for its pies, they are a hugely popular comfort food and this restaurant goes to town with its savoury and sweet options. From beef, salmon, cod and broccoli, or spinach and cheese, to strawberry, blueberry, or apple. You've also got your stroganoffs, kievs, pelmenis and stuffed cabbage golubci. The starter that piques our interest is the herring under fur coat - traditionally tasty herring piled under onions, eggs, beetroot and a tonne of mayo.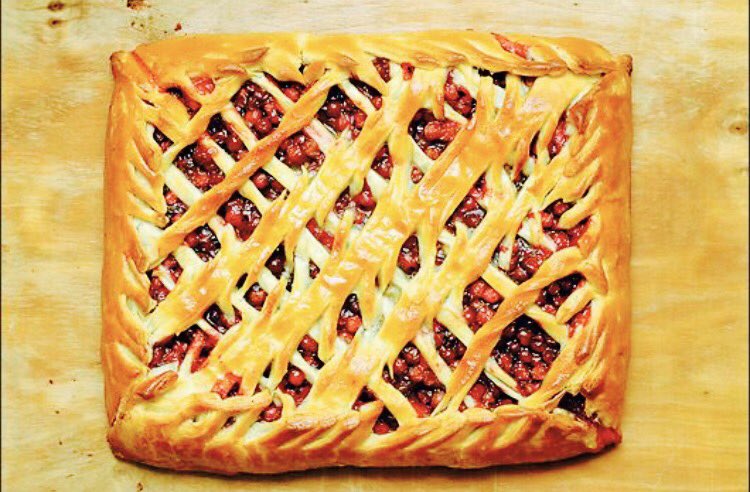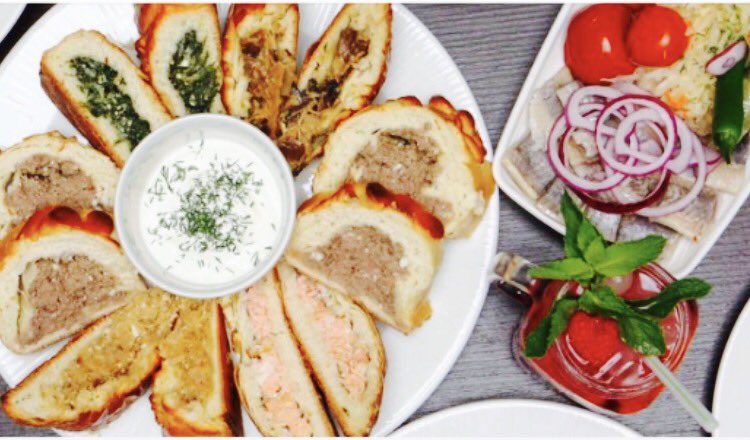 Zima
For homely Russian cuisine with a sophisticated twist, Zima is a refreshingly unpretentious restaurant that takes the best of small town Russia and places it in Soho. Their plates are great for sharing; nip in for pre-theatre drinks and you might just return later for the full meal. Classics such as sturgeon, venison and - of course - caviar, are easily accompanied by high quality vodkas. This is Russian streetfood on steroids.