Nachos - everyone's favourite Tex-Mex sharer - are hard to get wrong. A pile of crispy tortilla chips covered in melted cheese with various dips will always make us happy, but it turns out there's actually a fair bit of variation around. For instance, are you after cheddar, melted Jack or America's preferred 'cheeze' sauce? Fresh pico de gallo, standard salsa or rocket chillis? And will you be beefing that up, sir? These are all questions we need answered. Here's what we've found around town.
Ed's Easy Diner
Ed's Easy Diner has been serving up retro-inspired Americana across their diners since the '80s, and along with their signature burgers, hotdogs and *those* milkshakes, we're happy to report there's also a decent plate or two of nachos on the menu. They come straight up as traditional corn chips with salsa, guacamole, sour cream, jalapeños and Ed's near-fluorescent cheese sauce topped with chilli flakes for £6.50. Meat fans can upgrade with some beef chilli on top for an extra two quid. Nachos and an extra thick butterscotch shake, all guzzled while perched on diner-style seats with the jukebox playing makes for a fun trip back to 1950s America.
Deliveroo now from Euston | Deliveroo now from Soho | Deliveroo now from Victoria | Deliveroo now from Wandsworth
12 Moor Street, W1D | 19 Rupert Street, W1D | The Piazza, London Euston Station (EUS), NW1 | 14 Woodstock Street, W1C | Southside Shopping Centre, SW18 | R5, 115 Buckingham Palace Road, SW1W | Angel Central Shopping Centre | 3rd Floor, Debenhams, Westfield London Shopping Centre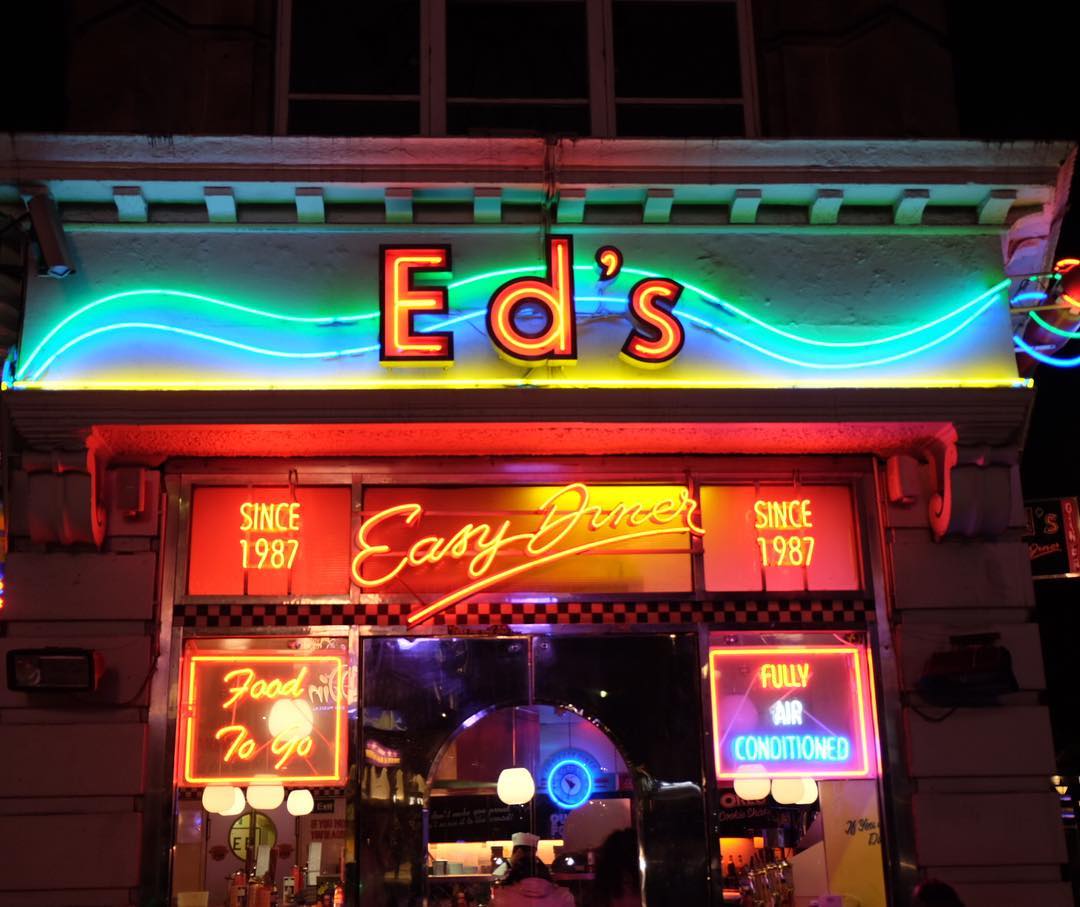 Big Moe's Diner
More stateside nostalgia comes in the form of east London's Big Moe's Diner. Head to Aldgate or Newham for a classic 1950s diner experience, with a warm American-style welcome, and more plates of oozy, meaty, cheesy carbs than you can shake a stick at. The nachos here are tortilla chips loaded with nicely hot jalapeños, tomato salsa, guac as standard, and sour cream with plenty of cheese, topped off with some diced red onion for freshness and tang. Perfect for sharing and costing £6.95 you can also go wild with sliders, ribs and a coke float.
Unit 3, Newham Leisure Park Jenkins Lane, IG11 | 95-96 Whitechapel High Street, E1 | 95-96 Whitechapel High Street, E1
Chilango
It's of little surprise that one of our top burrito purveyors in London also has a cracking line in nachos. With colourful food inspired by travels around Mexico and US hotspots including LA and San Fran, Chilango's Super Nachos are up there with the best and can be fully customised. First, layer your corn tortilla chops with cheese before selecting either black beans, pinto beans or peppers, then choose whether to stick with your veggie option or make it meaty with grilled steak, chicken, pork or prawn (or more - but you'll pay extra) before topping the lot off with your desired level of spicy salsa and sour cream and cheese. Phew. Our only bugbear? Guac is extra: WHY?
Deliveroo now from East Finchley | Deliveroo now from Holborn | Deliveroo now from The City | Deliveroo now from The City | Deliveroo now from Upper Street
27 Upper Street, N1 | 142 Fleet Street, EC4A | 76 Chancery Lane, WC2A | 64 London Wall, EC2M | 32 Brushfield Street, E1
Mestizo
In a town of mostly Tex-Mex or Californian style Mexican restaurants, we return time and time again to Mestizo for their properly authentic Mexican cuisine - a rarity. The menu at this Euston party place is lengthy and exhaustive, so we recommend you get comfy with a jug of margarita and order up some nachos whilst you decide.
Deliveroo now from Euston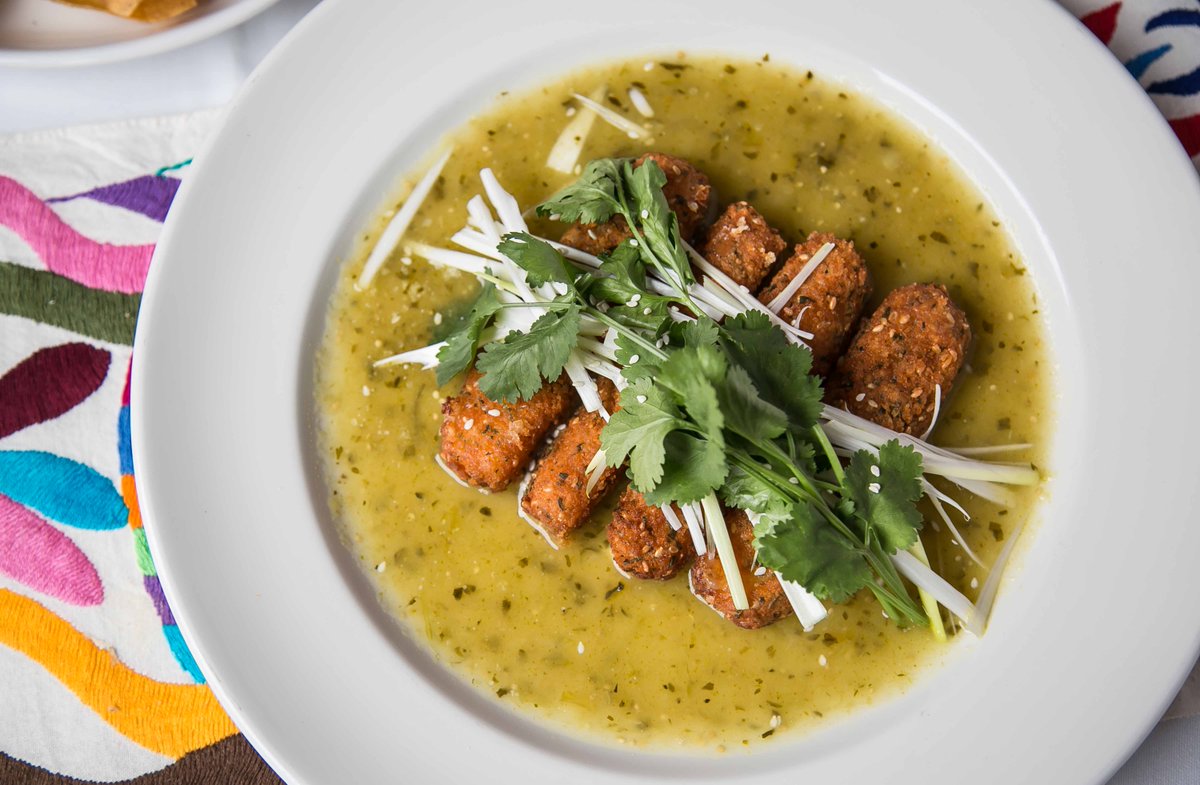 Delisserie
Delisserie is a North West London mini-chain of smart New York deli style restaurants with possibly the biggest menu of US dude food we've ever seen (think the Cheesecake Factory, but better). Their pastrami, salt beef and brisket is exceptional, with everything cured, smoked and whatnot in-house, making for some pretty tasty sandwiches (they even supply Selfridges). As a side, you should definitely order up some nachos, which are huge and come slathered in melted cheese and jalapeños with pots of sour cream, guacamole and salsa for dipping at £6.95. For an extra £1.50 you can make it meaty with beef chilli, crispy bacon or pastrami 'bacon'. If you're in the mood for something a bit different, we highly recommend the nachos with spinach artichoke and cheese dip (a stateside favourite) that is richly creamy and savoury, but we can also pretend is healthy because: spinach. Branches in Mill Hill, Temple Fortune, Hatch End, St John's Wood, Stanmore and Borehamwood.
El Camion Mexican Grill
Get your late night nacho game on at Soho's El Camion, where you can eat spicy, cheesy, chilli nachos until the grand old time of 2am - and drink even later. Food is Baja California style, so expect souped up versions of authentic Mexican favourites like chicken tinga quesadillas, jalapeño poppers and such, nestling alongside a fairly comprehensive nacho menu. You're looking at a big plate of tortilla chips covered in melted Jack cheese, guacamole and salsas to which you can then add chicken tinga, straight grilled chicken, black bean and jalapeño, pork carnitas or picadillo beef. These all come in between £7 and £9, which in the middle of Soho with a tequila cabinet as strong as theirs, we think is pretty darn good.
Chick 'n' Sours
Chick'n'Sours don't do anything by halves, and if you haven't sampled their incredible fried chicken wares yet, then we really can't be friends. Go. For today's nacho purposes though, we're here for the Mexi-Nese Nachos, coming in at six of your English pounds for some Chendgu chick'n'bacon, green chilli and kimchi cheese - exactly what any kind of Asian-influenced US comfort food should be. The cheese is warm and oozy, and everything is given a proper Szechuan chilli kick with added crunch from the chicken skin. You need to order this whenever you pop in for your fix of disco wings, no messing about.
Boondocks
Boondocks - the messy burger big brother of Carnaby's Stax - is another nacho pusher worth your attention. Available in a choice of small or large at £4.50 and £7.95 respectively, you'll find freshly fried tortilla chips laden with salsa, guacamole, jalapeños, mounds of cheddar and a bonus spiced cheese sauce, crema mexicaña (a cheesier version of sour cream) and black beans. It's weighty - even in the small size. And that's before you've decided whether you're going to be sticking chilli beef all over it for an extra £2.50. We totally would. And maybe some buffalo wings. And perhaps a small Po'Boy...