Brunching is one of our top three weekend activities here at Londonist, but sometimes those same old same old eggs bennies just won't cut it - even if it's accompanied by bottomless bubbles. For something that feels a little bit special, we're here to tell you about all the best Asian inspired brunches you could be eating instead. From a Masterchef-worthy Malaysian pop-up, to splashing some serious cash over celeb-loved sushi, we've got the weekend sorted with your ideal Far Eastern feast.
Hakkasan
Often cited as one of the best spots for modern Cantonese fine dining, Hakkasan's unpretentious yet distinctly glamorous Hanway Place restaurant is definitely the place to head if you have £58 burning a hole in your pocket one Sunday brunch time. Their Dim Sum Sunday deal includes half a bottle of Louis Roederer champagne, a pre and post-lunch cocktail, and dim sum of truly exceptional quality. Expect classics like the Chinese chive dumpling and innovations like the golden seafood and cheese roll, where you can practically taste that Michelin star.
Aqua Kyoto
Many Londoners will know of this fairly long-standing sleek rooftop bar and restaurant as being perfect for celebrations, but the brunch price renders it affordable for a not-so-special occasion too. Ok, so it's still £49pp (or £65 if you go for bottomless Veuve rather than generic bubbles) but, for seven courses of expertly cooked Japanese fare on a roof in Regent Street, many wouldn't bat an eyelid.
The sushi and sashimi platter course alone is generous, with sparklingly fresh tuna, salmon, shrimp and all the usual suspects wrapped imaginatively in things like dried mango in place of nori. There's also tempura'd bits and bobs in the lightest of batters, noodles and yakitori to come. Impeccably charming servers keep your fizz well-filled throughout your duration. We're impressed.
5th Floor, 240 Regent St.,(Entrance On 30 Argyll Street, W1B
Flesh & Buns
This subterranean dining den from the team behind Bone Daddies is one of our favourite brunch spots in town. They say they specialise in Asian comfort food - with an emphasis on 'drinking food' - and it's mostly Japanese-ish with a welcome side in Korean junk food done insanely well.
Their Sunday brunch offering is bottomless (choose from unlimited prosecco, white or red wine and a welcome cocktail) and there are two menus to choose from £39/£46. We'd suggest the cheaper of the two because you're looking at an amazing selection of small plates (also unlimited) of things like Korean fried wings (get these, have wipes), mixed seafood ceviche and sushi galore, before each selecting your 'flesh' dish, which arrives with perfect cloud-like bao and matched pickles. The mains are large and you'll want to eat them so try not to fill up; the crispy piglet belly is truly delicious. The pull of the pricier menu is that for pudding you're presented with a tabletop fire over which to toast s'mores, so if your tooth is on the sweet side you might need to shell out that extra £7.
Deliveroo now from Covent Garden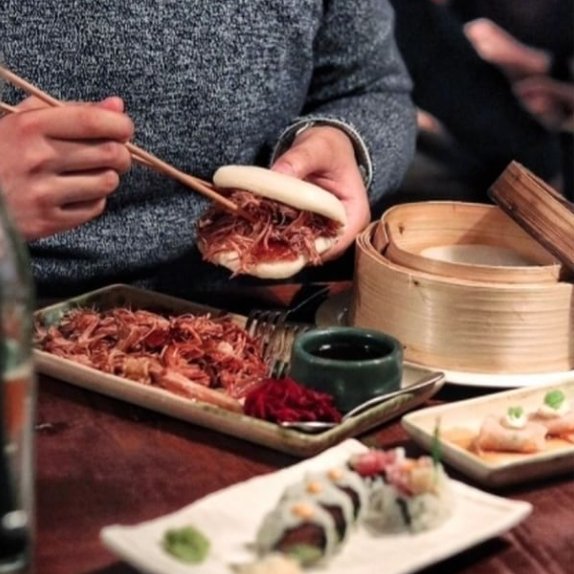 Murakami
Murakami in Covent Garden is where you'll want to be for a lazy weekend brunch with friends if laid-back vibes, sushi and modern Japanese food is your way of seeing off a Sunday morning hangover.
Decor at this theatreland pitstop is stylish and simple in homage to sleek Japanese fashion with tonal shades, flashes of greenery and cool blue steel girders - its all very warehouse-chic. The food is authentic Japanese with an emphasis on light, bright flavours and produce.
Try the chirashi tart: layers of rice, spicy tuna, Japanese style guac and flame seared salmon. Or perhaps the scallop ceviche roll of nashi pear, scallop ceviche and yuzu soy sauce topped with ikura and zingy lime zest. Drinks-wise, there's an array of Japanese beers, wine, whiskey and sake, plus imaginative cocktails like the clementine and kaffir lime margarita. Yummy.
Deliveroo now from Covent Garden
|
Deliveroo now from Covent Garden (platters)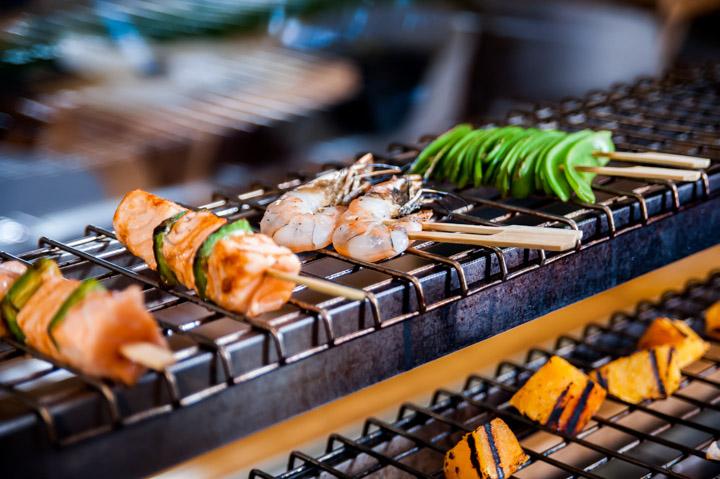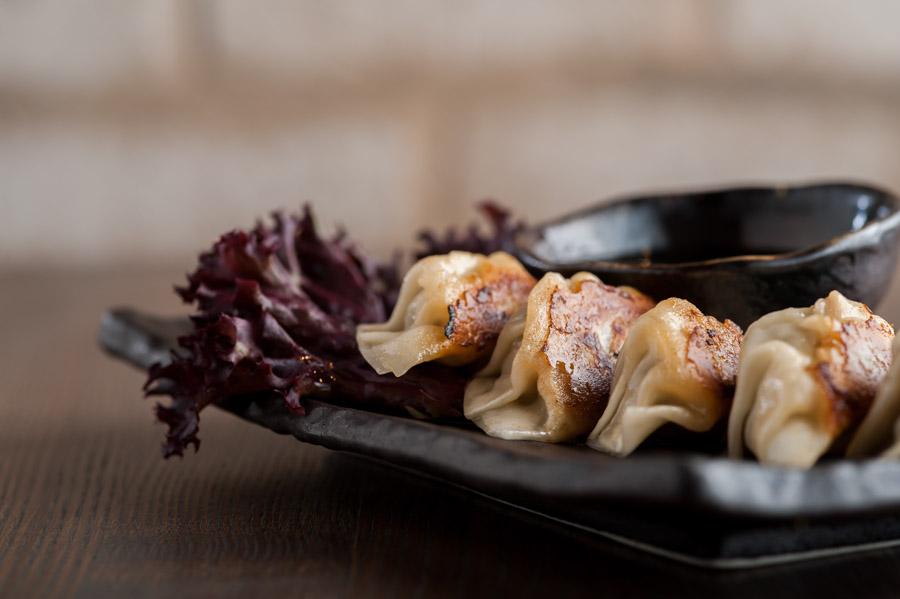 Sexy Fish
Never one to underplay its credentials, Sexy Fish brings us the Sexy Brunch. As you'd expect from one of the most glam restaurants Caprice Holdings has, it lives up to its name in spades: there's onyx-heavy decor, and mermaids by Damien Hirst adorning the walls.
Sexy Brunch sees a new Asian-sea-focused brunch menu accompanied by playlists from VIP guest DJs (when we went, Jodie Harsh was on the decks and it was beyond great) and a show-off cocktail menu: of course we had to go for the Sexy Fizz - a bigger, better version of a mimosa. Promise you'll order the Sexy Fish Benedict which is an Instagram dream of black charcoal muffin (so good) with poached egg, yuzu hollandaise and lobster all dressed with truffle, avocado and completely showstopping.
We also thought the sashimi salad was also beautiful and the wagu gyoza with foie gras and black truffle definitely cement the fact you're in Mayfair. We hear the sharer cheesecake pudding is divine too, if you've room. Don't forget to pilfer the mini sexy fish trinket as a memento.
Berkeley Square,Berkeley Square House,Mayfair, W1J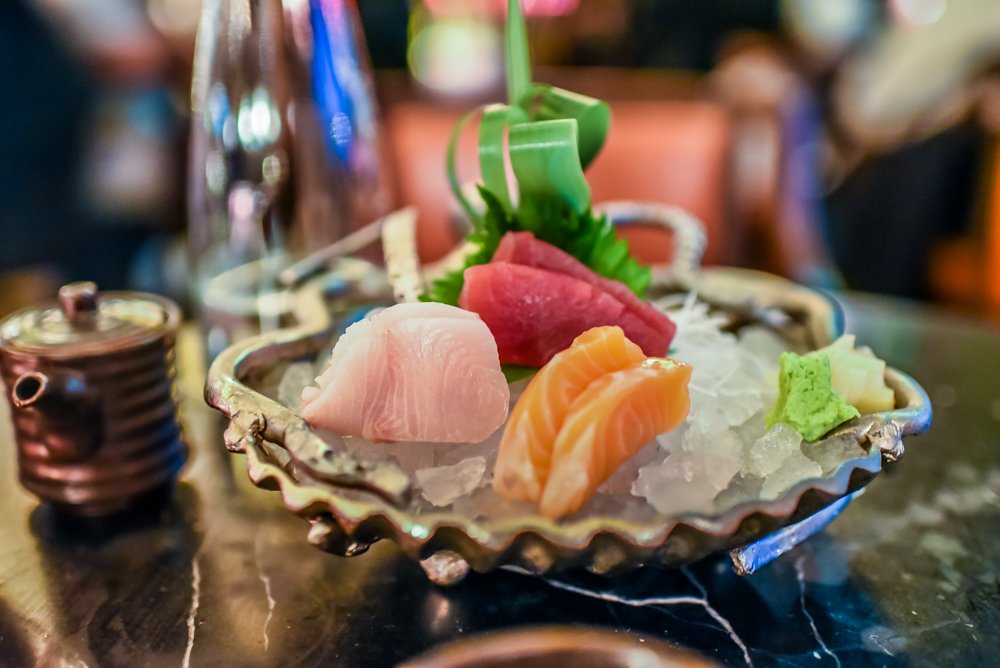 Chi Kitchen
The basement of Debenhams Oxford Circus isn't the most obvious place to head with your mates for a delicious brunch, but bear with us. Each month, Masterchef winner Ping Coombes hosts a south-east Asian inspired breakfast club capitalising on her heritage and featuring a set menu of traditional food found across the subcontinent.
June 2017's dishes were inspired by her home town of Ipoh in Malaysia and featured Lamb Murtabak (a Malaysian flat bread stuffed with spiced lamb mince served with pickled shallots and Ipoh's Gai See Hor Fun - their most famous dish of soft rice noodles in a chicken broth topped with slithers of chicken, prawns and chives drizzled with roasted prawn oil).
Other highlights were Kuih Talam for pudding (a layered Pandan and coconut steamed cake) and a fiery carrot, ginger and orange shot. Ping is the executive chef at Chi Kitchen in any case so actually, all of the Pan-Asian exotic dishes are going to be good, but her brunch clubs are a step up. Visit the website for dates.
Deliveroo now from Marylebone
|
Deliveroo now from Wimbledon