No doubt burger fans will already be wise to a fair few of these purveyors of smokey, meaty, patty goodness. But have you tried them all?
We've been on the hunt for some of the biggest and baddest, nay, beastiest burgers around. So, if that standard-sized bacon double cheese isn't hitting the spot, you've come to the right place. These are all pure, beefy goodness, so if it's a big old chicken or veggie burger you're after, then move along please. Read on for the most cholesterol-damaging buns in town.
Haché
This French-inspired mini-chain is actually a bit different from the usual Dude Food slash Americana BBQ vibe of most burger joints - and it does a darn good burger to boot. And mate, it's not small.
We'd recommend ordering the best of the bunch, which is Le Fume. Using 100% Scotch beef in a mix of chuck and trim for the ideal mix of texture and flavour, each burger patty is 6oz and can be cooked to your preference. With beef sourced straight from the Queen's butcher, you know it's going to be good. It arrives with caramelised onions, smoked bacon, gruyere and Hache coleslaw presented in a cherry-oak smoke filled dome at your table and all adds up to a super tasty monster burger. We love the fact you can choose from sturdy (and delicious) ciabatta or the ever-present brioche.
Deliveroo now from Camden | Deliveroo now from Chelsea | Deliveroo now from Clapham | Deliveroo now from Shoreditch | Deliveroo now from Wembley
147 Curtain Road, EC2A | 24 Inverness Street, NW1 | 329-331 Fulham Road, SW10 | 153 Clapham High Street, SW4 |
Roast
Considering its location in foodie heaven Borough Market, you know that a burger from Roast is going to be worth its salt. Their take on a beast burger is the Ultimate Roast Burger, which was born in January 2017.
Layers of carved tender Welsh Black roast beef are stacked with carrot piccallili and horseradish sour cream, topped with melted ale and mustard cheddar, curly kale and pickled red cabbage, all sandwiched between a roast potato, garlic and rosemary bun along with some red wine onion gravy for dipping. Phew. Much of the ingredients come from the stalls below and other sourcing is, of course, impeccable.
T.G.I. Friday's
No, it's not our usual hangout (hello, underwhelmed tourists!) but there are two noteworthy offerings at crowd-pleasing TGI's. Nope, we may not know where the meat is from, or be able to ask how we'd like it cooked but the fact remains that this faintly old school slice of the US of A remains fondly in some people's hearts. And look, they've got some fairly sizeable burgers happening right now.
Firstly, The Chief Burger. It's a 7oz chargrilled burger, plus loads of chicken breast, crispy bacon, Scorpion Hot Sauce, chillies, cheese, red onion, tomato and chilli mayo (phew, quite a list!) all in a glazed brioche bun (3 pieces of it).
Oh, and it comes with crispy fries and scotch bonnet chilli to top it all off. Not had enough? Try The Warrior Burger: two 7oz burgers plus mozzarella sticks, Colby cheese, crispy bacon, American cheese, caramelised onions and Friday's own mayo served in a the same bun. And more fries.
A few branches around town and the country, see website for locations.
Red Dog Saloon
Possibly the most well-known of the beast burger merchants, American import Red Dog Saloon has a mixed reputation. Billing themselves as a Kansas City BBQ here in London, they have well and truly channeled the US trend for eating challenges with The Devastator. Well over 3000 calories of steak burger patties (three), plus 200g of pulled pork (enough for a main dish alone), six applewood smoked bacon rasher and six slices of American cheese, this is definitely Man Vs Food. Oh, and you need to munch it all, along with fries and a drink in ten minutes flat to get on their wall of fame. Safe to say, very few achieve it.
Plus points are that they know what they're doing with the BBQ: the smoker is in-house and imported from the US with plenty of hickory and mesquite chips to get that flavour right. They get a decent crust on the meat and the interior generally stays medium/rare. Pulled pork and ribs are usually good. But, we've heard worrying things about service, prices, wait times and even sometimes the quality of food in general. Good rather than great, and there are definitely better BBQ joints around - visit for the size of that beast burger alone.
See also, Soho, Clapham.
Mother Flipper
Right then. This is going to annoy a fair few of you due to how tricky it is to track down. Mother Flipper is a moveable feast currently available between the hours of 10am and 2pm in a carpark in Lewisham. Ok, it's Brockley Market, aka part of the KERB crew, but still, a fair faff and not one everyone is able to enjoy willy-nilly.
However, beastly burger The Dirty Barbie is worth the trip, and has been since the mid-noughties. It's a double 6oz patty with American cheese (for many, the only option when it comes to a proper burger), candy bacon, candy onion and BBQ sauce. The result is a juicy, sweetly savoury and really, really, really, dirty burger with juices well absorbed - for once - by the brioche bun. The meat is decent, a 28 day chuck cooked medium or medium rare and nicely detectable pieces of actual meat. 8.5/10: would travel.
Mac and Wild
Mac & Wild's Veni-Moo burger has a lot to live up to: voted the UK & London's best burger 2016 in the National Burger Awards, you're here for the full works. Beef patty, venison patty, cheese, bearnaise and caramelised onions served on a brioche bun - this is intended as a true celebration of what Scotland has to offer. The sourcing is the best we've seen; beef is Highland, Shorthorn, Angus or Galloway cattle whilst the venison is directly from one of the owners' dads (subject to availability and seasonality). And the venison truly nails it with its unmistakable iron-rich flavour.
The whole burger feels incredibly rich and kinda classy too - that'll be the bearnaise and the hunting. It's unfortunate that Westminster Council enforce the medium-well policy, but we'll take it. Try it with its appropriate whiskey pairing for the ultimate Highliand fling. PS. Giles Coren likes it a lot.
Also available at Mac & Wild Devonshire Square
Deliveroo now from Fitzrovia
65 Great Titchfield Street, W1W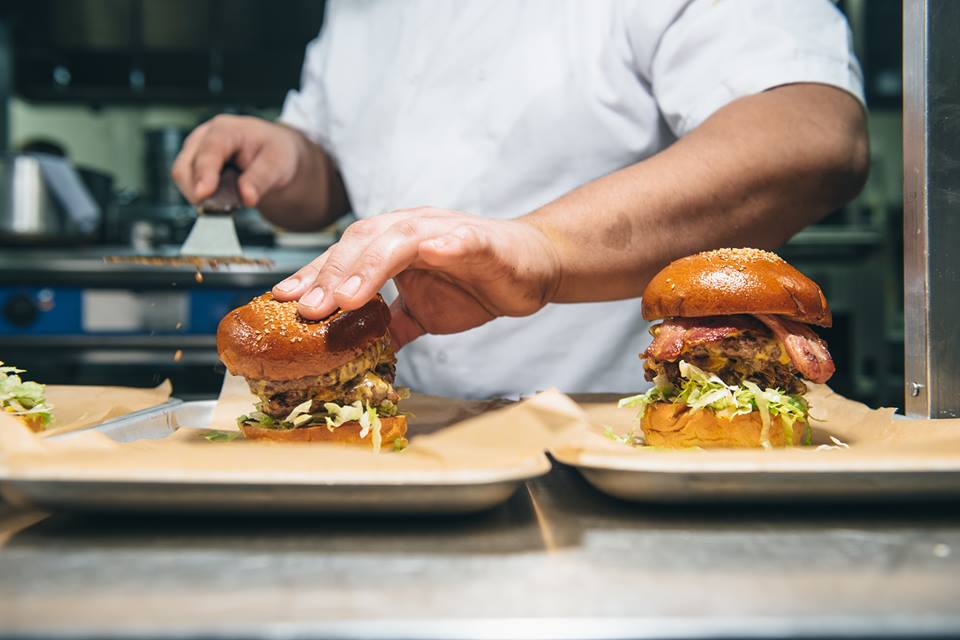 Dirty Bones
Head to Dirty Bones for a helping of good old retro Americana from these gourmet burger experts. Everything here is pretty full-on, but you'll want the Mac Daddy: a huge brisket and dry-aged steak burger loaded with smokey pulled beef short rib - and that's just the meat.
There's also a down and dirty mac'n'cheese layer of oozy taleggio, powerful smoked cheddar and a parmesan crumb. It's all dressed with a burnt onion and ale barbecue sauce.
Amazingly, it holds together quite well, allowing you the luxury of one hand free to reach for the filthy good sides of crispy lamb fries topped with miso, red chilli and jalapenos, and a full on vat of that mac'n'cheese. New York comfort food done right. Visit the Dirty Bones website for further locations.
Deliveroo now from Soho
Beer + Burger
Londonist writer Lydia Manch recommends the Double Cheeseburger at this Willesden Green burger joint for its how-do-I-actually-fit-my-mouth-around-this-though smiting power:
'Do you live near - or in the delivery zone - of this Willesden Green restaurant? If you can get your hands on of their multiple-patty burgers, side of fries, couple of rough-edged, gloweringly dark ales or summer-bright IPAs whenever you like - then you, my friend, are the only person in the world allowed to use #blessed unironically.
These guys use two patties in even their standard burgers - which cook through faster than a thick wedge of burger, keeping them tender on the outside. Burgers are covered in cheese, "goop" (their signature, sticky sauce), and a high pickle presence that'll ruin all other burgers for you. For true 'beast' status, it's got to be the Double Cheeseburger: an innocent-sounding name but treat it with reverence and caution - it's four patties, double everything and 100% certainty you'll want to be horizontal on a sofa afterwards.'
Deliveroo now from Brondesbury
88 Walm Lane Willeson Green, NW2