It's your special day. How, or more importantly, where do you choose to spend it? London has no shortage of interesting architecture, repurposed buildings and intriguing design, but surprises can hide behind even some of the best-known doors. From libraries to museums, railways to reservoirs, here are some London wedding venues sure to leave that lasting impression.
Tower Bridge
Bridge wedding

Most Londoners will have travelled over Tower Bridge at some point while traversing the capital, but far fewer will have ever been inside, and it is a very select group indeed who have actually celebrated a wedding there. But that is exactly what's on offer at this iconic London landmark. The Tower's East and West Walkways sit 42 metres above the River Thames and each features a glass floor (the six panels in which weigh a monstrous 530kg each!), allowing you to spy on the heads of those passing below in between nibbles and champagne. Book in at the right time
Barbican Centre
Oasis Wedding
An outdoors wedding is always a risky option in ol' Blighty, but Barbican Centre makes it possible to say your 'I dos' in the lush, natural surroundings of a tropical oasis, without a soggy train or muddy shoe in sight. Hold your ceremony in the Conservatory space and you can celebrate alongside up to 150 of your nearest and dearest, plus special guest stars including 2,000 tropical plants and an array of exotic fish too.
London Museum of Water & Steam
Steamy Wedding
A major part of the Industrial Revolution, the London Museum of Water & Steam is housed within the former Grand Junction Water Works and is a testimony to the elegance and efficiency of Victorian engineering. In every single room remain era-defining engines which, excitingly, you can opt to have in operation during your dancing and dining celebrations. The Grade I-listed venue even offers you the chance arrive to the party in style aboard the museum's very own steam train.
Foundling Museum
Arty Wedding
We adore the Foundling Museum and, wedding or not, you should pay this treasure a visit. But the museum, celebrating the UK's first children's charity and exploring how art can help improve lives, is also a beautifully unusual wedding venue. Your guests enjoy exclusive use of the venue and can dine surrounded by the works of great British painters such as William Hogarth and Thomas Gainsborough. As England's first public art gallery, Foundling Museum manages to remain classically romantic while still carrying its own distinctive personality.
Borough Market
Market Wedding
Roll up, roll up - get yer licensed weddings 'ere at London's oldest market. While still a part of the busy working market, both event spaces on offer at Borough Market can be closed off to create a private space right at the heart of the hustle and bustle. Market Hall can accommodate 350 guests within its cavernous, glass-fronted facade, while Three Crown Square's distinctive Victorian ironwork roof will cater for up to 200. And if the wedding food's not up to scratch, where better than Borough Market to find a tasty alternative?
Queen Mary University's Library
Library Wedding
Wed surrounded by books, within Queen Mary University's stunning octagonal library space (smartly named: The Octagon). With a stupendous domed ceiling and hundreds of colourful leather-bound books adorning the walls, it's a bibliophile's wedding dream. The Grade II listed venue was inspired by the British Library's Reading Room and caters for up to 220 people (228 if you count the busts of eminents authors placed high above the books who look down over proceedings).
MC Motors
Warehouse Wedding
Photo studio by day, venue-for-rent by night, MC Motors comes with some serious industrial wow-factor. Housed behind an unassuming exterior, this multi-floored Victorian warehouse wears its quirks with pride. The Blitz-damaged ceiling was transformed into an inspired skylighted roof, a perfectly preserved Victorian street runs right through the middle, and controlled dilapidation of the walls has given the space its unique character. With a warren of quirky rooms and a large selection of props to hand, it's the closest youll get to hosting your wedding in Aladdin's Cave.
West Reservoir Centre
Reservoir Wedding
Boasting 1930s architecture, natural light aplenty and a location right by the waterside, this Stoke Newington venue is a dedicated events space oozing industrial cool, which caters for up to 150 people. Doubling up as a sailing centre, guests can view the original water processing equipment that hangs high above your head in the four-storey, red-brick Main Tower, while light floods in through the huge, ornate windows on every side. Other features include a stunning spiral staircase, wooden terraces overlooking the water and even a marble fireplace.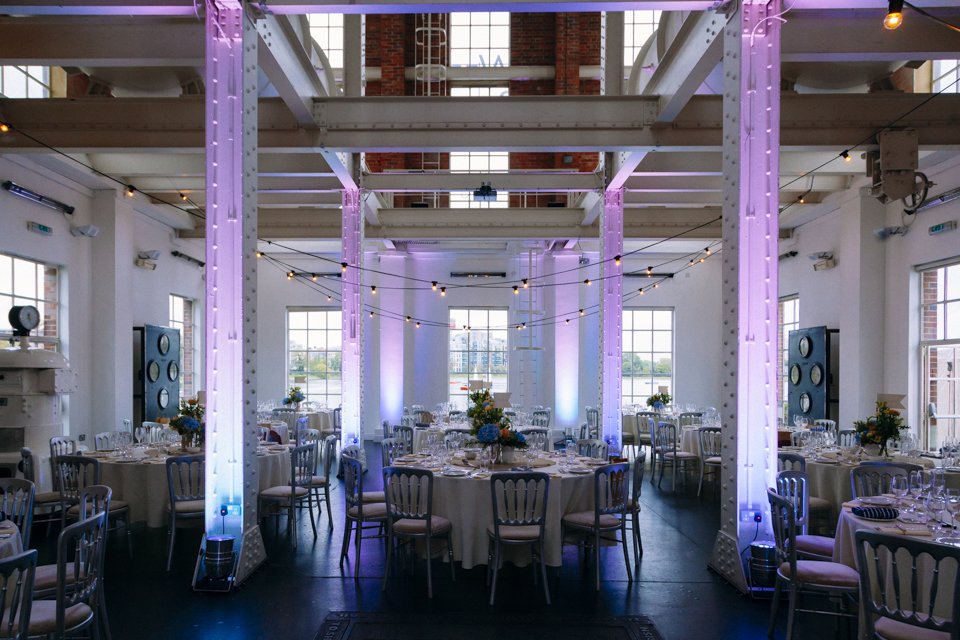 St. Pancras Renaissance Hotel London
Railway Wedding
For the feeling of being married upon a station concourse, you can't beat St. Pancras Renaissance Hotel (unless, you know, you actually decide to marry upon a station concourse). If that doesn't appeal, bear with us. This hotel's stupendous Hansom Hall carries all the lofty, Gothic grandeur of St Pancras station next door, but without the hordes of commuters. So-called as the location was where Hansom Carriages used to drop off wealthy passengers, the Hansom Hall is flanked by the towering window bays of the original station and covered by a vaulted roof and girders. All that, and not a delay in sight.
Tramshed
Pickled Cow Wedding
If your hunger for a quirky wedding venue isn't satiated by being faced with a full-size Hereford cow pickled in formaldehyde upon entry, then we're not sure we can help you. Damien Hirst's enormous Cock'n'Bull installation (oh yeah, there's a cockerel in that stainless steel tub too) is the first sight that greets you upon entry into this Grade II listed building, originally an electricity generated facility for the local Tramway system. It's a stunning building, with multiple event spaces and art galleries which can be combined to cater for up to 250 guests. But who are we kidding, you're here for the cow.