Like a slice so boundary-pushing it's more like performance art than pizza? We've gathered up here our take on the best places in London for a pizza less ordinary.
Four Hundred Rabbits
These casual south London restaurants are serious players in the experimental pizza game. Toppings include seasonal vegetables, and rare breed meats from Cannon & Cannon. Bases are organic and sourdough. They might not bow to traditions, but they don't cut corners.
And we're into the inventive flavours. Think chorizo with pickled chillis, or rhubarb with chipotle, goats' cheese and peppers. The specials are only for the adventurous - currently including a version with kale and hazelnut pesto, and a so-wrong-it-could-maybe-just-be-right pizza with caramelised pineapple, kimchi, lardons, mozzarella and sour cream. Yeah, all of that. In one place.
Italians and purists will try to tell you this isn't what happens on a pizza. Ignore them. Treasure the Four Hundred Rabbits pizzas precisely for their enormous off-beatness.
Deliveroo now from Dulwich | Deliveroo now from Upper Norwood
30-32 Westow Street, SE19 | 143 Evelina Road, SE15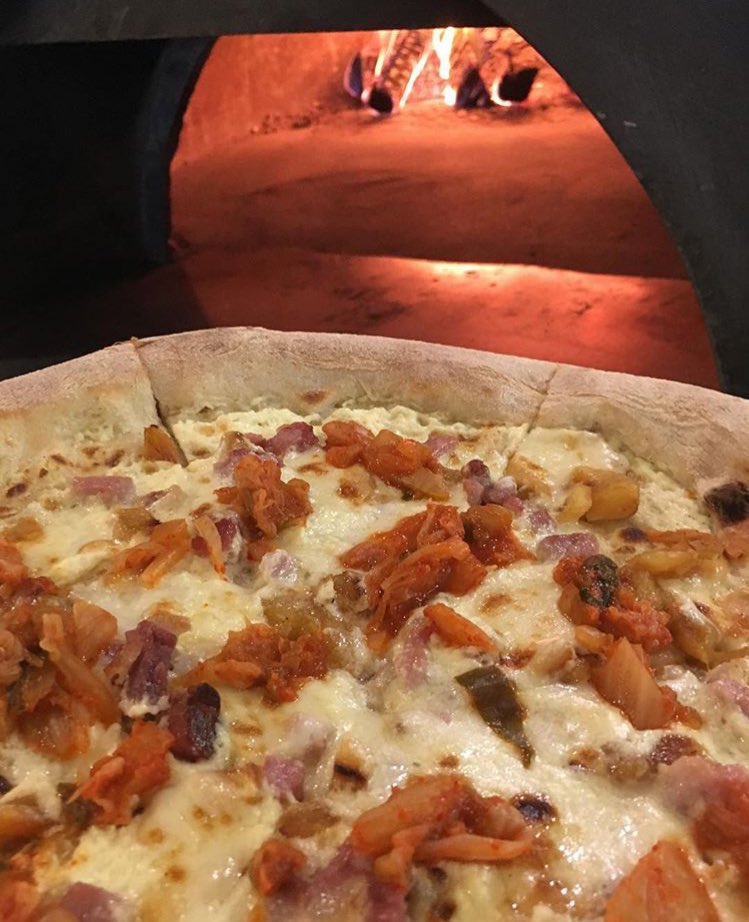 Joe Public
Another breakfast pizza - and unlike Fucina, there's nothing restrained about these ones. Their usual California-style sourdough bases come topped with bacon, chorizo, sausage, caramelised onions and an egg - and hash browns, for extra deviancy.
Joe Public, 4 The Pavement, SW4 0HY.
Deliveroo now from Clapham
Yard Sale Pizza
We don't buy into the divisive love-it-or-hate-it propaganda around Marmite. But Marmite and cheese-topped garlic pizza? Yeah, that might be one to polarise the people. It's the work of Yard Sale, currently our favourite north London pizza joint, so if you want to take the plunge you'll be in good hands.
Zia Lucia
This Holloway Road pizzeria offers a vegetable charcoal base as one of its standard options - along with wholemeal and gluten-free - and the deep black dough-disc lends a sinister edge to even the humble margherita. And if you want to mess with all laws of man and pizza, order the charcoal base with the Andrea Pirlo topping - mozzarella, gorgonzola, apple and truffle and olive sauce.
Deliveroo now from Holloway
Voodoo Ray's
Compared to traditional Neapolitan pizzas with their fluffy crusts and softer centre, Voodoo Rays' pizzas are cooked for a longer time at a lower temperature. The result's a thinner, crispier crust and a firmer base, making for slightly neater eating than the Italian version.
And to experience the peak of their lunatic genius there's the Rubenesque - a twist on the Reuben sandwich, topped with salt beef, two cheeses, sauerkraut, parsley and Russian dressing. Sounds wrong on a multitude of levels, right? But when you're this good, you can mess with tradition.
Deliveroo now from Camden
Unit 92/1, North Yard, Stables Market, NW1
Fucina
Breakfast pizza. And in a swerve away from tradition, it's not cold, next-day, eaten straight out of the Domino's box breakfast pizza. It's mushroom, ham and egg pizza, made fresh, served hot, on a plate, like a grown-up might eat. Madmen.
Radio Alice
There's now a second restaurant in Clapham for these guys and their unorthodox pizza approach: make the base, bake the base and then - only then - add the toppings. Italian friends we've run this by have been varying degrees of horrified, intrigued and 'yeah, obvs' about this - particularly our mates from Milan, where Radio Alice is already a known quantity thanks to their Italian pizzerias, Berbere. Investigate and form your own views.