From bubbling cocktails in a hidden RV van to a secret bar behind a giant mirror, here are London's most weird and unusual bars. You're welcome.
Ice Bar
A bit of a tourist trap, but this bar is pretty cool (pun intended). It's completely made of ice: The bar is ice, the walls are ice, the tables are ice, even the cocktails are served in chiselled ice blocks. There's also lots of crazy (Instagrammable!) ice sculptures. At £13.50 per person for half an hour entry, one visit is probably enough - but who wouldn't want a Facebook/Tinder profile pic with a giant ice guitar?
Trailer Happiness
Notting Hill has a rockin' tiki bar, nestled down in the depths of Portobello Road. It's all retro tiki style, with lots of browns and beaded curtains. You'll feel like you're on the set of That Seventies Show, and a pair of your widest bellbottoms would not be out of place.

Sketch
Enter this eccentric 18th century townhouse into a crazy wonderland of forest themed restaurant/bars and alien-like pod toilets. You might have seen pictures of the flamboyant Pink Panther style tea room The Lecture Room, which comes with a bonus Michelin star.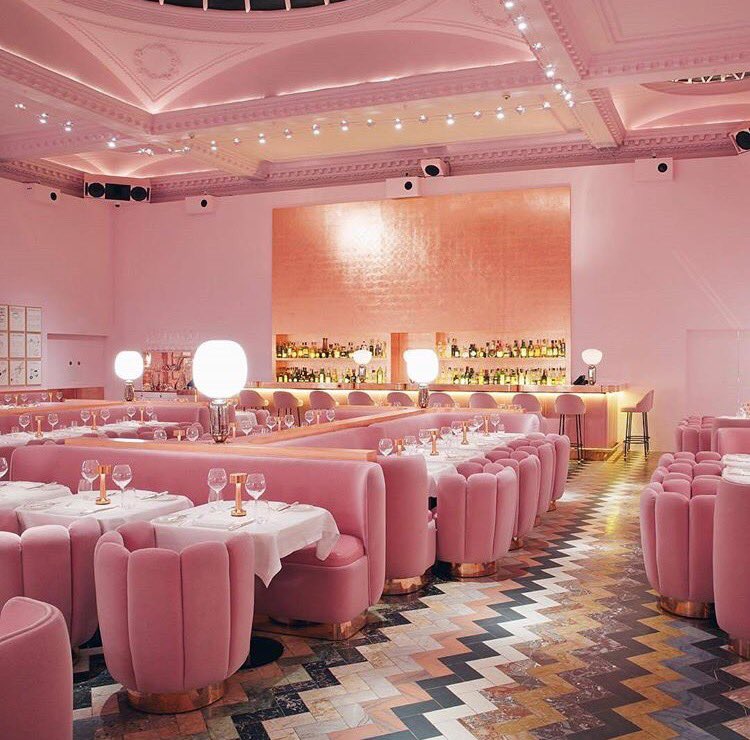 The Viktor Wynd Museum of Curiosities
Visiting this basement museum is like rifling around a crazy guy's attic - which is basically what you're doing. Once you're done gawping at Russell Brand's pubes (yes really), head up to the cocktail bar, which is just as insane and disconcerting, with taxidermy galore among other crazy stuff.
Bar Soho
This Soho bar is an Instagrammer's dream. Have a drink in the fairground-style dodgem seats, or maybe cosy up in the bathroom, where you'll find two big yellow bathtub sofas and pottys for tables (all sounds a bit gross, but we assure you it's actually all very swish). The actual bathrooms are just as epic, with Rolling Stones' lips as urinals. Don't miss the signature drink - the Soho Porn Star Martini - which comes in a glowing Martini glass.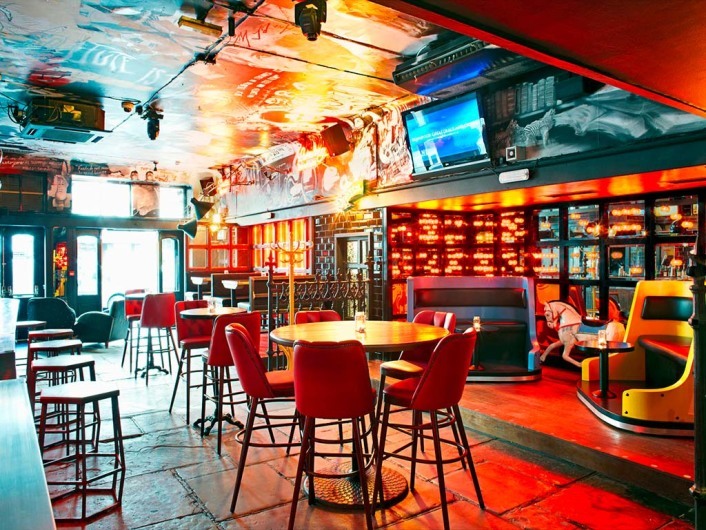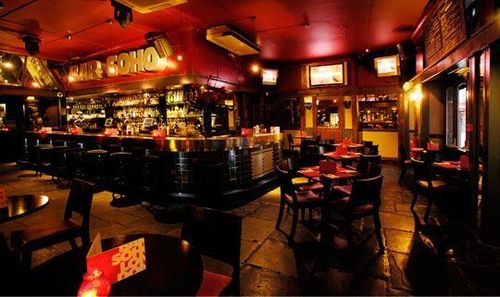 Barts
This truly is a hidden bar - we spent a fair chunk of time hunting around Chelsea before we finally located it. We won't reveal exactly where because that would just spoil the fun...
When you knock on the door, a little panel slides open and you're asked for a secret password. Inside it's 1920s speakeasy meets garish 1960s warehouse, candlelit with vintage leather seats, crazy pop-art style paintings and mismatched wooden chairs. You'll be raiding the fancy dress boxes by your second G&T. Plus, there's an awesome comic book themed cocktail menu to boot.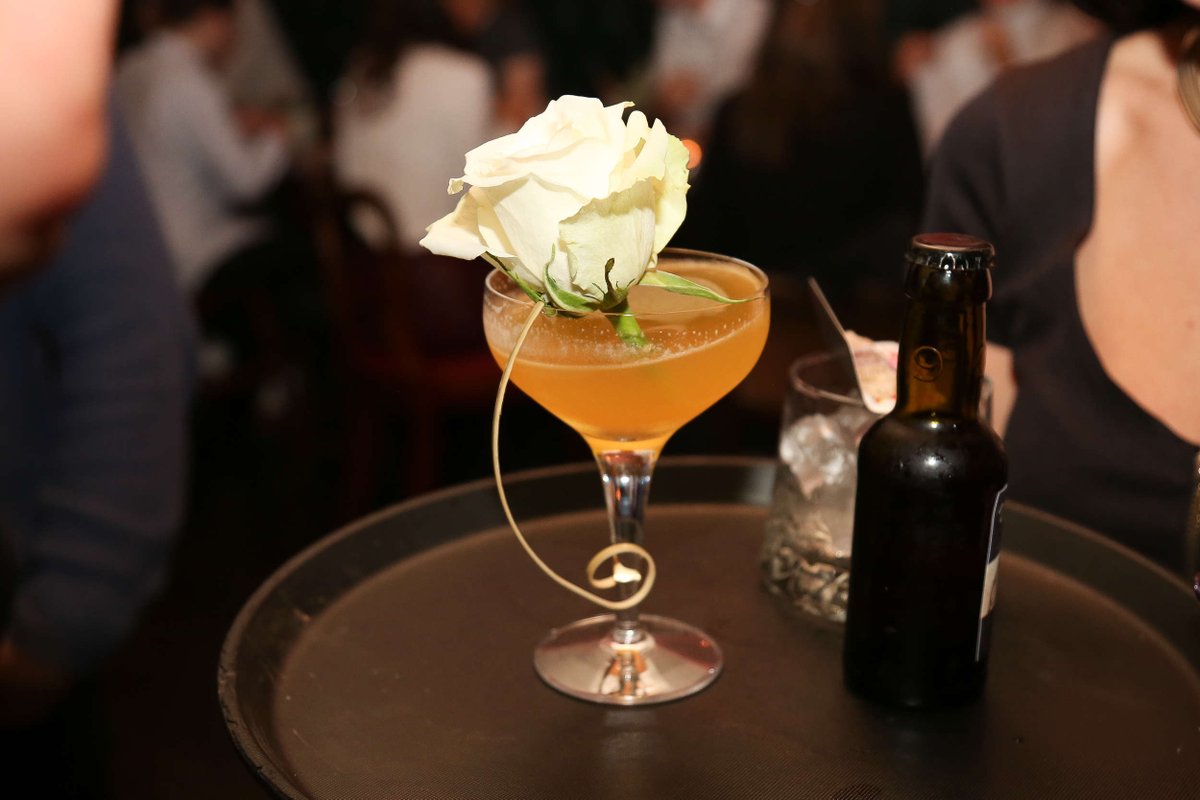 Barrio Central
This tropical-themed bar chain is still up there as one of London's quirkiest party places. With a fresh beach theme, these places are bursting with Latin attitude and vibrant colours. The Soho outpost has a brightly striped wooden shack you can hire out, and the Shoreditch one has a retro-style caravan.
Angel: 45 Essex Road, Islington, N1 2SF
Shoreditch: 141-143 Shoreditch High Street, E1 6JE
Brixton: 30 Acre Lane, SW2 5SG
Soho:
Ninetyeight Bar & Lounge
This Shoreditch bar isn't talked about much, but it sure is up there on the 'crazy' list. Head down the winding spiral staircase and into this narrow little bar which looks a bit like Willy Wonka on acid. The walls and ceiling are all white, but it's chock-a-block with crazy bits and bobs, from gumball machines, to rocking horses and kitsch dog paintings - and this isn't even the weirdest bit. Go off and explore this quirky townhouse --the oddest part by far is the 'bandage room' where every piece of furniture is wrapped up like a dummy.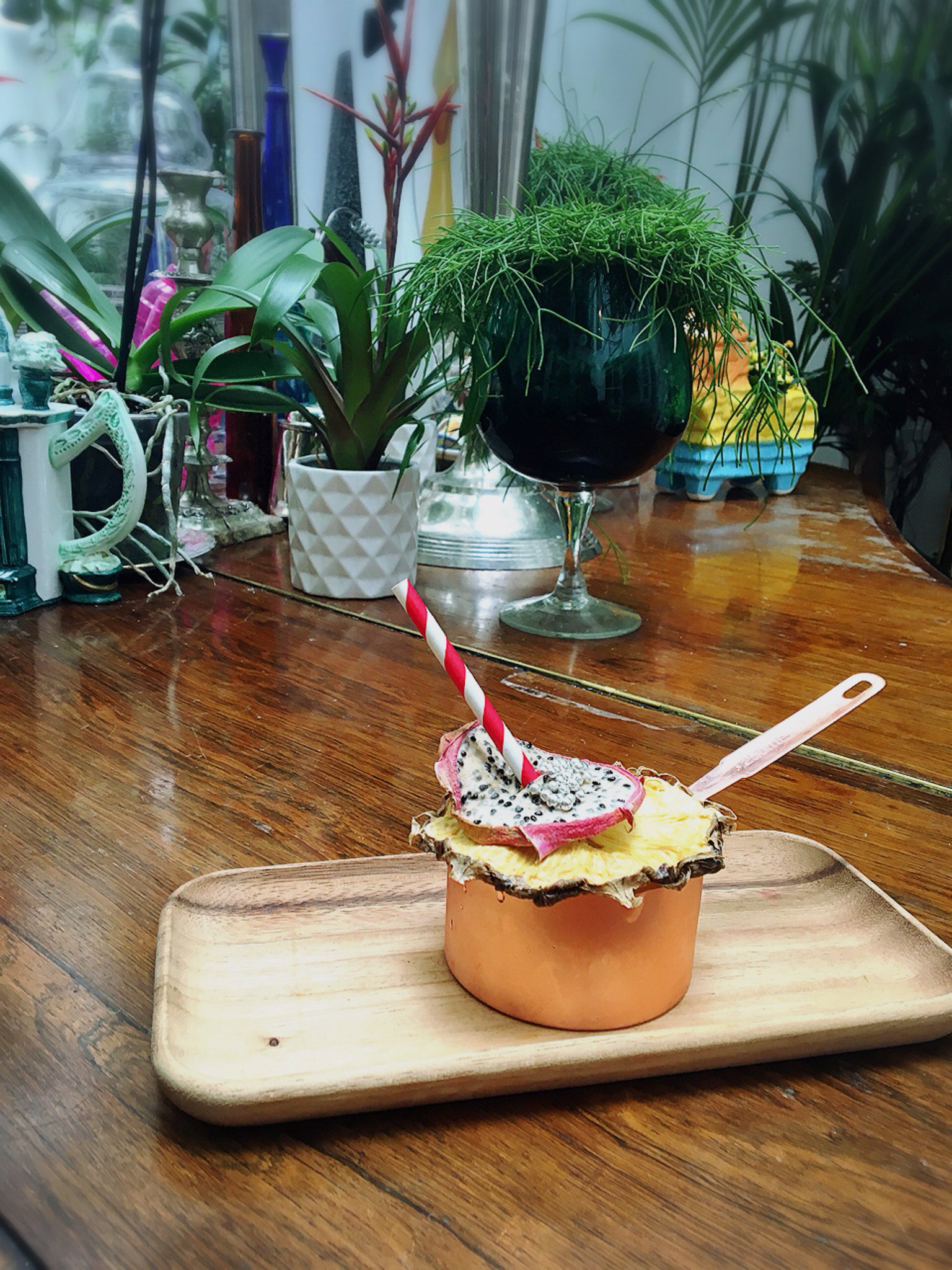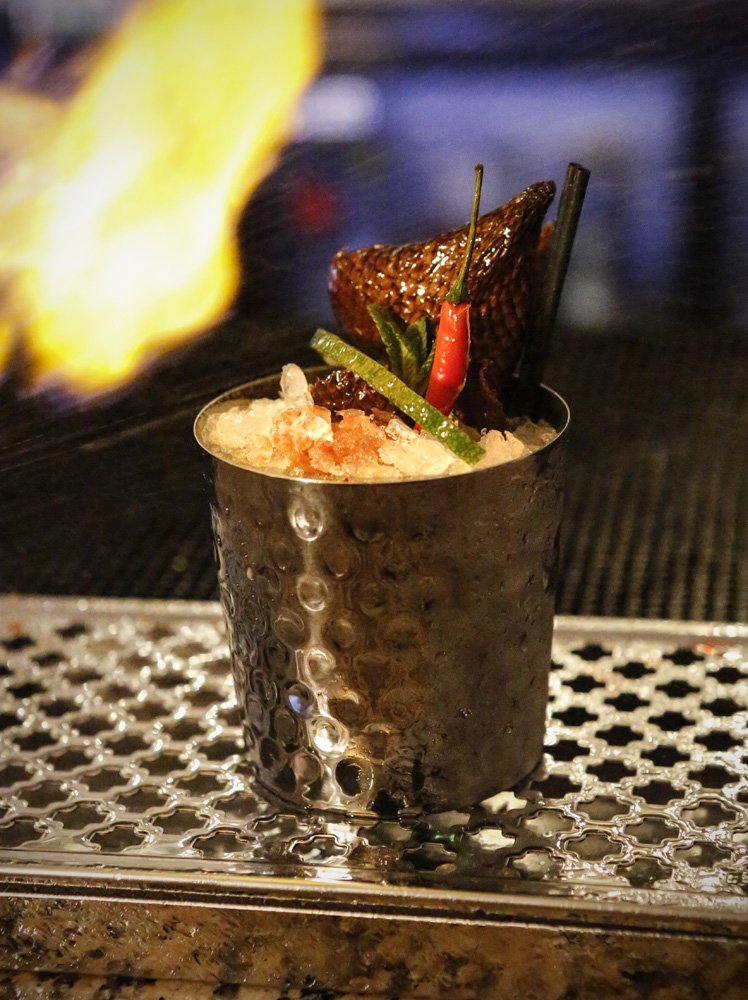 The Mayor of Scaredy Cat Town
Head to The Breakfast Club on Artillery Lane and make a beeline for the giant Smeg fridge. Open it up, and instead of shelves of milk and veg, you'll find the entrance to a hidden bar. Kitsch and dimly lit, this place is a fun take on classic New York speakeasies. There are quirky cat paintings and other random stuff, including the disco toilets, with retro tunes, a turning mirror ball and My Little Pony wallpaper. Definitely unsual.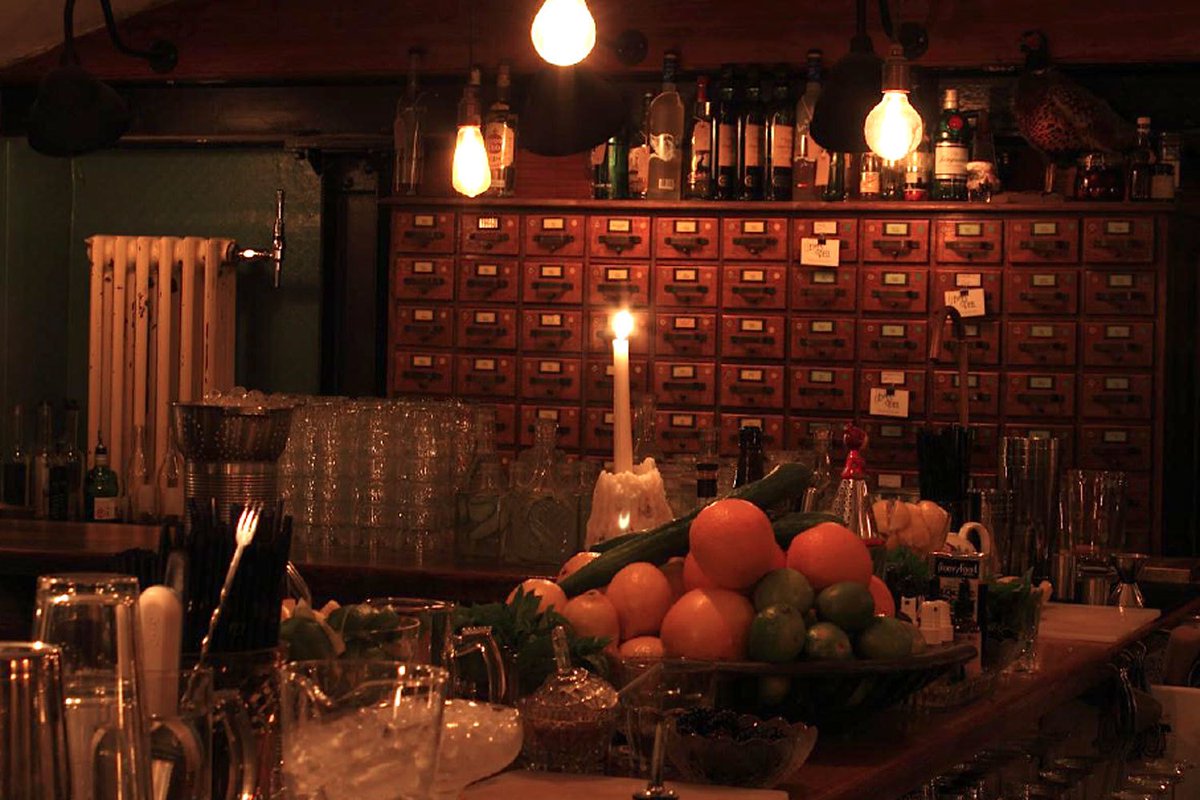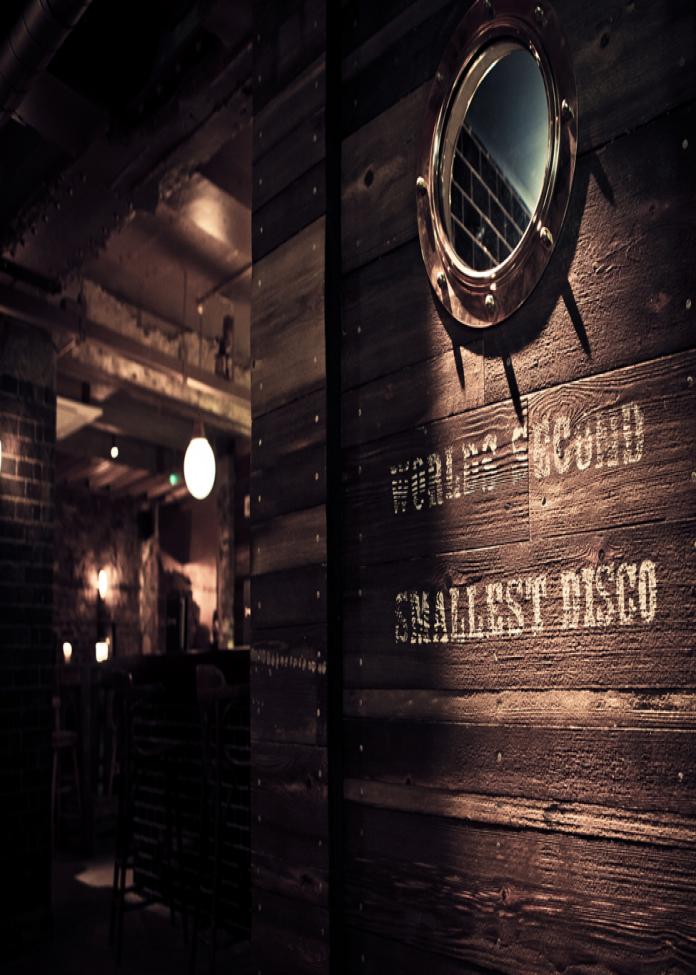 Bunga Bunga
This bar/club is a cheeky - if obvious- nod to Silvio Berlusconi's Bunga Bunga parties. The place is covered in faux and real Italian paraphernalia, from hanging scooters to tongue-in-cheek political posters and an overwhelming red, white and green theme. The music is perfectly cheesy to match, along with the yards of pizzas and that infamous bottomless brunch.
There's now also a Covent Garden branch of Bunga Bunga.
Deliveroo now from Battersea
37 Battersea Bridge Road, SW11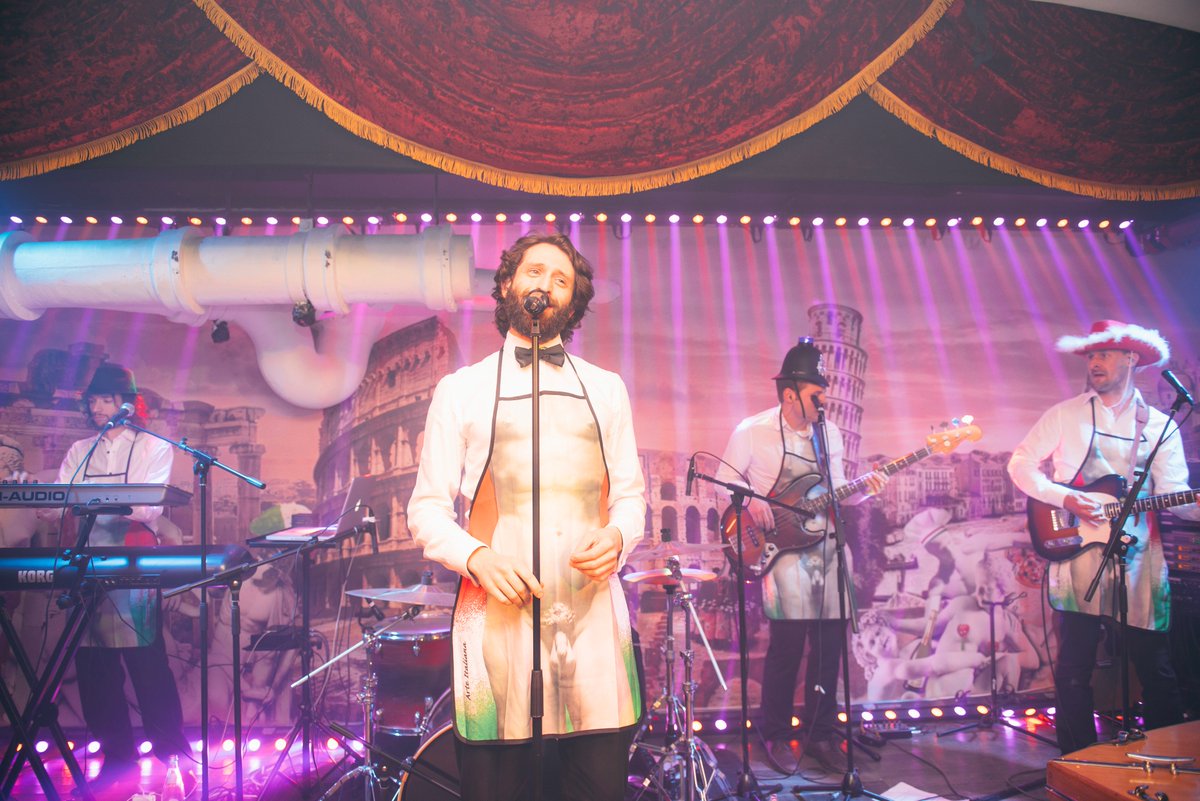 Evans & Peel
A speakeasy with a special twist - you'll be greeted by a 'detective' on the door, where you'll be talked through your 'case' to be solved. But once you've covered all the legal work, back goes the office bookcase, and... wow! A hidden speakeasy with crackling ragtime tunes, candlelit tables and cocktails stiff enough for Humphrey Bogart.

Looking Glass Cocktail Club
We're not sure why this secret bar isn't talked about more... but then it is, techinically, a secret. Inside the Hackney Road venue, go for the giant mirror and it opens up, revealing a large hidden bar. It's all candlelit, speakeasy vibes here. Weekends get a bit weird though, with a dominatrix-style lady whipping everyone on the butt. Living up to its Alice In Wonderland theme, it's trippy in here.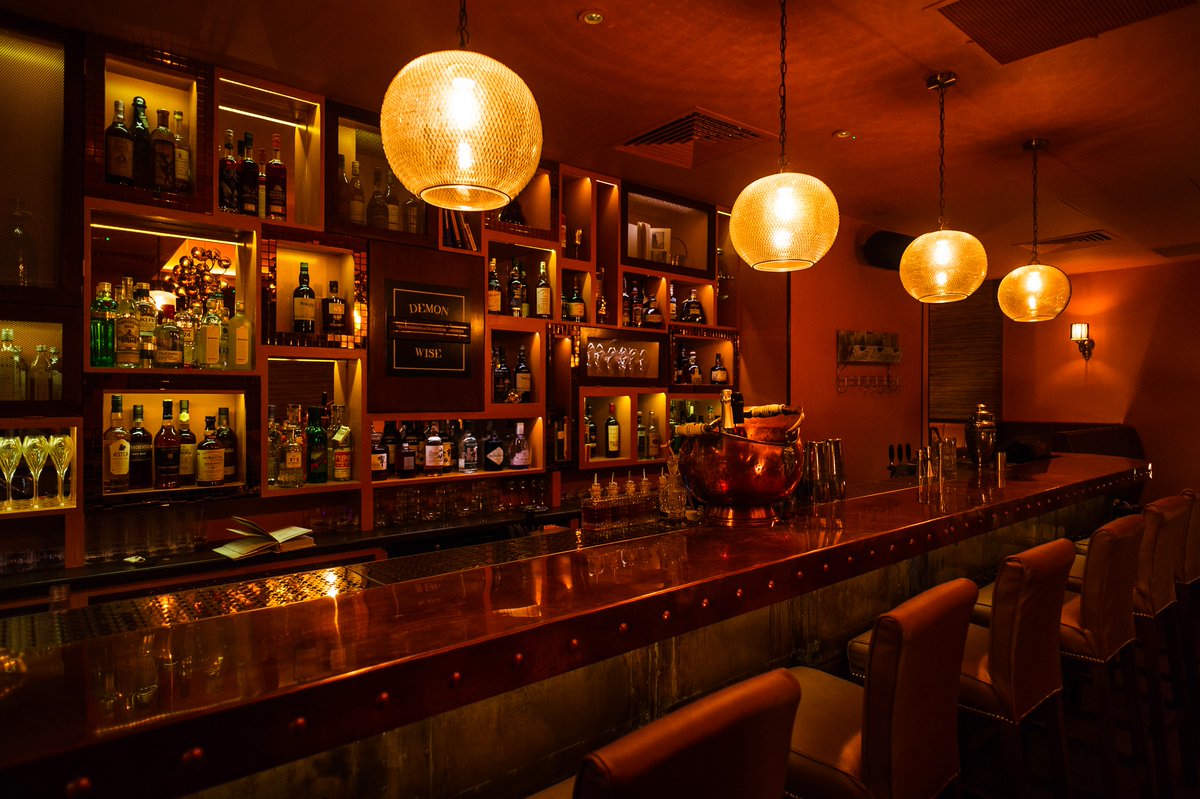 WC
Set in a century-old former toilet, but now the WC actually stands for Wine & Charcuterie - both are on offer at this little bolthole, strategically placed next to Clapham Common station. When we said little, we mean just three booths, and a handful of tables and chairs, so book ahead.
Former Public Convenience, SW4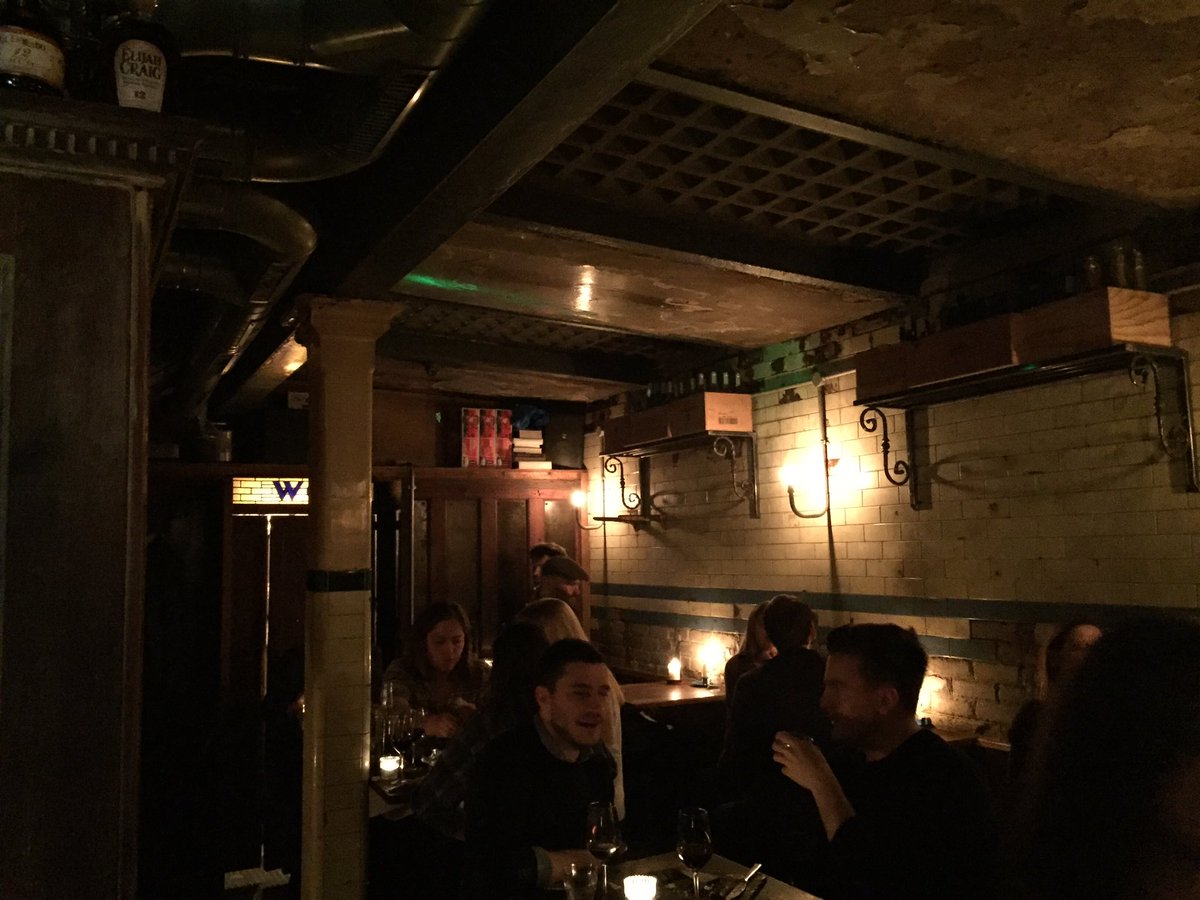 The Four Quarters
This retro arcade game bar/diner is one for your inner 80s child, although they'll be gutted when they realise how crap at Street Fighter II you've got. This place is packed with machine games, but it's still a decent pub with good hot dogs, burgers and craft beers and a soundtrack of tinny, computerised beeping - and a lot of real-life swearing.
They've also got a second location in Hackney Wick:
Unit 8 Canalside, East Bay Lane, Queen Elizabeth Olympic Park, E20 3BS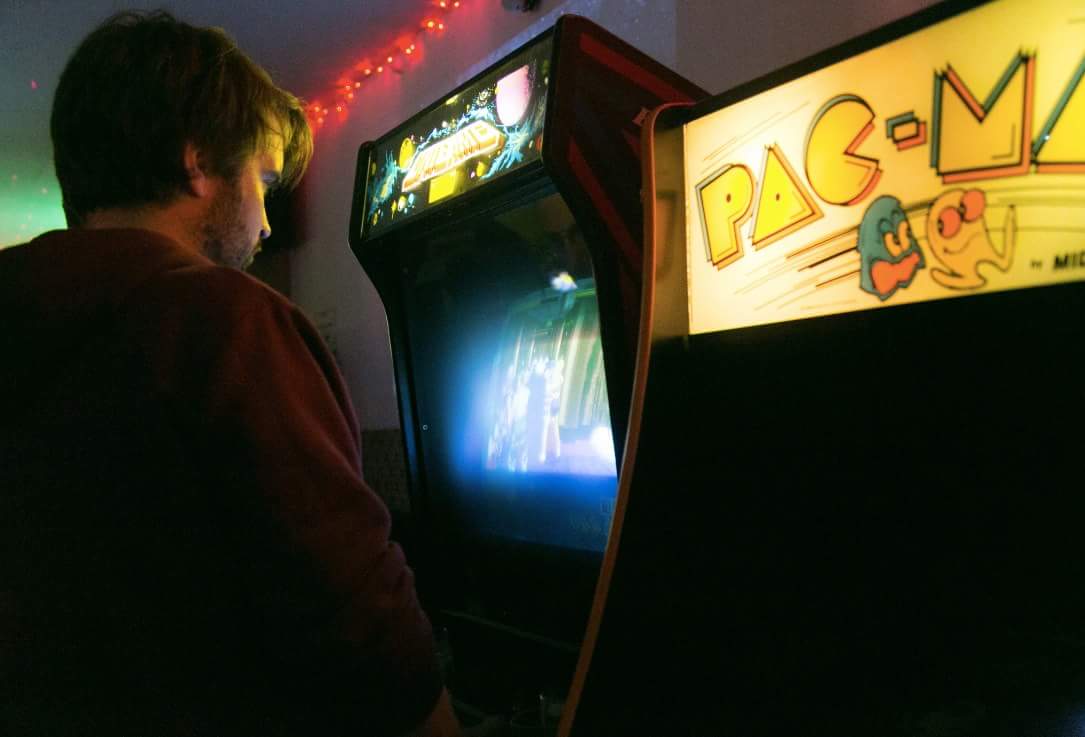 Cahoots
Themed on a 1940s tube station, this place is spot on from the start. The stairs down to the bar look just like an old Underground entrance, with retro advertising and those very distinct TFL tube tiles lining the walls. Inside the bar you'll 'Mind The Gap' signs, old tube maps and vintage leather suitcases. But the star of the show is a vintage train carriage - hop onto one of the seats and sip cocktails in teacups while listening to live jazz and blues.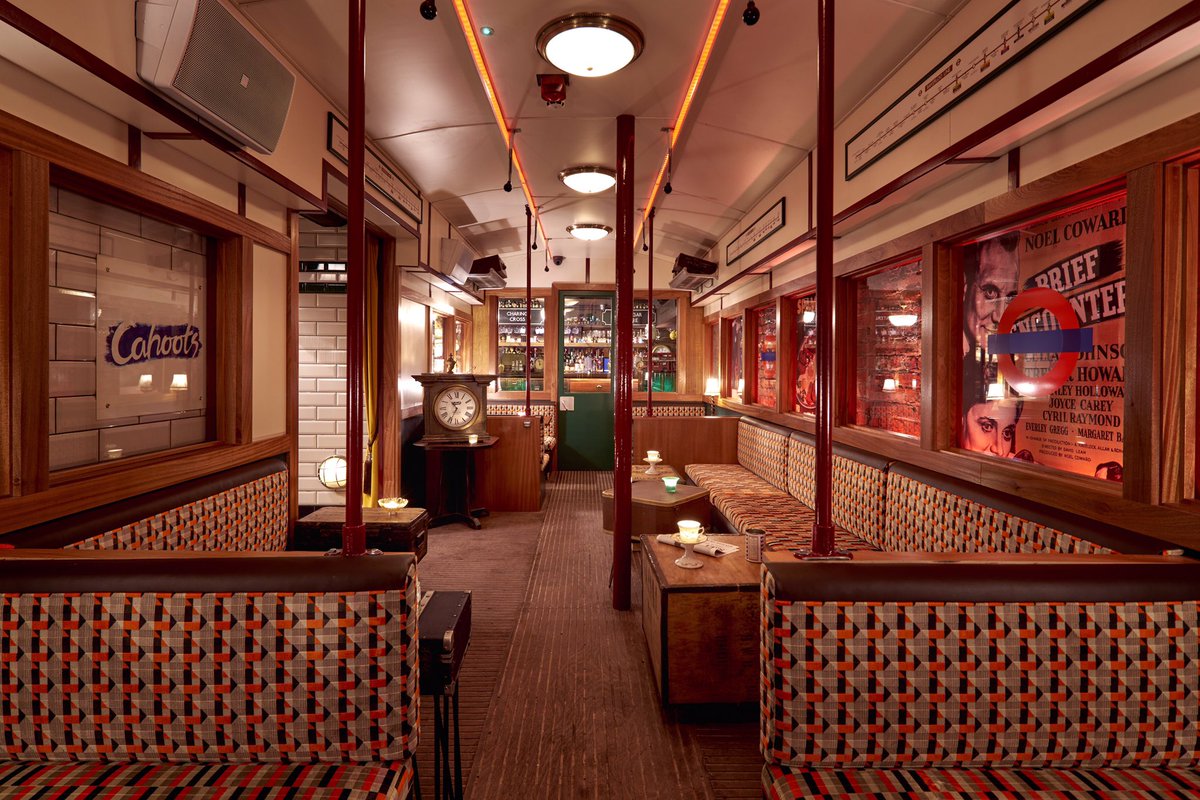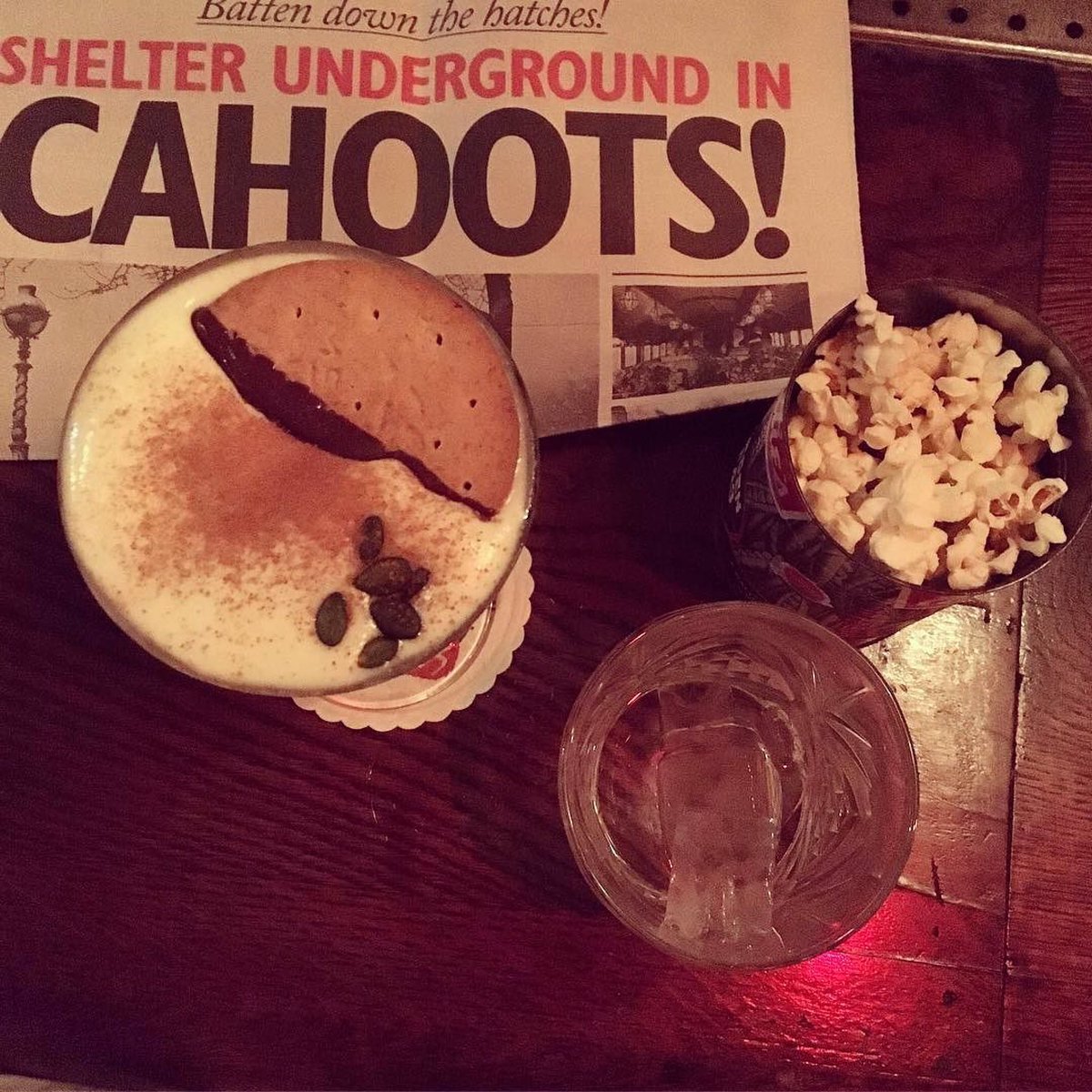 The Natural Philosopher
Mac computer repair shop by day, cool little bar at night, plenty of people wander past this place without realising it exists. The actual bar area is sunk right into the floor - you have to peer over and look down to order. The rest of the bar is lit by flickering candles, with a hidden little room to the right.
The Schoolhouse
The school theme was so spot-on we even started getting homework anxiety. There are rows of wooden school tables and wire metal lockers stuffed with all sorts of nostalgic stuff, like NOW music compilations, Furbies and science beakers. The cocktails are just as on theme, served up with pipettes and Jammy Dodgers. And in case you have a yearning for school dinners, the meals are served up on plastic trays - ah, the good old days.
The Woods - Downstairs At Red's True Barbecue
Upstairs it's all sticky ribs and bibs. Downstairs, though, is an enchanted wooden forest, serving up craft beer, bourbon and cocktails. There's an abandoned piano set in the middle of the fairylit 'woodland', and a huge tree growing right through the middle of it. It's all very atmospheric in here - a drink under the stars, the cheat's way.
Deliveroo now from Shoreditch
54-56 Great Eastern Street, EC2A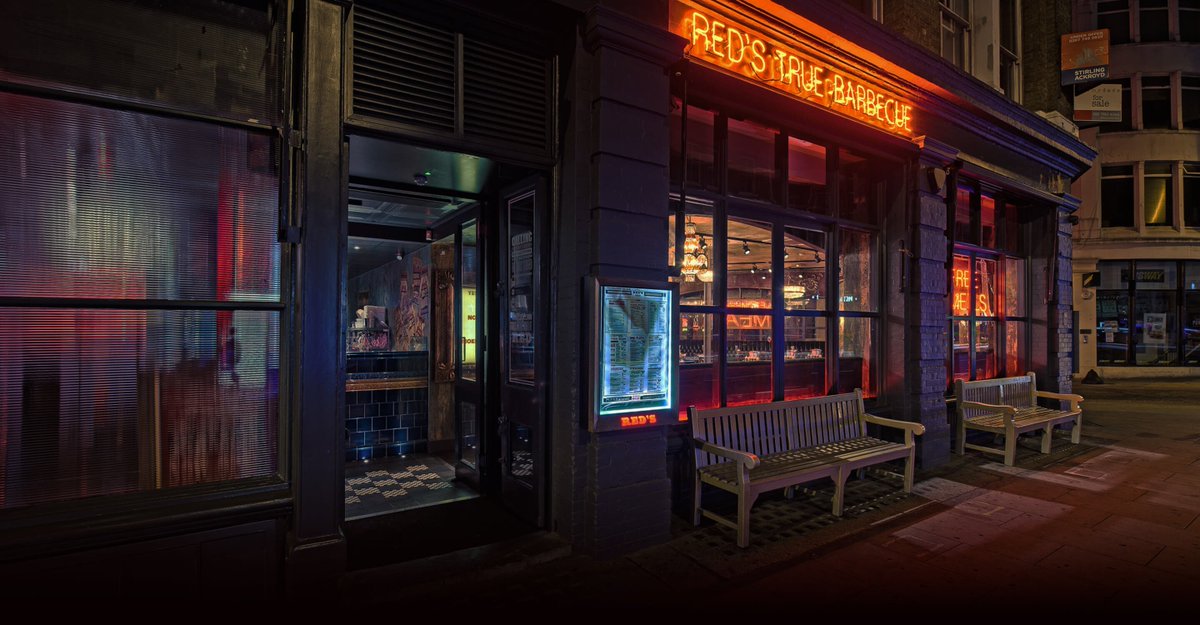 ABQ
Themed on the crazy crime drama Breaking Bad, they've really pulled out all the stops inside this run down RV so that you feel like you're in there cooking with Walter and co.
Don your yellow jumpsuit and get ready to make some 'science' (or, in this case, DIY cocktails). Ingredients, aparatus and instructions are provided, and the result is epic cocktails. Expect bubbling flavoured foam and dry ice galore. Bars don't get more badass than this.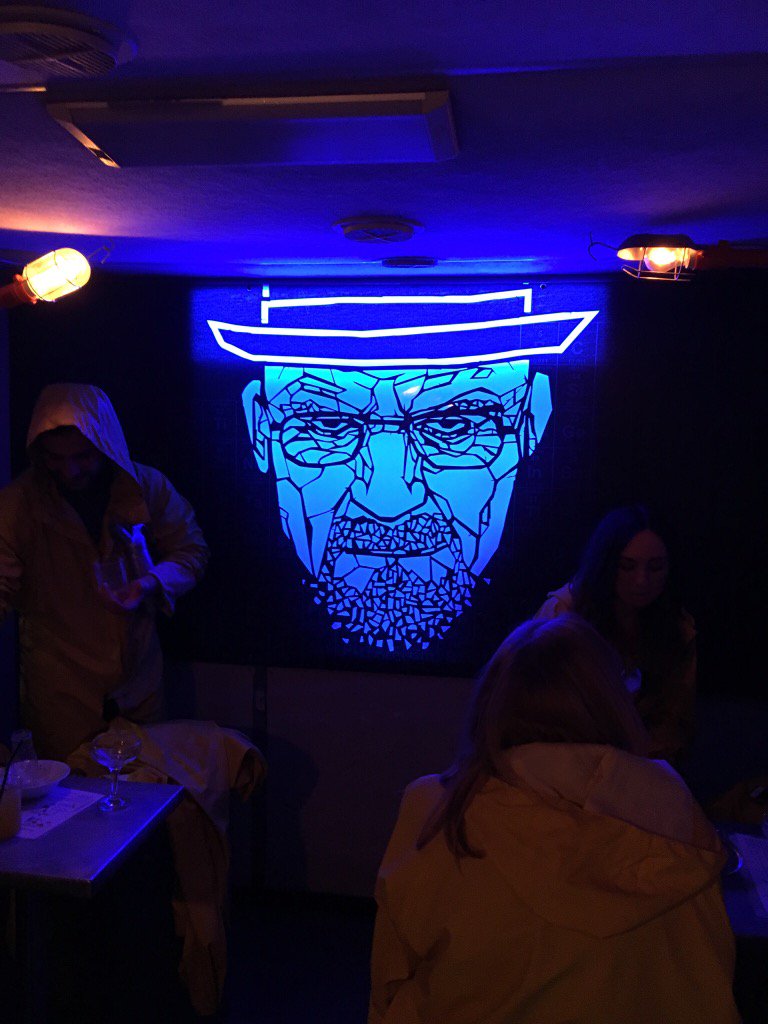 Little Nan's Rio Bar
Hipster kitsch from head to toe - think Dalston jumble sale meets 90s teenager's bedroom, with floor-to-ceiling posters and jazzy wallpaper, and dressing up boxes. There's even a rocking horse thrown in the mix because. well, why not? Tuck into novelty cocktails while listening to cheesy retro bangers.
Find Little Nan's elsewhere in London:
Peckham: 16 Elelina Road, SE15 2DX
Catford: Broadway Theatre, Catford Road, SE6 4RU
Deptford: Arches, 13-14, Deptford Market Yard, SE8 4BX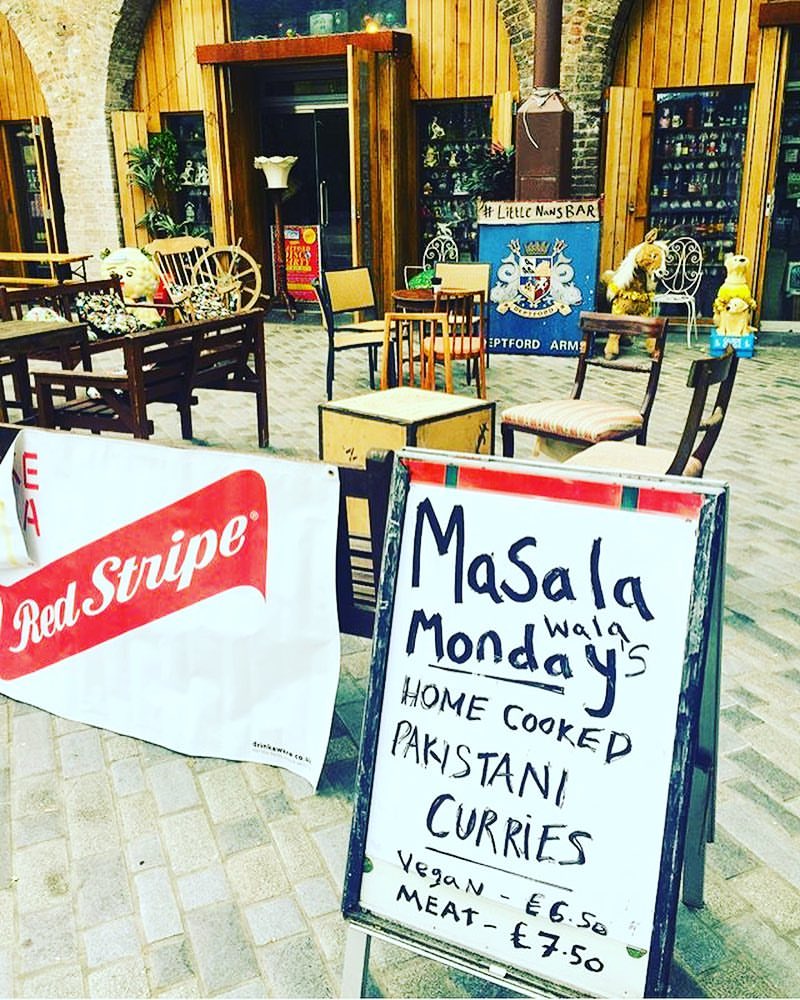 The Bletchley
This place is based on the secret home of second world warcodebreakers Alan Turing and co., and they've gone so on-theme they've even managed to source actual authentic enigma machines. Pop on your military-style jacket and get to work trying to crack the codes that will send messages to the back room mixologists. By revealing details like your flavour preferences and your favourite colour, the bar team will mix up a very bespoke, apparently one-off cocktail recipe just for you.